Stir-fry recipes are versatile, quick to prepare, and all about mastering the technique of cooking ingredients in oil over high-heat very quickly. Cook this noodle bowl in less than 10 minutes with the help of Trifecta shrimp.
How to Master Stir-Frying
The goal of cooking on high heat or stir-frying is to achieve Wok Hei, or 'breath of the wok'. Wok Hei refers to the smoky and caramelized flavor obtained from cooking over high heat in the wok that can be tricky to achieve at home.
This recipe utilizes Trifecta meal prep ingredients to cut the cooking time in half, but feel free to substitute any kind of vegetables or ingredients. That is part of the beauty of honing your stir-fry skills; you can throw together whatever you'd like!
Follow these tips to execute Wok Hei at home:
If you don't have a wok at home, go check out a local Asian market and purchase a small one! Alternatively, use a large saute-pan or cast iron skillet.
No matter what you choose, don't overcrowd the pan with ingredients or else you'll end up cooling the pan down and causing it to steam/stew not stir-fry. A good rule of thumb is to only take up about 1/3 or a little under a half of the pan with ingredients at a time.
Cut your vegetables small so they cook quickly and prepare all your ingredients in advance because this is a quick cooking process.
Oil choice matters! Use avocado or vegetable oil, both have high smoking points and can be heated up to 520 degrees.
If you're preparing a large amount of stir-fry, cook it in batches, this ensures you'll get appropriate browning.

The World Of Noodles
You have a world of options when it comes to what kind of noodles to use for a noodle stir-fry recipe. The kind of noodle and how you prepare it beforehand can make or break a good stir fry.
In the world of Asian noodles, there are wheat and rice based noodles, along with a variety of other interesting noodle options made out of rice flour, mung bean flour, and yam flour. Note that every noodle will have varying nutrition.
Here are a few options:
Pad Thai Noodles or Rice Noodles: Perfect for stir-fry and usually need to be soaked in warm water before hand to soften. They hold their shape well and soak up sauce easily.
Lo Mein: Soft and doughy noodles perfect for drenching in sauce and tossed with vegetables.
Soba Noodle: Flat and thin buckwheat based noodles, firm and dense in texture these noodles are brown colored and look like spaghetti. Don't over-cook these before hand or you'll have a mushy mess on your hands.
Vermicelli: These go by a few different names, but they are thin, angle-hair like, round noodles. They are typically boiled till softened slightly and they stir-fried with a variety of ingredients.
Chow Mein Noodles: These noodles are meant to stay a little crispy and are typically sold par-boiled and pan-fried into a stir-fry dish. Skip the pan-frying and crumble these up into your stir-fry for a delicious crunch.
Spaghetti or other Pasta: I'm not sure if I would call it a stir-fry if you choose to use a basic Italian style noodle, but that's the beauty of meal prep, you can choose what you'd like!
Kelp noodles: They are made from kelp (edible seaweed), and are a gluten-free, low carbohydrate noodle option with a high amount of minerals such as iron. Great for a stir-fry or a cold noodle bowl.
We used a basic rice-noodle to prepare this 10-minute shrimp stir-fry recipe but feel free to use whatever noodle you like!
How to Prepare 10 Minute Shrimp Stir-Fry With Noodles Recipe
Prep Time: 5 min
Cook Time: 10 min
Servings: 4
Ingredients
1 pound Trifecta shrimp
1 tablespoon avocado oil
1 cup Trifecta broccoli
1 cup Trifecta portobello mushrooms
1 cup snap peas
1 cup of red bell pepper, sliced thin
1 package pad Thai noodles or noodle of choice


For The Sauce: (or use store-bought)

3 tablespoons coconut aminos
2 tablespoons sweet chili sauce
2 tablespoons minced ginger
2 tablespoons minced garlic
1 tablespoons lime Juice
Garnish:
green onion, sliced
Cilantro, minced
Toasted sesame seed
Step 1: Prepare Your Ingredients and Sauce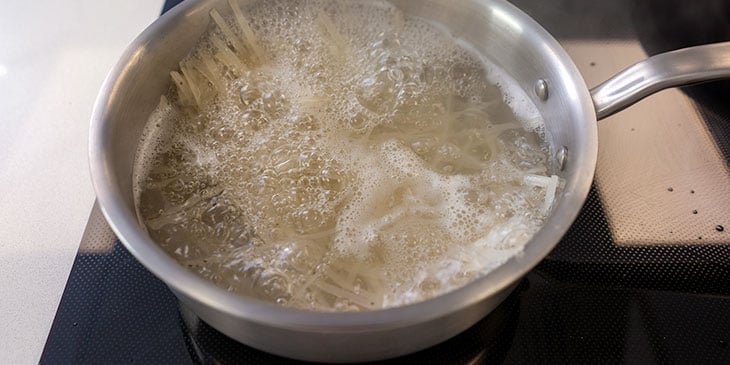 Prepare your noodles according to the packaged instructions, but cook for 1-2 minutes less to keep them more firm, then shock the noodles in cold water to stop the cooking process.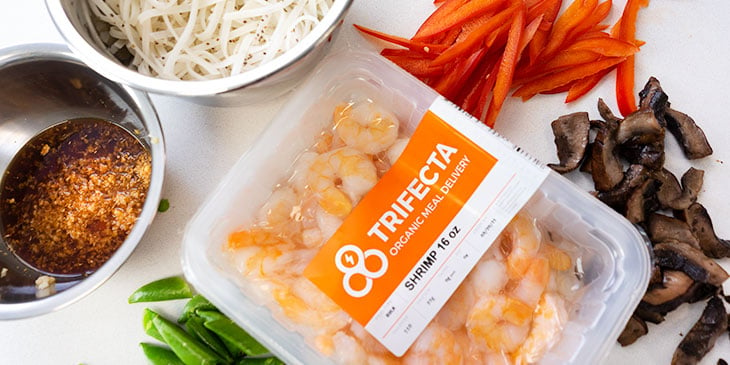 Gather the rest of your ingredients and chop up any vegetables, herbs or protein you would like to include.
To prepare the sauce simply whisk together the ingredients in a small bowl.
Try out this recipe with different sauces:
Step 2: Heat Your Cookware
Choose your cookware and heat over medium-heat.
We went with our Made-in blue carbon steel frying pan; it's the perfect hybrid of cast-iron and stainless steel and when seasoned properly creates a natural, and non-toxic, non-stick surface!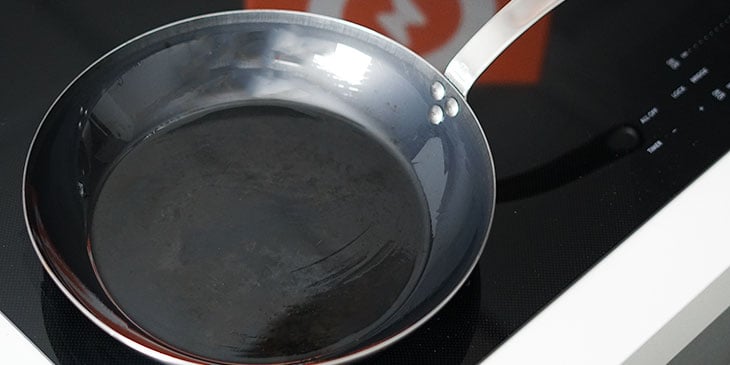 Step 3: Stir-Fry!
A classic stir-fry follows the basic process of adding what takes the longest to cook first to the pan, for example raw protein, then hearty veggies, then light, then noodles, and then sauce.
Since we are using ready-to-eat Trifecta ingredients this process is going to be slightly reversed but will still go just as quick as a normal stir-fry so be sure to have all of your ingredients next to you before getting started.
Heat your pan for 1-2 minutes before adding in the oil, then add in any raw or uncooked vegetables, in this case the snap peas and red bell peppers.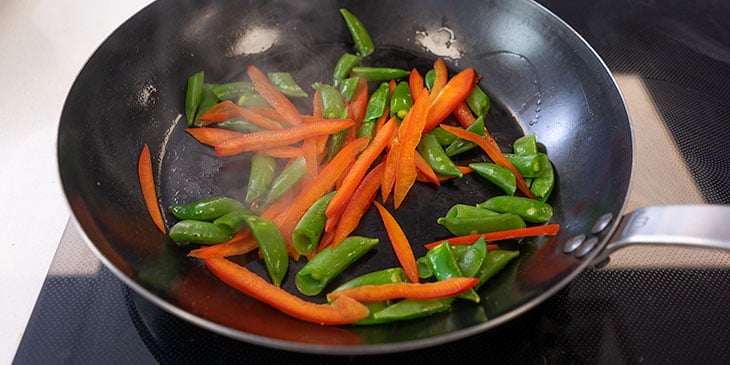 Stir fry for 2 minutes, then add the Trifecta broccoli and mushrooms, cook for 2 more minutes. Remember to stir throughout the process, this is a high-heat cooking method.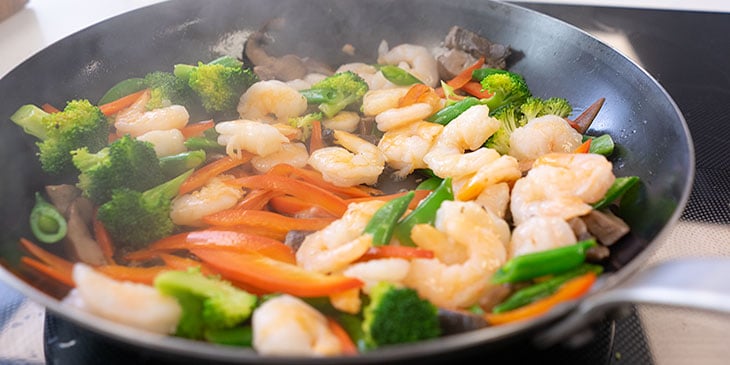 Add the shrimp and stir-fry for 3 minutes then add the sauce and stir till all the ingredients are coated evenly.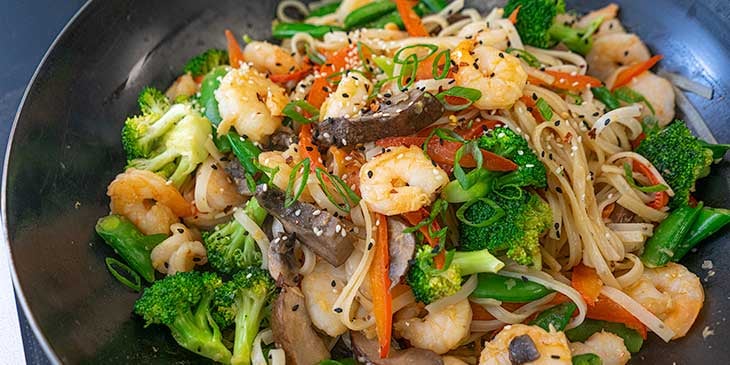 Remove from the heat, top with sliced green onions, cilantro, and a little bit of toasted sesame seeds then dig in!
Meal Prep Tips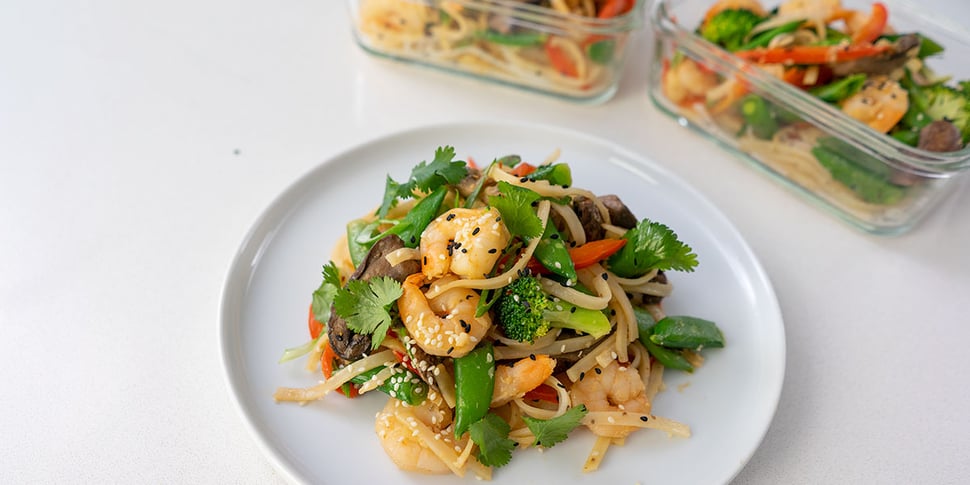 If you are preparing this for meal prep and want to get exact macros, stir-fry your noodles, vegetables, and shrimp separately with a small amount of oil, then measure the following into a meal prep container:
4 oz Trifecta Shrimp
1 1/2 cup vegetables
2 ounces of cooked noodles
2-3 tablespoons of sauce
Skip the oil and saute your ingredients with stock to cut calories if needed.
Try this out as a cold noodle bowl by utilizing fresh ingredients such as: cucumber, edamame, green onion, and shredded carrots!
---
Ready to take your
meal prep
up a notch?
Learn how to count your macros and use our Trifecta A La Carte ingredients to conquer your meal prep without spending hours in the kitchen! Take your wellness to the next level with Trifecta.