Prepare this easy shrimp taco recipe made with chipotle-lime shrimp, fresh avocado, and cotija street corn style slaw. We skipped the corn tortillas and used crunchy jicama shells instead for a tasty low-carb taco alternative.
The beauty of a taco recipe is its endless variety of flavor combinations and, utilizing a low-carb shell allows for more versatility and variety in your filling without worrying about ingesting a high-carb meal.
Low-Carb Tacos
It's hard for me to say 'low-carb taco' without feeling like I am betraying my Texas roots.
Growing up I used to love watching the dedicated restaurant workers who prepared the fresh tortillas and tamales at the staple hole-in-the-wall tex-mex restaurant around the corner from my childhood home.
But if you're counting your macros and need to cut your carbs, this simple swap can cut out the 45 grams or more of carbs that come from using corn or flour tortillas (if you aren't carb counting though, feel free to use whatever taco shell you'd like!)
Jicama is a tuberous root vegetable sometimes referred to as the Mexican turnip or sweet turnip. In the kitchen, jicama can be enjoyed raw or cooked, and creates a perfect taco shell when kept whole and sliced thin.
You can find prepared jicama 'tortillas' in the produce section of most grocery stores. The store-bought shells are ready to eat and require no cooking.
If you can't find pre-sliced jicama shells, you can make your own but it would require having a piece of kitchen equipment called a mandoline. Purchase a head of bibb lettuce and use the leaves as wraps for another low-carb alternative.
Jicama 'tortillas' make the perfect low-carb, gluten-free wrap and additionally contain inulin, a beneficial prebiotic fiber.
How to Prepare Shrimp Tacos with Street Corn Slaw In Less Than 10 Minutes
Prep Time: 7 min
Cook Time: 3 min
Servings: 4

Ingredients:
1lb Trifecta

Shrimp

or 1lb raw shrimp
½ teaspoon chipotle chili powder
2 tablespoons lime juice
1 tablespoons avocado oil or olive oil
Pinch of salt and pepper
Mexican Street Corn Slaw
1 cups shredded red cabbage or store-bought slaw mix
½ cup corn kernels, fresh or frozen
2 tablespoons lime juice
1 tablespoon apple cider vinegar
½ teaspoon chili powder
½ teaspoon cumin powder
1 tablespoon honey
¼ cup cilantro chopped
½ cup crumbled cotija cheese or feta cheese
1 tablespoon diced jalapeno (optional)
1 avocado
1 package jicama shells or 8 tortilla shells of choice
Kitchen Tools:
1 medium skillet and spatula
1 medium and large bowl
Tongs
Knife and cutting board
Step 1: Prepare Your Slaw

In a medium or large bowl combine the shredded cabbage, crumbled cheese, corn kernels, and cilantro. Toss with the vinegar, lime juice, honey, ground spices and for extra spice add freshly minced jalapeno.
You can also add in some shredded carrots, zucchini, or any other vegetables you'd like. Skip the knife skills and save time by purchasing pre-cut slaw mix from the grocery store.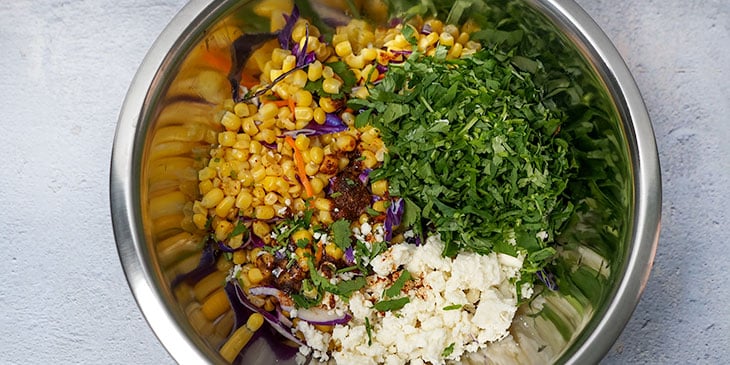 Set aside and move onto cooking the shrimp. Or in this case, reheating if you are using pre-cooked Trifecta Meal Prep Shrimp.
Step 2: Cook Your Shrimp
Place a non-stick skillet over medium high heat, while it is heating prepare the shrimp.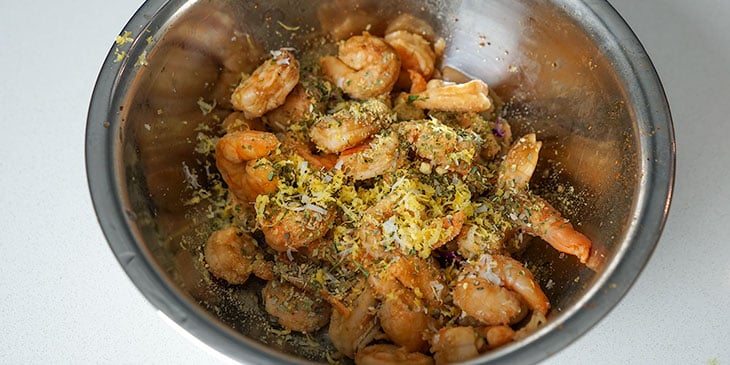 In a medium bowl toss your Trifecta shrimp with the chipotle powder and fresh lime juice. Season additionally with salt and pepper if desired, and any other spices such as dried oregano or fresh herbs like cilantro, parsley, or green onion.
Get creative with your seasonings, herbs and spices are the best way to add variety and flavor to your meal prep plan without adding calories.
Add the oil to the warmed pan then add the shrimp and cook for 2 minutes, until the Trifecta Shrimp is heated through and lightly browned. Remove and prepare to assemble the tacos.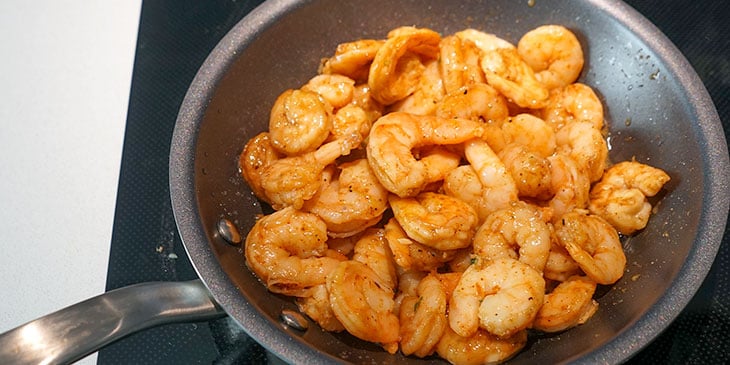 If you are using raw shrimp, saute the shrimp for 4-5 minutes until the shrimp turns pink and is cooked through. Add extra liquid if needed during the cooking process in the form of lime juice, salsa, or stock.
You can also prepare this recipe using any of our other Meal Prep Proteins! Try it out with chicken, steak, beef, or salmon! This can also be prepared as a quick delicious vegan and plant-based taco using our Meal Prep Beyond Beef Patties.
Pro Tip: Whenever possible, saute your taco filling with 1-2 tablespoons of your favorite salsa, this creates a deeply flavorful taco.
Step 3: Assemble The Tacos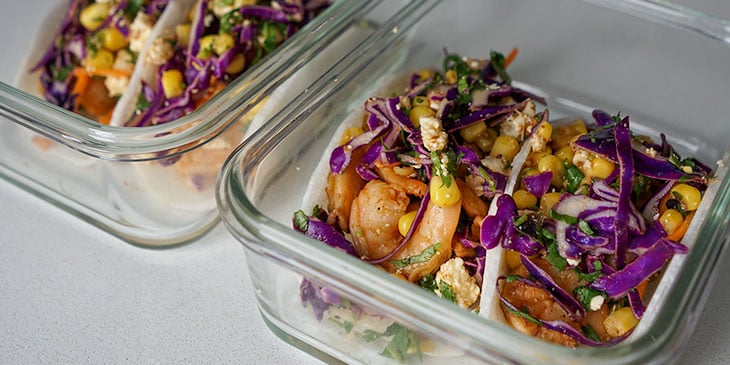 If you plan on enjoying this shrimp taco recipe ASAP, simply divide the shrimp into the jicama shells, and top with the slaw and 1/4 avocado per taco.
The jicama shells can be enjoyed raw, but if you are using regular tortilla shells be sure to heat them up before filling them with your delicious taco filling.
Meal Prep Tips and Storage
This recipe is an easy meal prep solution. If you are meal prepping, simply cool the shrimp filling and divide into compartmentalized meal prep containers. Since the jicama shells are meant to be enjoyed raw, you can pre-make these tacos for a quick grab and go lunch or dinner.
Add a portion of Trifecta Meal Prep Vegetables or roasted vegetables on the side for a nutrient dense meal.
This recipe will keep for up to 7 days in the fridge, and can be prepared in a few different ways:
Make this a salad by replacing the taco shells and tossing the slaw with 2 cups of any salad greens you'd like.
Build a healthy Mexican shrimp bowl and serve this over a bed of quinoa or brown rice: 3/4 cup rice or quinoa with 1 cup of vegetables and 5 oz of shrimp is a well-balanced meal!
Chow down on shrimp nachos: choose your favorite tortilla chip and cheese, then top with the slaw and fresh avocado
---
Too busy? We Got You!
Start building your own budget friendly meal prep for only $6 a meal using Trifecta pre-cooked meal prep ingredients. Just pick and choose your favorite proteins, grains, and veggies, season, and eat!