Why limit taco night to just Tuesday when you can have healthy flavorful taco meals every night, am I right? This classic fan favorite fare is incredibly versatile and a match made in heaven when it comes to Trifecta Meal Prep proteins. So whether you're looking to get creative with your Trifecta order or just love tacos, here are seven easy taco recipes that bring both insane flavor and balanced nutrition to your weekly routine.
Enjoy these for a quick meal, add them to your meal prep rotation, or feed the whole family in less than 30 minutes. Enjoyed best right after cooking. Serve as is or pair with a favorite side like roasted sweet potatoes, black beans, or fresh fruit. We've included a wide variety of options to ignite your creativity, including a high-protein vegan taco option. Also note that the basics and recipes for these tacos can be cross-utilized with any protein that fits your lifestyle and personal preferences (I.e.: make a vegan katsu by frying some pressed tofu, or make a Pibil seitan by substituting the pulled chicken with seitan strips!).
You could just grab some lean ground beef and a packet of store bought taco seasoning and call it a night, or you could cook these tasty tacos in the same amount of time. These hearty ground beef tacos are made with a blend of grass-fed bison and beef, and an inspired chipotle sauce that is slightly umami, smokey, and acidic.
'Carne surtida' means assorted meats, literally, and in this case the 'surtida' refers to a mix of ground meats, bison and beef.
Grab your Trifecta beef patties and bison patties, break them apart and mix them in this incredible chipotle sauce. Though typically we would want to braise the meats for a long period of time, using ground beef and a thicker sauce saves you a ton of cooking time.
Try these with ground turkey!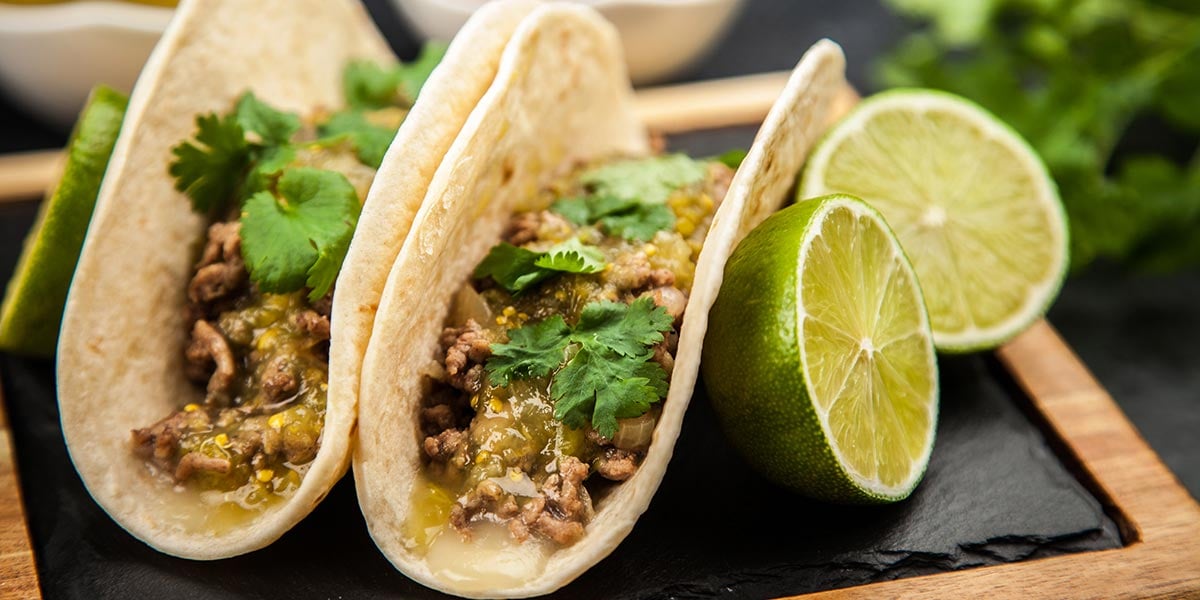 Macros: 480 calories, 17g F, 36g C, 35g P
Get the full recipe here.
Why yes, you can make healthy fried chicken fusion tacos in less than 30 minutes without blowing up your diet. Simply coat and pan fry your Trifecta chicken to take it to the next level.
The crunchy texture of these tacos mixed with the spicy mayo (Alt Mayo nation) and a limey-bed of shredded cabbage fold all the perfect factors into one perfect bite.
Need a little extra heat? Add sliced peppers like jalapeno or serrano or sprinkle with red pepper flakes or a smidge of Sriracha (it will look pretty too!).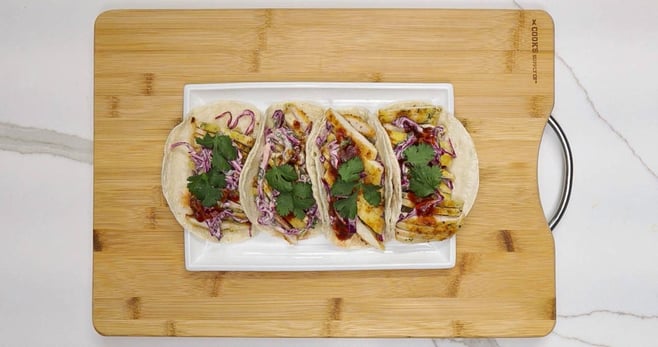 Macros: 520 calories, 23g F, 28g C, 38g P
Get the full recipe here.
These are hands down my favorite tacos in this collection - the flavor is like no other, and I was mentally strolling through downtown LA as I was working on them!
Birria is typically a bit of a lengthy braising process. You can take this recipe and cook your Trifecta Steak in a crockpot overnight to achieve the same result, or you can go the quick and simple route of making a modernized version of a birria stock, thickening up with a bit of love, and reheating your hand-pulled flat iron steak with it.
Birria is also typically served with a consommé (broth) on the side, so feel free to reserve some of that beautiful broth to serve in a small bowl with your tacos.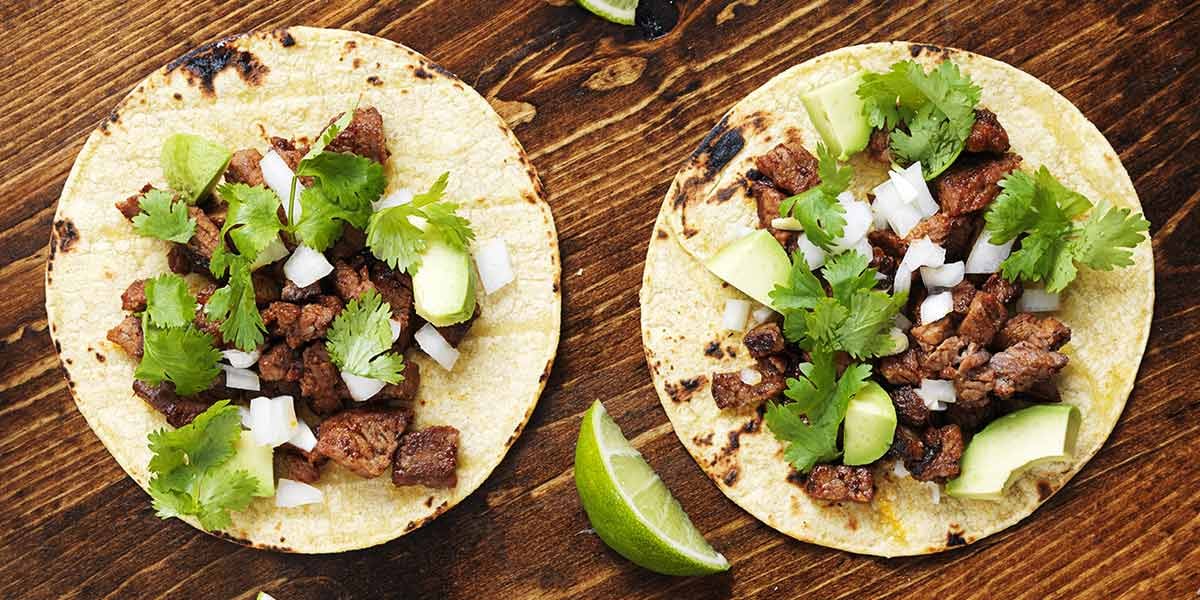 Macros: 520 calories, 23g F, 28g C, 38g P
Get the full recipe here.
Smokey, spicy and gluten free, these charred salmon tacos are just what you need.
'Blackening' any protein is achieved by typically using a dry cajun spice mix, and searing your protein on a hot cast iron skillet - burning the spice and creating a 'blackened' coating.
You can also achieve this effect with any kind of cooked proteins, like Trifecta salmon, by adding this cajun wet spice rub and broiling it. The wet rub helps it stick to the protein and the broiler helps achieve 'blackening' without having your spice layer come off in the skillet.
Try this 'blackening' hack with any Trifecta fish!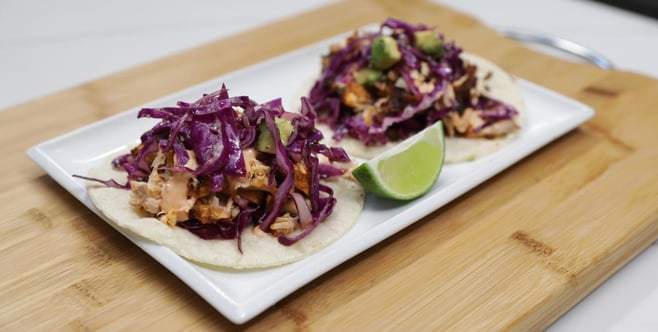 Macros: 450 calories, 27g F, 31g C, 27g P
Get the full recipe here.
Typically made with slow braised pork, pibil is a classic Mexican dish that uses spices like ancho chile paste mixed with orange juice to form a delicious marinade.
For a quicker, leaner twist on this classic recipe, we tossed Trifecta shredded chicken in a simple pibil sauce and served them up in a corn tortilla for an out of this world meal. Whatever you do, don't skip out on the pickled onion topping - it's the perfect acidic punch to bring it all home.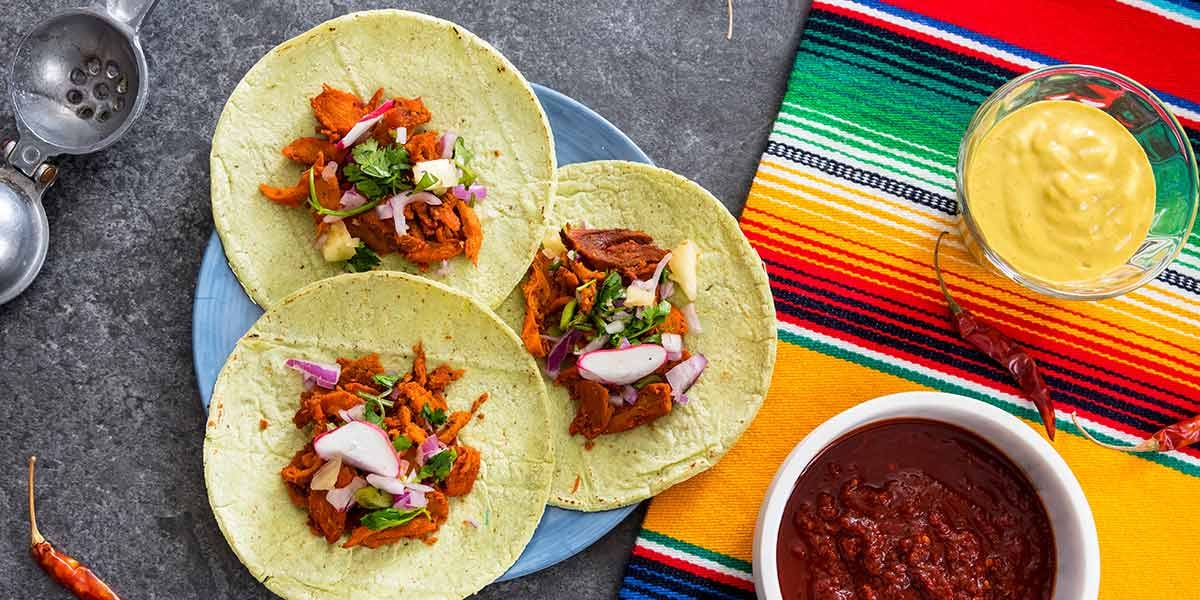 Macros: 260 calories, 5g F, 33g C, 28g P
Get the full recipe here.
Take your Trifecta basa or mahi mahi to the next level with a little panko and coconut coating. A mix of savory and sweet, the crunch of the coconut breaded cod paired with the sweetness of mango, topped with a kick of jalapeno, creates a delicious blend you won't be able to get enough of!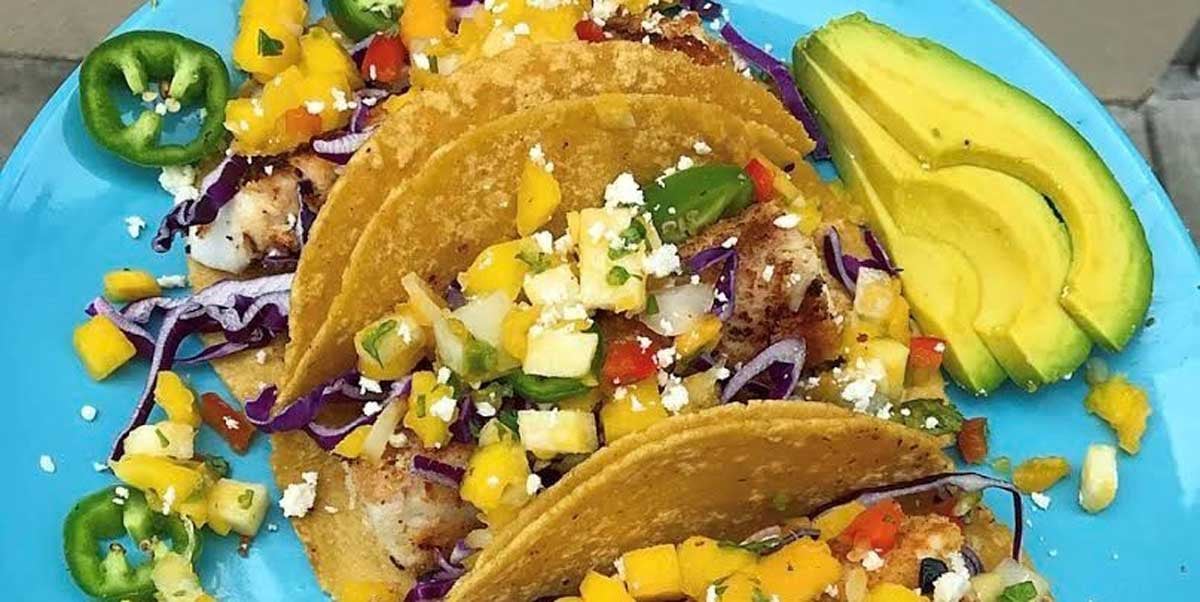 Macros: 332 calories, 6g F, 46g C, 23g P
Get the full recipe here.
If you love traditional tacos, you're going to enjoy this 100% plant-based Beyond "Beef" tacos! This super simple and classic recipe will take you back to the flavors of your childhood. Plus they pack over 20 grams of vegan protein, without making you work too hard on those busy weekday nights!
Stir a small amount of salsa or tomato sauce into the "beefy" mixture while cooking for even more flavor.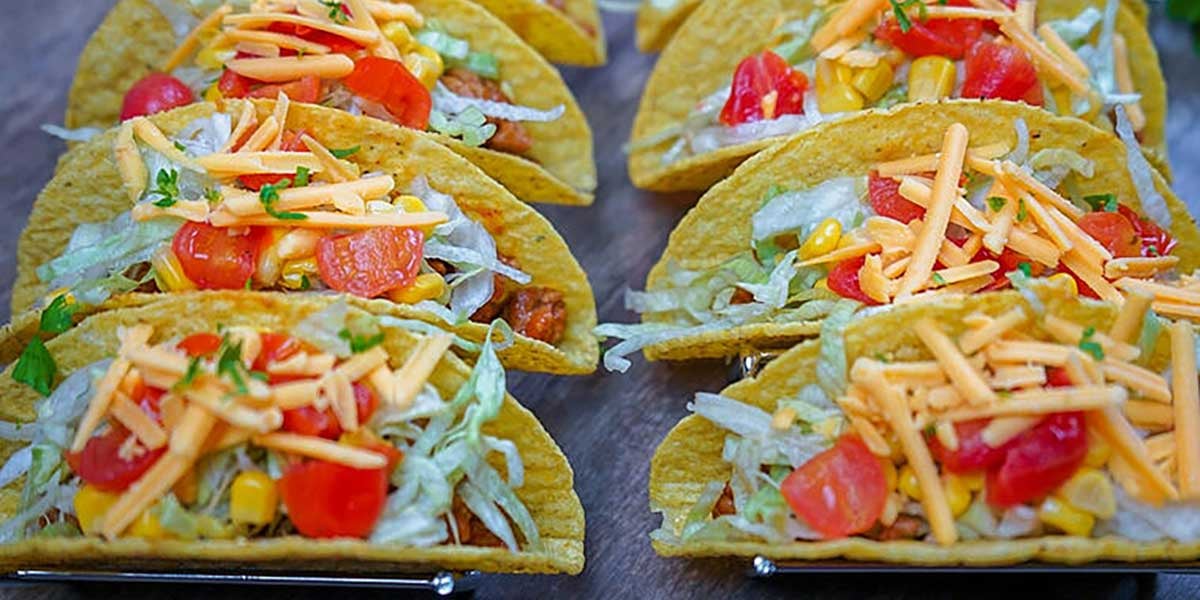 Macros: 509 calories, 34g F, 31g C, 23g P
Get the full recipe here.
Tips for Healthier Tacos
Tacos get a bad rap and can often be bucketed in the same category as "junk food" - how rude! But this protein packed hand food can be easily macro balanced with the right ingredients.
What's the formula for the perfect healthy homemade taco? One portion of lean protein, a heaping of fresh veggies and herbs, and serving of corn or whole wheat flour tortillas - all seasoned to perfection of course!. It's all the added taco toppings that rack up calories and get you off track.
Here's some quick tips to keep your tacos low calorie and high in nutrition:
Don't overdo it on the cheese and aioli sauce
Use non-fat greek yogurt instead of sour cream
Use plenty of fresh herbs and veggies
Opt for soft tortillas over fried taco shells
Skip the tortilla altogether and make it a taco salad
Use a spray olive oil to cut back on added fat
Want to save time on all your favorite recipes?
Try them with Trifecta's pre-cooked proteins. We source and prep the best grass-fed, sustainably caught and free-range meat, fish, and poultry available and ship it straight to your door. All you need to do is warm them up and dig in - or in this case, drop them into your favorite taco recipe to save some serious time and calories.