Chicken Katsu is a Japanese breaded chicken typically made with panko crumbs. Because we (Trifecta) are based in California and fusion tacos are quite the California thing, I figured this fun, easy, and creative taco idea would be perfect for Taco Tuesday (shout out to Lebron), or for any day of the week, since every day is taco day. Use Trifecta's Chicken A La Carte for a quicker recipe format, or use raw chicken to make from scratch. This recipe is fool proof.
How to Make a Chicken Katsu
Typically, chicken katsu is made by breading raw chicken in the three step method (flour, egg, panko), and then frying. However... since we are in the business of healthier format recipes, and since this recipe calls to use cooked chicken, we've added an extra step: coating the Trifecta chicken with a milk and egg wash first.
Why?
Much like how in Texas a smidge of yellow mustard or spicy sauce is added to the outside of a brisket to have the salt and pepper stick to create an even beautiful crispy bark throughout the protein, the egg will help the cornstarch (or rice flour) stick to the cooked chicken and create a better crust. Culinary hacking at it's finest. Oh, and adding a smidge of milk to the egg helps create a richer egg wash.
The tonkatsu sauce is a classic recipe. The oyster or fish sauce are what make the sauce in this case. Lastly, the creamy red cabbage not only adds a necessary punch of acid, but it also adds further moisture to balance the taco as a whole.
Ingredients:
3 (12 ounce total) Trifecta chicken breast, butterflied across (see image below)
3 eggs, beaten thoroughly
1 tablespoon milk or half and half
1 cup gluten free panko crumbs
1/2 cup cornstarch (or rice flour if desired)
1-2 cups avocado oil
8 corn tortillas, warmed
¼ each or 1 cup red cabbage, thinly shredded
¼ cup light mayonnaise
1 Tablespoon rice vinegar
2 dashes Tabasco
¼ cup thinly sliced cilantro
1 teaspoon garlic powder
Kosher salt and freshly ground pepper
Tonkatsu Sauce Ingredients:
¼ cup ketchup
½ teaspoon Worcestershire Sauce
¼ teaspoon honey
½ teaspoon oyster or fish sauce
Kitchen Needs:
Oven
Shallow heavy-bottom pan
Mixing bowls
Baking sheet pans
Knife
Whisk
Cutting board
Kitchen food scale
Measuring cups and tablespoons
Step One: Heat the Oil and Prepare the Chicken
Preheat the oven to 200 F.
In a heavy-bottomed high-sided skillet, heat the oil over medium-low (3-4 mark) heat until it reaches 350F. Keep a close eye on the oil to avoid burning it (use a high temp probe to measure the oil's temperature - if you reach the 350F, turn heat down to the lowest setting and maintain the heat of the oil as close as possible to the desired frying temp).
Meanwhile, crack the eggs into a bowl and add the whole milk or cream. Beat together until fully mixed. Season lightly with salt and pepper. In a separate bowl, add panko crumbs. Add a pinch of salt. Mix to incorporate. Add cornstarch in a third bowl.
Butterfly the Trifecta chicken by cutting across through the middle, causing the chicken breast to open like a book or a butterfly. Since the chicken is cooked, the breading process will take one extra step.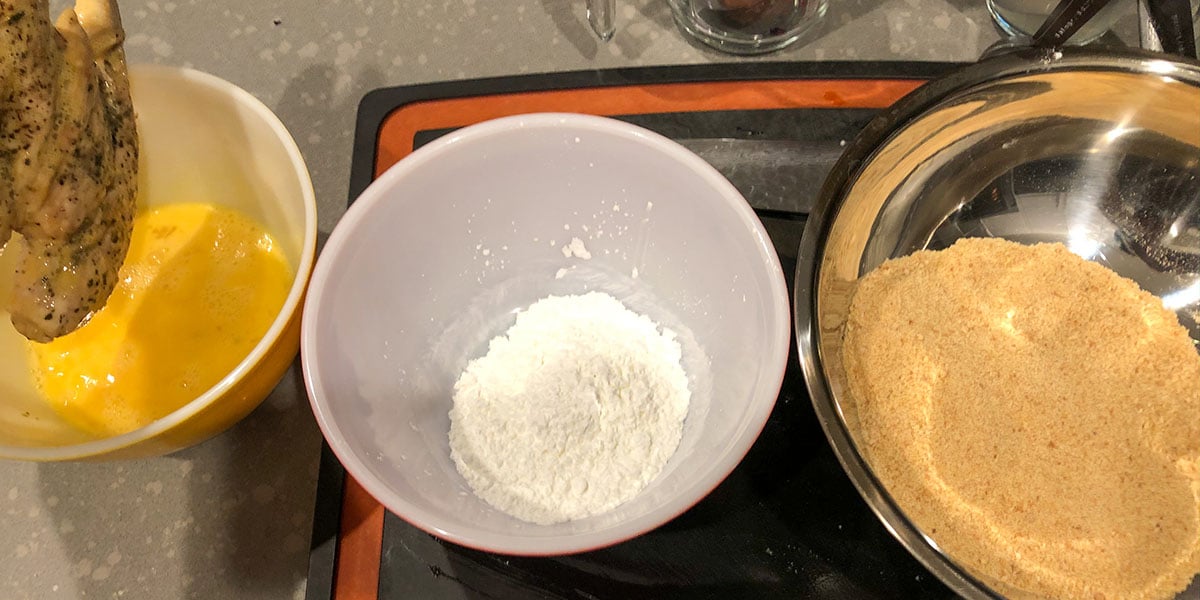 First, coat the Trifecta chicken in the egg, then coat in the cornstarch/flour, drop once again in the eggs, and lastly cover completely with panko, shaking off any excess after each step. Set the coated chicken in a resting rack or cutting board before shallow frying. Repeat with all chicken.
When practicing the breading process, always pick one hand to be your 'wet' hand, and the other to be your 'dry' hand. Meaning, one hand is to deal with the egg wash and the other is to deal with any dry ingredient.
S

tep Two: Prepare Auxiliary Ingredients and Fry Chicken

Thinly slice the cabbage into a separate bowl. Add into the same bowl the light mayo, rice vinegar, tabasco, cilantro, garlic powder, and season with salt and pepper. Mix to incorporate and fully coat the cabbage. Taste for seasoning and adjust if needed.

Mix all ingredients for tonkatsu sauce in a small serving bowl and set aside.

Once oil temperature is 350F, carefully place the chicken in the oil. Best practice is to gently nestle the chicken away from you into the oil, to avoid any potential hot oil splashes from flying your way.

Shallow fry for 1 minute per side until golden brown. Check color to make sure you're not burning the breading. Repeat for all 4 pieces of chicken. As both sides of the chicken get crispy and golden brown, remove with tongs and transfer to paper towels to drain any excess fat. Keep warm in a small oven slightly warmed at 200F, or covered and kept in a warm area of the kitchen. Remove and slice lengthwise when ready to serve.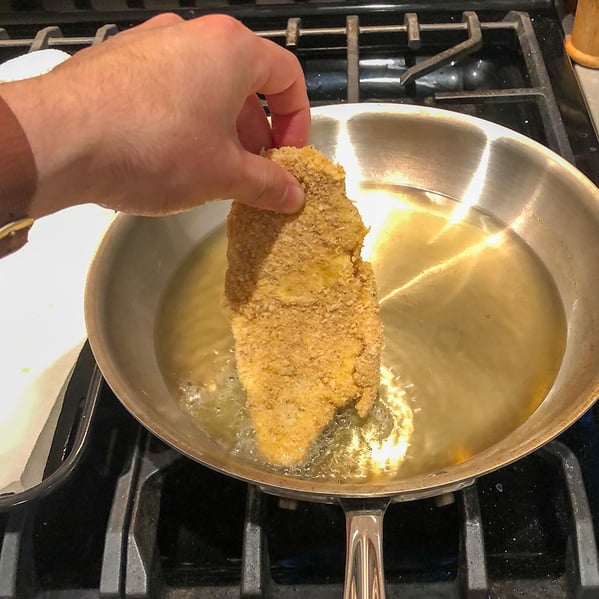 Step Three: Slice and Serve
Warm up tortillas then remove chicken from the oven or hot holding area, and carefully but quickly slice into long thin pieces.
To serve, place two heated tortillas in a plate. Add a small bed of slaw on the bottom of the tortilla, 1 sliced tonkatsu chicken breast divided into the two tortillas (4 oz per two tortillas), topped with ~¼ cup of cabbage slaw, and 2 teaspoons of the tonkatsu sauce drizzled on top (1 teaspoon on each taco).
Add fresh cilantro, Fresno peppers and any other garnish as desired and available.

Storing and Serving
Serve this recipe with your favorite Trifecta A La Carte veggie to increase fiber content and keep you stomach and body happy. The Katsu chicken can also be served with our A La Carte brown rice or white rice. Make into a bowl, add some Sriracha and broccoli and call it a day.
But everything is better in a taco format. Am I right?