When I came up with this recipe, I was mentally walking through the streets of downtown LA, pretending I was tasting simple yet highly delicious tacos with Roy Choi. Believe it or not, I get paid to play with food and come up with amazing recipes to help you get creative at home with your meal prep. This recipe was no exception (and honestly, it's one of my favorite recipes I've developed to date).
A Small History Lesson on Birria
Birria is typically a bit of a lengthy braising process, and if you have seen the o.g. LA birria tacos, you know these are an adventure to eat.
The classic recipe for birria can take anywhere from 7 hours to 3 days and 5 hours. Goat meat is the typical protein used to make a good birria, with a spice rub added to it left to marinade for 3 days, while the cooking process can take up to 5 hours, or even overnight. Typically, birria is also served with a classic consommé, and because of the long braise process, it is often pulled apart. We forego that in this recipe (purists, please forgive me on this one).
Since we are in the business of providing you with tasty, quick, and easy meals, I've adjusted this recipe to imitate the same flavors of a classic braising liquid into a quick mix-and-cook broth that is used as the meat cooking liquid, but can also be thickened with a bit of cornstarch for a highly delicious sauce. Once again, forego the classic consommé side and feel free to serve your birria tacos with a side of the (un)thickened braising liquid, and some pickled red onions.
Ingredients:
16 ounces Trifecta flat iron steak, small diced into even squares
1 yellow onion, peeled, halved
3 garlic cloves, fresh
2 teaspoon chipotle in adobo, blended/pureed
2 Guajillo chiles, dried, stem and seeds removed (¼ cup water saved)
3/4 cup beef stock, store bought
2 teaspoon honey
1 tablespoon avocado oil
8 corn tortillas, warmed
½ cup cilantro, rough chopped
1 Lime, cut into quarter wedges
Salt and pepper to taste
Kitchen Needs:
Saute pan
Sauce pan
Mixing bowls
Knife
Cutting Board
Kitchen food scale
Measuring cups and tablespoons
Blender
Step One: Cut the Steak and Boil the Chiles
Remove Trifecta flat iron steak and dice into small squares (think LA street tacos small dice cut).
Cut onion in half and roughly chop one half. Add to a blender and keep aside for now. Then finely dice the other half and set aside in a small bowl. Rough chop the cilantro and add into the finely diced onion (this will be the garnish). Set aside.
Remove the stem of the chiles by cutting off the top part. Once the top stem is cut, scoop out all seeds using the neck of a small spoon. It's okay if chiles break. Remove as many seeds as possible. Add Anaheim chiles into a small saucepan, cover with water and bring to a boil. Reduce to a light simmer and simmer for 15 minutes. Remove from heat and leave covered for 5 minutes (this will steam the chiles further). Reserve ¼ cup of the boiling water and discard the rest.
S

tep Two: Make the Sauce, Reheat Meat, Enjoy

Transfer the now boiled and rehydrated Anaheim chile to a blender with half of the rough chopped onion. Add the 2 teaspoons of pureed chipotle in adobo, ¼ cup of the boiling water, ¾ cup of beef stock, the garlic, avocado oil, and honey. Blend slowly until chiles are pureed and the mix is smooth. Taste for salt and adjust if needed. Transfer to a Tupperware container and keep on the side for now. You will have more puree than you need for this recipe.

In a medium saute pan combine the diced flat iron steak, along with ¾ cup of the chile puree. Bring to a boil mixing constantly to heat through and then reduce the heat to a simmer and slightly reduce the sauce.

Meanwhile heat tortillas and keep warm. Heat over an open flame or in a microwave covered with a damp cloth towel. Keep warm until needed.

Cut lime wedges into quarters.
To plate: Place two tortillas per plate, and add 2 ounces of the warmed flat iron steak on each tortilla. Top with onion-cilantro mix. Serve with a lime wedge. Enjoy!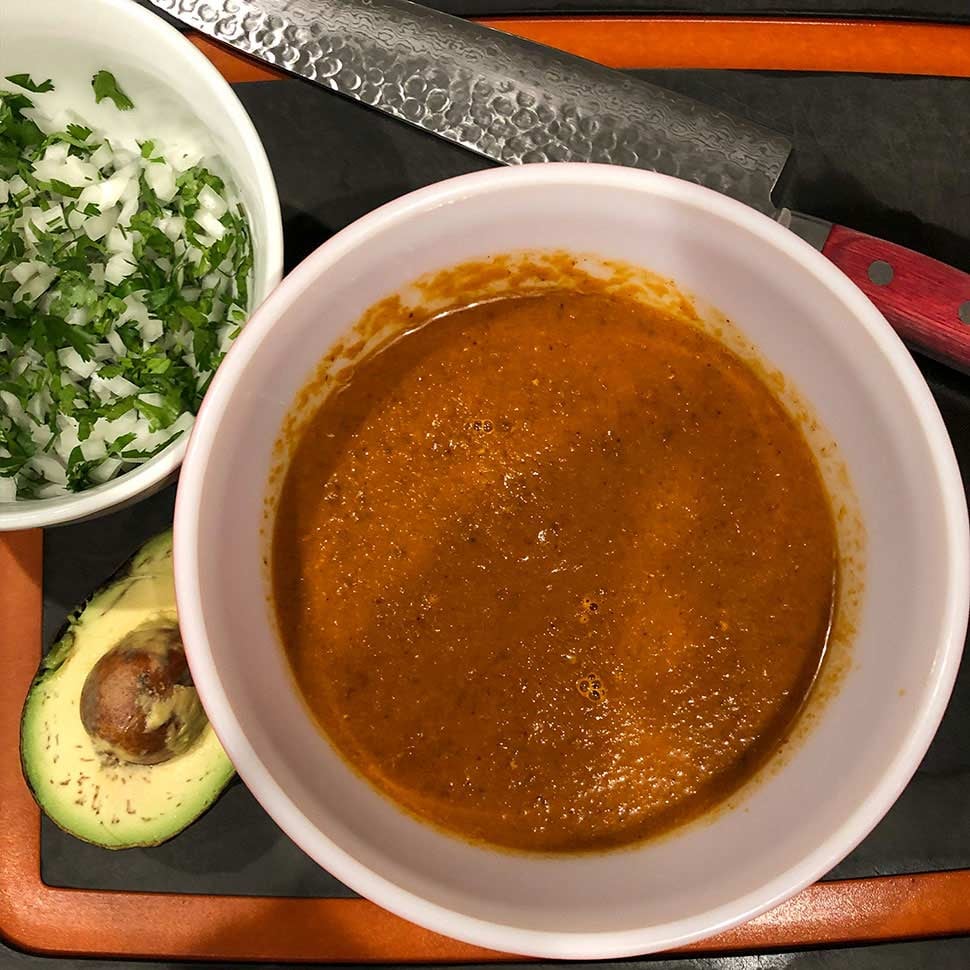 Storage and Serving
Transfer the remaining sauce to a Tupperware (if you didn't already) and cool uncovered in the fridge. Only cover once cooled completely. If you are meal prepping this ahead of time, you can always cool the birria-meat mixture (the meat with sauce) and reheat as needed throughout the week. For a well rounded plate, serve this with your favorite Trifecta mix veggies.
Shop these and many other A La Carte items to support your meal prep efforts!