To 'blacken' a protein means to season such protein with a Cajun or Creole-inspired spice mix, and charr both sides of the protein in, typically, a cast iron skilet . The contrast of the Cajun spice, with the protein itself, and the burn of the spice mix have given this dish the reputation it's held up to.
How to Blacken Salmon (or Any Protein)
As explained above, 'blackening' any protein is achieved by typically using a dry Cajun spice mix, seasoning a raw protein with it, and searing it on a hot cast iron skillet, thus burning the spice and creating a 'blackened' *insert protein name here*. Given we are using Trifecta's salmon (an already cooked protein), I've created a quick from-scratch Cajun wet spice rub to help imitate the function of a blackened spice mix. In this case, the rub is wet to help it stick to the salmon. If for any reason you don't like salmon and want to use this same spice mix but with a different protein, by all means go ahead.
In the case of this recipe, we forego searing the rub on a pan, and we stick with a bake and broil method to develop the charr of the spices. Simply preheat your oven to warm the protein, and then turn on the broil to add that delicious blackened look. Now you have another hack under your belt.
Both the Sriracha aioli and the cabbage-avocado mix add a great balance of texture and flavor to make this taco a delicious choice for any day of the week. The ingredient list may look long but the process to put this together is super easy, given you are using our delicious Trifecta salmon.
Feel free to make the Sriracha aioli ahead of time and keep it in your fridge. You can use this aioli as part of your rotational meal prep sauces for sandwiches, other tacos, or a great keto side with your favorite Trifecta A La Carte protein.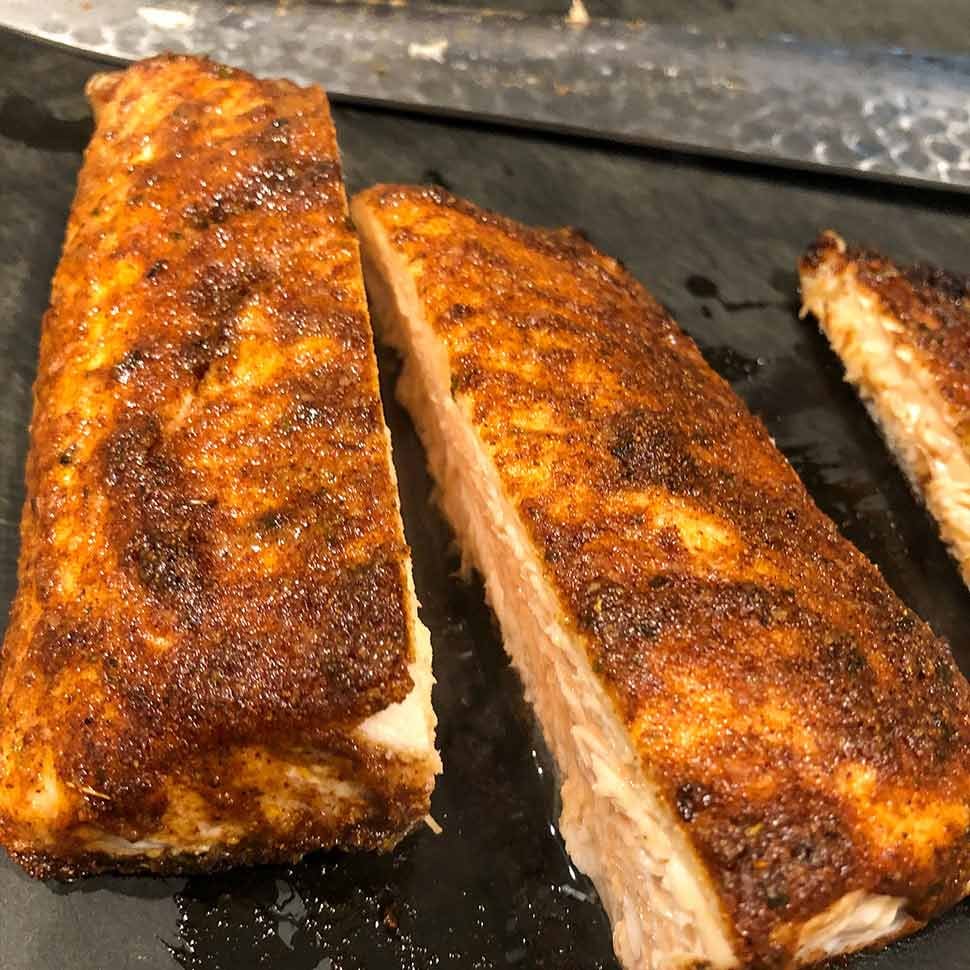 - Ingredients:
3 (12 ounce) Trifecta salmon filets
8 corn tortillas, warmed
¼ red cabbage, thinly sliced
½ avocado, diced into squares
- Blackened Rub
3 tablespoon avocado oil
1 tablespoon paprika
1 tablespoon garlic powder
2 teaspoon cumin
2 teaspoon oregano, dry
1 teaspoon onion powder
1 teaspoon cinnamon powder
1 teaspoon thyme, dried
¼ teaspoon cayenne pepper
Pinch of kosher salt
- Sriracha Aioli:
¼ cup mayo
1 tablespoon Sriracha
2 teaspoon lime juice
½ teaspoon garlic powder
Kitchen Needs:
Oven
Shallow heavy-bottom pan
Mixing bowls
Baking sheet pans
Knife
Whisk
Cutting Board
Kitchen food scale
Measuring cups and tablespoons
Step One: Mix the Wet Rub, and Blacken the Salmon
Preheat oven (or a small appliance oven) to 425F. Remove 4 Trifecta salmon filets from container and set on top of a cutting board.
Mix 3 tablespoons oil plus all spices in a small bowl. Add a pinch of salt and pepper. Mix. A paste should form. Gently brush all sides of the salmon filets using a food grade brush or by simply spreading the wet rub with the back of the spoon on all sides of the salmon.
Transfer to a foil-lined baking sheet and place in the preheated oven for 5 minutes to heat through. After 5 minutes, change the settings in the oven to broil or toast. This will 'blacken' the salmon. Broil for 1 minute. Keep an eye on the oven so that it doesn't excessively char the spice on the fish or smoke up your kitchen. Remove from oven once done and keep warm.
S

tep Two: Prepare Auxiliary Ingredients

As fish blackens, slice the red cabbage and diced the avocado. Add together in a bowl and gently mix together. Splash with a pinch of salt, olive oil, and lemon juice. Mix all ingredients for the aioli in a separate small bowl and keep on the side until needed. If you have one, transfer aioli to a squeeze bottle -- this will allow you to create a social media worthy salmon taco.

Reheat tortillas on an open flame or in the microwave for 30-45 seconds. If reheating over an open flame, turn constantly until both sides are heated through. Keep warm until needed.
Squeeze bottles are used throughout the culinary industry to plate and spread sauces. They allow sauces to be plated in an accurate and artistic way.
Step Three: Slice and Serve
Place two tortillas on a plate. At the bottom of each tortilla, add and spread a small amount of the aioli, followed by a small amount of the avocado-cabbage mix. Gently and carefully pull apart each salmon filet with a pair of forks separating the filets. Add the spicy aioli and a spoonful of the cabbage mix on top.
Garnish with fresh herbs, sliced radish, and serve with a lime wedge.
Storing and Serving
Serve this recipe with your favorite Trifecta A La Carte mushrooms to increase fiber content and keep you stomach and body happy.
If meal prepping, cool fish down uncovered in the fridge, and transfer to a Tupperware. Cover and store for up to a week.
Shop these and many other A La Carte items to support your meal prep efforts!