A mix of savory and sweet, these coconut crusted fish tacos are a MUST try! The crunch of the coconut breaded cod paired with the sweetness of mango, topped with a kick of jalapeno, creates a delicious blend you won't be able to get enough of.
For all the pescatarians out there, you can use this breading method for any favorite white fish. With today's amazing food technology, like the very handy air fryers, you can fry a batter without the loads of oil required to typically pan or deep-fry certain items. Feel free to fry your fish either way, but know both are available as an option!
The mango salsa can also be played with - substitute the mango with pineapple, papaya, or even kiwi. The freshness and sweetness of these fruits will add the same flavor component as the mango does. Pineapple, papaya, and kiwi - ironically - are all also known for their natural high enzymatic presence (meaning, these fruits help with the breakdown and digestion of proteins, while also adding some fiber to your diet!). Buy pre-cut mango/fruit of choice, or cut it yourself. Don't worry about getting the mango perfectly cut - everyone struggles doing so.
Lastly, the jalapeño is always a must in my book - life is better with a little spice. Now, if you are not a fan of spice, feel free to remove the jalapenos all together from the equation (but at least substitute them with a hint of red pepper flakes - or some sliced sweet mini peppers. It will both look good and taste great with the mango salsa!).
Ingredients:
4 corn tortillas

2 - 4oz fillets of Trifecta cod

1/4 cup unsweetened coconut

1/2 cup of panko bread crumbs

1 mango, small diced

1/2 cup jicama, fresh, peeled, diced

1 jalapeno, sliced into rounds

1/4 cup cilantro, washed, fresh

1/2 cup red cabbage, thinly sliced or shredded

1 tomato, diced
Garnish:
Red Pepper Flakes

Cotija Cheese or Avocado (optional)

Limes
Kitchen Needs:
Air fryer or medium skillet
Tongs
Knife
Cutting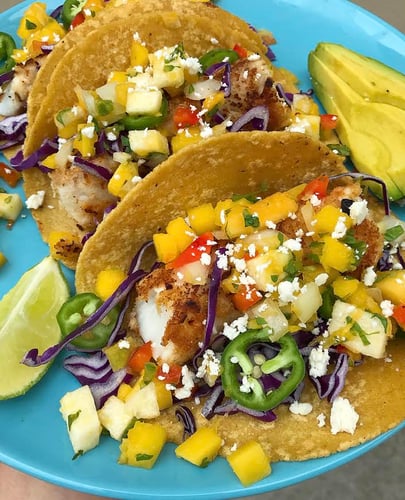 Step One: Make Salsa & Crust Cod
Begin by making the salsa. Dice the mango, jicama, tomatoes, and cilantro and add to a bowl. Shred the cabbage and mix. Season with a hint of salt, black pepper, and lime juice if desired. Keep on the side. Slice jalapenos and keep on the side as well.
On a small bowl, mix the bread crumbs, red pepper flakes, and coconut flakes.
Remove Trifecta cod from the package and spray with cooking spray on both sides. Roll the cod in the bread crumbsm and mix until the cod is thoroughly covered and an even crust forms.
Step Two: Cook Cod
If using an air fryer, set the air fryer settings to cook fish fillets or to fry chicken wings - this setting will help develop the crust and get it golden brown. This might take anywhere between 5-10 minutes depending on the air fryer. Avoid burning the crust.
If using a skillet, add 2 tablespoons of oil to a small non-stick skillet and heat over medium heat. Heat until oil is slightly smoking and it begins to shimmer.
Once the oil is hot, pan-fry the cod for 1 minute on each side, adjusting the heat as needed. Ideally, pan-fry both cod filets at the same time. Remove and transfer to a resting rack, and keep warm until needed (keep warm in small appliance oven set to 'keep warm' settings).
Step Two: Cut Cod and Plate
Reheat the tortillas, either on an open flame by constantly turning the tortilla over the flame until hot, or on a hot small non-stick skillet. Or, warm the tortillas in a microwave for 30 seconds. Wrap the tortillas in a damp small cloth towel or paper cloth towel. Keep warm.
Using the corn tortillas as a base, add the red cabbage and mango salsa, half the cod fillets to each tortilla, a splash of the mango salsa again, and jalapenos.
Top with cotija cheese or avocado, if desired. Enjoy!
Storage
If you are meal prepping ahead of time, crust and cook the cod, cool down completely and store in a Tupperware covered for up to a week. Feel free to make the salsa as well and use as needed.
Shop A La Carte for Cod and any other of your favorite vegetables by browsing through our A La Carte menu!