Chilaquiles are great one-stop meal, that can be made very quickly and pack a ton of flavor in no time. Aside from being very customizable, you can make this recipe your own and choose to prepare a green or red chilaquile recipe.
Find a fun, easy, and delicious chilaquile recipe using Trifecta Meal Prepingredients below!
What are Chilaquiles?
Chilaquiles, (pronounced "chee-lah-KEE-les") are basically partially baked nachos drenched in salsa.
The basic chilaquiles equation: tortillas drenched in sauce, mixed with cheese, and topped with any kind of protein and toppings of your choice.
Chilaquiles are completely customizable.
If you want to make it vegan and high-protein, use some soyrizo or vegan protein alternative, or if you want to add some protein and a sunny side-up egg, you can definitely do that too!
We used Trifecta Shredded Chicken to prepare this simple and delicious macro-balanced meal.
I suggest throwing some vegetables into the mix to help you round up this meal; a few ideas are roasted peppers, green or red (think poblano), if desired sautéed spinach, and maybe even cherry tomatoes.
You can also finish your chilaquiles with queso fresco or Cotija cheese, a chunky salsa, and some chopped avocado.
This recipe calls for 18 chips per serving size. I suggest using half of that to drench them in the salsa, and the other half to be used as a base and crunch factor on the plate.
Top your finished product with fresh herbs like cilantro or parsley for a perfect Instagram brunch-at-home picture!
Nutrition Information: 540 kcal; 23g Fat; 45g Carbs; 42g Pro
Chilaquiles Verdes or Rojos?
Because chilaquiles are heavily based on the sauce they use, the dish itself can be qualified as either a chilaquiles 'verde' if it uses a green salsa, or chilaquiles 'rojo' if it uses a red salsa.
The choice at the end of the day is yours… Whatever salsa you have on hand or you prefer is the one that will work the best with this recipe.
Or if you are a person who loves both salsas, you can make a 'divorciada' (divorced) by mixing the two salsas with the tortillas, but also by smothering them 50/50 on top of the final dish (green on one half and red on the other).
If you'd like to have fun, grab some light cream and make the Mexican flag by plating green salsa, cream in the middle, red salsa.
The process to make this recipe is incredibly simple. Some recipes will call for frying your own tortillas, but in this case to save time, we use store-bought tortillas. The same can be said about the salsa.

How to Make A Quick Chilaquiles Chicken Recipe

Prep Time: 10 minutes
Cook Time: 10 minutes
Servings: 4 each

Ingredients
16 ounces Trifecta shredded chicken
72 tortilla chips (store-bought - 18 per plate)
1 jar favorite red salsa
1 teaspoon avocado oil
4 teaspoon cotija cheese
Fresh Cilantro
1/2 avocado
Kosher salt, to taste
Lime juice, to taste
Kitchen Tools
Wide sauté pan
Wooden spoon or rubber spatula
Tablespoons
Cutting board
Knife
Hand immersion blender (we used Breville's All in One)
Step 1: Prepare All Your Ingredients
To make this recipe first measure your chips, remove Trifecta shredded chicken from the container, cut the avocado and liberally cover with lime juice and a pinch of salt, crumble the cotija, and grab your oil.
Having your ingredients at hand will allow for a very fast set up.
Step 2: Heat Oil and Cook Salsa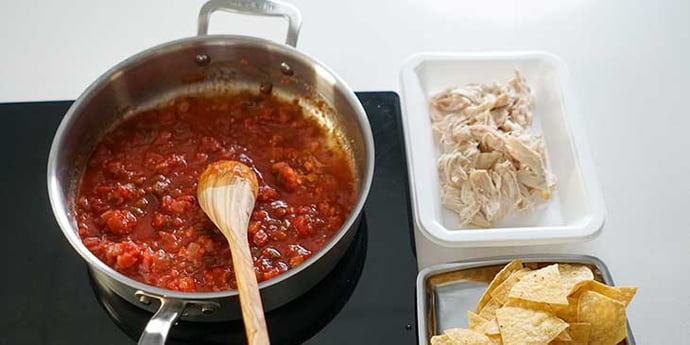 Heat the oil over medium heat until oil is slightly shimmering.
Carefully add your salsa of choice and cook 3-5 minutes. As a tip, add the salsa away from you so that it doesn't splash your way (wear an apron to avoid salsa stains!).
Optional Step: Blend Your Sauce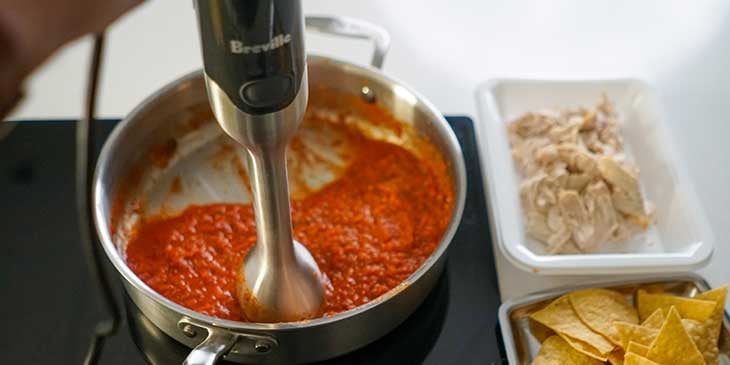 If your sauce is too chunky, feel free to use a hand immersion blender (we love Breville's), and blend your sauce after cooking for 2-3 minutes.
Step 3: Add Tortillas then Chicken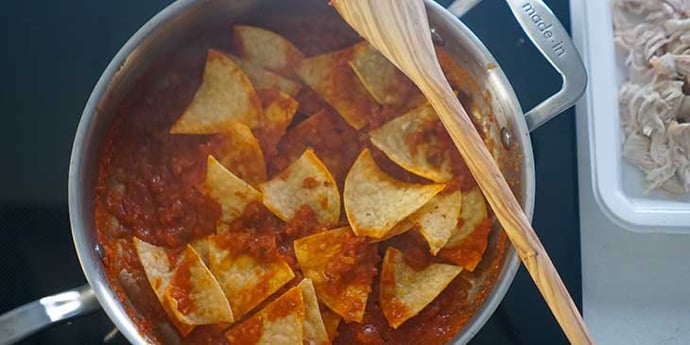 Add 9 tortillas per serving (so 36 total) into the pan and mix very gently to avoid breaking the chips. You'll use the other half of the tortillas to serve on the base of the plate, for both a crunch factor, and to add color.
The chips should be well soaked. Add the chicken, mix once more and keep on heat for 1-2 minutes, until the chicken is warmed through.
Step 4: Transfer to Plate and Add Toppings & Remaining Salsa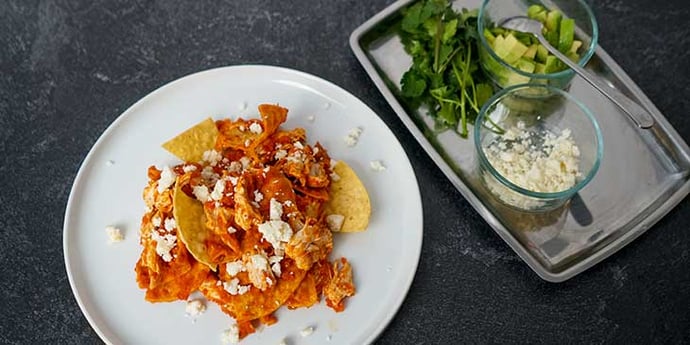 Plate by putting the rest of the tortilla chips on a plate and then topping off with the salsa, chicken mix, and then garnish with seasoned avocado, cilantro stems, and cotija cheese.
Enjoy immediately.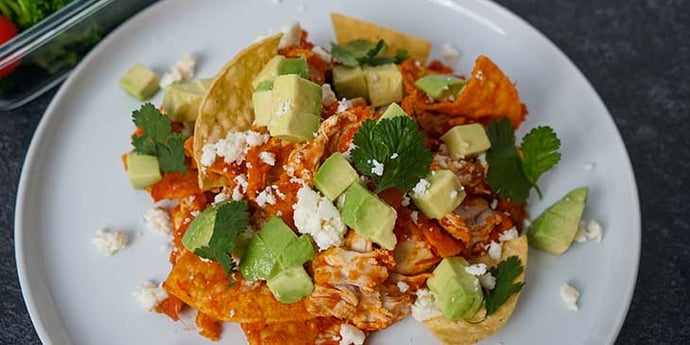 For exact macros serve:

4 oz Trifecta shredded chicken, 18 tortillas, 1/3 cup salsa, 1 teaspoon cotija cheese, 1/8 avocado, cilantro
Need to reduce the fat? Easy! Simply eliminate the cheese or avocado.
If you'd like to cut the carbs down, simply halve the quantity of tortillas.
With the servings above, you can adjust these recipes to meet your personal health goals!
Storing Your Chilaquiles
Storing isn't a great option for chilaquiles, as it's a dish that doesn't hold well long term.
But if you would like to meal prepping this dish, keep the chips separated from the rest of the ingredients, and only mix at the time of eating.
Feel free to store the salsa and chicken pre-mixed, along with the toppings of your choice pre-portioned on the side.
---
Too busy? We Got You!
Start building your own budget friendly meal prep for only $6 a meal using Trifecta pre-cooked meal prep ingredients. Just pick and choose your favorite proteins, grains, and veggies, season, and eat!