One of my favorite go-to recipes is pesto. You can use a variety of herbs and greens along with vinegar and spices to achieve unique flavors and combinations and choose to prepare the sauce chunky or smooth perfect for meal prep. The best part, you can make a big batch and freeze it for later!
What is pesto dressing made of?
A classic pesto recipe consists of oil, cheese, nuts, herbs, and garlic. I love to add less oil while increasing more acidic ingredients like apple cider vinegar and lemon juice, lowering the fat content and giving it a brighter, sharper flavor.
This dandelion and parsley pesto recipe is:
Dairy-free

Gluten-free

Probiotic-friendly

Tangy and fresh
You don't have to include cheese or nuts in your pesto if you are dairy-free or nut-free; although some would argue that you couldn't necessarily call the sauce a pesto anymore and you'd be closer to a chimichurri.
At the end of the day, call it whatever you'd like! Making a delicious sauce can make or break your meal prep, transforming simple ingredients and adding variety to your week, which is why we include sauces like pesto and romesco in our meal plans.
This pesto sauce also pairs perfectly with all of our meal prep proteins and other a la carte items.
Trifecta offers ready-to-eat meal plans along with ingredient meal prep if you want to build your own pesto bowl with organic and sustainably sourced ingredients!
Not sure what meal plan is best for you? take this quiz to find out!
Is pesto bad for you?
No, pesto isn't bad for you. A classic pesto sauce recipe is naturally high in fat due to the use of oil, cheese, and nuts, nutritionally this can be good or bad depending on what your nutritional goals are.
The good news: olive oil contains healthy antioxidants such as monounsaturated fats, along with fat-soluble vitamins E and K, making this oil a healthier option when preparing dressings and sauces. Pine nuts also contain healthy fats and a nice bump of dietary fiber, iron, potassium, and protein (2).
The bad news: The issue you may run into when preparing a classic pesto is that most recipes call for 1/2 cup or more of olive oil. If you're being mindful of your nutrition then you'll only be able to enjoy a small serving of this sauce as too much could lead to excess fat and calories.
The bad news isn't really bad news though! You can easily reduce the fat content if you are making a home-made pesto by replacing some of the oil with seasoning liquids such as lemon juice, apple cider vinegar, kombucha, or specialty vinegar. Using more vinegar and kombucha will add some potentially beneficial probiotics as well.
A pesto sauce can fit into any dietary plan, from keto, vegan, vegetarian, to paleo or flexitarian; no matter what you call your diet, you'll love this sauce!
If you're following a keto dietary plan than a classic pesto would be a perfect high-fat sauce to top off your meal prep.
How do you prepare a healthy pesto sauce?
You will need a blender, food processor, or smoothie blender to make a well-blended pesto at home. As long as you have some way to blend your pesto, then you can focus on exploring the many flavor combinations using a variety of ingredients.
Here is the ingredient breakdown for any pesto sauce to help you utilize a variety of nutrient-dense ingredients:
Something Green: Basil is delicious but basic. You can use any kind of leafy green herb or leafy green vegetable as the base of your pesto sauce! Try out mixing and matching various ones: arugula, spinach, dandelion greens, beet greens, collard greens, kale, watercress (if you love a peppery pesto). Dark-leafy greens are nutrient-dense, meaning they contain more trace minerals such as magnesium, potassium, iron, and b-vitamins.
Nuts or Seeds: Pine nuts are the go-to for pesto but you can use any toasted nut or seed to add flavor and nutrition to your pesto sauce. Try pumpkin, almond, pecans, chia, hemp, flax, peanut, or even macadamia nuts!
Acid: acidity helps balance the fattiness from any oil you use and will brighten up your pesto. You can use lemon juice as a go-to but some other nutritious and tasty options include apple cider vinegar, sake or dry white wine, kombucha (adds probiotics), balsamic vinegar, red wine vinegar, champagne vinegar. You get the point, adding more vinegar or liquid is a great way to reduce the amount of oil in your recipe.
Oil: A high-quality olive oil will always be a staple for creating a delicious pesto sauce, but using too much olive oil can make your sauce bitter. Other plant-based oil options include grapeseed, almond, and coconut oil. Stay away from using sesame oils or infused dipping oils because their strong flavor will overpower your pesto.
Seasonings: The base flavor of your pesto will come from the herbs/greens you use and the oil and acid, layer in additional flavors by utilizing ingredients such as fresh garlic, ginger, or turmeric! You can even utilize coconut flakes to give your pesto some extra pizzaz.
Dairy (optional): A classic pesto typically contains some shredded parmesan cheese, but if you're dairy-free or want to skip the cheese then feel free. Pro tip: sub nutritional yeast instead of parmesan for a dairy-free nutritional boost of B-vitamins.
Get creative and make your own version a pesto, as we did with some of our other recipes below:
How to Prepare A Healthy Pesto Sauce
Prep Time: 5 minutes
Cook Time: 0 minutes
Yield: 1.5 cups
Ingredients:
1/2 cup basil
1 cup parsley
1/2 cup dandelion greens
1/4 cup almonds
3 tablespoons apple cider vinegar
2 tablespoons lemon juice
4 cloves garlic
1 tablespoon honey
1 tablespoon nutritional yeast
1 teaspoon fresh ginger
1/4 cup olive oil or avocado oil
Salt and pepper to taste
Kitchen Tools:
food processor or blender
measuring cups and spoons
spatula
Step 1: Gather and measure your ingredients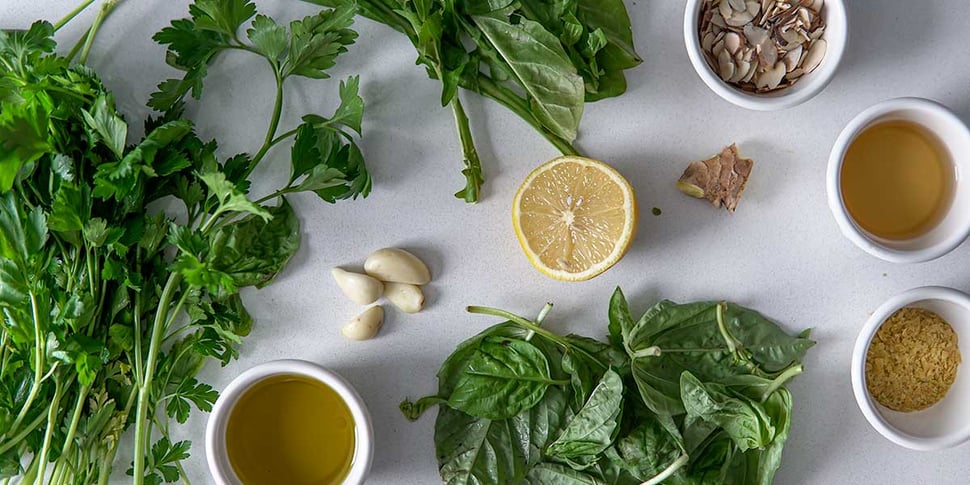 Gather your ingredients for your pesto. you can remove any fibrous stems from your basil but can keep the stems on your parsley. Rinse your herbs and greens then measure out all of your additional ingredients.
All the ingredients in the recipe are packed with beneficial nutrients, but here are some highlights of this pesto recipe:
Dandelion Greens: These slightly earthy greens are best eaten when they are fresh and young, and can be enjoyed cooked or raw. They are a rich source of vitamin A, C, and K, and also contain small amounts of other vitamins and minerals such as vitamin E, folate, iron, calcium, magnesium, and potassium (1).
Parsley: Parsley is a light and crisp herb popular for being a good source of vitamin K and phytonutrient flavonoids (2).
Basil: Basil has been a tonic ingredient used for digestive issues for years as it contains bitter tannins, but it also contains essential oils, beta-carotene, and vitamin C.
Ginger: Ginger has been used for generations as a natural home remedy for soothing digestive upsets, and thanks to modern scientific studies we nows know that ginger has various therapeutic effects. Ginger contains antioxidant, anti-inflammatory, and immuno-supportive compounds (4).
Almonds and Olive Oil: Both of these ingredients are high in Omega-3 fatty acids, specifically alpha-linolenic fatty acids. Incorporating these healthy monounsaturated fats into your diet can help you feel more satiated, reduce inflammation, and positively influence your cholesterol levels (7

).
Step 2: Blend your pesto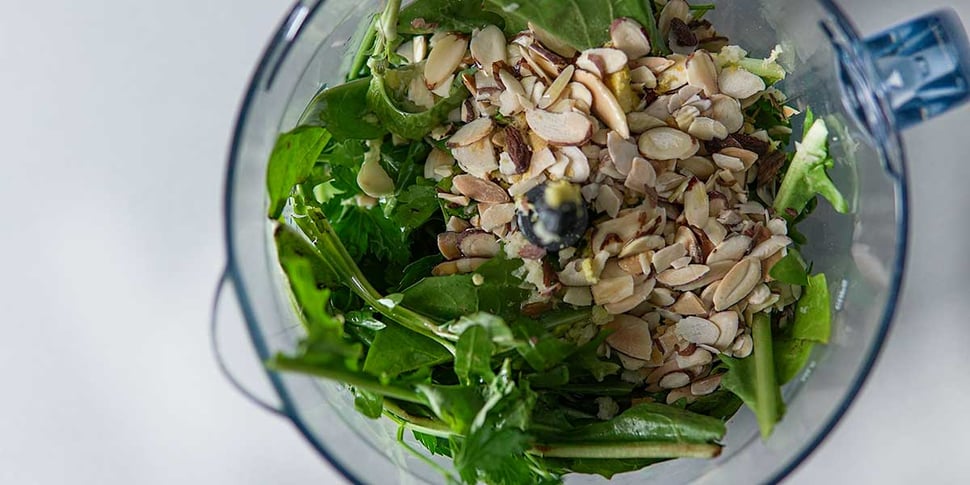 Add all of your ingredients to the base of a food processor and blend until thoroughly combined.
If you are looking for a smoother pesto, simply add in more oil and lemon juice.
Step 3: Season and Store

Taste your pesto and season with a pinch of salt and pepper. Store in an airtight container in your fridge for up to 10 days or in the freezer for up to 6 months.
2 tablespoons of this pesto (1 serving) contain 64 calories, 6 grams of fat, 2 grams of carbohydrates, and 2 grams of protein along with almost 15% of recommended daily value for vitamin A
What do you eat pesto with?
In my opinion, pesto is kinda like hot sauce, it goes well on just about anything but here are some pesto-centric recipes:
Keep in mind pesto is also an amazing marinade and sauce for simple roasted or grilled meats and vegetables. You can also use it as a spread for building a tasty avocado toast or a few tablespoons with greek yogurt for a herbaceous dipping sauce.
---
The food you eat sets you up for success or failure, not just in your physical performance, but in your mental and spiritual health as well. Ready to clean up your diet? Check out our perfectly portioned and ready-to-eat organic meal plans.