If you love your sandwiches...which I am sure we all do, here is the perfect quick and easy recipe to fulfill all of your sandwich needs. Toasted sourdough, paired with savory pesto, Trifecta chicken, and sweet Roma tomatoes; this delicious recipe can be prepared in less than 15 minutes.
About This Recipe
This recipe is quick to prepare if you're using Trifecta Chicken. The pesto can be homemade or store-bought depending on how much time you have; however, homemade pestos have way more flavor!
Classic Italian pesto is prepared with basil, pine nuts, olive oil, garlic, and parmesan cheese.
The issue you may run into when preparing a classic pesto is that most recipes call for 1/2 cup or more of oil. The sauce is naturally high in fat. which although this may help blend the pesto, leads to excess fat and calories.
To curve this, if you are making a homemade pesto for this recipe, replace some of the oil with seasoning liquids such as lemon juice, apple cider vinegar, kombucha, or specialty vinegar.
Add as much or as little liquid as you'd like depending on if you like a smooth or chunky pesto.
Try out some of our favorite pesto recipes to pair with this killer and simple sandwich:

How To Prepare Your Pesto Chicken Sandwich Recipe
Prep Time: 5 minutes
Cook Time: 10 minutes
Servings: 2

Ingredients:
8 ounces Trifecta Chicken, Shredded or Sliced
4 slices sourdough bread (or bread of choice)
3 tablespoons pesto (store-bought or homemade)
2 tablespoons cottage cheese or mozzarella
1 Roma tomato, sliced
1/4 cup basil, roughly chopped
2 tablespoons balsamic vinegar
Cooking Spray
Kitchen Tools:
Knife and cutting board
Non-stick skillet or panini press
Spatula
Step 1: Gather Ingredients and Prepare Pesto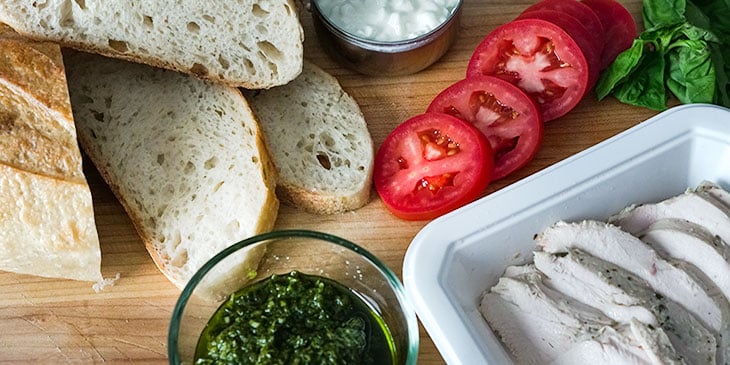 This recipe can be prepared quickly even if you're making the pesto sauce from scratch.
You can purchase a pesto pre-made from most grocery stores or check out your local farmers market!
Bonus: most of the time you can also find some amazing artisan sourdough bread at your local market along with all of the ingredients you need for this pesto chicken sandwich besides the Trifecta Chicken. Pick up extra ingredients for a delicious salad or any other meal prep needs you may have.
Step 2: Heat Skillet, Toast Bread, and Begin to Build the Sandwich
There are a few different ways you can build a panini-style sandwich:
Layer all of the ingredients onto the bread open-faced and broil it in the oven for 4-5 minutes on high
Use an outdoor grill to grill the bread and layer on all the ingredients
Use a panini press
Use a skillet and layer all of the ingredients onto the bread, then press down slightly
For the sake of a quick cleanup, we are going to prepare this pesto chicken sandwich by using a skillet.
First, heat a skillet over medium-high heat and spray your slices of toast with a quick spritz of cooking spray, then lay into the skillet (if you'd like the extra flavor and calories, toast your bread with some salted butter!).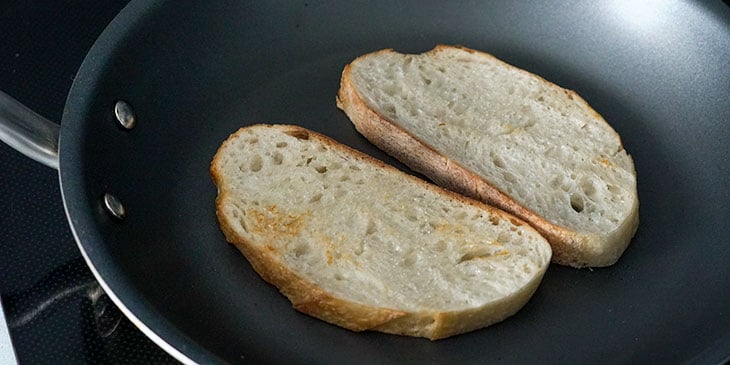 Toast the bread for 1 minute on one side, then flip over and lay 1 tablespoon cottage cheese (or cheese of choice) and 1 tablespoon of pesto onto one of the pieces of toast and a few of the sliced tomatoes on the other.
Give the tomatoes a quick drizzle of balsamic vinegar and make sure you sprinkle a pinch of salt on top of them.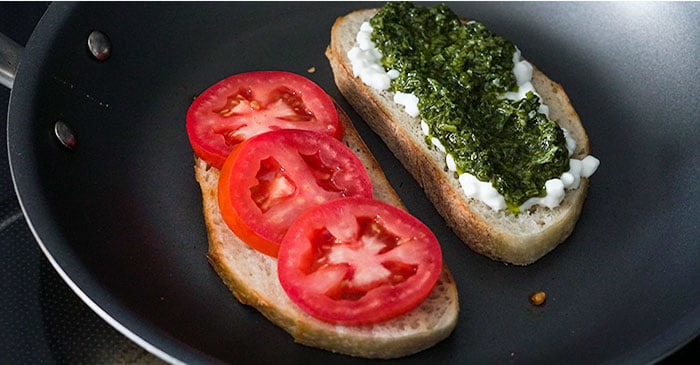 Continue to cook for at least 2 minutes adjusting the heat as needed.
Step 3: Add Chicken and Close Sandwich
This part can get a little tricky. Layer 3 ounces of chicken into your sandwich along with a few slices of basil and then gently flip over one of the sides to close the sandwich.
Using a pair of tongs, a weight press, or a lid from one of your pots, press down the sandwich gently (not too hard or everything will fall out!). Continue cooking for 2 minutes, then flip the sandwich and cook for 2 more minutes, or until everything is heated through. Then dig in!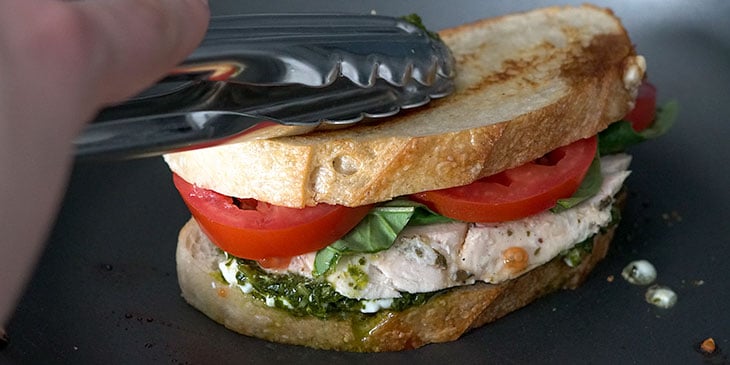 Storing, Serving, and Reheating
Sandwiches are not the best chicken meal prep recipes because the bread often gets too soggy if you try to prepare them a day in advance.
So if you have time to cook your sandwich, then this recipe will be another nutritious meal to prepare in a pinch. But if you are looking for a meal-prep-friendly version of this pesto chicken sandwich recipe then we have some options! Skip the bread in any of these for a keto-friendly and paleo-friendly version of this recipe.
Pesto Chicken Sandwich Salad with Sourdough Croutons:
Toss some fresh arugula or other heart greens with the pesto, tomato, chicken, and balsamic. Cub your sourdough and keep it in a separate baggie until you're ready to do into the salad. Top with shredded parmesan or mozzarella.
Pesto Chicken Wrap with Fresh Greens:
Skip the sourdough and find a tortilla or low-carb wrap in the grocery store to fill with shredded chicken, pesto, cottage cheese, tomato, basil, and shredded kale or salad greens. Don't forget to drizzle in some balsamic vinegar.

Pesto Chicken Bowl:


The best meal-prep friendly version is to pair 5 oz of chicken tossed with 1 1/2 tablespoons of pesto, serving this over 1/2 cup Trifecta Brown Rice or Quinoa with a 1 cup side of Broccoli or other Trifecta Vegetables for a quick macro-balanced meal.
---
Let us Make Your Meals
Start building your own budget-friendly meal prep for only $6 a meal using Trifecta pre-cooked meal prep ingredients. Just pick and choose your favorite proteins, grains, and veggies, season, and eat!