Enjoy a tangy and hearty lemon parmesan kale salad topped with omega-3 packed salmon! This simple recipe is a must-make for your weekly keto meal prep, perfect for lunch or dinner.
The Perfect Keto Salmon Recipe
This base of this simple recipe is a bed of chopped kale marinated in olive oil, lemon juice.
A surprisingly simple combination that yields a flavorful and hearty salad that makes a classic chopped salad into old news. Massaging fresh kale with high-quality olive oil and fresh lemon juice and letting it marinade ahead of time not only provides a healthy low-carb keto-friendly base for your meal but also a simple side salad you can use throughout your week.
Kale is an amazing hearty green that contains a variety of vitamins and minerals, such as vitamin A, vitamin C, vitamin K, folate, phosphorus, potassium, calcium, and zinc (1).
Why Should We Eat More Salmon?
There's a reason every type of dietary approach often recommends consuming salmon or other fatty fish at least a few times a week.
Science suggests that consuming fat, in general, is essential to health. Dietary fats, like omega-3's, provide long-lasting energy to fuel your body, they help increase the absorption of fat-soluble nutrients (vitamins A, D, E, and K), and support the production of certain hormones (3,4,5,6).
In reality, no single food or type of fat can make or break your health, as your overall diet and lifestyle have a much larger impact. So there really isn't any such thing as "bad" food or fat. Nonetheless, including more "good" fats may help reduce your risk of chronic disease while excessive amounts of other (such as saturated and trans) fats could increase your risk (7).
Omega-3 and omega-6 fats are essential fats and cannot be produced by your body, meaning you can only get them from food. Salmon is one of the best animal-based sources of omega-3 fatty acids, EPA & DHA; these fats are considered healthy additions to a balanced diet (2).
EPA and DHA are considered some of the best types of fats you can get in your diet, due to their positive association with improved mood, weight management, and overall health (8). DHA is also the main type of fat found in your brain, making it essential to brain health and numerous bodily functions.
One 3.5 ounce filet of salmon, (around 100-grams) of wild caught salmon contains around 2.2 grams of omega-3 fatty acids (2).
For this recipe, you can either use our Trifecta A La Carte Salmon for a quick meal prep solution or if you are cooking the salmon from scratch!
Using This Recipe To Conquer Your Nutrition Goals
You don't have to count your calories or macros to be healthy, but understanding how to do so can assist you in proper food portioning and finding a balance in your diet. It can also help you develop a deeper relationship with food, and also a more mindful and intuitive way of eating food.
When it comes to keto, the goal is to reduce your carbohydrate intake based on a suitable range for your body that shifts you into a state of ketosis - a nutritional state thought to promote increased fat burning and utilization.
No food is truly forbidden on a keto meal plan - as long as you are balancing your food intake and aware of your keto macro goals. However, certain high carbohydrate foods can make achieving this a real challenge, including some fruits and vegetables.
Use this simple calculator to learn how many grams of net carbs you should be eating every day!
How To Make A Keto Salmon on Lemon-Parm Kale Salad
Prep time: 15 minutes
Cook time: 0-15 minutes
Servings: 4
Ingredients:
For the Salmon
4 - 4 oz Salmon fillets, baked to 145F or Trifecta Salmon
1 tablespoon fresh or dried rosemary, chopped (optional)
1 lemon, sliced (optional)
For the Salad
4 cups kale, stem removed, thinly sliced
4 tablespoons parmesan cheese, grated
4 tablespoons lemon juice
2 tablespoons olive oil
Kosher salt and black pepper to taste
Spray oil
4 tablespoons seeds or nuts: pistachios, chia seeds, sunflower seeds, and pumpkin seeds (optional)
Kitchen Needs:
Knife and cutting board
Mixing bowl
Baking sheet or Non-stick pan
Oven (optional)
Measuring cups and tablespoons

Step One: Prepare Your Kale Salad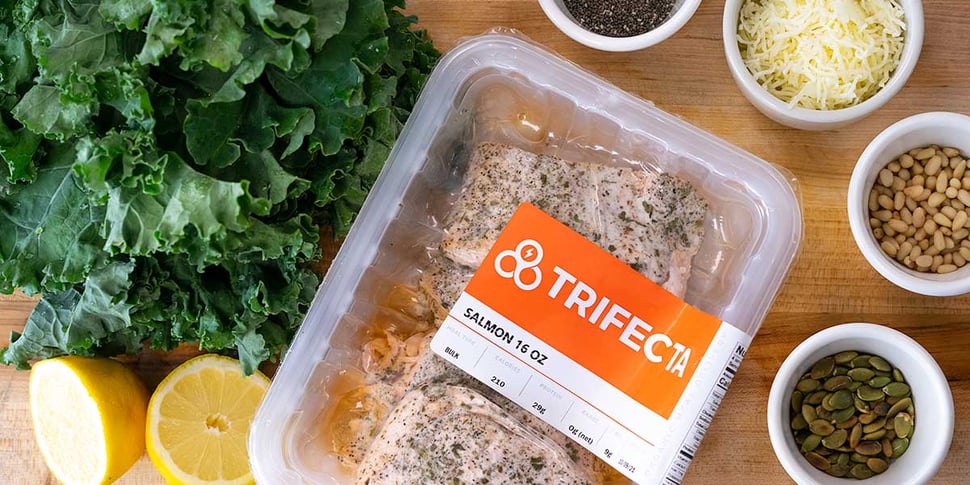 Gather all of your ingredients and first prepare your kale salad.
Remove the kale from the tough stems and discard the stems as the stems tend to be fibrous and tough. Chop up the kale leaves and place them into a bowl. Squeeze over the lemon juice, and then using your hands or a pair of tongs massage in the olive oil and lemon juice into your kale. This is a super simple vinaigrette you can make ahead of time and keep in your fridge in a jar.
Marinade your kale a day ahead if you'd like, since kale is a hearty green it will stay fresh and crisp even after being tossed with a dressing!
At this point, you can also add in your parmesan cheese, and any additional nuts, seeds, and mix-ins you would like!
Using a variety of nuts and seeds will add extra healthy fat for your meal but also layer in additional trace vitamins and minerals.
Step 2: Prepare your Salmon
If you are using Trifecta's meal-prepped salmon, remove 4 filets from the Trifecta package and gently separate them. There are several ways to re-heat Trifecta Meal Prep Salmon:
Reheating in the Oven: To reheat your Trifecta salmon in the oven, preheat your oven to 400 degrees and place salmon on a baking sheet lined with foil. Once the oven is warmed bake for 8 minutes or until warmed through. Top with fresh lemon slices and herbs before baking to add extra flavor!
Reheating in the Microwave: This is the quickest way to reheat your salmon, simply place it on a microwave-safe dish and heat for 2-3 minutes until warmed through.

Reheating in the Air Fryer

: A great option if you enjoy a slightly crispy exterior to your salmon. To air-fry your trifecta salmon, preheat your air-fried to 400 degrees and air-fry the salmon for 4-7 minutes, depending on how crispy you'd like your salmon to be.
Reheating in a Saute Pan (Stove-top): We choose to reheat the salmon for this recipe via stovetop. Simple heat a non-stick pan over medium-high heat and add 1 teaspoon of avocado oil, gently place in salmon filets, and cook for 2 minutes on each side until golden brown; add in some fresh lemon and herbs during the process to add extra flavor.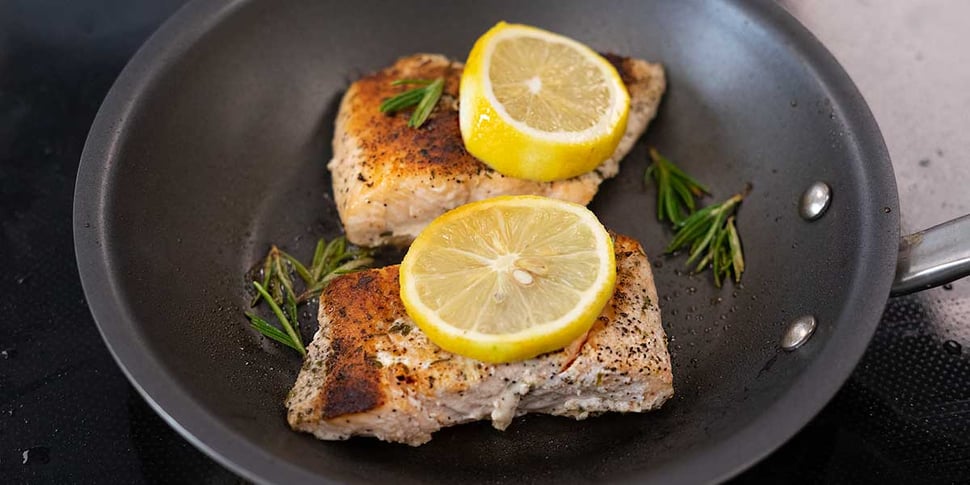 If you are preparing this for your weekly meal prep, you don't need to cook your trifecta salmon, simple heat a portion of the salmon when you are ready to enjoy your salad!
Preparing Baked Salmon from Scratch
If you are cooking the salmon from raw, preheat the oven to 400F, line a baking sheet with foil, spray it with spray oil, and season both sides of the salmon with salt and pepper.
Season with salt and pepper if you haven't done so and bake for 12-15 minutes, or until the internal temperature marks 145F. This is typically when the salmon turns opaque and you can see the white fat start to emerge on the surface and sides of the filet.
Remove your salmon from the oven, and transfer to a dish to cool in the fridge before portioning onto your salads or serve if eating, serve immediately.
Step Three: Season, Portion, and Voila!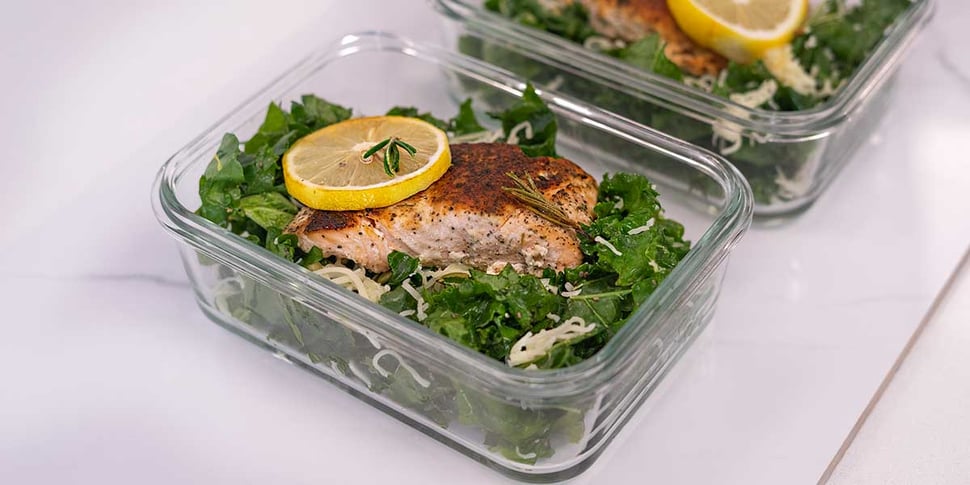 If you are preparing this for your weekly meal prep, divide your salad into four even containers and top with your salmon and extra parmesan cheese!
Storing and Serving
As mentioned above, you can dress the kale and store it in the fridge for up to five days. Check on the quality of the kale and salmon before eating, if you keep these in the fridge for longer than 5 days.
Keto Meal Prep Resources
If you're adding this great recipe to your weekly keto meal prep, remember you can cross-utilize the ingredients! Use this kale salad and pair it with keto-fried chicken or chile-marinated beef!
Following a keto or low-carb diet has its challenges, so we've put together plenty of resources to support you in your wellness journey:
---
Too Busy? We Got You!
Want to get more out of your weekly meal prep efforts? Stick to your calorie goals and budget with our A la Carte Ingredients. Pre-cooked and ready to heat, these ingredients are organic, sustainably sourced, and minimally seasoned to maximize your meal prep.