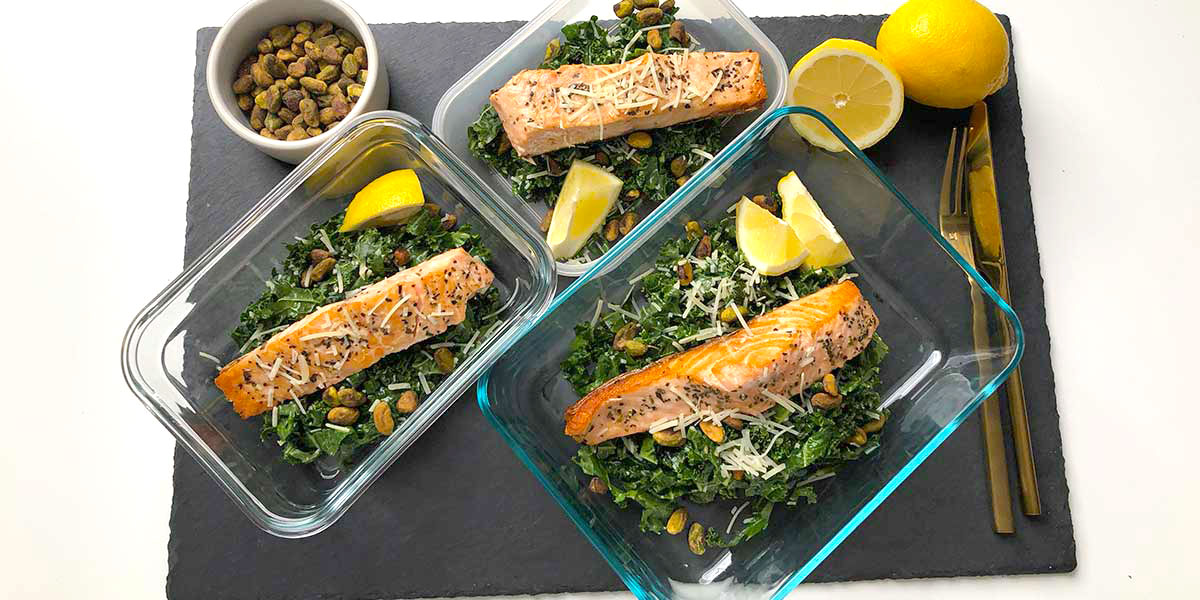 The tanginess from the lemon, combined with the hearty texture of the kale, and the fattiness of the salmon and parmesan combo yield an incredibly fast, simple, and highly delicious meal you can make 4 times for your meal prep. This recipe packs ease and also a strong punch of flavor.
About this Recipe
The kale lemon-parmessan combination is inspired from my time working at a high performance center called EXOS. We used to make this salad and offer it as a side. It was an incredibly simple and highly delicious option that was super quick to put together at any given point.
On top of this, because kale is so hearty - unlike other leafy greens - you can dress the kale ahead of time and it won't wilt, making it beyond perfect for meal prep dishes.
The salmon is super simple - you can either use our Trifecta A La Carte Salmon for a quick meal prep solution, or if you are cooking the salmon from scratch we offer a unique set of tips and tricks to meal prep salmon quickly.
This recipe has 320 calories; 19g fat; 3g net carbs (4g carbs - 1g fiber), and a whooping 32g protein! Let's go!
Without further ado, here this is what you will need.
Ingredients:
4 -4 oz Salmon fillets
4 cups kale, stem removed, thinly sliced
4 tablespoons parmesan cheese, grated
4 tablespoons pistachios
4 tablespoons lemon juice
2 tablespoons olive oil
Kosher salt and black pepper to taste
Spray oil
Kitchen Needs:
Knife and cutting board
Mixing bowl
Baking sheet
Oven (optional)
Measuring cups and tablespoons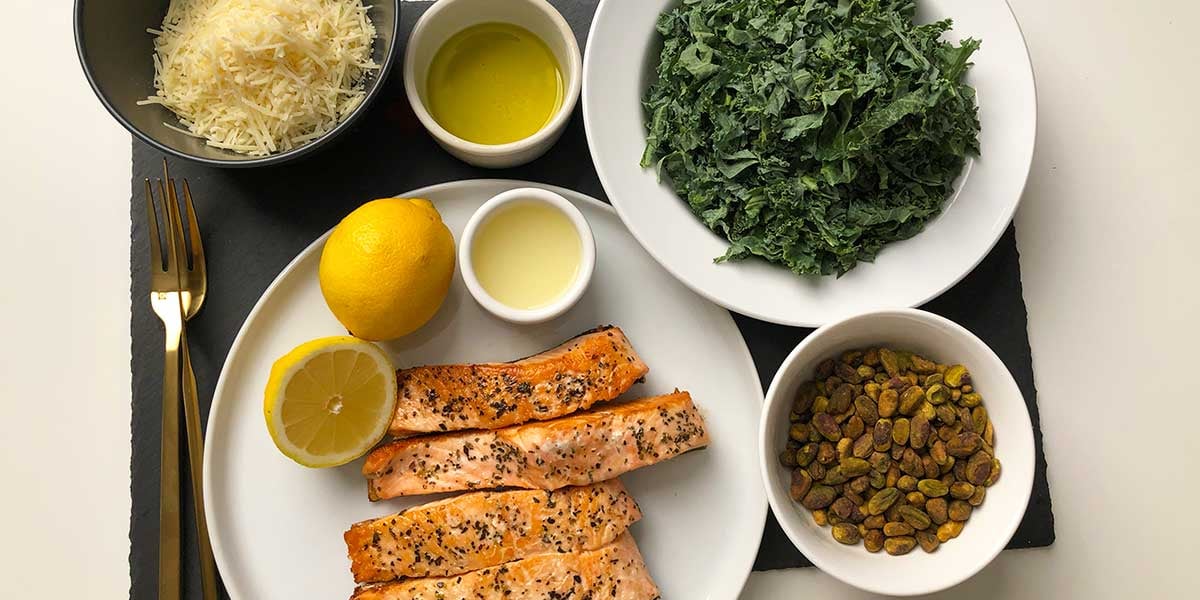 Step One: Prepare your Salmon
If you are using Trifecta's A La Carte salmon, remove 4 filets from the Trifecta package and gently separate them. Set aside on a dish and keep cool until needed.
If you are cooking the salmon from raw, preheat the oven to 400F, line a baking sheet with foil, spray it with spray oil, and season both sides of the salmon with salt and pepper.
If you've purchased a whole salmon, I suggest baking it whole before portioning for a faster cooking and meal prep process. Otherwise, you can portion the salmon into 4 ounce portions by using a clean cutting board and knife, and then transferring the 4 ounce filets to a sheet tray lined with a foil.
There's no perfect way of guessing what 4 ounces looks like. It honestly comes with practice of portioning raw proteins. Cut the salmon and weigh each filet in a plastic warp lined digital scale for better accuracy (the plastic will help with faster clean up). If you are a bit over, square off the ends and use the scraps to complete any other filet that may be under the 4 ounce mark. Season with salt and pepper if you haven't done so and bake for 12-15 minutes, or until the internal temperature marks 145F. Once cooked, cool down by carefully transferring filets to a plate and cooling in the fridge. Do not cool on the same baking sheet tray, as the hot bottom of the tray may cause your fridge surface to melt, or glass to break.
Step Two: Prepare the Kale and Dressing
If you have purchased whole kale, remove the kale leaves from the stem by scraping off the leaves with your hand. Kale stems are incredibly fibrous and make for an unpleasant eating experience (I never get why pre-cut kale has the stems). Once all leaves are pulled from the stems, cut thinly across or widthwise. Transfer kale to a bowl.
Make your dressing by combining the olive oil and lemon juice in a separate bowl. Season with a pinch of salt and pepper, and whisk to combine. This is a super simple vinaigrette you can make ahead of time and keep in your fridge in a jar.
Step Three: Season, Portion, and Voila!
Season your kale with the lemon vinaigrette, and add the grated parmesan cheese.
Divide into four meal prep containers, each containing about 1 cup of seasoned kale. Add 1 tablespoon of pistachios per container. Once your salmon is cool, add the salmon on top of each container, and you're done! You have 4 super simple and highly delicious lunches ready for the week!
Storing and Serving
Store in the fridge for up to a week. Check on the quality of the kale and salmon before eating, if you keep these in the fridge for longer than 5 days.
Ready to take your keto meal prep up a notch? Learn how to cut carbs and burn more fat with this free meal prep toolkit for keto. Your new game plan for starting keto, complete with a keto macro meal planner and approved food lists.