Mongolian beef is a guilty pleasure of mine. With its unique savory and sweet flavor profile, combined with green scallions and Fresno peppers, this high protein, and highly delicious dish can be combined with any of your favorite meal prep side stables. This recipe utilizes Trifecta's Meal Prep steak, but you can also cook your steak from scratch. It only takes about 30 minutes to make.
Mongolian beef is a Western interpretation of what was originally a Taiwanese dish, crafted as a BBQ dish with a name that directly translates to beef with a scallion and ginger stir-fry.
To make this recipe paleo, we use coconut-aminos instead of soy sauce or tamari. This also makes the dish gluten-free. Arrowroot flour is used to coat the protein and thicken the sauce. We've used this combination in other recipes as it works amazingly well for Asian-inspired dishes. Feel free to use this as the backbone for any other recipe you may come up with.
As far as the vegetables go, we are keeping these simple. Though you can add any Asian-influenced veggie that may pair well with this dish, I recommend sticking with scallions and Fresno or red bell peppers. This will be the backbone recipe for the Mongolian beef of your choice (meaning, paleo or non-paleo, or even keto).
The basics of this dish are to build flavor in various steps - the sauce is built on a base of aromatics, followed by a slew of sauces that add further flavor.
If you are new to paleo, this is the easiest way to stick to a paleo diet. Download this free, RD-written meal prep guide complete with meal planning tools, approved food lists, and tips for eating paleo.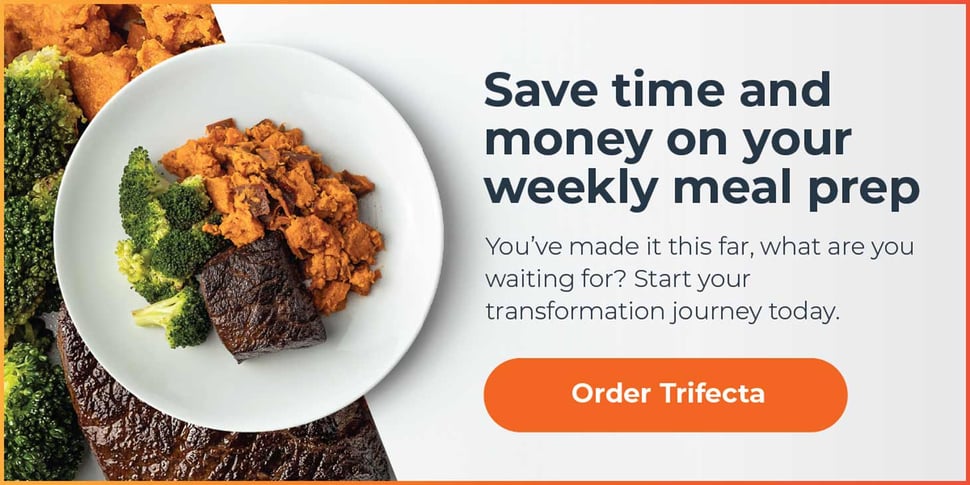 The macros for this paleo recipe are:
280 kcal; 15g Fat; 11g Carbs; 25g Protein
How to Make a Simple Mongolian Beef Recipe
Cook time: 10 min
Prep time: 10 min
Yield: 4 - 4 oz servings
Ingredients
16 oz flank steak or Trifecta's Meal Prep steak
¾ cup coconut aminos
2 Tbsp. red boat fish sauce
2 tsp. sesame oil
2 tsp. Maple syrup
1 tsp. arrowroot flour
¼ tsp. baking soda
2 Tbsp. avocado oil, divided
4 each scallion, sliced into small rounds
2 Tbsp. ginger, grated
4 cloves garlic, sliced
4 Fresno peppers, or if unavailable, 1 red bell pepper, diced small
Kosher salt
Sesame seeds, for garnish
Kitchen Needs:
Mixing bowls
Round deep skillet
Cutting board and knife
Measuring cups and tablespoons

Step 1: Slice the Steak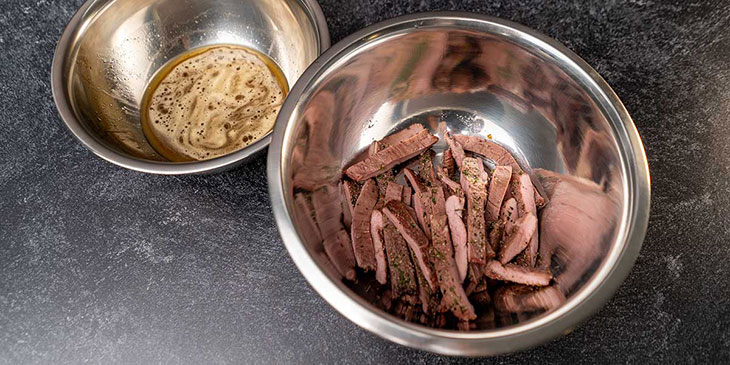 Whether using raw steak or Trifecta's Meal Prep steak, using a sharp knife, thinly slice the steak lengthwise as evenly as possible. If needed, half the steak across and then slice lengthwise. Transfer to a bowl and keep to the side.
Step 2: Make the Sauce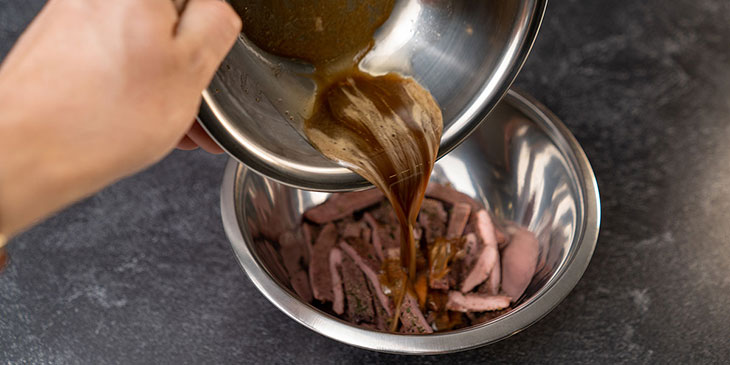 In a separate bowl, combine the coconut aminos, red boat fish sauce, arrowroot flour, baking soda, sesame oil, and maple syrup. Mix to incorporate and pour over sliced steak. Refrigerate for 10 minutes.
Step 3: Prep the Aromatics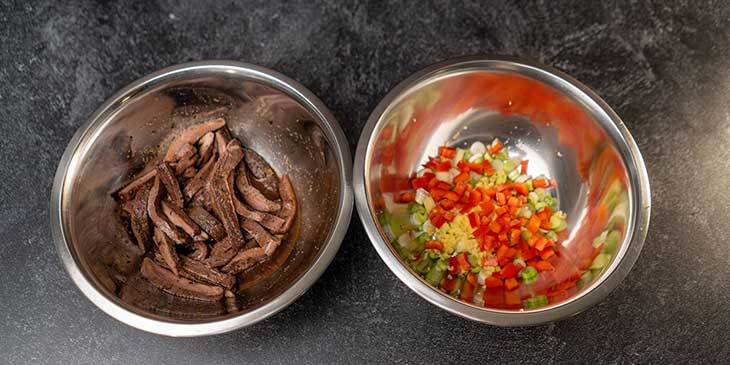 Prepare all your aromatics by cutting the white bulbs of the scallions and keeping the green stalks separated, grating the ginger, slicing the garlic, and combining them all in a small bowl. Cut the Fresno peppers or red bell peppers into small cubes. Remove the seeds completely and discard them.
If using raw beef, heat 1 tablespoon of avocado oil over medium-high heat and sear both sides for 3-5 minutes. Remove from pan and reserve the now cooked beef on the side. Reserve the marinade. (If using Trifecta Meal Prep steak ignore this step).
Step 4: Cook the Steak and Aromatics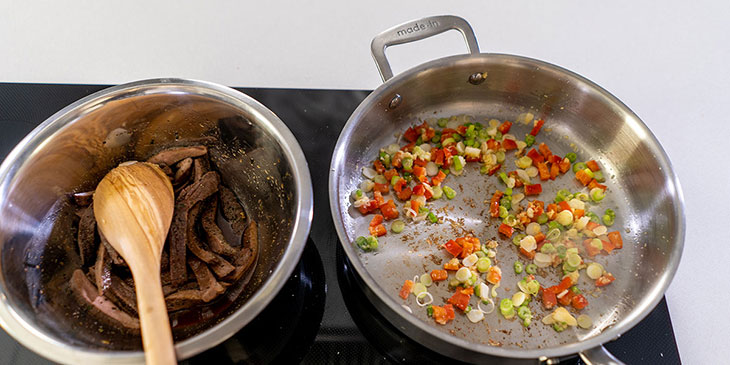 Heat the remaining 1 tablespoon of avocado oil in the same pan over medium heat (if using raw steak). Once the oil is warm and shimmering, add your reserved aromatics and cook, stirring constantly to avoid over-charring. Add the Fresno peppers and season with a pinch of salt.
Step 5: Add Sauce & Finish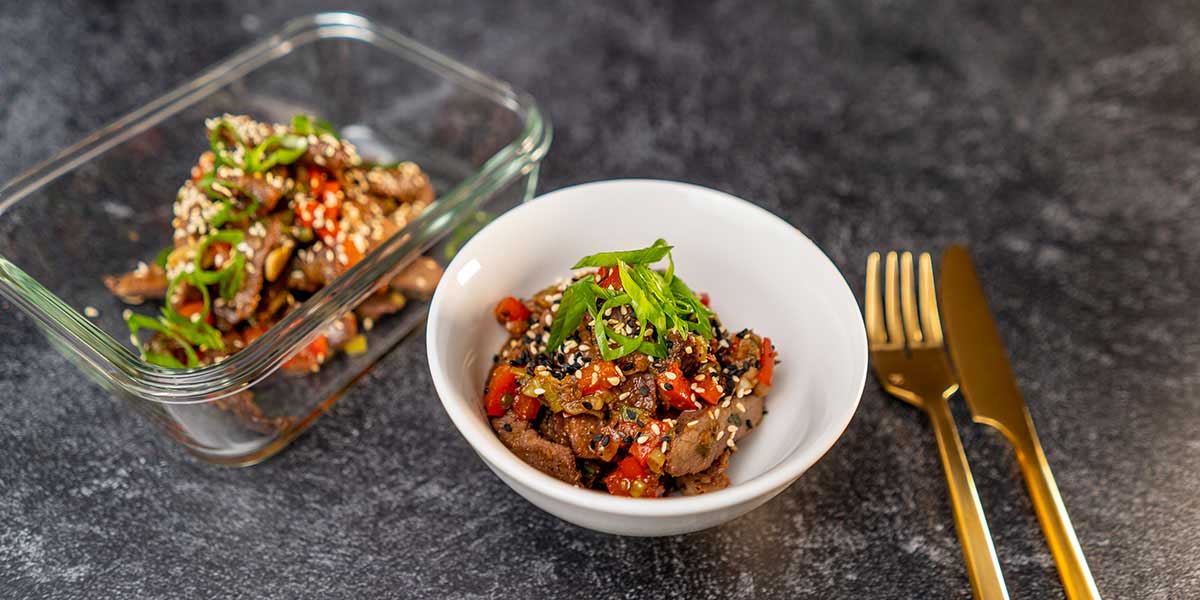 Add the beef (if you are using Trifecta's Meal Prep, simply add the steak now) along with half of the marinade. This will deglaze the pan. Stir and scrape any browned bits. Cook for a minimum of 5 minutes or until the sauce has thickened and evenly coated the steak, adding a beautiful glaze.
Portion the Mongolian beef in 4-ounce servings for exact macros. Garnish with sesame seeds and sliced green scallions.
Serve This With
To make a complete meal, serve this with a side of cauliflower rice, or creamy mashed sweet potatoes. You can also make a side of creamy greens and serve this on top. Let your imagination and preferences take precedence to make an enjoyable meal out of it.
For more inspiration on different paleo foods, check out this list.
---
Get started on paleo now. Download your free meal prep toolkit, complete with a meal planning tools, paleo food lists, and tips for eating paleo.