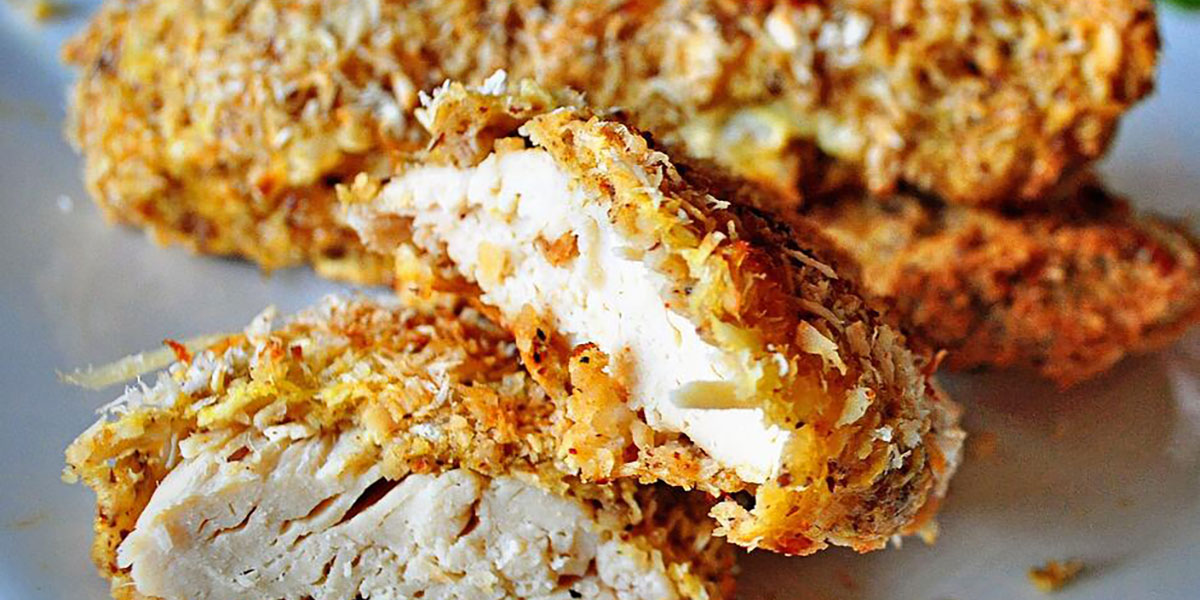 We have crafted a gluten-free, keto, paleo, and low carb fried chicken recipe for you to use, whether you are using your favorite Trifecta a la carte proteins or just want to add some healthy fats and flavor to your Trifecta chicken. This recipe doesn't take long, and you can make it ahead of time for your weekly meal prep!
How To Healthily Fry Chicken
Believe it or not there is a way that you can create the crispiness that is closely associated with deep frying, but with tons less oil! This process is called shallow frying, meaning adding a small amount of oil on a pan and 'searing' both sides of the chicken for a short amount of time, and finishing the cooking process in the oven until the chicken reaches an internal temperature of 165F degrees.
Though this recipe calls for and use Trifecta's A La Carte chicken breast, you can also make this recipe by cooking the protein from scratch. Granted, you will save tons of time if you have our chicken! The rest of the recipe is incredibly simple. If you are cooking the chicken from scratch, make sure you season it with salt and pepper before coating it! You can also marinate the chicken in coconut milk to increase the moisture content, or use chicken thighs for a higher fat content (compared to chicken breast).
Ingredients:
16oz Trifecta chicken

3/4 cup cashews

1/2 cup coconut flakes

1 large egg, + 2 tbsp water

1/2 tsp paprika

1/2 tsp salt

1/2 tsp garlic powder

2 tbsp dry parsley

1/4 cup coconut oil

1/2 cup avocado oil
Kitchen Needs:
Cutting board and chef's knife
Large saute pan
Mixing bowls
Food processor
Step One: Prepare the Cashew Coconut Coating
Preheat oven to 375F. Add the cashews into a food processor and pulse until a coarse dust is formed. Add the coconut flakes, garlic, salt, paprika, and parsley. Pulse once again to combine. Transfer to a medium bowl.
Step Two: Make Egg, Coconut Milk, and Water Mix
In a separate bowl mix the egg, coconut milk, and water mixture. Mix together by whipping with a fork or with a hand blender until fully incorporated. Add a pinch of salt and black pepper.
Step Three: Coat Chicken + Warm Oil
Add oil to a large pan and heat over medium-high heat.
Coat chicken by soaking first in the egg-coconut milk mixture. Dip chicken in egg mixture followed then by cashew mixture, fully coating both sides of each piece and shaking off any excess. Transfer to a holding plate until all chicken pieces are fully coated.
Step Three: Cook Chicken & Enjoy
Add chicken to skillet by placing the chicken away from you to avoid hot oil from splashing and burning you, and cook until browned on each side (about 2 to 3 minutes per side). Finish in oven for 8 minutes or until internal temperature reaches 165F. Repeat with every chicken piece and serve immediately with your favorite sauces!
Ready to take your keto meal prep up a notch? Learn how to cut carbs and burn more fat with this free meal prep toolkit for keto. Your new game plan for starting keto, complete with a keto macro meal planner and approved food lists.