This has got to be one of my favorite easy recipes of all time! This dish packs a ton of flavor and will impress any dinner guest or make your weekly meal prep feel extra fancy. And you don't have to be a seasoned chef to master it. It's warm enough to comfort you during cold months, but also light enough to make during the summer. Plus, it's gluten-free, low lactose and keto-friendly. With 11g of healthy fat (33%), 32 grams of protein (43%), only 11g of net carbs (15%), this meal will help you hit your macros and keep you feeling satisfied.

How to Make this Chowder
Find a large pot, big enough to fit at least 6 to 8 cups of food and liquid, and warm it on the stovetop over medium-high heat. Add a little bit of oil (more if you want to increase the fat content) and heat until lightly smoking, then add the chopped onion, and cilantro stems. Sauté.
A lot of people don't realize you can use all parts of the cilantro herb, including the stems - these add a ton of flavor. Take the bottom half of any cilantro bunch, and use it by chopping it finely. Coarsely chop some leaves and save them for garnish. Not a cilantro lover? Use thyme leaves instead.
Once the onion and cilantro start to caramelize, after a few minutes, add your chipotle peppers. Mix constantly to avoid burning.
TIP: Chipotle peppers give this dish a smokey flavor and some layered spice - be careful though, these bad boys can add a big kick and one pepper goes a long way. I'd suggest keeping it to 2 peppers or less.
When looking for a low carb option to replace potatoes in traditional chowder, I looked no further than cauliflower. It keeps a perfect consistency and adds bulk to the dish, allowing you to cut carbs and fill up on fiber instead.
Chop half of a medium head of cauliflower into bite size pieces and add it to the pot. Sauté for a couple minutes to help the flavors come together and develop some caramelization on the cauliflower florets. Then add your chicken broth. You can also use clam broth or fish stock for a stronger flavor.
Bring the mixture up to a boil and then reduce to a simmer. Stir occasionally and cook until the cauliflower starts to become tender - there should be little to no resistance when you poke the cauliflower with a fork or knife.
TIP: If using pre-cooked cauliflower, like Trifecta, let the dish simmer for 3 to 4 minutes and then add the cauliflower in for the last 1 to 2 minutes to avoid overcooking it.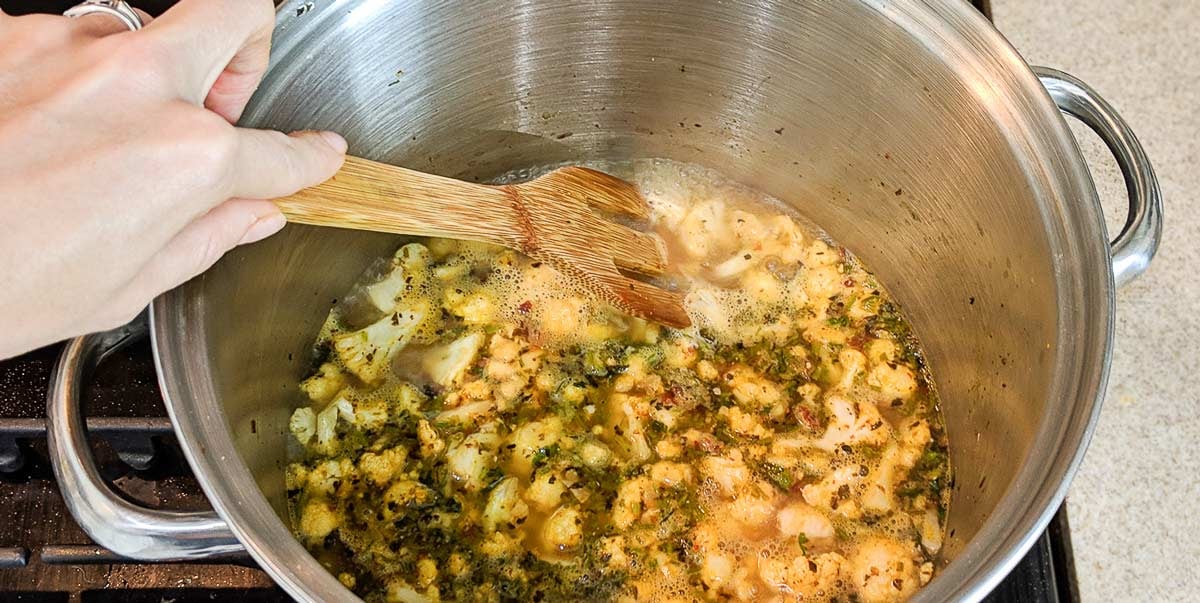 Now it's time to add in the remaining ingredients. Increase the heat to a medium-high and stir in the spinach and corn until the spinach is fully wilted and the corn is cooked through. The reason why you increase the heat is to offset the drop in temperature that the spinach and corn will cause. Once these two are fully incorporated, reduce heat back to a gentle simmer.
The recipe calls for 4 cups of spinach, but I typically add as much as I can cram into the pot. Spinach adds a pop of color and tons of nutrition for very few calories. For even more appeal, you can roughly chop the spinach before adding and it.
The frozen corn adds a touch of sweetness that helps balance out the smoky flavor of the dish. If you're looking to cut carbs further, you can swap out the corn for another low carb veggie or leave it out altogether.
After the spinach has wilted, add you pre-cooked salmon and remove from the heat. Taste and season further as desired.
While warm, mix in your Greek yogurt. Using yogurt instead of cream or sour cream will give it a creamy finish and extra protein boost without adding a ton of calories or extra fat. Greek yogurt has about 20 grams per 5oz serving, compared to ~2g for sour cream and 4g for heavy cream. Not to mention it is a good source of calcium. If you're not into yogurt you can swap in sour cream or skip it all together for a dairy-free version.
Tip: for even more creaminess, or to cut down on some of the heat, serve this dish with a dollop of yogurt on top.
Once ready you can serve right away or portion out into your meal prep containers for the week! If portioning, cool chowder down completely uncovered before storing. Cooling food covered cause food to go bad instantly and may cause severe bacterial growth. To reheat, just warm in a pot on the stove or reheat in the microwave for 2 minutes.
What to Serve with Salmon Chowder
When ready to serve, garnish your chowder with some seasoning salt to open up the flavors. I also recommend trying some chili flakes for extra heat, a drizzle of olive oil and chopped cilantro.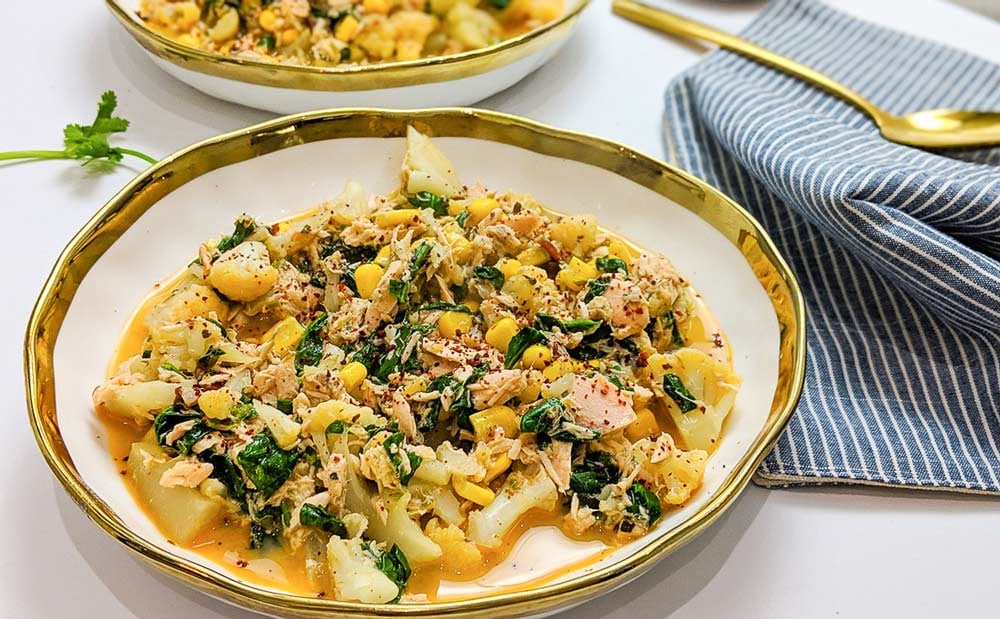 This dish serves as a meal in itself, but if you are looking for a perfect pairing try one of the following:
Whole grain bread
A fresh side salad with a light vinaigrette
Want to cut down on prep time?
Make this recipe is less than 15 minutes with pre-cooked salmon from our a la carte menu.