If you've ever had Trifecta salmon, you know it's arguably one of the most delicious proteins we offer. So naturally, we had to create a recipe that turned one of our best items into an even better meal. With the help of your Trifecta salmon, these tasty cakes only take about 15 minutes to make! Enjoy!
About This Recipe
Prepare the perfect salmon cake with Trifecta Salmon and a few simple but flavorful ingredients.
To make a kind of seafood cake all you need is the seafood, a binder (typically egg), and a filler (usually breadcrumbs). You can also use crushed crackers, cornflakes, or crispy rice cereal as a filler to help hold the cake together.
Our sustainably caught Salmon is incredibly savory, which makes it our most popular fish. It is oven-roasted, lightly seasoned, and comes with many benefits including high protein and Omega-3s.

How to Make The Best Salmon Cake Recipes Ever
Prep Time: 5 minutes
Cook Time: 10 minutes
Servings: 4

Ingredients:
12 ounces Trifecta Salmon
2/3 cup panko bread crumbs
2 tablespoon mayonnaise or greek yogurt
1 tablespoon minced fresh parsley
2 tablespoons chopped green onions
1 teaspoon dijon mustard
1/2 teaspoon Worcestershire sauce
1 large egg
Pinch of salt and pepper
1 tablespoon of olive oil
1 lemon
Kitchen Tools:
Bowl and spatula
Medium non-stick pan
Baking sheet
Knife and cutting board

Step 1: Shred Salmon and Mix with Ingredients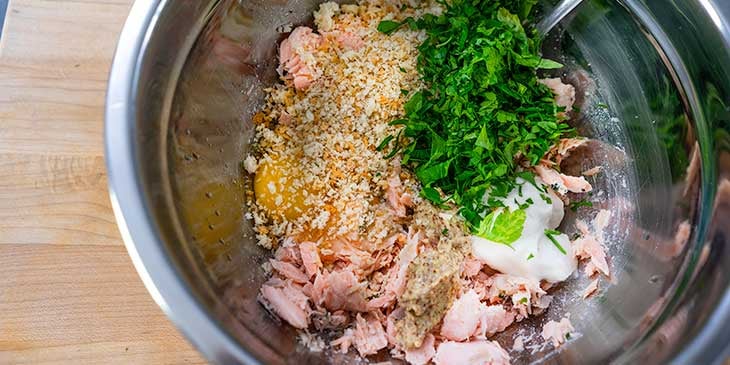 In a medium-sized bowl, shred the salmon using your hands or a fork until it is finely chopped. Mix with half of the panko bread crumbs and the rest of the ingredients until it holds its shape.
Step 2: Divide into Cakes and Top with Panko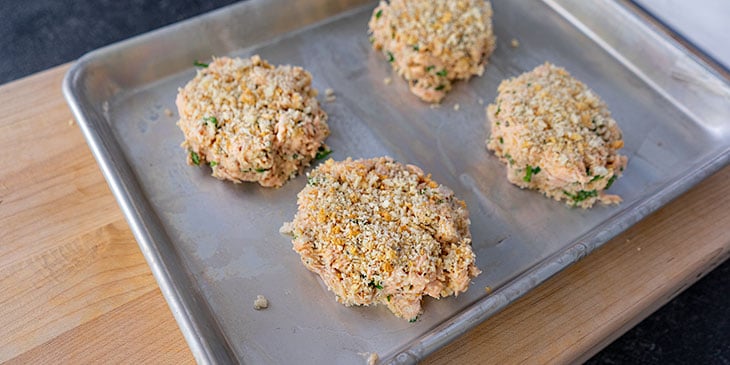 Divide the mixture into 4 even cakes or 8 mini-cakes and pat with the remaining panko breadcrumbs to form extra crust.
Step 3: Cook Salmon Cakes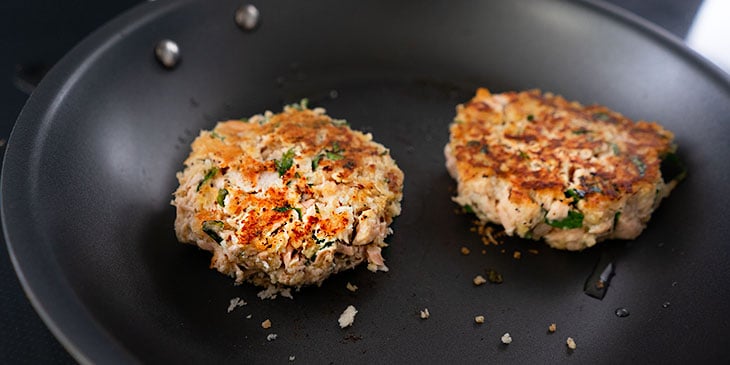 Heat a non-stick pan over medium-high heat and add oil. Cook the cakes for 3-4 minutes on each side until golden brown.
You can also prepare these cakes in the following way:
Air-fryer: 400 degrees for 8 minutes.
Convection oven: 420 degrees for 8-10 minutes
Step 4: Portion and Enjoy
Serve these salmon cakes up in a variety of ways! For a macro-balanced meal serve 2 salmon cakes with 1/2 cup Trifecta quinoa and 1 cup broccoli.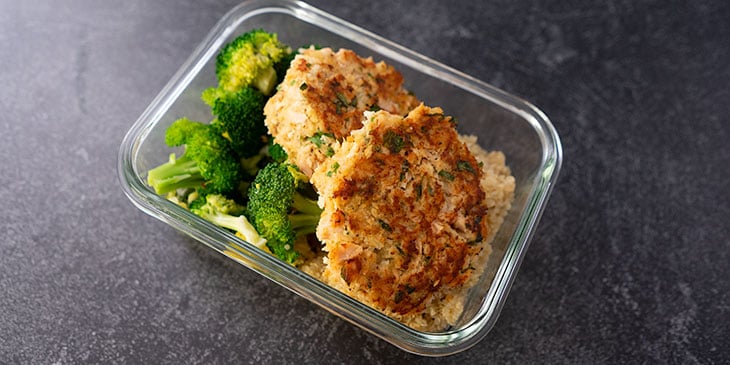 Macros per 1 Salmon Cake:
199 calories; 13g Fat; 4g Carbs; 15g Protein
You can also serve these with:
---
Too Busy? We Got You!
Start building your own budget-friendly meal prep for only $6 a meal using Trifecta pre-cooked meal prep ingredients. Just pick and choose your favorite proteins, grains, and veggies, season, and eat!