Have you ever wished you had some inspiration on how to improve your meal prep, or even more so, how to use your Trifecta Beef patties and transform them into different dishes? Here are 15 easy recipes to get your started.
15 Simple Ground Beef Recipes
At Trifecta, we have an ongoing effort to provide massive value with ways to improve your meal prep, give you back your weekends and weeknights, and provide you with inspiration and meal prep recipes to create new lunch and dinner options.
I developed all the recipes here using different Trifecta A La Carte items, with the Trifecta beef as the protagonist, while also constantly reminding you these recipes are guidelines and a blueprint to inspire your creativity on a day to day basis. Investing a minimum of 5 minutes, to at most 20 minutes can help you create a dish that will either feed a family of up to 4 or give you 4 dishes ready to eat for the rest of the week.

Best of all? All recipes are planned with a macronutrient balance in mind.

Each recipe comes with a portion and macro suggestion to hit the exact calories stated on the nutrition label of each recipe card. I also intended to provide a variety of different cuisines - I'm obsessed with providing variety - because no one wants to eat the same thing over and over again. Lastly, some recipes have a longer list of ingredients than others. Please, don't get scared of the recipes with longer ingredient lists. These simply are a compilation of spices/ingredients to give each dish a deeper flavor profile and unique character. I can assure you your Sunday meal prep will benefit! If you have any questions, feel free to comment on the recipes or reach out via Instagram! Cheers to your health!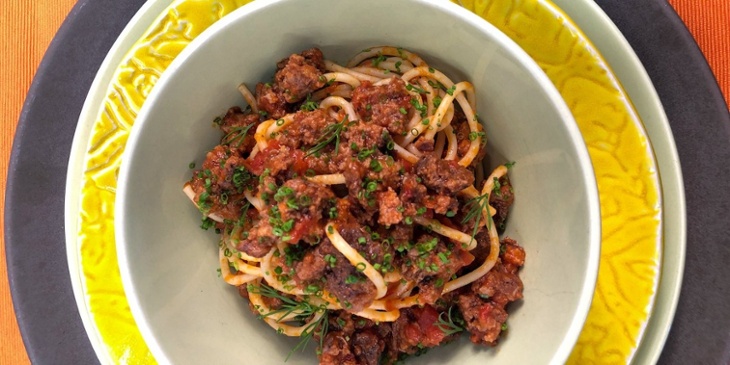 This recipe is a classic dish. With only 5 ingredients, this 15-minute recipe won't take much time to make, and the time is reduced even further if you already have all the ingredients cooked. Cook it for yourself, for your friends, or your kids. The ground meat of the Trifecta patties takes away a big chunk of cooking time! Toss everything in a pan, stir, top with cheese, your freshest olive oil, and fresh basil and have yourself a delicious Italian-inspired dinner with no hassle!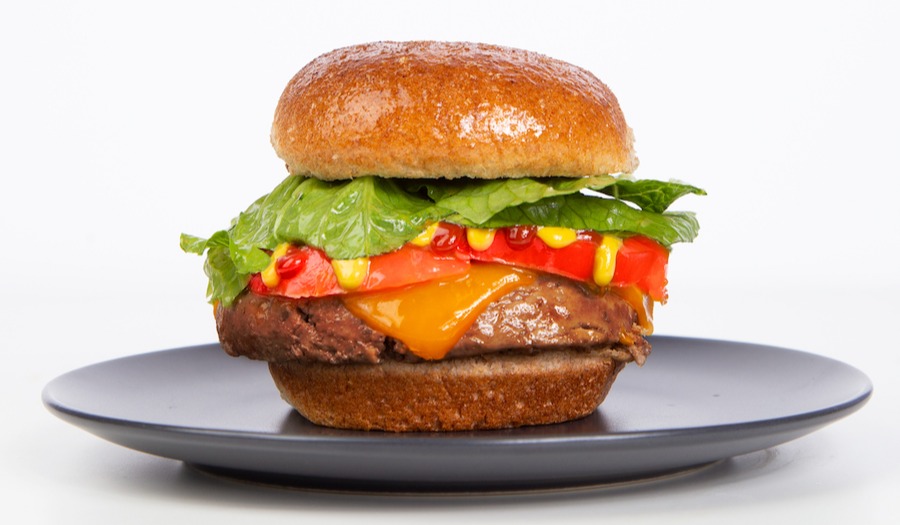 You will see my love for burgers in this recipe. This was the first recipe I taste-tested out of all of the 15 recipes here. I added a slice of cheese to my patty, even though the recipe doesn't call for it, and made a quick chipotle aioli on the side. It was delicious and healthy! If you are craving a burger while on Keto, find a recipe keto burger recipe here.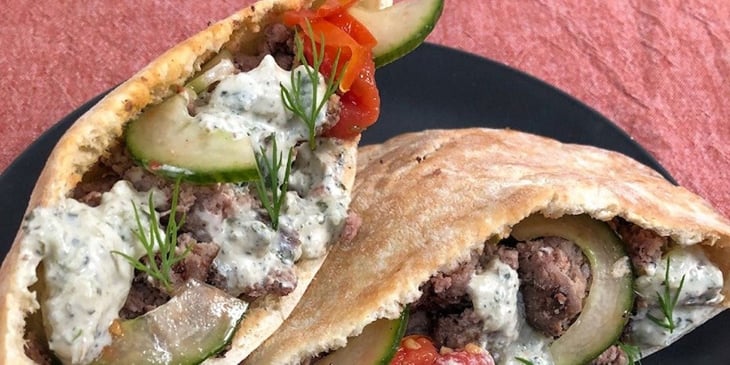 I won't lie - my inspiration behind these were a combination of gyros and hot pockets. I always loved both and so I created a healthy tasty alternative using Mediterranean flavors using ground beef instead of lamb. As a bonus, I've included a super simple Greek yogurt sauce you can make and use at any given point!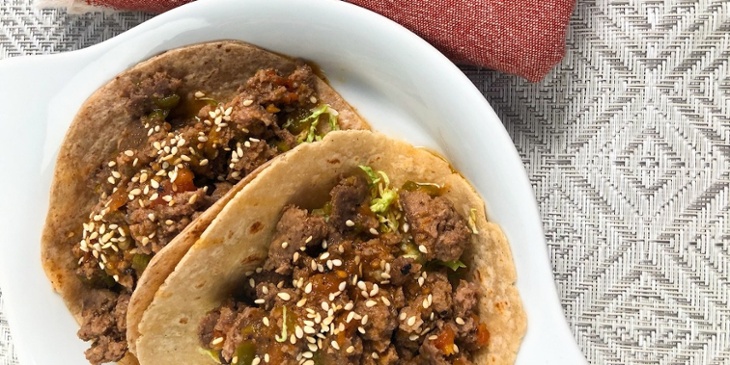 Chipotle and beef go together like a ring and a finger... You can make these tacos using the meat patties or using the Trifecta flat iron steak or even the Trifecta chicken. Regardless of your choice of protein, this chipotle sauce will add a rich smoky flavor to your taco selection.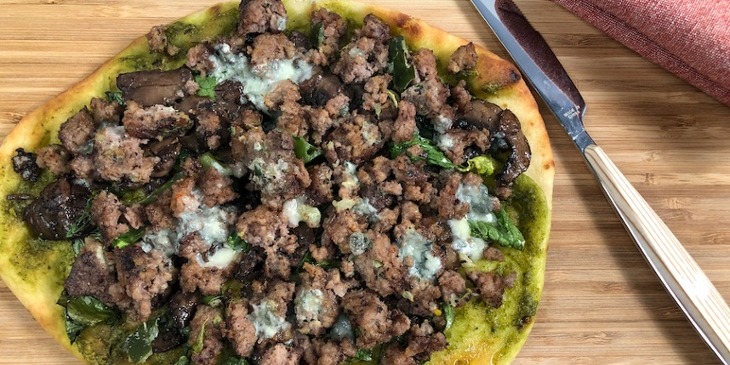 Have you ever played much with flatbreads? They are so versatile and can make a meal absolutely delicious. It's like you are eating a healthier, smaller pizza… kinda. This flatbread recipe calls for some special ingredients but like the rest of the beef recipes, use this recipe as a guideline and mix and combine your favorite ingredients (or whatever you may have at hand).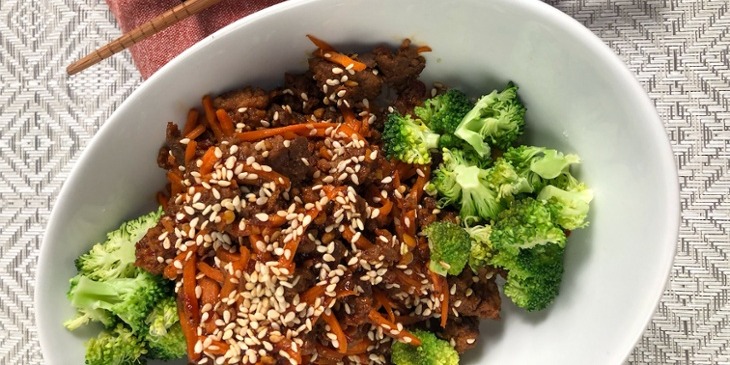 I love bowls - they are easy to make, don't take time, and can be crafted into whatever you want. Don't get scared by the extra ingredients in this recipe. They are all there to build a delicious Asian sauce and flavor profile. We called the recipe a '20 minute' recipe, but it may take you less. Up for the challenge? Here we go!

Okay, if you are one to get scared by a long list of ingredients, I beg you not to turn away from this recipe. Yes, at first glance this looks like it has a lot of ingredients, but in reality, when grouped, it's only 4 ingredients. The trade-off? A paleo-friendly dish with massive amounts of flavor in a short period of time. Stick with me and you'll want to make this recipe over and over again! If you desire, bake your own sweet potatoes for more of that sandwich-like sloppy joe feel. Add extra paleo-friendly veggies, like zucchini, if you desire. Meal prepping for the week has never been this easy.

I decided to give this classic a twist, and create something that is both flavorful and hearty. Using our lean Trifecta beef patties crumbled into ground meat, combined with garlic, and a few of our Trifecta veggies, this one-pot meal will satisfy anyone between a kid and a hungry adult. Feel free to sprinkle cheese and melt it on top of each portion.

Our nutrition director and Registered Dietitian, Emmie Satrazemis, created this Korean recipe that is not only simple but also has a delicious side of probiotics. Though the original recipe calls for sliced Trifecta beef iron steak, you can also use our Trifecta beef patties! As well, feel free to use the sauce in this recipe as a marinade for any of your proteins (like the Trifecta salmon - yup)!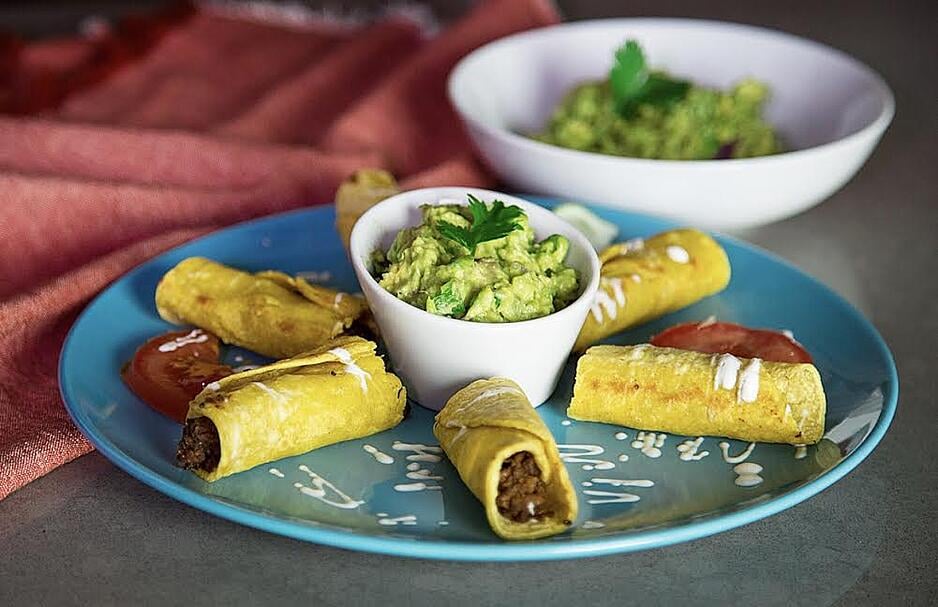 Our Social Media Manager, Shannon Slabaugh, created this incredibly creative recipe a while back! With crispy tortillas and a super simple and quick guacamole recipe, this recipe is will satisfy anyone from a kid to an adult that is a kid at heart!

This is the perfect paleo low-carb chili beef recipe. It's delicious, it's simple, and it's moldable. And best of all? It has chocolate - how real beef chili should be made. Stick with me on this one. Don't get scared by the amount of ingredients you see here - I've made this as simple as possible with staple ingredients you'll most likely have in your pantry. If you're making a big batch, store it in containers in the fridge as part of your meal prep, and add different sides like cauliflower or any preferred Trifecta veggie. Also, feel free to substitute the beef with Trifecta turkey or even Beyond Meat!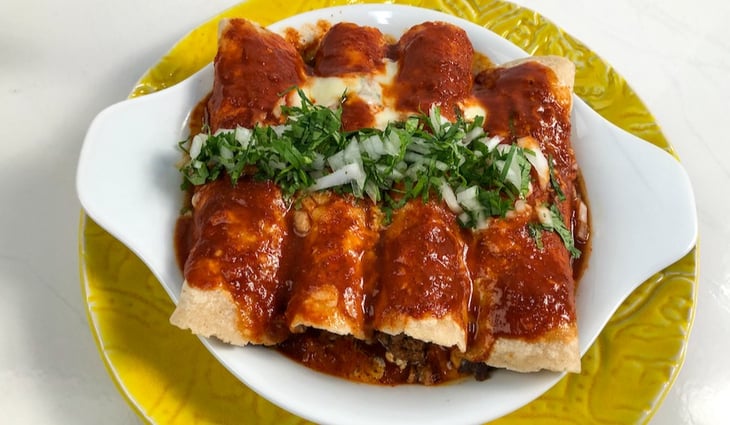 Enchiladas are the perfect meal if you ask me - Carbs, protein, and fat all in a little package. They are simple, quick, of Mexican origin (a must-have), and take legitimately a small amount of time to make. Using Trifecta's beef makes this process even simpler and quicker, and add your favorite vegetables to make this a well-rounded instant weeknight meal.

I have to say, Teriyaki sauce is one of the most versatile sauces out there This sauce is functional when simple carbs and flavor are needed. Regardless, you can either make a quick Teriyaki sauce at home or you can use a store-bought version (side note: and many chefs may bash me, but, grab yourself a tortilla and some Sriracha, and roll this into a burrito... YES).

The combination of tamarind and chipotle is based on a sauce that I used to make during my time at this high-intensity training center for athletes called EXOS. The sweetness and slightly bitter notes of the tamarind pairs perfectly well with the chipotle pepper in adobo. The combination of beef, broccoli, and some corn tortillas make an outstanding dish. Replace the flat iron steak with the beef patties, or make it vegan by using Beyond Meat!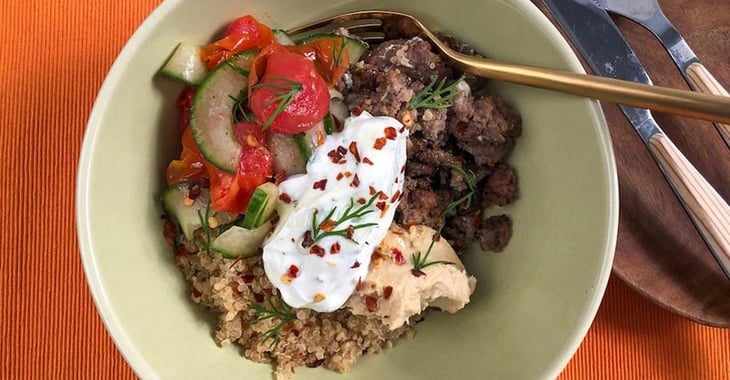 Last but not least, this bowl has incredibly bright and refreshing flavors across the board. I've also included a quick simple Tzatziki recipe you can make ahead and use it when you need a refreshing creamy addition in your meal prep. Add or take away any ingredients to play with the caloric value.
Too Much Work? We Got You!
Want to skip the meal prep altogether? For roughly the same cost, and none of the shopping, cooking, and clean-up time, you can get perfectly macro balanced meals delivered right to your door. Enjoy more variety and hit your keto macro goals with ease.