Find an incredibly easy recipe that meets the paleo-lifestyle guidelines, and can be made for your meal prep efforts or any weekday meal in a quick 15 minutes. The secret? Thickening the sauce.
This recipe yields 4 meals, and takes a quick 30 minutes to prepare from start to finish. I suggest you roast the broccoli for extra flavor, while also reducing the sauce to a nappe or glaze like consistency. This will help the sauce stick to the chicken. The sauce is made with coconut aminos - these provide an umami profile but it is also a great soy and gluten free alternative to soy sauce.
Instead of using the typical cornstarch slurry, arrowroot is the suggested thickening agent for this recipe. Why? Because corn is not part of the paleo dietary guidelines. Arrowroot is a perennial herb and an easy to digest starch that belongs to the Marantaceae family; aside from its paleo-friendliness, the thickening color will be lighter.
This is an overall simple and straightforward recipe, perfect for beginner paleo home cooks.
If you are new to paleo, there's an easy way to stick to a paleo diet. Download this free, RD-written meal prep guide complete with meal planning tools, approved food lists, and tips for eating paleo.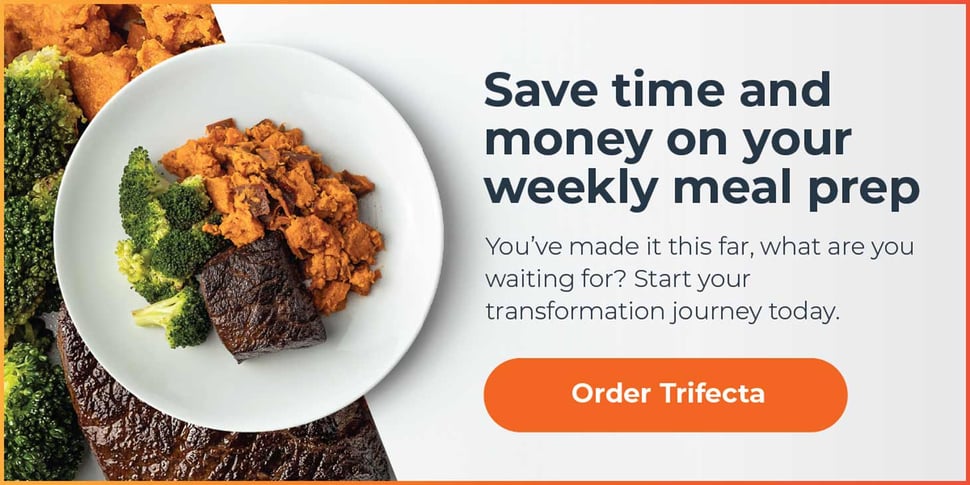 Let's get it.
The macros for this paleo recipe are:
300 kcals; 10g Fat; 24g Carbs; 28g Protein
Easy Paleo Chicken Broccoli Recipe
This recipe takes about 15 minutes to prepare and about 15 minutes to cook. It makes 4 servings.
Ingredients
16 oz chicken raw, diced and roasted, or 16 oz of Trifecta chicken, diced

4 cups broccoli, roasted

1 Tbsp. Sesame oil

1 Tbsp. avocado oil

½ cup chicken stock, sodium-free

½ cup coconut aminos

3 Tbsp. lime juice

1 Tbsp. Honey

1 Tbsp. ginger, fresh, grated

1 tsp. garlic powder

½ tsp. red pepper flakes

1 tsp. Arrowroot powder

2 tsp. Water

Salt and pepper

Sesame seeds, for garnish
Kitchen Needs:
Mixing bowls
Sheet pan
2 qt. Saucepan
Foil
Oven
Cutting board and knife
Spatula
Step 1: Prepare Chicken
Preheat oven to 400F.
Dice chicken into even cubes, transferring the chicken to a medium bowl. Season lightly with salt and pepper and keep to the side. Clean your station by washing your knife and cutting board with soap and water.
If using raw chicken, roast your chicken in the oven for 12 minutes. Once ready, remove from the oven and cool down on the side while the rest of the ingredients are prepared.
If using Trifecta A La Carte Chicken, cube the chicken and transfer to a medium bowl until needed.
Step 2: Roast Broccoli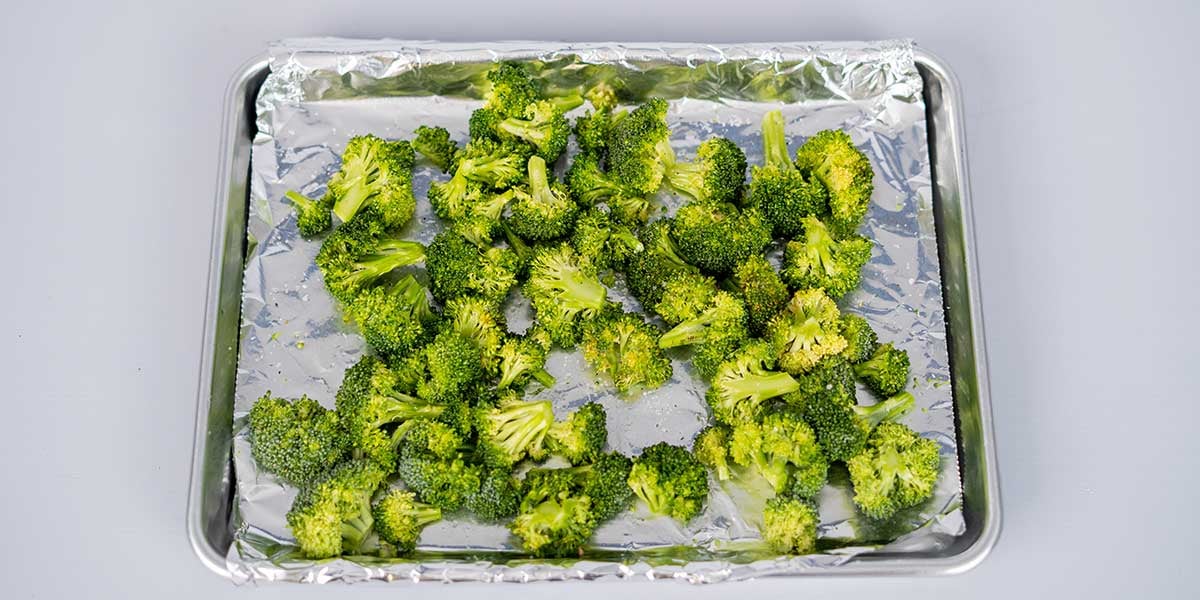 Cut the broccoli into even florets. Season with salt, pepper, and avocado oil. Roast for 12 minutes in the oven. Feel free to do this while the chicken is cooking.
If using Trifecta's A La Carte Broccoli, remove all 16 ounces from the container and lightly season with salt and pepper. Hold on side as there is no need to roast.
Step 3: Make Sauce and Thicken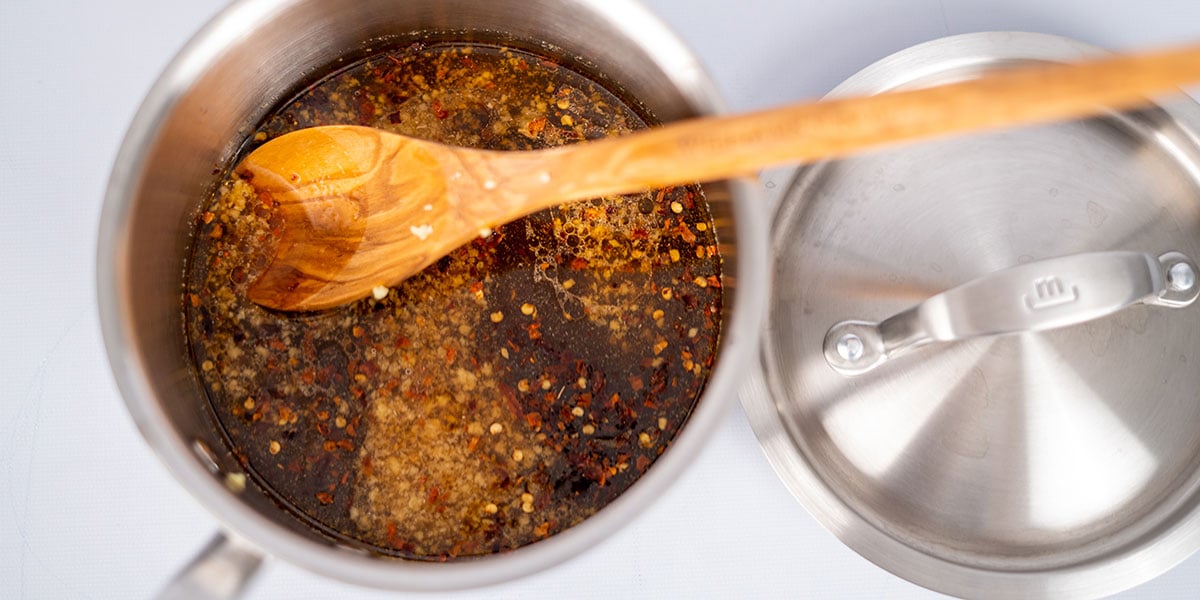 In a small saucepan, combine sesame oil, avocado oil, chicken broth, coconut aminos, lime juice, fresh ginger, honey garlic powder and red pepper flakes. Bring to a boil, mixing often and then reduce heat to medium to an active simmer.
Prepare your arrowroot slurry. The slurry will thicken the sauce; instead of reducing the sauce, using a starch to thicken it makes this recipe incredibly quick to prepare and it gives the sauce that nappe consistency that's needed. Reducing the sauce would only make it incredibly salty due to the coconut aminos sodium content (which is not high, but once the water evaporates, the flavors will get unbalanced).
Add 1 teaspoon at a time, mixing constantly. 2 teaspoons of the slurry should suffice but feel free to add extra for further body.
Once the sauce has thickened, pour on top of the cooked cubed chicken. Mix to incorporate. Keep on side if plating immediately or cool down completely before portioning for your meal prep.
Step 4: Plate Dish
Plate with 1 cup of roasted broccoli on each plate, and 4 ounces of chicken right on top. Sprinkle with any remaining additional sauce. Garnish with sesame seeds.
Culinary Tips
As I mentioned above, this recipe is incredibly fast and simple to make. Thickening the sauce to a nappe consistency (culinary term referring to the consistency of a sauce, typically thick enough to evenly coat the back of a spoon evenly), is what separates this recipe from the rest.
If for whatever reason, the arrowroot clumps while thickening the sauce, simply strain the sauce through a small fine mesh strainer.
For more inspiration on different paleo foods, check out this list.
Storage Recommendations
If not serving immediately, make sure you cool your food down completely before weighing your meal prep containers. Only cover food once completely cooled down. Covering food while still hot creates a perfect environment for potential bacteria growth and risk for foodborne illness.
Store in airtight containers for up to a week for maximum freshness.
---
Get started on paleo now. Download your free meal prep toolkit, complete with a meal planning tools, paleo food lists, and tips for eating paleo.