Pancakes are a delicious breakfast staple, we developed this paleo-friendly recipe to satisfy all your paleo dietary requirements, while adding a nice bump of protein to provide a well rounded meal. This easy guide will help you create flavorful and macro balanced pancakes you eat right away or freeze for later.
Typically, pancakes are made with a base of flour, aka a grain. Because paleo guidelines don't support this, we substituted the white flour with a combination of almond flour, apple sauce, and a few ingredients to leaven the pancakes, creating these incredibly fluffy and flavorful pancakes.
So yes, these are paleo-friendly and gluten-free! The eggs add an exceptional amount of protein, and of course, additional healthy fats from the yolks.
For the protein, just like in other paleo recipes, you may find in our blog, I used Momentous Essential plant-based protein powder; their vanilla-chai flavor works wonders (Momentous is non-GMO and NSF sport certified).
Use any protein powder of your choosing, but note that in order to make this recipe paleo, you will need a plant-based protein powder. Because of the combination of eggs and protein powder, these pancakes are actually quite high in protein!
Per pancake you get an incredible 5 grams of protein, almost as many grams as you get from carbohydrates (6 grams per pancake).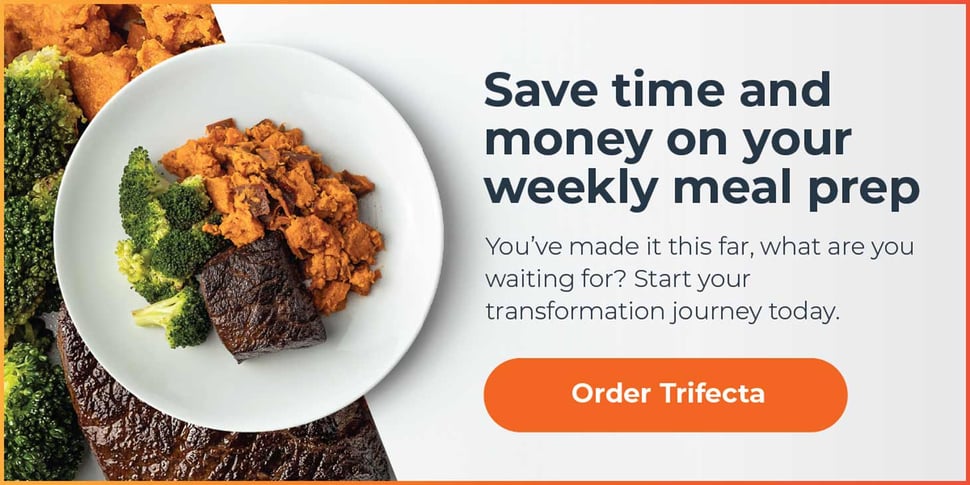 See more of the nutrition information below, and remember the serving size for this recipe is 2 pancakes (that's the nutrition displayed in the recipe card below).
I was also able to get the recipe just right so that these are not dry - I was pleasantly surprised at how moist these turned out. Oh, and the secret behind the delicious flavor? Lemon zest. That's right.
Note that the texture will be somewhat mealy; this is due to the use of almond flour. Be patient with these pancakes; they take a bit of time to cook and firm up. The end result is delicious, so your patience will pay off!
These work exceptionally well for any and all of your meal prep efforts. Make a big batch and store them in the fridge or freezer and thaw as needed (if you can resist eating a whole batch!).
Nutritional Breakdown per Pancake:
110 calories; 5g Pro; 6g Carbs; 7g Fat
How to Make a Paleo Applesauce Protein Pancakes Recipe
Prep Time: 10 minutes
Cook Time: 20 minutes
Servings: 20 pancakes. 2 pancakes per serving (10 servings).
Ingredients
6 eggs, whisked
1 cup apple sauce
1 tablespoon lemon zest
2.5 cups almond flour
1 cup protein powder of choice
2 tablespoon maple syrup
1 teaspoon baking soda
½ teaspoon baking powder
2 teaspoon cinnamon powder
Spray oil
Kitchen Tools
Mixing Bowls
Whisk
Non-stick pan
Rubber or wooden spatula
Step 1 : Combine Wet Ingredients Together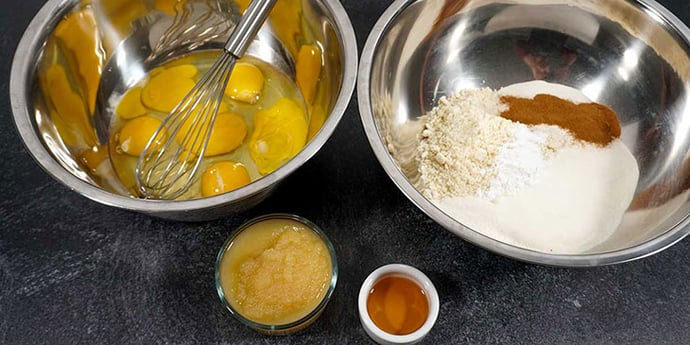 In a bowl whisk together all 6 eggs. Then add half of the apple sauce, whisk until fully incorporated and then add the second half of the apple sauce along with the lemon zest. Add the maple syrup and combine till blended.
Step 2: Combine Dry Ingredients Together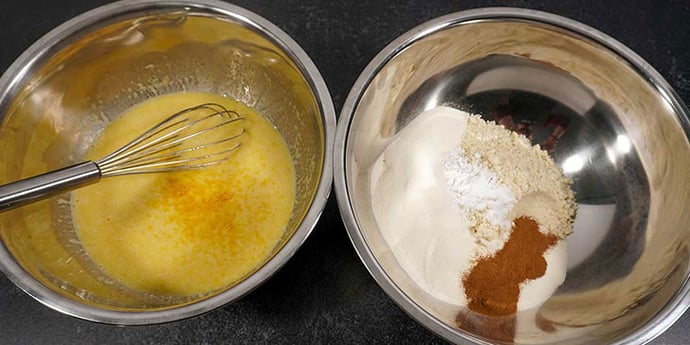 In a separate bowl mix the almond flour, baking soda and powder, and the cinnamon powder.
Step 3: Mix Wet into Dry Ingredients and Mix
Combine the wet ingredients with the dry, mixing to fully incorporate. Whisk until a batter is formed.
Step 4: Heat Pan and Cook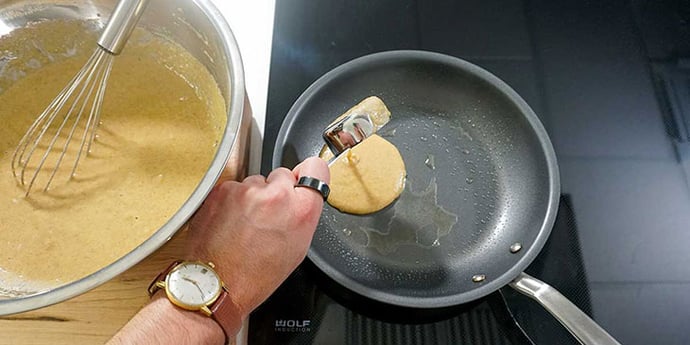 Heat a non-stick skillet or griddle pan over medium-low heat. Spray the pan with cooking spray. Scoop ¼ cup per pancake and cook for 1.5 to 2 minutes per side, flipping the pancakes using a wooden or plastic spatula. Adjust the heat as needed to avoid overcooking each side. Repeat the process until all the batter is cooked off.
Step 5: Serve or Store!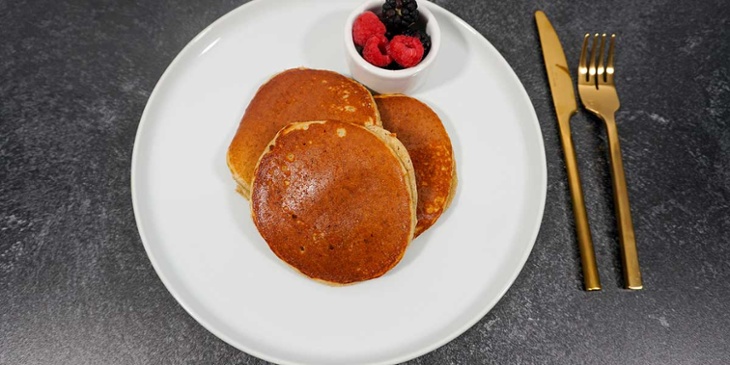 Serve pancakes with maple syrup, and a healthy cup of berry mix, and some freshly picked mint for freshness and color. If meal prepping, cool down pancakes on a cooling rack as you cook them and store them in a zip loc bag in the refrigerator or freezer.

Storing Your Paleo Pancakes
These pancakes will hold well in either the fridge or freezer. If you are meal prepping, feel free to store these in the fridge on meal prep containers. Conversely, if you make a bigger batch and you rather freeze them, store the pancakes in Ziploc freezer bags by creating small piles of pancakes and freezing the bag flat. This will preserve the pancakes whole, avoiding potential tares.
Serve this With:
Check out some of our other exciting paleo recipes for inspiration on how to create well-rounded meals for your meal prep or for any day of the week:
---
Get started on paleo now. Download your free meal prep toolkit, complete with a meal planning tools, paleo food lists, and tips for eating paleo.