At Trifecta we offer a diverse array of breakfast options for our paleo meal plan. With that inspiration in mind, below you will find a guide to create a well balanced and macro-oriented paleo breakfast you can prepare ahead of time and enjoy every morning.
The beautiful thing about this paleo breakfast hash is that you can have fun with the eggs. The combination of the roasted sweet potato, caramelized onions, savory sausage (which by the way, can be any kind you desire), and the addition of either scrambled, poached, or sunny side up eggs, will make every breakfast a different experience -- and that is what I look forward to creating as a chef for you: a recipe you can slightly vary every time to make it different and avoid meal prep burn out.
If you are meal prepping, think about including this recipe in your rotation, as it contains ingredients that may overlap with the rest of your meal prep (the sweet potatoes for example, can be cross-utilized in both this breakfast but also can be used for any other lunch or dinner items). The orange zest adds a beautiful bright and sweet punch to the sweet potatoes.
Also, keep in mind that in order to save time, you can prepare all the ingredients at once, and also cook all the ingredients at once. Some will cook faster than others. If you have a countertop oven, you can add multiple items at once. We love using our Breville Smart Oven Air.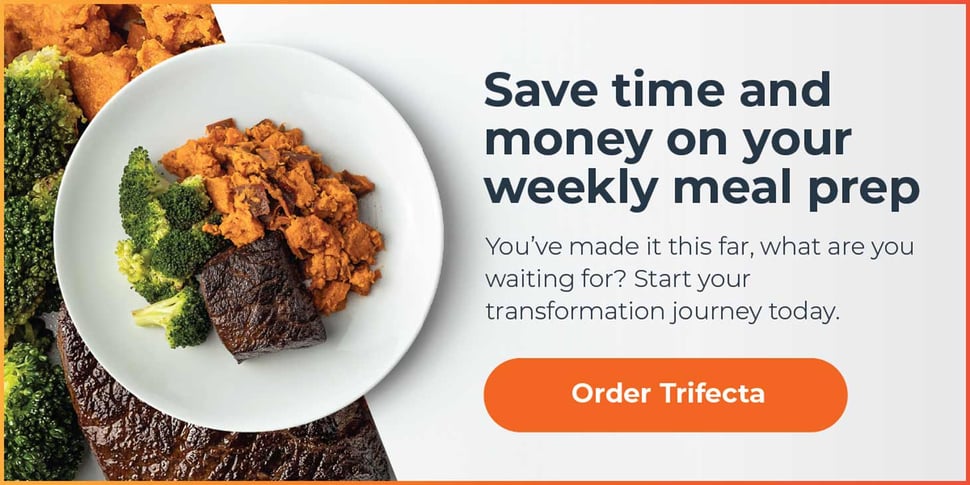 Per serving, you get:
400 calories; 19g Pro; 40g Carbs; 18g Fat
How to Make Paleo Sweet Potato Hash with Sausage & Egg Recipe
Prep Time: 30 minutes
Cook Time: 30 minutes
Servings: 4 servings
Ingredients
5 cups sweet potato, diced, roasted (about 3 medium-sized potatoes)
1 cup onions, yellow, small diced, sautéed
2 cups (0.5 lb) Brussels sprouts, roasted
2 sausage links, baked, sliced
4 eggs, cooked as desired
6 teaspoon avocado oil
2 teaspoon paprika
1 teaspoon thyme, dried
1 orange, zested
Salt and pepper, to taste
Kitchen Tools
Step 1: Cut Sweet Potatoes and Onions
Preheat the oven to 400F (you can use a countertop oven). Begin by cutting your sweet potato and onions. Make sure you wash your sweet potato before cutting. Dice as evenly as possible and keep aside in a bowl.
After you are done cutting your sweet potato, dice your onions in a similar size as the sweet potato. Transfer onions to a separate bowl and keep aside until needed.
Step 2: Prepare Brussel Sprouts and Sausage
Quickly wash Brussels sprouts in a colander and cut off stems. Discard stems, and then quarter the Brussels sprouts. Transfer to a third separate bowl and season with salt and pepper, 2 teaspoons of avocado oil, and mix with hands to evenly spread the seasoning.
Slice the sausages in circles and add these to the same sheet pan as the one you will use to cook the Brussels sprouts. Keep the sausage and the Brussels sprouts separated but evenly distributed.
Step 3: Season Sweet Potatoes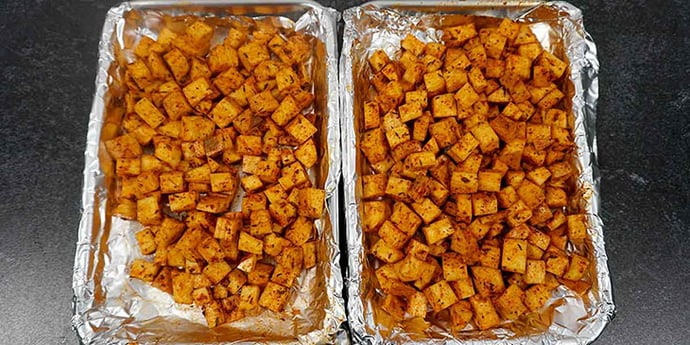 Season sweet potatoes in the same bowl with salt and pepper, 2 teaspoon paprika, 1 teaspoon thyme, zest from 1 orange, and 2 teaspoons of avocado oil. Mix with your hands to season evenly.
Using different sheet trays, transfer the sweet potato to a foil-lined sheet tray and spread to avoid having sweet potatoes overlapping.
Step 4: Bake Sweet Potatoes, Brussels, and Sausage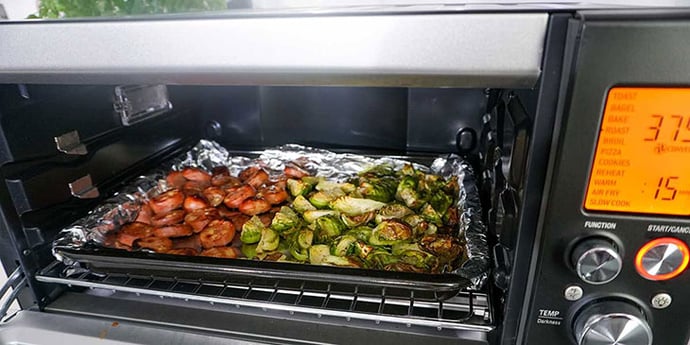 Bake all sheet trays at the same time. The Brussels sprouts may take a slightly shorter amount of time than the sweet potato. Roast the Brussels sprouts and sausage for 13 minutes and the sweet potato for 25 minutes. Once done, there shouldn't be any resistance to the sweet potatoes when poked with a fork. If you are using a countertop oven, there's nothing like Breville's Smart Oven Air.
Step 5: Caramelize Onions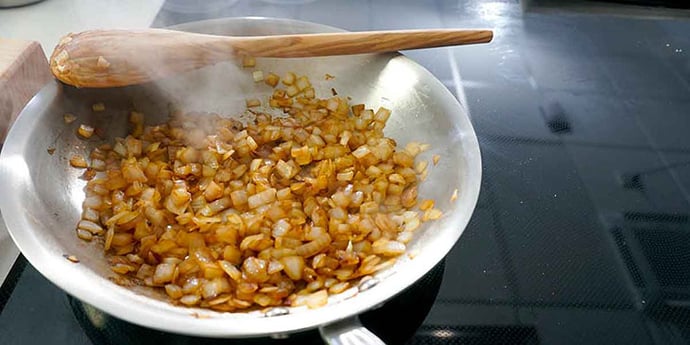 Meanwhile, heat a saute pan with the remaining 2 teaspoons of avocado oil. Saute onions over medium heat, adjusting heat as needed, until caramelized for 5-6 minutes, mixing constantly.
Deglaze the pan if the bottom starts to brown with a splash of water. This will help caramelize the onions further. Only season with salt and pepper before removing from the pan. Transfer to a bowl or tray and cool down in the fridge once ready. The further caramelized these are, the more flavor they will have (see picture above).
Step 6: Portion and Build Dish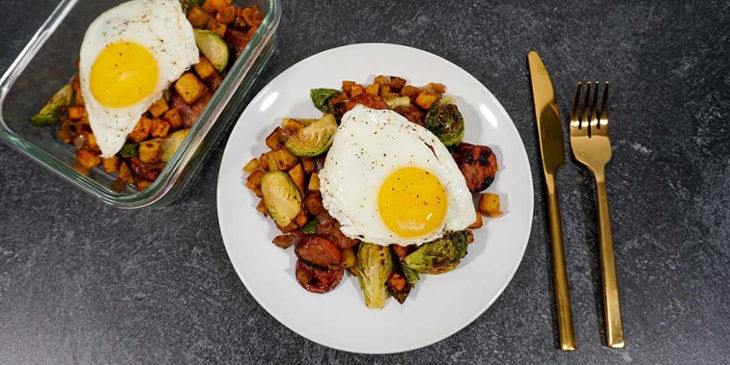 Once all the ingredients are cooled down, divide the ingredients evenly into four containers. For exact macros, portion 1 cup of sweet potatoes, ¼ cup of onions, topped by ¼ cup of Brussels sprouts, and ¼ cup of baked sausage. Top each container with 1 egg.

Culinary Tip: Cooking Your Eggs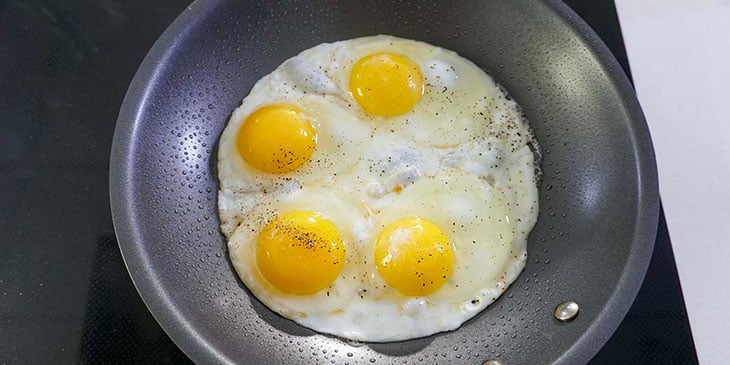 As far as the eggs go, you can cook these in any method you desire. For the sake of this recipe, I suggest sunny side up or poached, to have the yolk spread into the rest of the hash browns. You can cook your eggs together all at once, like in the picture above.
Make sure you have a good non-stick pan (we use MadeIn). This will make cooking your eggs super easy. Then simply cool and gently divide the egg whites to have 4 eggs portioned out for each breakfast hash.
Make sure you cook and cool down the eggs, similarly to the hash mix before portioning and storing the containers. Add 1 egg per container or bowl.
Reheating Your Paleo Breakfast
This breakfast item holds incredibly well to be reheated. The egg can be cooked 'a la minute' or right before eating/reheating for freshness. If you rather cook the egg ahead of time, know that eggs tend to overcook when microwaved.
My suggestion as a solution is to reheat the meal either on a lower power setting on the microwave, or by separating the egg, reheating the heartier meals first, and then at a lower power setting, reheating the egg for a shorter period of time, covered with a damp paper towel.
This is slightly a little more work, but it is worth it to keep the essence of the egg intact. Otherwise, the egg might turn rubbery (the proteins coagulate extra hard and the egg becomes chewy).
Storing Your Paleo Breakfast
Store this paleo sweet potato hash in the fridge for 5 days for maximum freshness or up to 7 days, ideally in an air-tight container.

---
Get started on paleo now. Download your free meal prep toolkit, complete with meal planning tools, paleo food lists, and tips for eating paleo.