Prepare this fresh and clean garlic shrimp with zucchini noodle recipe in less than 10 minutes. This is the perfect nutritious lunch or dinner to include in your meal prep plans for the week, this recipe is sure to satisfy any pasta cravings without the carb-overload!
About This Recipe
To keep this meal prep recipe quick and easy, all you have to do is prepare a few simple ingredients and then saute together the shrimp, along with the vinegar, lemon juice, and goat cheese to make a delicious creamy sauce.
Include this simple shrimp recipe in any healthy meal prep plan for lunch or dinner without having to cook anything!
To keep this recipe low-carb, we utilized zucchini noodles!
Zucchini noodles are the spiralized form of zucchini and make the perfect low-carb substitute for regular noodles. They can be enjoyed raw in salads, stir-fried, or gently tossed with sautéed ingredients for a quick noodle dish.
Don't have time to make your own zucchini noodles? Not a problem! Find them in most fresh produce sections of major grocery stores.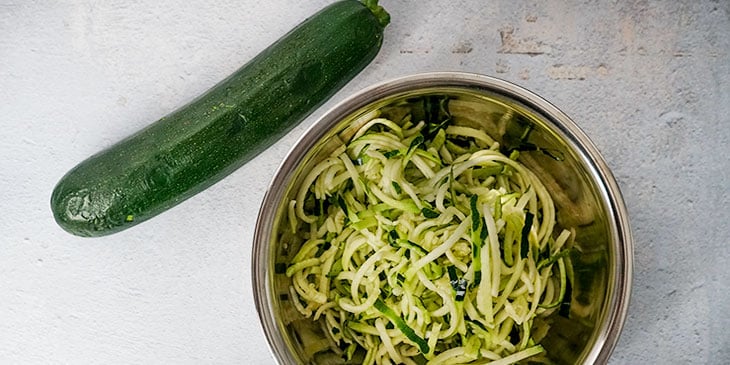 Although we prepared this recipe with a quick lemon-goat cheese sauce, try out some these sauces instead to spice up your meal prep:
How to Prepare Your Garlic Shrimp with Zucchini Noodles Recipe
Prep Time: 10 min
Cook Time: 5 min
Servings: 2

Ingredients
2 Medium zucchinis or 1 package spiralized zucchini
3/4 pound of Trifecta shrimp or ¾ pound cooked shrimp
1 teaspoon avocado oil
3 tablespoons garlic
2 tablespoons champagne vinegar
1 tablespoon honey
½ lemon, zested and juiced
¼ cup parsley, chopped
¼ cup grape tomatoes, sliced
2 tablespoon toasted sunflower seeds
3 tablespoons goat cheese, crumbled or feta cheese
½ teaspoon red pepper flakes
Salt & pepper to taste
Kitchen Tools
Knife and cutting board
Microplane (zester)
Medium Bowl and Tongs
Saute pan (non-stick preferred)
Meal Prep Containers
Step 1: Prepare Zucchini Noodles and Ingredients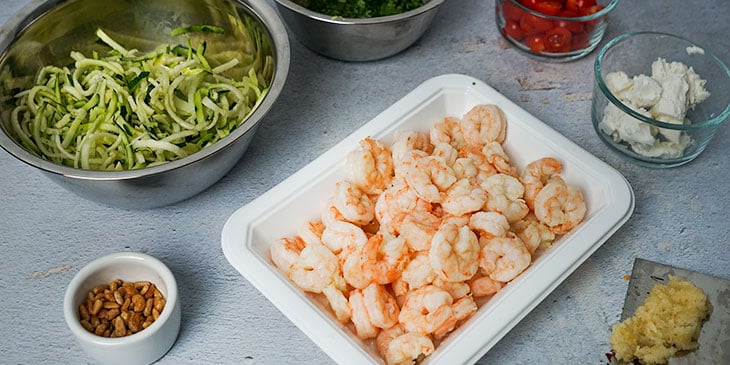 Spiralize your zucchini or set aside a package of store-bought spiralized zucchini.
Remove the Trifecta Shrimp from the container and rinse, set aside.
For the garlic use a microplane or grater instead of trying to cut it up with your knife. This is a great trick when a recipe calls for a lot of garlic!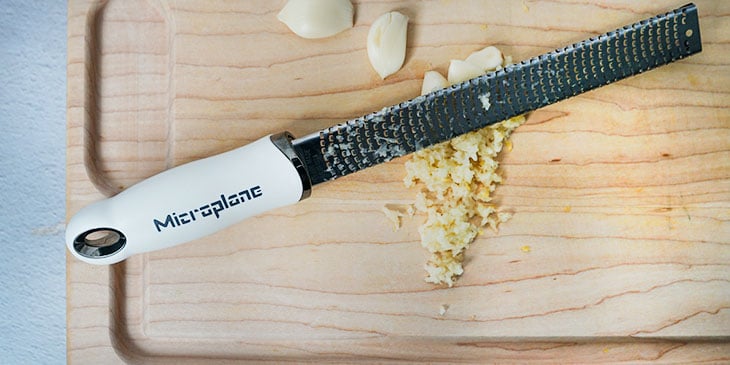 Measure out all of the additional ingredients, feel free to add additional vegetables or more garlic depending on what you like!
Substitute grilled shrimp, poached shrimp, or raw shrimp if you are not using our Trifecta Meal Prep Shrimp. Note if you are using raw shrimp this recipe will take a bit longer!
Step 2: Heat Non-Stick Skillet and Saute Ingredients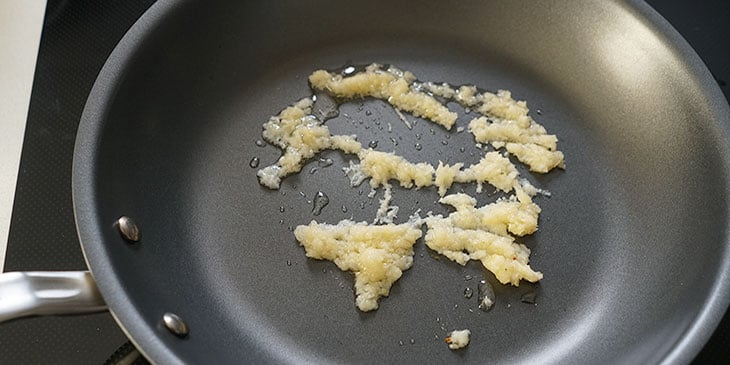 Heat a non-stick skillet or saute pan over medium heat and add 1 teaspoon avocado oil and garlic. Cook for 2 minutes or until aromatic, add in the Trifecta shrimp and cook for 2 more minutes.
If you are using raw shrimp, cook for 6-8 minutes until opaque and cooked through.
Add in the vinegar and parsley mixture, cook for 30 seconds.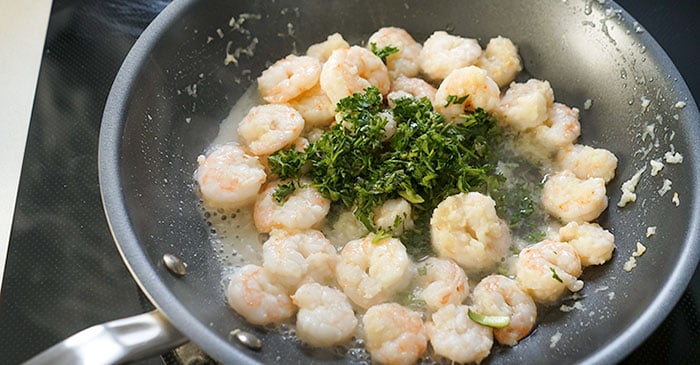 Then add in 2 tablespoons goat cheese (reserve the rest for garnish). Stir in goat cheese to make a tasty garlicky sauce.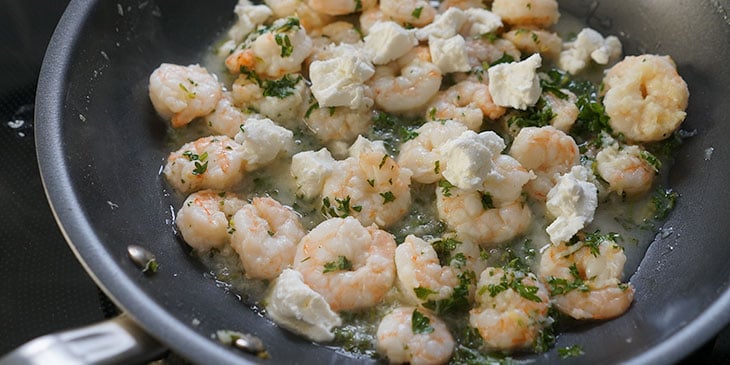 Need a dairy free sauce? Substitute ¼ cup of coconut yogurt for a creamy dairy-free garlic sauce.
Step 3: Mix in Noodle and Tomatoes
Add in the tomatoes and zucchini noodles, cook for 1-2 minutes until noodles are coated with the sauce.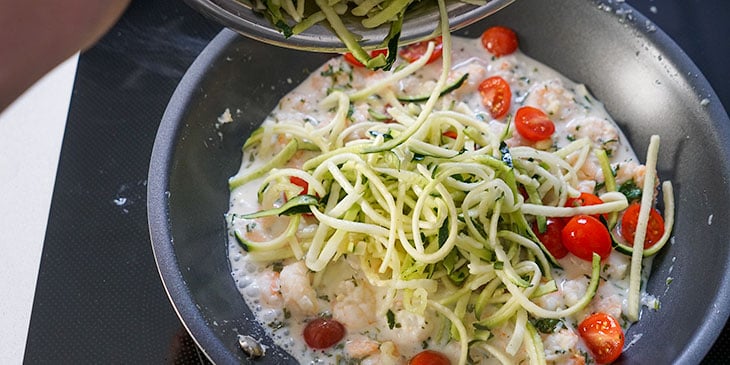 Storing and Serving
If you are including this recipe into your weekly meal prep, divide this recipe into two equal portions and cool in the fridge uncovered before storing.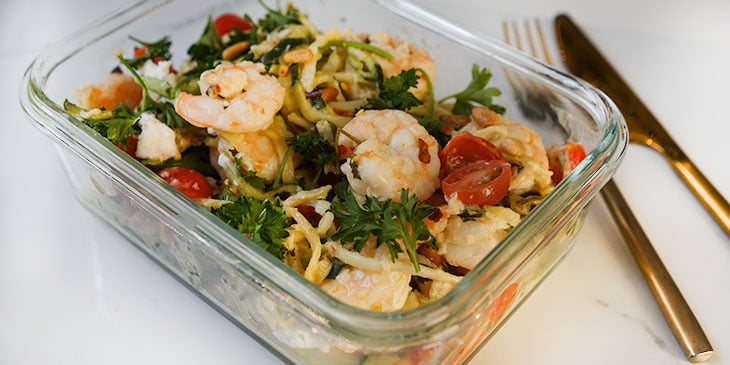 This recipe will keep for up to 4 days in the fridge.
---
Too busy? We Got You!
Start building your own budget friendly meal prep for only $6 a meal using Trifecta pre-cooked meal prep ingredients. Just pick and choose your favorite proteins, grains, and veggies, season, and eat!