This easy salmon stir-fry recipe is the perfect addition to any muscle building diet. A twist on a classic Thai dish, the sauce is rich, savory and a little spicy, paired with tender salmon, buttery egg noodles, and just the right amount of veggie crunch. Made with Trifecta à la carte salmon, this dish brings flavor and plenty of protein to your clean bulk meal prep. Plus it's ready to eat in less than 15 minutes!
How to Make This Recipe
You'll need the following ingredients and kitchen supplies for this dish:
8 ounces Trifecta salmon
5.2 ounces egg noodles (150g)
2 baby bok choy
3 long-stemmed broccoli (broccolini)
1 medium carrot
2 cloves of garlic
1 tablespoon low-sodium soy sauce
1 tablespoon hot sauce
1 tablespoon cornstarch
Kitchen Needs:
Garlic Crusher
Large Sharp Knife
Cutting Board
Large Cooking Pot w/lid
Large Frying Pan
Spoon
Potato Masher/Fork
Drainer/Sieve
Start by cooking your egg noodles. Measure out 150 grams of dry egg noodles (a little less than one cup) using a kitchen scale. Add two cups of water to a pan with egg noodles and cover. Bring to a boil and then reduce to a simmer for 3 to 4 minutes.
Once egg noodles are finished cooking and still firm to taste (al dente!), drain the water using a sieve and leave them covered on the stovetop to keep them from drying out.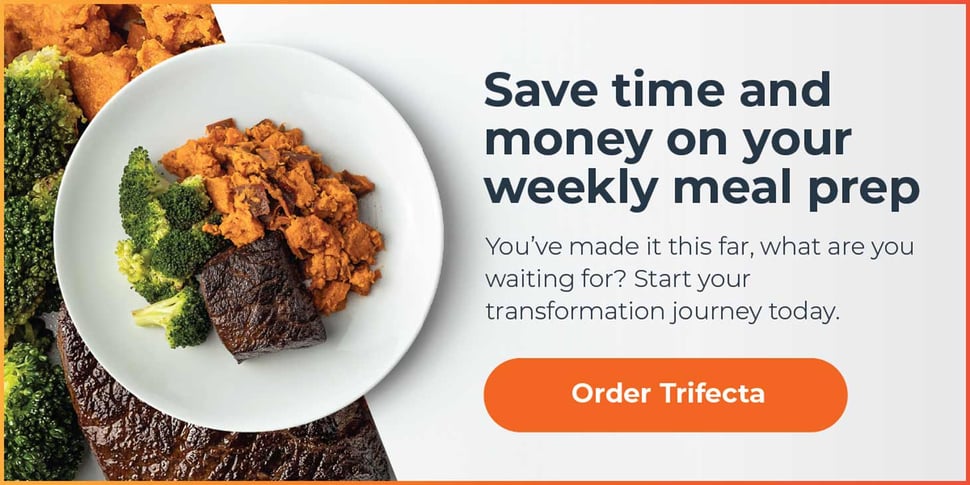 Tip: Add a small amount of oil to the noodles to keep them from sticking together.
For the veggies, quarter your bok choy, cutting it lengthwise in half and then repeating the process with each half. Then slice your carrot into long, thin strips about a quarter-inch thick. And chop your broccolini into bite-sized pieces.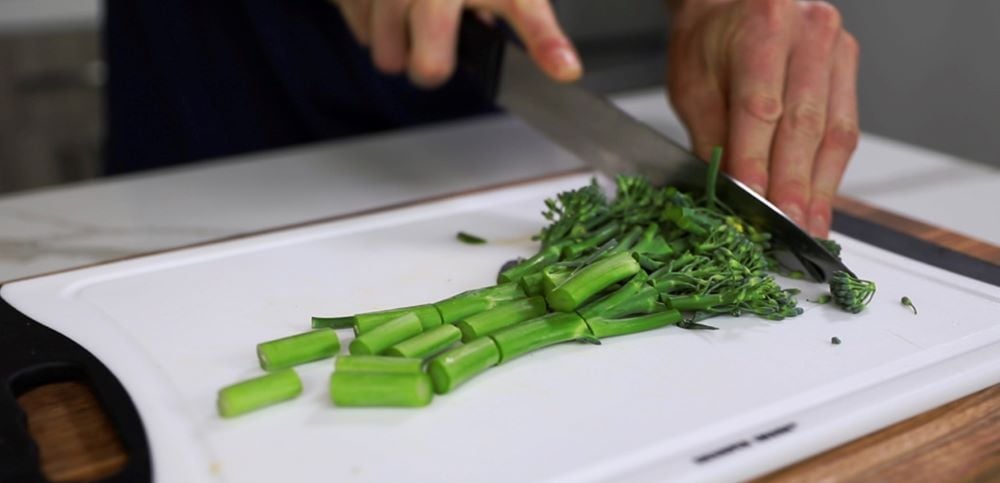 Warm a non-stick pan over medium heat and add veggies with a small amount of oil or use cooking spray to cut back on fat and calories.
Tip: If you use oil in this recipe, remember to track the added calories and fat (not included in the current nutrition info).
Saute veggies for five to seven minutes, stirring occasionally until they began to soften.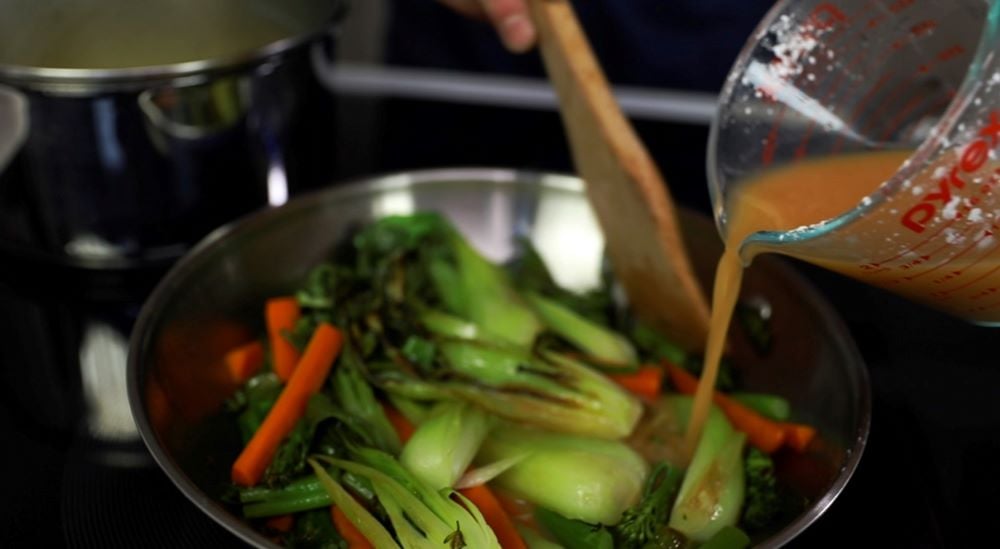 Tip: Depending on how soft or crunchy you like your vegetables, you can also cover it with a lid (covering them will remove some of the crunch!).
For the sauce, start with 2/3 cup (150ml) of fresh water. Add in a tablespoon each of the low sodium soy sauce, hot sauce, and corn starch (which acts as a thickening agent).
Using a garlic press, crush the garlic cloves into the mixture and mix everything together.
Once well mixed, add your sauce to the pan with your vegetables. Reduce heat to a simmer for several minutes, stirring occasionally and allowing the sauce to reduce a bit.
Turn off the heat and add the noodles, stirring to coat all of the ingredients evenly with the sauce.
Transfer all contents of the pan to a plate. Then break apart chunks of the Trifecta Salmon and arrange them on top - this way you'll get a bite of Salmon with every mouthful of the egg noodles and stir-fried vegetables!
Get the salmon used in this recipe or save on cooking time with your favorite meal prep recipes using Trifecta a la carte vegan proteins, veggies, and grains.
Serve this With:
The perfect addition to any vegan breakfast skillet would be a tofu scramble!
Add in sautéd firm tofu with salt, pepper, and some turmeric for even more protein.
Serve with melted vegan cheese and freshly chopped green onions.
Top with sliced avocado or guac.
Add some flavor and heat with hot sauce.