There is something incredibly satisfying about a good cashew chicken dish. Imagine takeout, but healthy! The combination of flavors from the natural sweetness of the bell peppers, the aromatic notes of the scallions, the sweet-umami sauce, and the crunchiness and nuttiness of the cashews makes a super flavorful and simple Asian-inspired paleo recipe for your meal prep. Or make it any day of the week in just 15 minutes.
There are two ingredients that are used in this recipe to make it paleo: coconut aminos instead of soy sauce and arrowroot powder instead of cornstarch.
Typically, cornstarch is used to thicken sauces and to coat proteins. However, because corn is not part of the paleo lifestyle guidelines, arrowroot acts as the perfect replacement. The arrowroot and coconut amino replacement also makes this dish gluten-free.
Note that the chicken is coated in the arrowroot, which acts as the thickening agent once the sauce is added on top of it and it also coats the chicken to add a bite. There's no need to create a slurry in this case.
Lastly, this recipe only calls for red bell peppers and scallions. I wanted to keep the recipe super simple and straightforward; however, if you'd like, you can always add extra vegetables like broccoli and shredded carrots.
This recipe also uses a substitute for harissa paste by combining tomato paste together with the red pepper flakes. If you so desire, and if you have harissa available, substitute the 2 Tbsp. of tomato paste and the ½ Tsp. of red pepper flakes, with 1 Tbsp. of harrisa paste (control the heat as desired).
If you are new to paleo, this is the easiest way to stick to a paleo diet. Download this free, RD-written meal prep guide complete with meal planning tools, approved food lists, and tips for eating paleo.
The macros for this paleo recipe are:
340 kcal; 11g Fat; 21g Carbs; 38g Protein
Top off your dishes with sesame seeds, fresh chopped cilantro, and/or sliced green onions.
How to Make a Paleo Cashew Chicken Recipe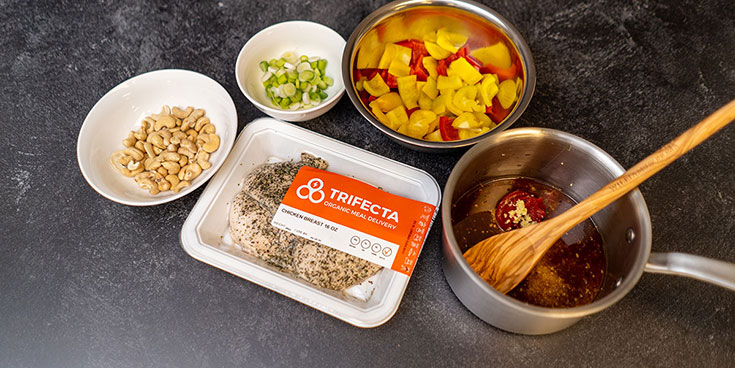 Cook time: 20 min
Prep time: 15 min
Yield: 4 servings
Ingredients
16 ounces of Trifecta A La Carte chicken breast, diced
2 bell peppers, diced
4 scallions, washed, rough chopped, white and green bulbs separated
½ cup cashews
2 Tbsp. arrowroot powder
1/4 Tsp. kosher salt
1 Tbsp. coconut oil
Sauce:
⅓ cup coconut aminos
¼ cup apple cider vinegar
⅛ cup water
2 Tbsp. tomato paste
1 Tbsp. honey
1 Tbsp. fresh ginger, grated
4 garlic cloves, grated
½ Tsp. red pepper flakes
Kitchen Needs:
Mixing bowls
Sheet pans
Sauce pan
Saute pan
Cutting board and knife
Step 1: Prepare the Chicken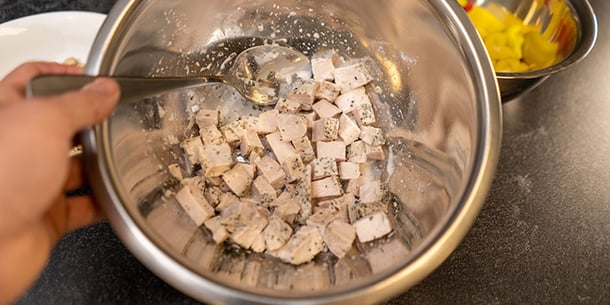 If you are using Trifecta A La Carte chicken, remove the chicken from the container and dice it. Keep in a medium bowl on the side until needed. If using raw chicken, dice the chicken, transfer to a baking tray, and season with salt. For either method, sprinkle the 2 Tbsp. of the arrowroot powder along with a splash of water and spread to coat evenly. Set aside.
Wash your station and cutting board, washing all surfaces where the raw chicken came in contact.
Step 2: Make Sauce & Prep Veggies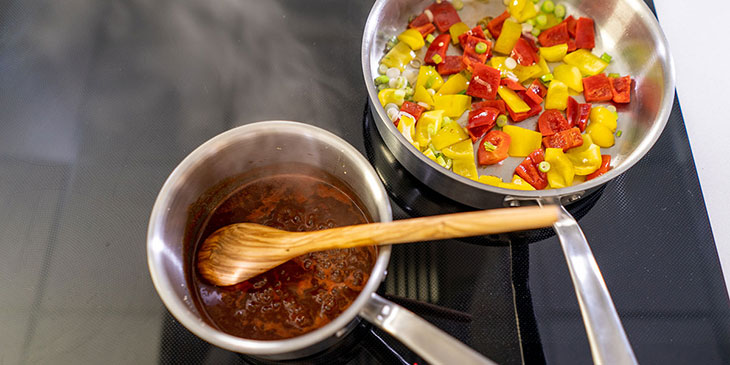 Cut both bell peppers into large square pieces, and keep them separated in a bowl. Next, slice the white bulbs of the scallions, separating them from the green bulbs. Keep in separate bowls.
Make the sauce by combining all the ingredients listed above. Bring to a boil and then reduce the heat to simmer. Simmer over low heat until needed.
Step 3: Cook Veggies & Chicken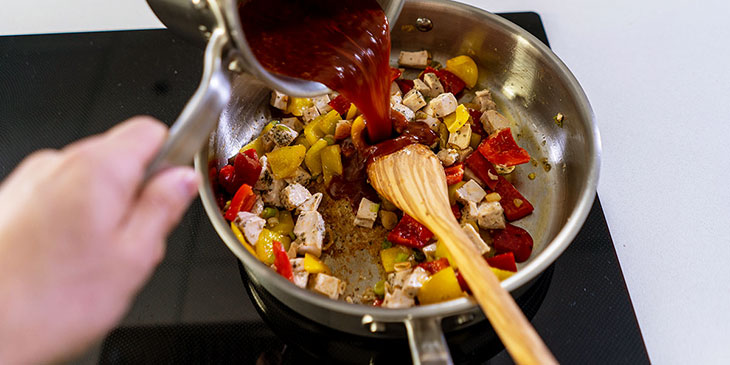 Heat up 1 tablespoon coconut oil in a large round skillet, or a wok if you have it. Once coconut oil has melted and is shimmering, add the bell peppers plus the scallions and cook over high heat for a minute or two. Season with a sprinkle of salt.
Immediately add the chicken, cooking it for about 3-5 minutes over medium heat, adjusting it as needed, and making sure all sides of the chicken get as crisp and brown as possible.
Add the sauce and purposefully scrape any browned bits left on the bottom of the pan. Simmer the sauce for another 2 minutes, or until it thickens up.
Step 4: Add Cashews and Serve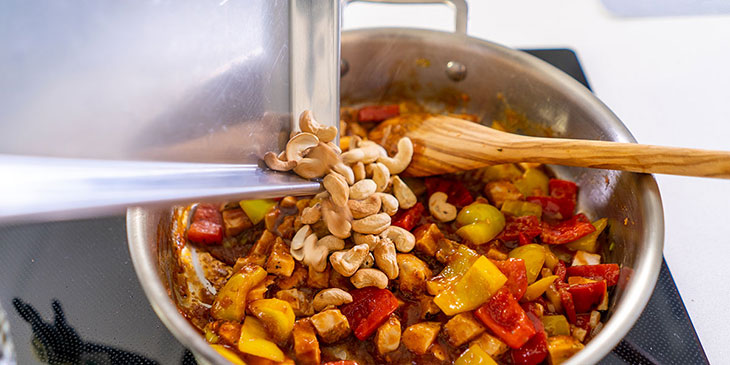 Reduce the heat if needed. Lightly toast the cashews beforehand if desired. Add the cashews to the pan, and mix to fully incorporate.

Remove from the heat and portion 4.5 ounces of the chicken per container for exact macros.

Garnish with the green scallion. If meal prepping, cool down completely and then portion into 4.5 oz portions.

Meal Prep Tips
This recipe is perfect for your paleo meal prep needs. You can double the recipe if you like it, and make 8 healthy paleo protein components. Add your favorite paleo-approved carbohydrates and vegetables.
Let your imagination go wild.
For more inspiration on different paleo foods, check out this list.
---
Get started on paleo now. Download your free meal prep toolkit, complete with a meal planning tools, paleo food lists, and tips for eating paleo.