The combination of roasted cauliflower with the sweet and sour agrodolce sauce makes this paleo side dish a spectacular companion for any weeknight meal or for general meal prep needs. The Fresno peppers and red chili flakes add a small but necessary kick, and the raisins work incredibly well with the mix of red wine vinegar and honey. Make a big batch of the sauce and use it interchangeably for any other vegetable of your preference.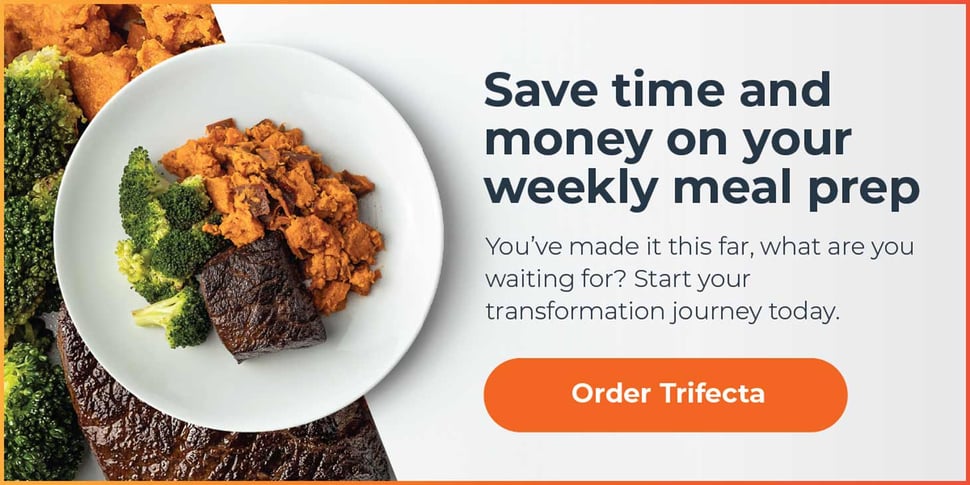 The first time I came across this idea was around Thanksgiving a few years ago. I used this agrodolce sauce with roasted komboucha squash and my family could not get enough of it.
Agrodolce is a sauce of Italian origin, which has a sweet and sour flavor, made with onions, garlic, red wine vinegar, sugar, and raisins.
In the case of this recipe, Fresno peppers have been added, and honey is used instead of sugar to make it paleo-friendly.
The cauliflower is roasted at a high temperature for caramelization purposes and for a quicker cooking time.
Make sure you are simmering the sauce enough to create sufficient reduction and create a syrupy consistency. Make sure you start by simmering the sauce for optimal consistency.
Feel free to substitute the cauliflower for any kind of roasted squash or with any hearty fall vegetable. You won't be disappointed.
Get started on paleo now. Download your free meal prep toolkit, complete with meal planning tools, paleo food lists, and tips for eating paleo.
The macros for this paleo recipe are:
140 kcals; 5g Fat; 26g Carbs; 2g Protein
How to Make an Easy Paleo Greens Side Dish
This recipe takes about 20 minutes to prepare, and about 20 minutes to cook. It makes around 6 - 5.7 oz servings.
Ingredients
4 cups cauliflower, cut into florets
1 Tbsp. olive oil
Kosher salt
2 Fresno chiles, sliced
¾ cup red wine vinegar
4 Tbsp. orange juice
1 Tbsp. olive oil
¼ cup of honey
½ tsp. red pepper flakes
¼ cup raisins
Kitchen Needs:
Sheet pans
Saucepan
Mixing bowl
Cutting board and chef knife

Step 1: Cut and Roast Cauliflower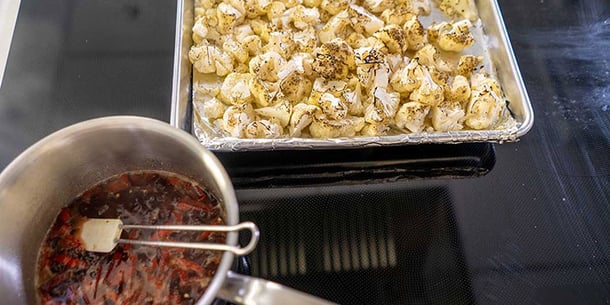 Preheat oven to 425 F. Cut the cauliflower into florets and transfer it to a foil-lined baking sheet pan. Season with kosher salt and 1 tablespoon of olive oil. Roast for 15 minutes.
Step 2: Make Agrodolce Sauce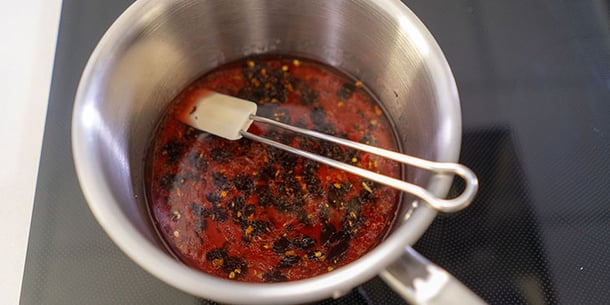 Meanwhile, combine sliced rounds of Fresno chiles, red wine vinegar, olive oil, honey, red pepper flakes, and raisins in a small saucepan. Bring to a boil and then reduce heat to a slow simmer to allow the sauce to thicken up for a total of 20 minutes. Remove from heat once thickened and syrupy.
Step 3: Combine Cauliflower and Sauce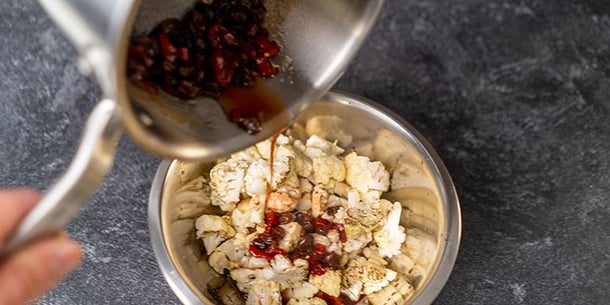 Remove cauliflower from the oven once done roasting and transfer it into a bowl. Pour agrodolce sauce over the cauliflower and toss to coat.
Serve immediately or cool down completely if used for meal prep.
Storing Recommendations
If meal prepping, cool both sauce and cauliflower and store them in separate containers. Mix only once ready to serve.
Conversely, cool all components down, mix in a bowl, and either portion separately on meal prep containers, or store dressed cauliflower in an air-tight container for up to a week. Portion as needed.
For more inspiration on different paleo foods, check out this list.
---
Get started on paleo now. Download your free meal prep toolkit, complete with meal planning tools, paleo food lists, and tips for eating paleo.