Sweet and sour is one of the staple sauces I keep in my fridge. It's that infallible option that typically goes well with everything. Do you have a similar sauce you always keep around?
Find below a guide on how to make a 10 minute meal for yourself, your family, or friends. Use Trifecta Meal Prep items to achieve a quicker meal
Sweet and Sour Chicken Recipe
Sweet and sour seems to have an origin in the Hunan region of China, originally used as a combination of vinegar, salt, sugar, and water with rice.
However, some food history sites suggest there may have been similar sauces created in other regions around the same time.
This sauce was typically served on the side or as a dipping sauce. In America, this dish is typically served at take-out Chinese restaurants, as a tempura-fried chicken dish that is drenched in the molten lava-like consistency sauce.
Nutrition Info: 440 kcal; 9g Fat; 44g Carbs; 40g Pro
Though you can make a sweet and sour sauce at home, there are plenty of excellent sauces you can purchase at the supermarket.

Remember that this sauce is heavy on sugar. To make sure you may not be adding an excessive amount of carbohydrates, look at the serving size on the label of the bottle and adjust to your own personal health needs.

Conversely, if you are indeed on a weight gain journey, adding this sauce is a great way to sneak in carbohydrates to meet your potential needs to pack on muscle.

Every time I need a quick meal that is macro-balanced and highly delicious, I use Trifecta's Meal Prep items, like the chicken breast and brown rice, throw some vegetables (and if available, some fresh herbs).

My favorite part of Trifecta is the convenience factor it adds to the day to day, all while keeping health and nutrition on the forefront.

How to Make Your Sweet and Sour Chicken Recipe

Prep Time: 5 minutes
Cook Time: 10 minutes
Servings: 4 each

Ingredients
Kitchen Tools
Cutting board
Kitchen knife
Saute pan
Measuring cups and tablespoons
Rubber spatula or wooden spoon
Step 1: Prepare Chicken and Other Ingredients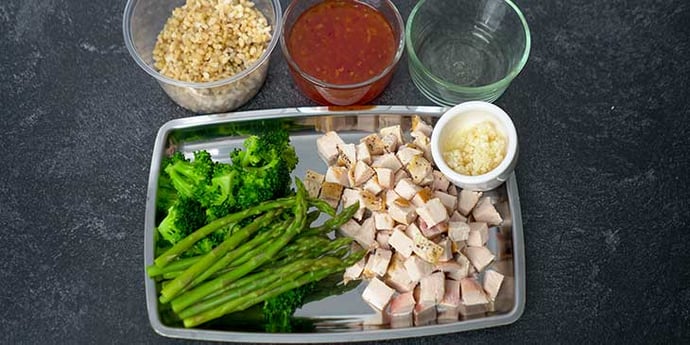 Remove the Trifecta chicken from the container and dice to bite-size pieces, as even as possible.
Measure Trifecta broccoli, asparagus, and brown rice and hold on the side.
Measure garlic and grapeseed oil into individual containers, similar to the sweet and sour sauce.
Step 2: Saute Garlic and Chicken, and Season with Sweet and Sour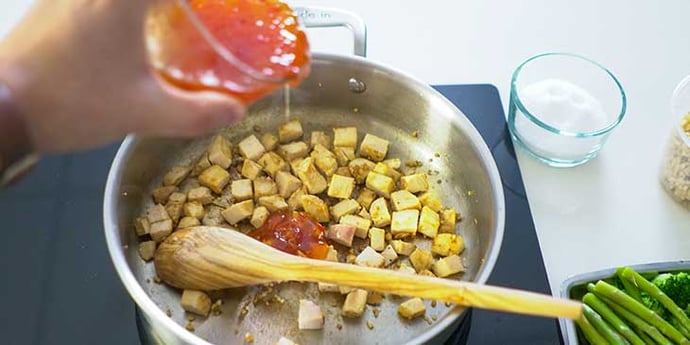 In a large saute or frying pan, heat the oil and over medium to medium-low heat, saute the garlic stirring often to avoid the garlic from burning.
Season with salt and increase the heat to medium-high.
Add the chicken. Warm chicken completely through about 1-2 minutes. Adjust heat as needed (lower at this point to medium) and add half of the sweet and sour. Scrape the bottom of the pan for brown bits, as adding the sauce will deglaze the pan.
Step 3: Add the Rice, then Broccoli and Asparagus to Pan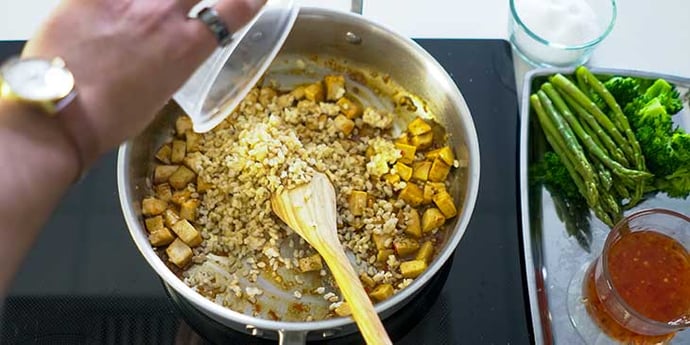 Add the rice first, as grains take a little longer to warm through.
Adjust heat to medium and mix often for about 1-2 minutes. Remove the chicken and rice mix into a holding bowl. Keep warm in a countertop oven.
In the same pan, without cleaning, add the broccoli and asparagus, adding a splash of water to create steam and deglaze the pan. Mix the vegetables, season with a pinch of salt, and cover for a minute top.
Step 4: Plate and Top with Remaining Sweet and Sour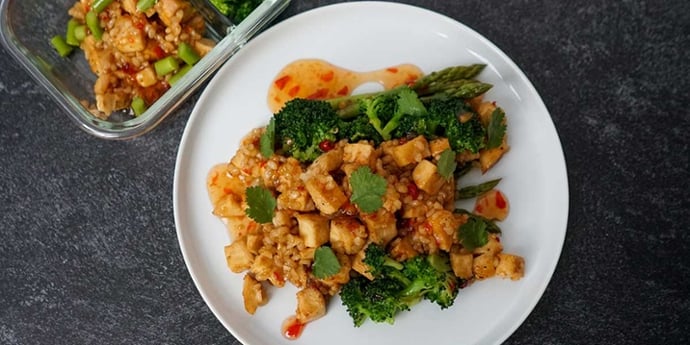 Plate the sweet and sour chicken by laying the vegetables down, and then plating the chicken and rice on top. Spread the remaining sweet and sour sauce on top of your dish or meal prep. Enjoy!
Storing Your Sweet and Sour Chicken Recipe
If you are storing your food, remember to cool down your food completely before covering your containers.
Covering containers and refrigerating them hot creates an environment perfect for bacterial growth, which can cause foodborne illnesses.
For Exact Macros Plate:

4 oz chicken; 1/2 cup mixed vegetables; 1/2 cup rice & 2 tablespoons sweet & sour sauce
Meal Prep Tips
If you are meal prepping this dish ahead of time, there is no need of reheating the Trifecta brown rice or vegetables.
However, I do recommend mixing these two together in a bowl, lightly seasoning them with salt to optimize flavor and then portioning them into four containers.
As well, mix the sweet and sour with the chicken separately.
Each serving calls for 2 tablespoons of sweet and sour sauce. If meal prepping, mix 1 tablespoon with the chicken, sprinkle some salt and then place on top of each container. Spread the remaining 1 tablespoon of sauce on top of the entire dish to optimize flavor.
Additional Meal prep resources:
---
Too busy? We Got You!
Start building your own budget friendly meal prep for only $6 a meal using Trifecta pre-cooked meal prep ingredients. Just pick and choose your favorite proteins, grains, and veggies, season, and eat!