Whether you are following a paleo lifestyle or you are looking for some healthy snack options, these roasted spiced nuts are an incredibly delicious and simple recipe you can use to make in bulk and enjoy throughout your week.
The combination of spices, a hint of piquancy, slight saltiness and sweetness, and the natural nuttiness of the roasted nuts make this recipe a snack staple of your meal prep.
What's the secret to a properly spiced nut mix? The egg whites and butter combination helps coat and bake the spices into the nuts.
Below I suggest a combination of spices that make sense as a general outline. However, if you have a preference or a specific spice mix, feel free to substitute it instead of the one written below. Do keep the rest of the recipe the same and follow the blueprint to make sure you get a beautifully coated end product.
You can make this recipe ahead of time and portion the nuts into small containers, or even keep them in a jar for easier access. These also make a great appetizer if you are having guests over!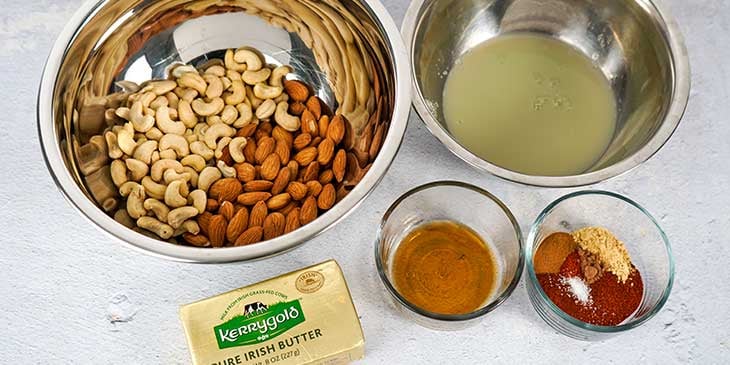 Choose your own favorite spice and nut mix to make this recipe your own.
How to Make Paleo-Roasted Spiced Nuts
Prep Time: 10 minutes
Cook Time: 30 minutes
Servings: 17 - 1 oz (~28g) servings
Ingredients
1 cup cashew
1 cup almonds
2 Egg whites, whipped
2 tablespoon butter, melted
¼ cup Maple syrup
2 tablespoon chile powder
1 tablespoon cinnamon powder
1 teaspoon ginger powder
½ teaspoon nutmeg
⅛ teaspoon cayenne pepper
Kitchen Tools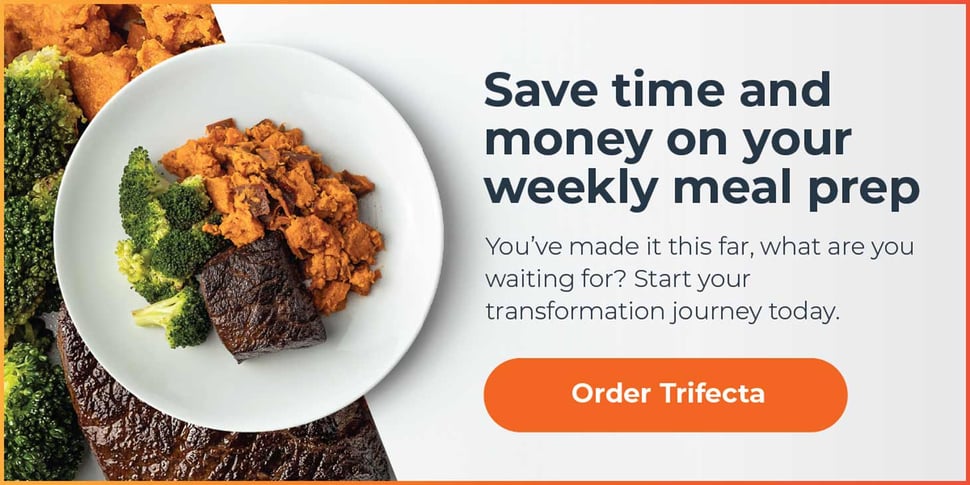 Step 1: Preheat Oven and Roast Nuts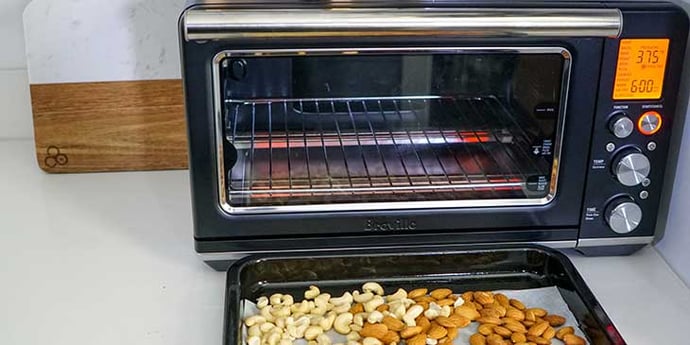 Preheat your Breville's countertop oven Smart Air or conventional oven to 350 F.
In a bowl, measure both cups of cashew and almonds. Roast for 6 minutes.
Remove from oven and transfer slightly roasted nuts to a bowl. Decrease oven temperature to 300F.
Step 2: Whip Egg Whites and Melt Butter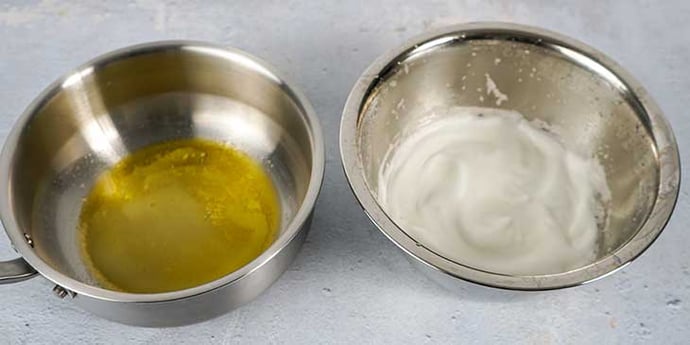 In a separate bowl, whip egg whites to soft peaks using a hand blender. Meanwhile, gently melt the butter in a small saucepan.
Step 3: Combine Ingredients with Roasted Nuts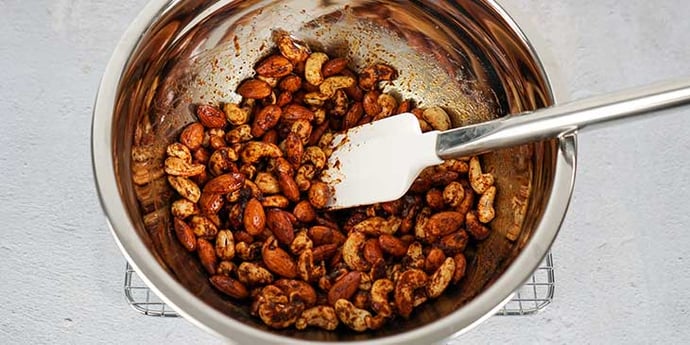 Pour melted butter first, followed by maple syrup and chile powder, cinnamon powder, ginger powder, nutmeg, kosher salt, and cayenne pepper on top of the roasted nuts. Toss and combine to coat evenly.
Step 4: Fold Egg Whites In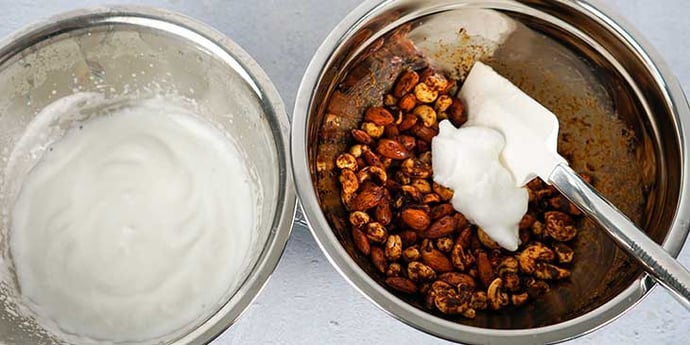 Slowly add the whipped egg whites into the bowl, folding with a rubber spatula gently.
Step 5: Transfer to Lined Baking Sheet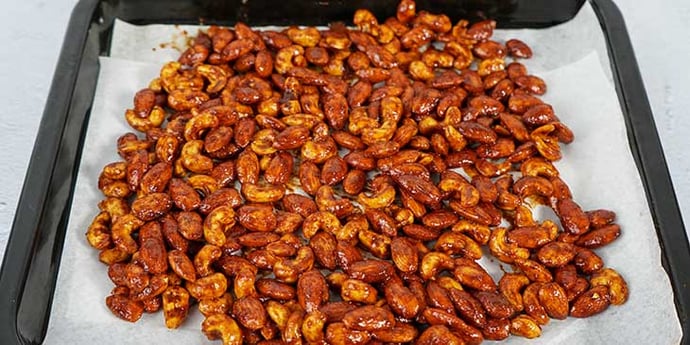 Transfer now-seasoned nuts to a lined baking sheet. Spread out evenly.
Step 5: Bake in Oven, Cool, and Store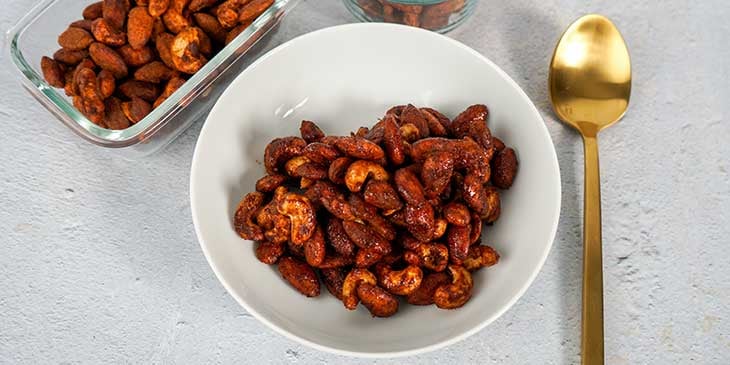 Bake nuts for 16 minutes. Set a timer for 8 and rotate the baking pan halfway through.
Set a timer for an additional 8 minutes. Once time is up, remove from oven, let cool to room temperature, and store in an airtight container. Enjoy 1-ounce servings.
Storing Spiced Nuts
Since the egg whites are cooked through, this snack is completely shelf stable. Store in individual 1-ounce containers, or in an airtight container for up to 30 days. There is no need for refrigeration.
Meal Prep Tips
Make this snack part of your rotation of paleo snacks and enjoy a wide variety of paleo snacks throughout your week. Also, if you are unsure as to what to eat on the paleo diet, here are some useful resources to get you started!
---
Get started on paleo now. Make sticking to your paleo diet even easier with ready-made paleo meals cooked and delivered every week.