Perfectly sweet and spicy, this teriyaki pineapple bowl is a delicious twist on a traditional recipe. Make a fun recipe for yourself or spread the love at a summer barbecue! Either way, it's sure to be a huge hit of a recipe!
About This Recipe
Teriyaki sauce is one of the best sauces to have on hand when you want to prepare a tasty meal in a pinch. It can literally go on just about anything and will easily take your meal prep to the next level.
Be sure to look for low-sodium and low-sugar teriyaki sauces in the grocery store; there are also some great gluten-free options now as well!
We used Trifecta Chicken, Brown Rice, and Broccoli to prepare this mouth-watering Teriyaki Chicken Pineapple Bowl Recipe. It's a fun way to present a simple dish if you need a healthy recipe to impress your friends and family!
Feel free to substitute roasted chicken from the grocery store, any other grains or grain substitutes such as cauliflower or broccoli rice, and fresh veggies from the farmers market to make this bowl your own unique creation. This bowl can fit into any kind of dietary plan, including:
Paleo Teriyaki Chicken Pineapple Bowl: Sub pineapple or cauliflower rice and a soy-free teriyaki sauce (aka a coconut amino-based teriyaki).
Vegan or Vegetarian Teriyaki Chicken Pineapple Bowl: Use a plant-based meat alternative instead of chicken
Keto Teriyaki Chicken Bowl: Unfortunately, pineapples can have too many carbs to be considered keto-friendly. To make this keto-friendly, sub in a sugar-free keto teriyaki sauce and opt to use lettuce cups instead of the pineapple boat for Keto Teriyaki Lettuce Wraps!
You can totally skip the pineapple 'bowl' and portion this recipe out into 4 chicken meal prep-ready lunches or dinners to grab throughout your week!

Step up Your Stir-Fry Game
The goal of cooking on high heat or stir-frying is to achieve Wok Hei, or 'breath of the wok'. Although this term is Cantonese, it applies to all stir-fry techniques. Wok Hei refers to the smoky and caramelized flavor obtained from cooking over high heat in the wok that can be tricky to achieve at home.
We stir-fried the chicken in this recipe with fresh ginger, garlic, and teriyaki sauce. Feel free to add other delicious vegetables!
Follow these tips to execute Wok Hei at home:
If you don't have a wok at home, go check out a local Asian market and purchase a small one! Alternatively, use a large saute pan or cast iron skillet.
No matter what you choose, don't overcrowd the pan with ingredients or else you'll end up cooling the pan down and causing it to steam/stew, not stir-fry. A good rule of thumb is to only take up about 1/3 or a little under a half of the pan with ingredients.
Oil choice matters! Use avocado or vegetable oil, both have high smoking points and can be heated up to 520 degrees.
If you're preparing a large amount of stir-fry, cook it in batches, thus ensuring you'll get appropriate browning.
How to Prepare Your Teriyaki Chicken Pineapple Bowl Recipe
Prep time: 5 minutes
Cook time: 10 minutes
Servings: 2
Ingredients:
Kitchen Tools:
Medium saute pan or wok
Cutting board and chefs knife
Spatula

Step 1: Create The Pineapple Bowl and Gather Ingredients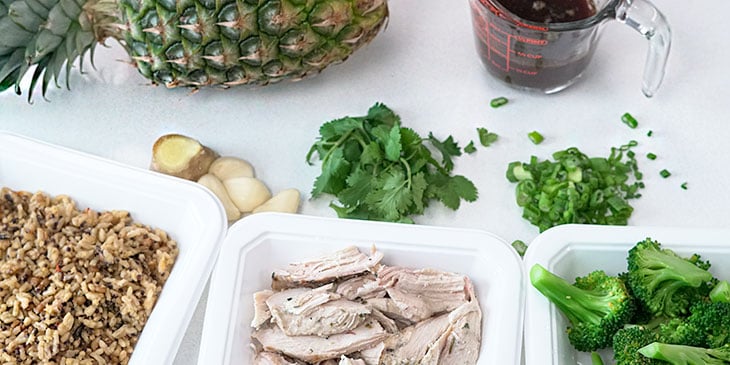 First, cut the pineapple in half (longways).
Scoop out the insides and save them as extras (you can eat the extra pineapple as snacks, juice it, or add it to other recipes). Make sure to drain out most of the juice from the inside of these pineapple halves as they will serve as the bowl for your food.
Save the juice and mix it with your teriyaki sauce for extra flavor!
Gather the rest of your ingredients, including the teriyaki sauce, minced ginger, and garlic, ground
Step 2: Stir-Fry Chicken and Heat Trifecta Meal Prep
Heat a skillet or wok over medium-high heat and add 1 teaspoon of avocado oil, let that heat for 30 seconds then add the chicken, ginger, and garlic.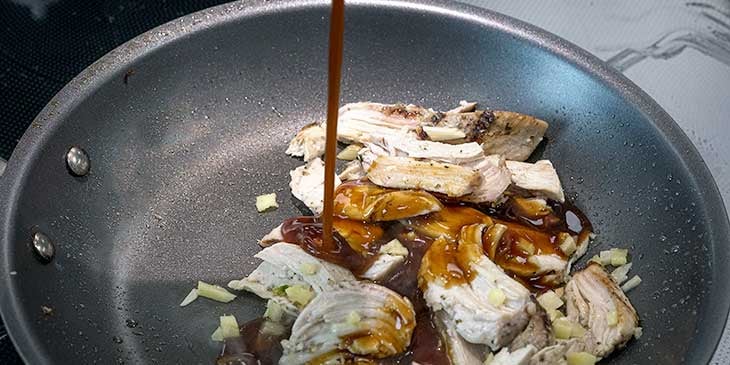 Stir-fry for 2 minutes then add the Teriyaki Sauce (and any of the leftover pineapple juice if you have it), cook for 2 more minutes until the sauce coats the chicken then remove from the heat and get ready to eat!
On the side microwave the trifecta rice and broccoli to heat up.
If you're stir-frying with raw vegetables and chicken here are some separate tips:
Slice raw chicken very thin for quick cooking
Choose vegetables that cook quickly and are cut small and evenly such as snap peas, green beans, asparagus, zucchini, broccoli, etc.
Heat pan and saute chicken in oil and aromatics for 3-4 minutes until chicken is 1/2 way cooked
Add vegetables in the order of what takes the longest to cook first
For more stir-fry tips check out Kelp Noodle Pad Thai Recipe
Step 3: Build Your Bowl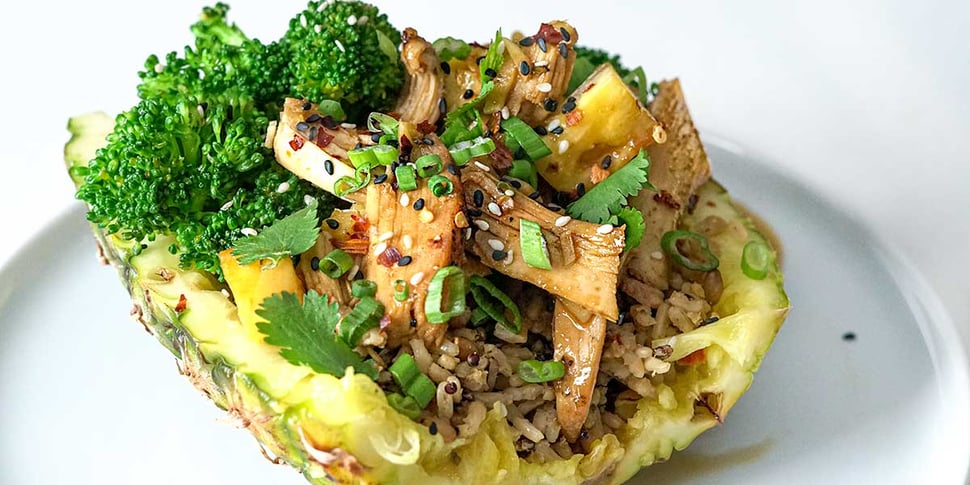 Fill your pineapple bowl with 1 cup of brown rice, 1 cup of broccoli, and 5 oz of Teriyaki chicken! Top with sesame seed, green onion, cilantro, and red pepper flakes for extra flavor, then dig in.
Meal Prep and Storing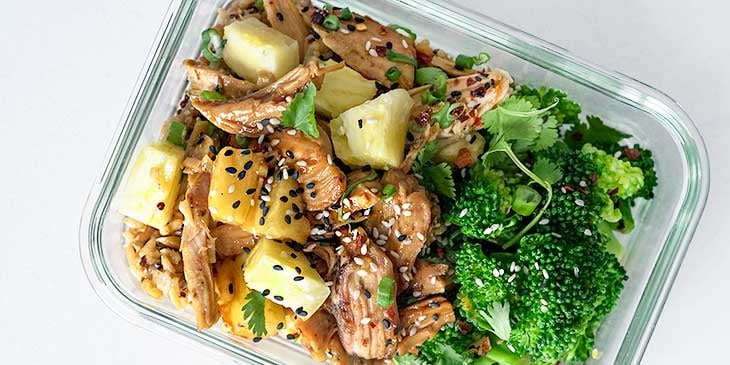 Prepare this for your weekly meal prep by cubing up the pineapple chunks and sautéing them into the chicken mixture!
Portion the same size as above into your favorite meal prep containers, add some garnish and you're ready to go. This recipe will keep for up to 6 days in the fridge.
It's also freezer friendly! Prepare a big batch of teriyaki chicken and freeze what you don't use for later use.
Meal Prep Made Easy
Start building your own budget-friendly meal prep for only $6 a meal using Trifecta pre-cooked meal prep ingredients. Just pick and choose your favorite proteins, grains, and veggies, season, and eat!