This collection of heart-healthy recipes provides you with a wide variety of delicious, healthy ideas for weeknight dinners, quick lunches for your workweek, and snacks and sauces to add to your meal prep.
Creating a Heart-Healthy Diet
A heart-healthy diet can be beneficial for anyone with risk factors for cardiovascular disease (CVD), metabolic syndrome, type 2 diabetes (T2D), or those currently with high blood pressure, high cholesterol, or elevated blood lipids. Diet and lifestyle interventions may help prevent and treat all of these conditions as they can be caused by inflammation, insulin resistance, and stress (1).
When it comes to creating a heart-healthy meal plan, eating more high-quality plant foods such as whole grains, fruits, vegetables, and nuts, and has been associated with a lower risk of cardiovascular disease and risk factors for various other chronic diseases (2).
A modified Mediterranean approach may be a great foundation for a heart-healthy diet as it tends to stress consumption of whole, unprocessed foods such as fruits, vegetables, nuts, legumes, extra virgin olive oil, and modest amounts of meat (3).
A Mediterranean approach also includes foods rich in omega-3 fatty acids, such as salmon. Salmon is one of the best animal-based sources of omega-3 fatty acids, EPA and DHA; these fats are considered healthy additions to a balanced diet, due to their positive association with improved mood, weight management, and overall health (4).
DHA is also the main type of fat found in your brain, making it essential to brain health and numerous bodily functions.
One 3.5 ounce filet of salmon, (around 100-grams) of wild-caught salmon contains around 2.2 grams of omega-3 fatty acids (2).
Heart-healthy eating is all about balance—opting for more nutrient-dense, whole-food options while cutting back on everything else.
Reduce
Increase

Sodium
Saturated fats & Trans fat
Processed foods
Added sugars

Whole grains and high fiber foods
High-quality proteins sources (legumes, nuts, fish and seafood, lean meats)
Fresh fruits and vegetables
Reading nutrition and ingredient labels
Additionally, heart-healthy eating is most effective when included as part of an overall healthy lifestyle that emphasizes weight management, exercise, self-care, and overall wellbeing.
We craft personalized meal plans with whole foods, healthy fats, and lean proteins to support your health. A healthier lifestyle begins with what's on your plate, and we are serving up the right food for results.
6 Steps to Start Eating Heart Healthy
Here are some key steps and habits to work on to help you to get started on a heart-healthy eating plan:
Keep a 3-day food log and assess your current nutrient intake using a food tracking app like our Trifecta App (how much are you eating, when do you eat each day, how do you feel before and after your meals).
Determine your average caloric needs using the calculator below (how does that compare to what you discovered in your food log) as a base to help you identify food portion sizes appropriate for your nutrition needs.
Estimate a macro balance that works for your health and fitness needs or ask yourself what small changes you could make to your current nutrition and eating habits (eating at the same time, aiming to eat 1 cup of vegetables with lunch and dinner, etc).
Plan a meal plan that includes nutritious foods and healthy recipes (like the ones below) you enjoy that help you reach your daily goals.
Occasionally track your daily intake using a food tracking app to ensure you are staying on track.
Incorporate exercise and healthy behaviors in all areas of your life such as healthy habits that support your mental, emotional, spiritual, and physical health.
This is just one way to approach creating a heart-healthy diet plan. Remember to start small, sometimes just cutting out soda or committing to preparing meals at home on the weekend can be a healthy start to improving your nutrition.
Unsure of what range you should be in to nourish your body daily? Use our calculator below to uncover how these recipes will fit into your health needs:
Taking steps to improve your diet and health doesn't have to feel complicated or overwhelming. Start with small goals, find habits that work for you, and keep at it.
39 Delicious Heart-Healthy Recipes
Here are some Mediterranean and heart-healthy inspired recipes for breakfasts, lunch, and dinner meals. We have also included some healthy side recipes and sauces for you to try!
All of these recipes are great if you are meal prepping, as you can pick 1-2 from each category below, then cook and portion them, storing them in your fridge for easy grab-and-go meals for your week ahead.
We've also included vegan and vegetarian plant-based recipes, but remember that recipes are just general guidelines to creating flavorful dishes—feel free to substitute any proteins or vegetables you'd like.
6 Heart-Healthy Breakfast Recipes
It's true what they say—breakfast is one of the most important meals of the day. A well-balanced, healthy breakfast with adequate protein, healthy fats, and quality carbohydrates can help you better control your blood sugar and your hunger levels throughout your day.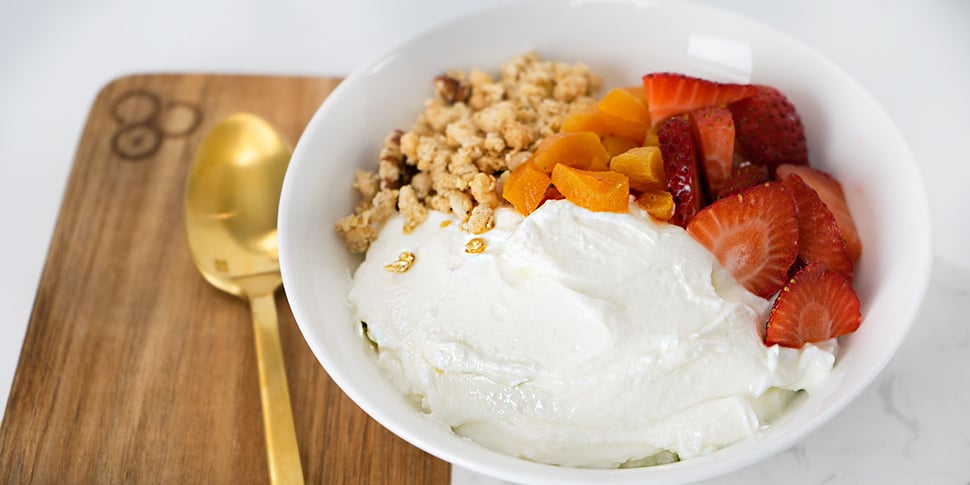 Create your own customized parfait with your yogurt of choice, fruit, and other toppings. When prepared with balanced ingredients, this breakfast option provides ample protein, carbohydrates, and minimal fats. The reason Greek yogurt is suggested is because of its higher protein content and lower carb count.
Make sure to purchase unflavored Greek yogurt or yogurts with less than 15 grams of sugar per serving. Excess sugar intake can lead to weight gain and increases in fat.
If you're not a fan of yogurt, try a breakfast smoothie prepared with probiotic kefir!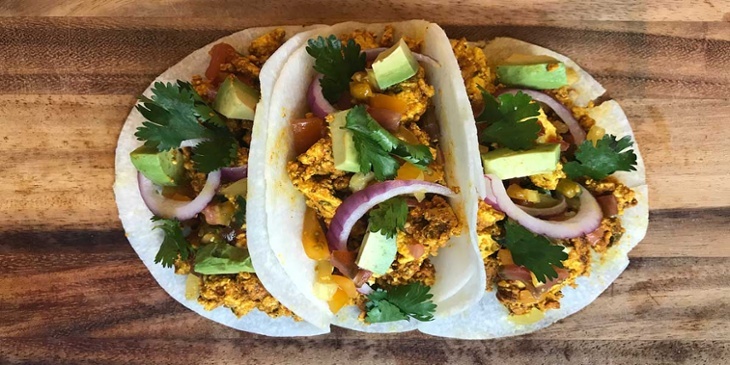 These delicious low-carb breakfast tacos are prepared with a crunchy jicama shell and filled with a tofu scramble.
Soy products like tofu are naturally cholesterol-free and low in saturated fat, so swapping animal proteins for soy in your weekly meal prep a few times a week may help you cut back on your intake of saturated fat. Soy also contains isoflavones, which are phytonutrients that have been shown to assist in the reduction of blood pressure (3).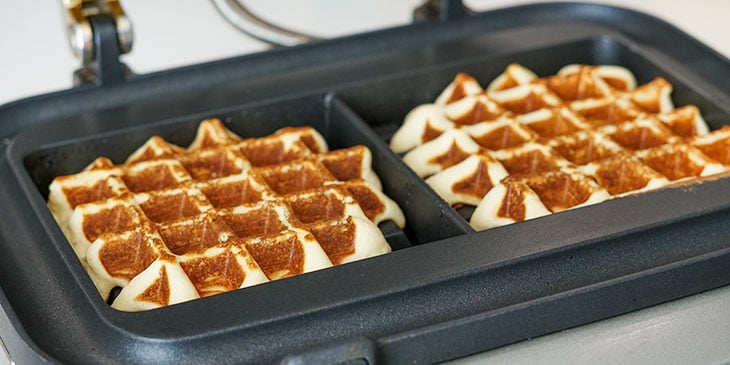 Dig into this tasty gluten-free high protein waffle. With up to 18 grams of protein and around 3 grams of fiber, the nutrition will fluctuate depending on what protein powder and flour you use.
This recipe can help you meet your protein needs in the morning, especially if you pair it with some baked egg bites or scrambled eggs! Protein helps stabilize our blood sugar and on average should provide around 1/3 of our daily caloric needs.
Make this a vegan-friendly waffle by substituting the 3 eggs with ½ cup plant-based yogurt and utilizing a high-quality plant-based protein powder like momentous.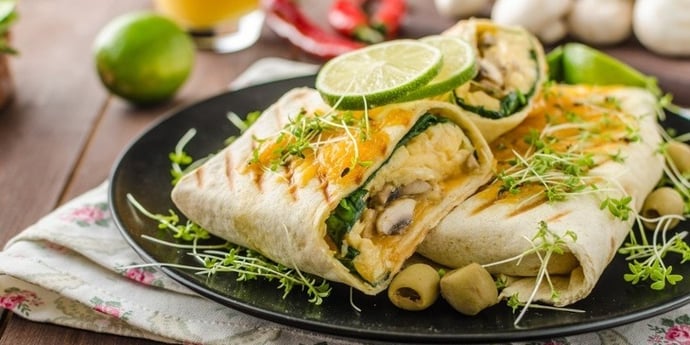 A simple breakfast burrito is a great way to layer in non-starchy vegetables, protein, and whole-wheat grains. It's also a nice grab-and-go option for breakfast.
All you need are some whole-wheat tortillas and to prepare a simple scramble of egg or tofu. Then layer in extra vegetables like mushrooms, spinach, kale, onions, and tomatoes! Consuming a diet rich in fresh vegetables has been shown to help lower blood pressure, reduce inflammation, and protect our cells from oxidative stress (4).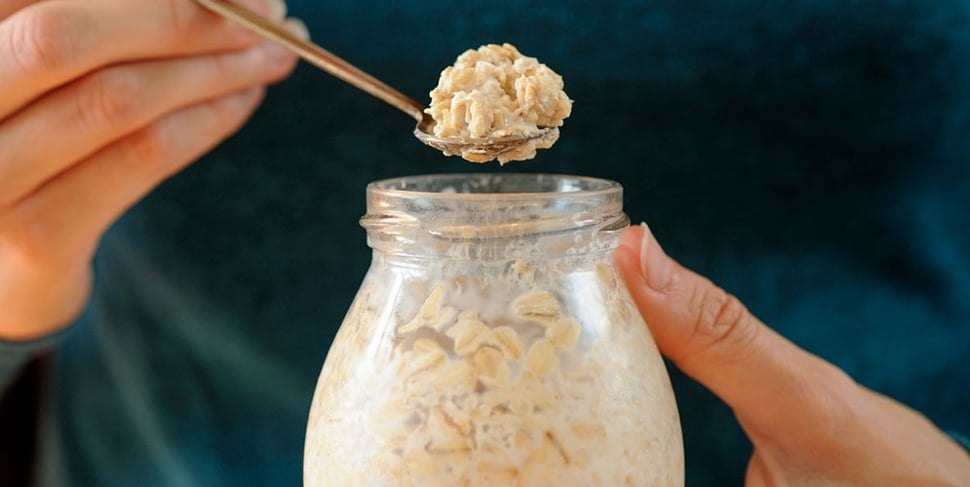 Oatmeal is a classic healthy breakfast staple as oats are an excellent source of dietary fiber—specifically soluble fiber which acts to slow digestion. This in turn slows the release of glucose into the blood, preventing unwanted spikes in our blood sugar.
Soluble fiber also helps remove toxins and excess cholesterol/dietary fat in the gut, while also supporting the function of healthy bacteria in the digestive tract.
You can prepare a classic overnight oat recipe or opt to try a quinoa breakfast bowl or hemp and chia oatmeal bowl.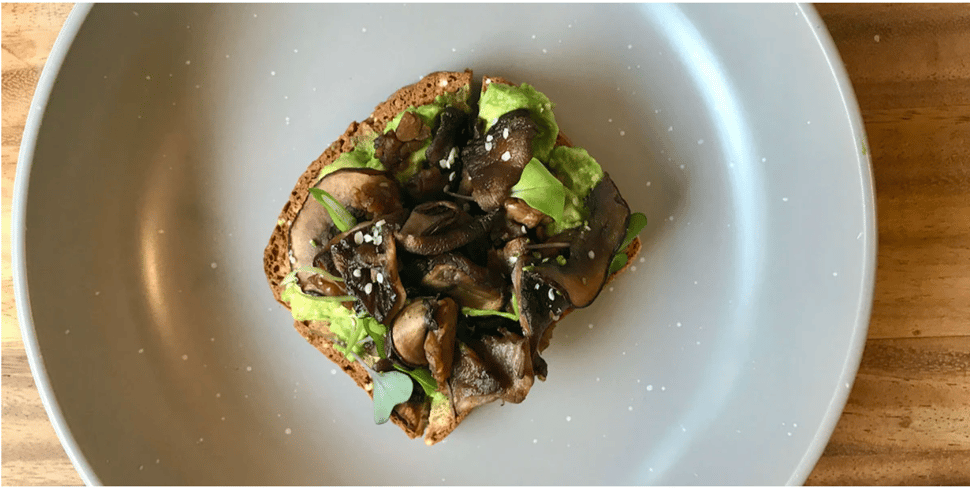 Start your day with this high-protein, mouth-watering balsamic mushroom avocado toast. This simple vegan and gluten-free toast recipe is perfect for a quick breakfast or snack. Whether you're vegan or not, enjoy a nourishing variation of the classic food blog favorite, packed with healthy fats and fierce flavor.
Avocados are high in Omega-3 fatty acids, specifically alpha-linolenic fatty acids. Incorporating these healthy monounsaturated fats into your diet can help you feel more satiated, reduce inflammation, and positively influence your cholesterol levels (5).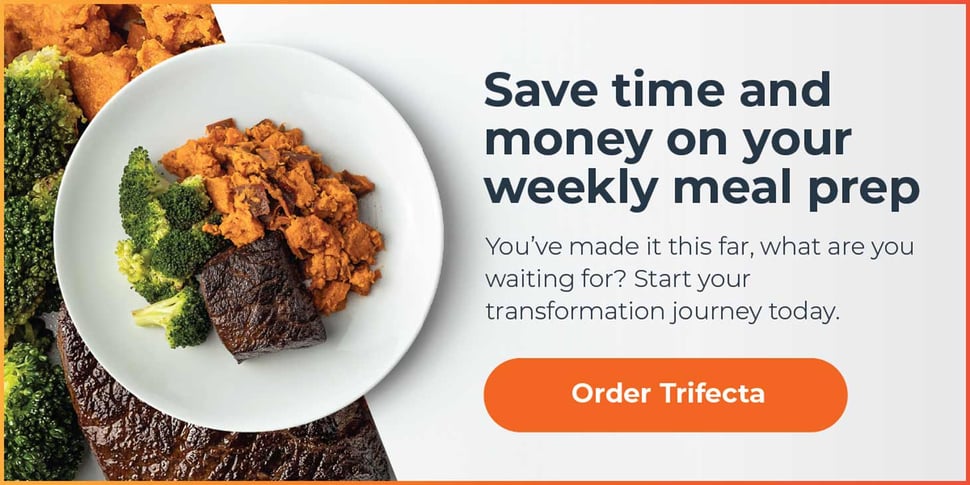 15 Heart-Healthy Lunch and Dinner Recipes
All of the recipes below can be enjoyed for lunch or dinner, we've included a variety of recipes with some key heart-healthy ingredients such as lean protein sources like chicken and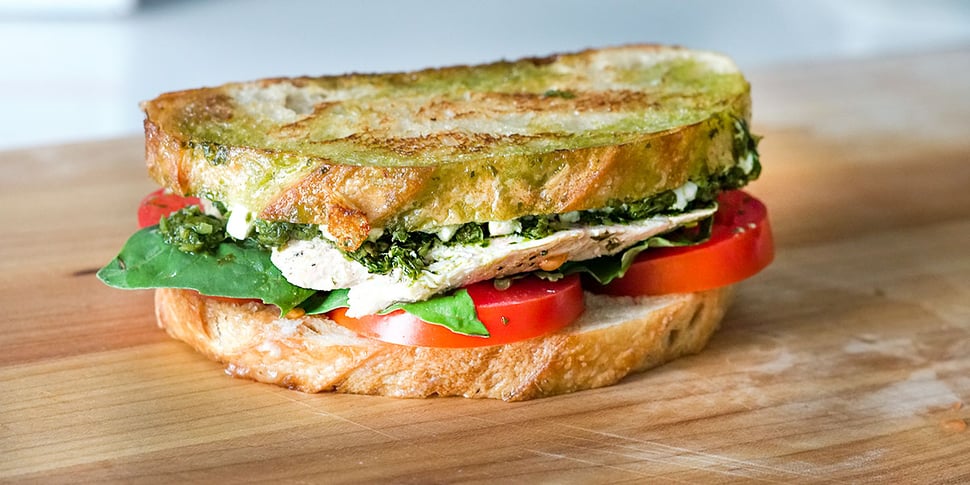 Toasted sourdough, paired with savory pesto, Trifecta chicken, and sweet Roma tomatoes. This delicious recipe can be prepared in less than 15 minutes.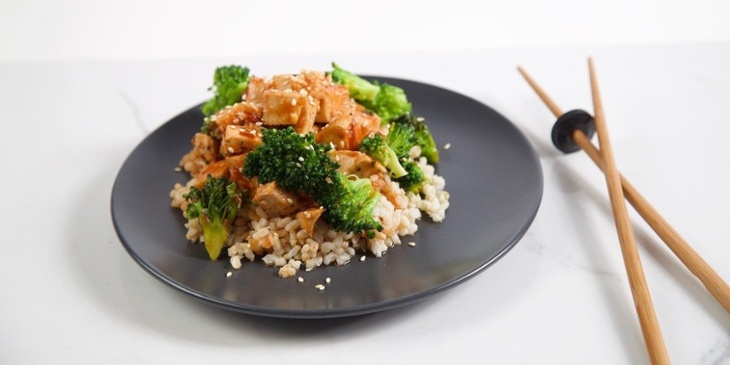 This combination of honey and sriracha, along with a hint of sesame offers a balance of Asian-inspired flavors, served along with puffy brown rice and some roasted broccoli.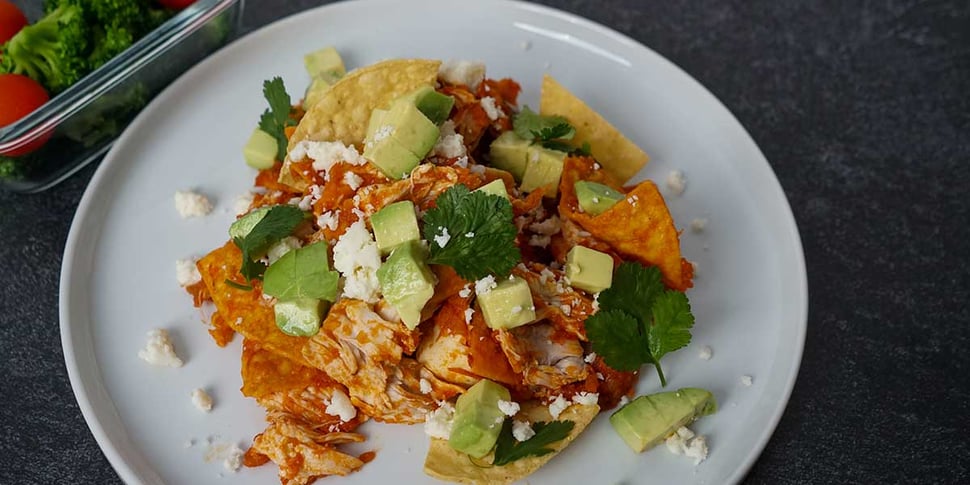 Chilaquiles are a great one-stop meal, that can be made very quickly and pack a ton of flavor in no time. Aside from being very customizable, you can make this recipe your own and choose to prepare a green or red chilaquiles recipe.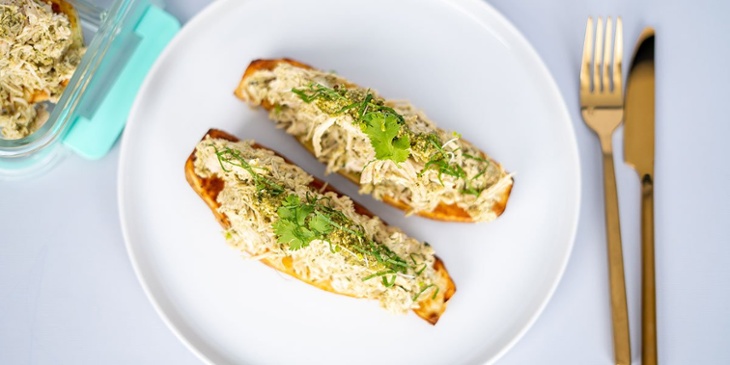 Not only will you pack in some protein with tender shredded chicken, you'll get a bump of extra vitamins and minerals from the sweet potato and pesto in this recipe.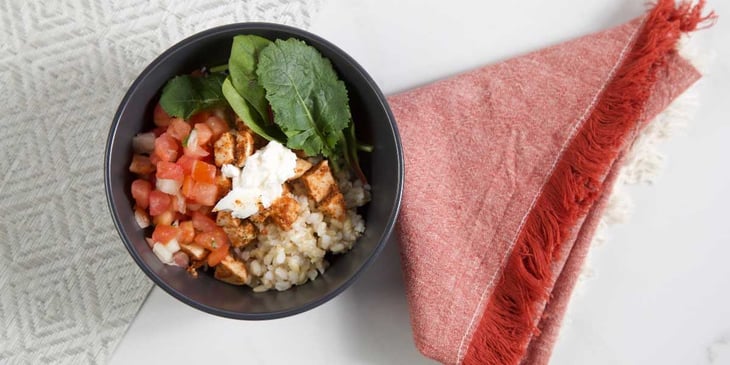 Instead of going out to eat and getting a bowl topped with every condiment and excess calorie, find a super simple and quick recipe here for any day of the week.
Chicken is a great lean protein source to help support your protein needs. Protein supplies our body with amino acids to build and sustain muscle mass, which helps protect our bones and maintain a healthy weight, an important factor in preventing chronic disease.
6. Seared Salmon and Lemon Kale Salad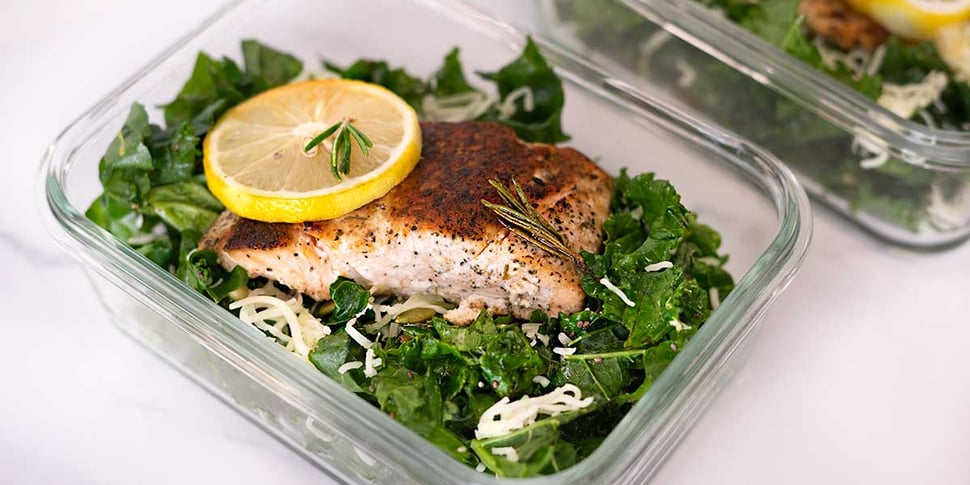 This dish proves that eating healthy doesn't have to be difficult—and that you don't have to spend all day meal prepping either. All you need is fresh greens tossed with healthy fats and served with sustainably-caught salmon and a tangy dressing that brings it all together. Enjoy this light and vibrant dish for a quick dinner or meal prep for lunch throughout the week.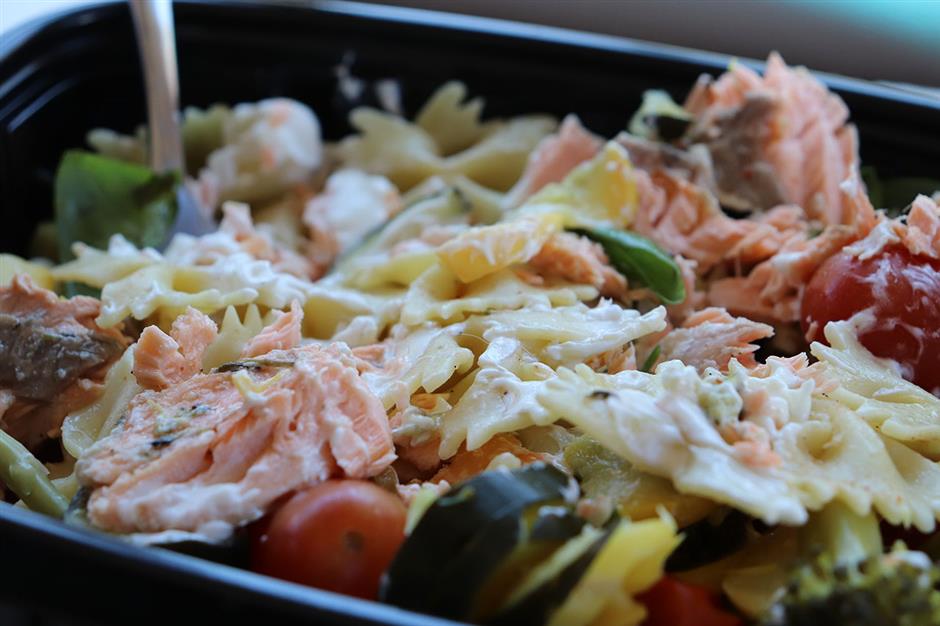 Salmon smothered in tangy lemon-butter, piccata sauce tossed with pasta and broccoli, all baked into one tasty and quick recipe.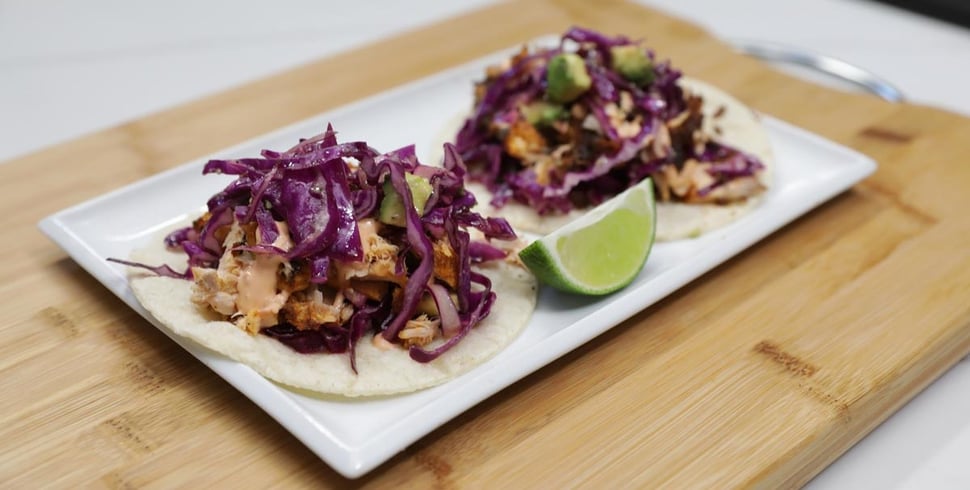 Enjoy two tacos stuffed with cajun rubbed salmon and a tangy purple cabbage slaw topped with a spicy sriracha aioli.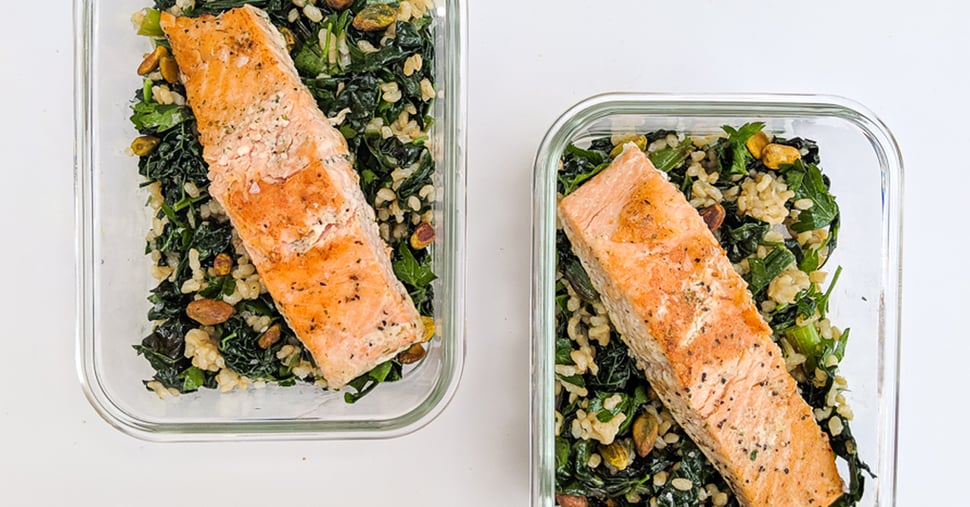 Sometimes simple is better, which is certainly the case with this salmon grain bowl. Not only is it pretty impossible to screw up, it's also insanely delicious. This easy meal prep recipe will liven up your week with a healthy dose of fresh herbs, crunchy veggies, and savory salmon. Plus, it's high in healthy fats, protein, and vitamins A and C.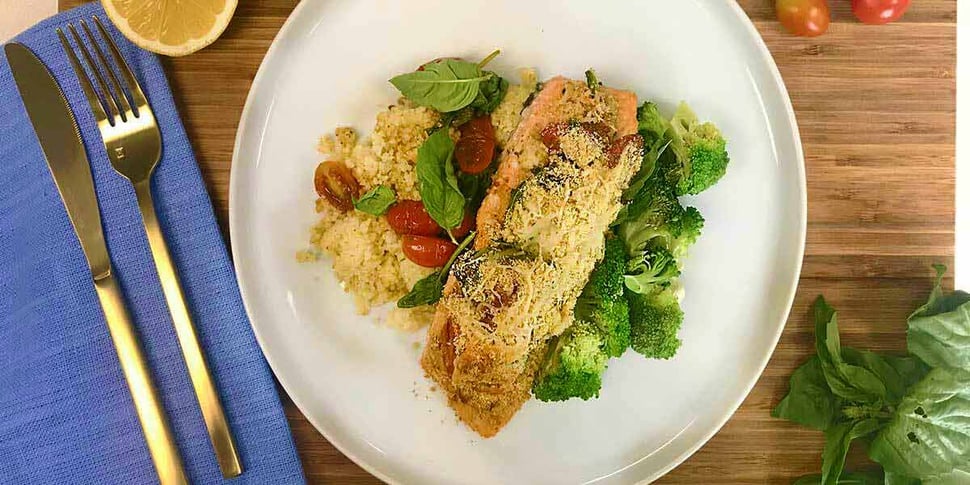 You'll love the sweet balsamic flavor paired with melted mozzarella cheese in this Italian Caprese salmon recipe, a spin on the classic Italian Caprese salad.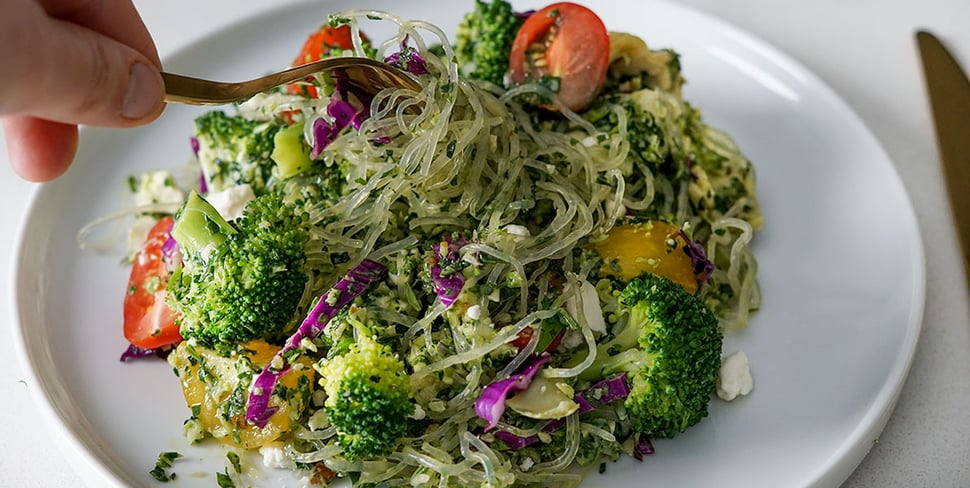 Kelp Noodles are made from edible seaweed called kelp and are a gluten-free, low carbohydrate noodle option with a high amount of minerals such as iron (1). Paired with homemade pesto and fresh vegetables, this raw food recipe packs in beneficial micronutrients such as magnesium, potassium, and b-vitamins.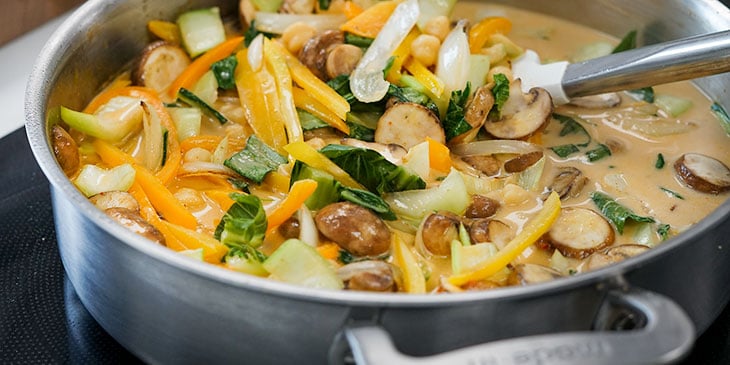 This vegan Thai curry recipe is overflowing with nutrient-dense vegetables coated in a savory red curry coconut broth.
This is a great meal prep recipe to customize and change up the vegetables or pair with quinoa, basmati rice, or brown rice.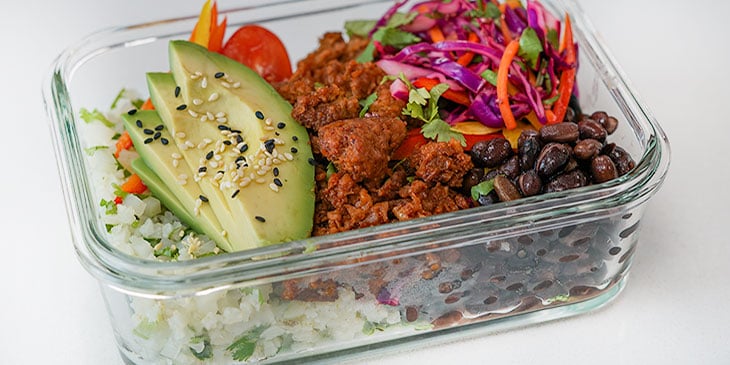 Building any kind of cuisine-inspired bowl is an easy way to increase your consumption of phytonutrient-dense foods and utilize flavorful herbs and spices. Meal prepping 'bowls' will also help you maximize flavor while minimizing effort and cost by preparing proteins, starches, and vegetables in bulk.

This vegan Southwest baked sweet potato recipe is stuffed with plant-based Beyond Meat® and topped with a zesty cilantro crema and fresh avocado.
Baked sweet potatoes are a fantastic base to mix and match a variety of toppings onto—from BBQ-stuffed to Mediterranean-inspired, incorporating a stuffed sweet potato into your weekly meal is easy and flavorful.
Try this recipe with ready-to-eat meal preppedd Trifecta Beyond Beef Patties.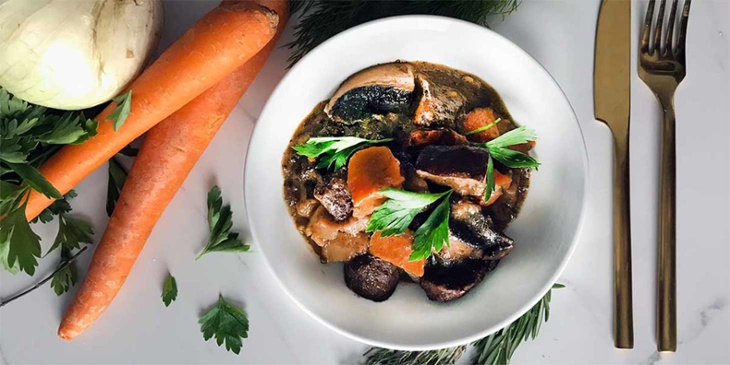 Utilized in preparing traditional pot roast, braising is a combination cooking technique using both dry and wet heat to cook food in liquid, producing a magical plant-based dish with little effort.
Fall in love with this easy and wholesome one-pot vegan recipe with 21 grams of protein per serving and explosive flavor.
Need Additional Support?

5 Heart-Healthy Side Dish Recipes
Pair these with grilled or sauteed protein or a plant-based protein of your choice for a nutrient-dense and heart-healthy meal!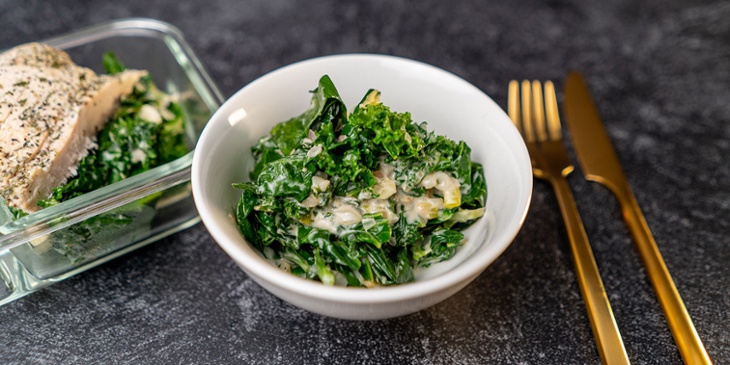 The aromatics combined with the coconut milk and the hearty greens make this dish a perfect staple to have in your fridge. The hearty greens hold very well in the fridge and while being reheated. Add a splash of green with this recipe to your dishes.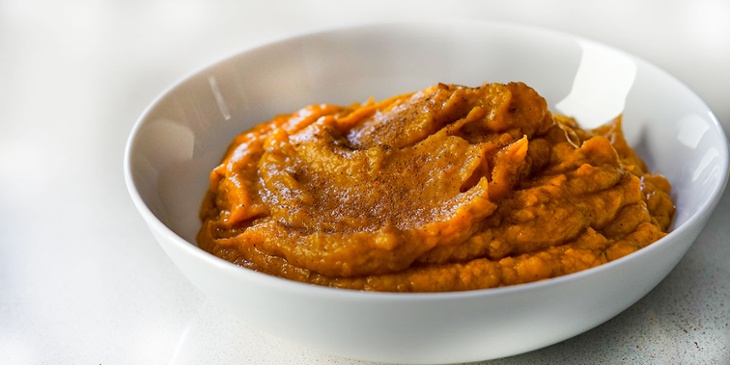 You'll love the combination of warm spices, coconut milk, and sweet potatoes in this healthy sweet potato mash recipe that's dairy-free! Believe it or not, we have used this recipe to feed professional athletes. It's an incredibly comforting dish!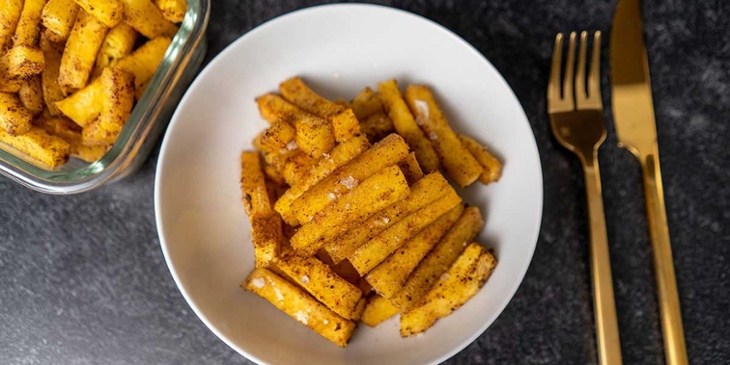 The warm spices of this recipe make this side of butternut squash one to have on constant rotation. Buy two large butternuts and make this fall-inspired recipe to have it in your weekly rotation!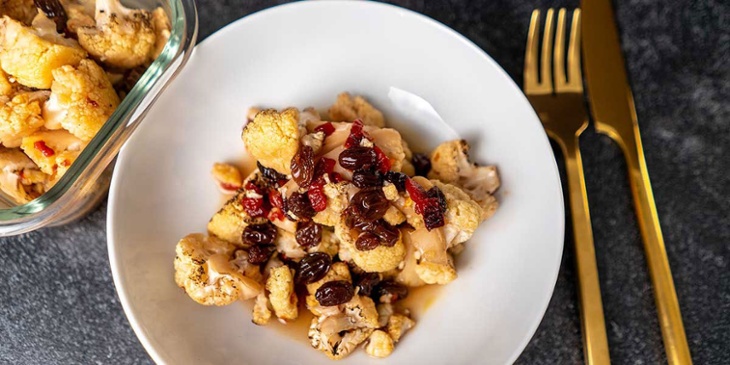 Agrodolce means sweet and sour. This Italian-inspired recipe adds a beautiful sweet, sour, and savory punch to your cauliflower. Use this sauce to coat any kind of winter squash!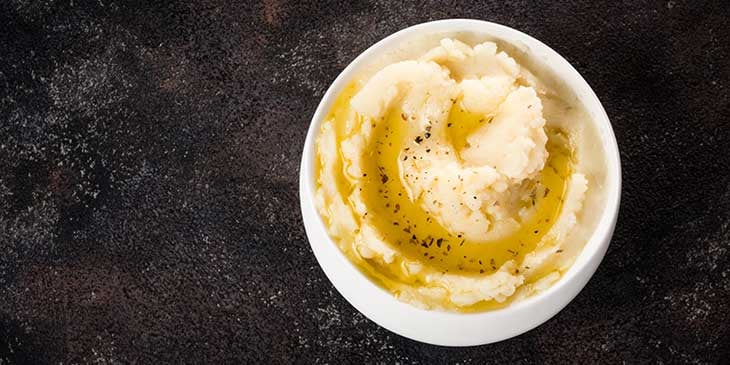 Using half cauliflower and half potatoes cuts down the carbohydrates and increases some of the nutrients in this delicious mashed potato recipe!
8 Heart-Healthy Sauce Recipes for Meal Prep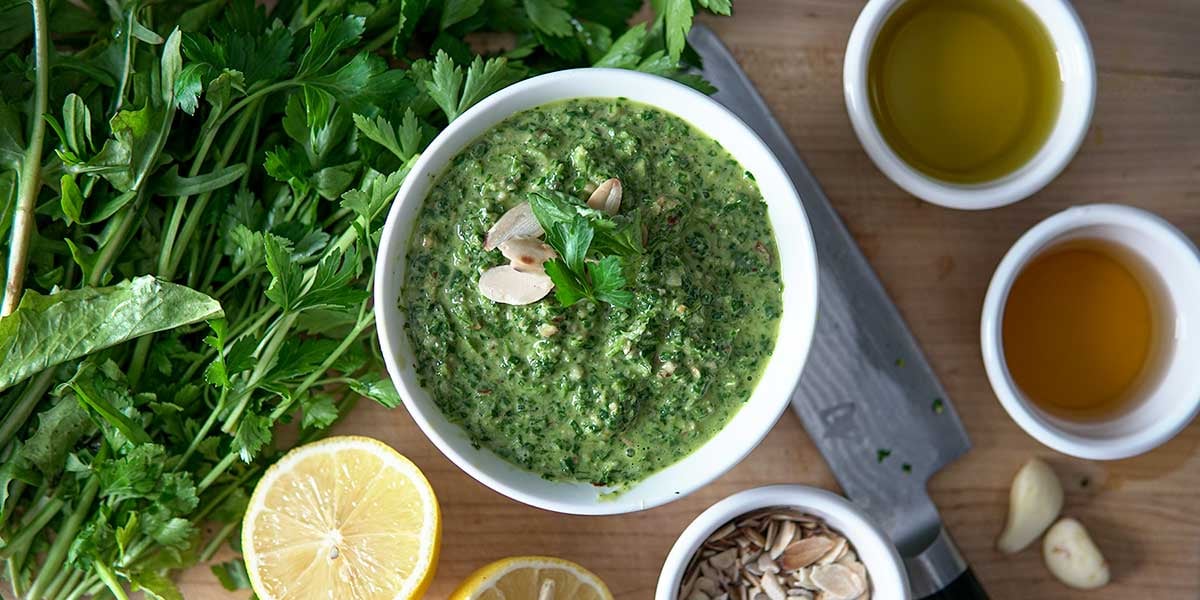 Preparing your own homemade sauces can help you greatly reduce the amount of added sodium in your diet—plus you'll get to sharpen up your chef skills in the process! Try out some of our favorite go-to meal prep sauce recipes:
5 Satisfyingly Sweet Dessert Recipes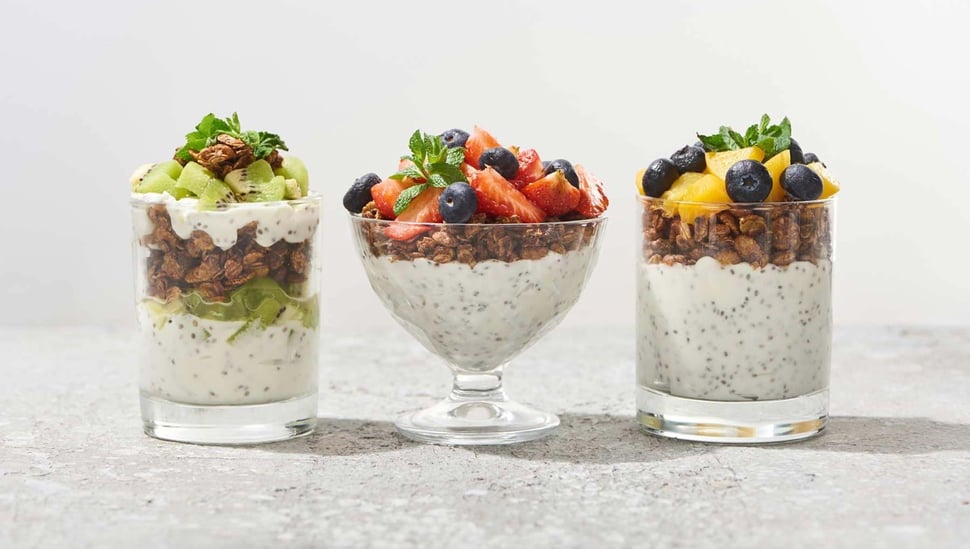 These recipes are all naturally sweetened and are sure to satisfy your sweet tooth. Enjoy them as a midday snack or after-dinner dessert.
Heart-Healthy Resources
Eating for heart health doesn't have to feel complicated, time-consuming, or restrictive. The basics of healthy eating are actually quite simple and a typical heart-healthy diet doesn't look much different from a nutritious, balanced diet.
Here are more resources to support your health journey:
---
Ready to upgrade your nutrition?
If you want to take some of the guesswork out of it, try one of our meal plans that are filled with healthy protein, vegetables, and grains to support your efforts in lowering your blood pressure and improving your overall health.