This tangy and slightly sweet vinegar-based Carolina Style BBQ Sauce is the perfect way to bring a bit of barbecue flair to your cooking at home. You don't need a smoker to enjoy some BBQ-inspired flavor in your kitchen at home—try out this sauce on chicken, steak, or even roasted sweet potatoes!
What Makes Carolina BBQ Sauce Different?
Carolina BBQ sauces are vinegar-based sauces and tend to have a bit more tang and zest than their southern tomato-based BBQ sauce counterparts.
The world of BBQ can be pretty controversial when it comes to the secrets of the sauce and also the region in which the BBQ is prepared as every region has its own twist and style of BBQ.
When it comes to the Carolinas, the popular classic dish is a whole-hog barbecue and is probably one of the oldest forms of American BBQ. Granted the style of sauce and method to barbecuing will differ even between North, South, East, and West Carolina, it makes sense they would prepare an acidic and tangy sauce to mop (brush) meat with during the smoking process, as the vinegar-based sauce will balance out the fatty and savory flavor of the smoked pork. The vinegar also helps tenderize the meat during the cooking process as well.
A Carolina barbecue sauce recipe can also be thick or thin depending on what area you're in. Some are more mustard-based and others will be a little sweeter. Most Carolina BBQ sauces tend to share similar core ingredients:
Vinegar: usually apple cider vinegar, but sometimes white vinegar.
Spices: including black pepper, cayenne pepper, salt, onion, garlic, and sometimes mustard seed, fresh mustard, or mustard powder.
Something Hot: red pepper flakes are the typical go-to, but Tabasco/hot sauce or fresh peppers can also be used.
Something Sweet: this is a personal preference—some will add a touch of honey or sugar to their BBQ sauce.
Since this recipe is meant to be utilized at home for meal prep, vs brushed onto smoked meats (although you can definitely use this Carolina BBQ sauce when smoking meats), we've combined some of the classic flavors with naturally sweet ingredients to prepare a thick and tangy sauce.
The beauty of this recipe is that many sauces add copious amounts of excess sugar to achieve a thicker consistency, but we've reduced the amount of sugar by using fresh apple cider as the base of the sauce and combining it with a touch of honey to achieve a very subtle sweetness.
How to Make an Easy Carolina BBQ Sauce
Prep Time: 5 minutes
Cook Time: 10 minutes
Yields: 2 cups
Serving Size: 2 tablespoons
Ingredients:
1 tablespoon avocado oil
1 cup apple cider juice
1 small yellow onion, chopped (1 cup)
1/2 cup apple cider vinegar
1/4 cup Worcestershire sauce
4 tablespoons honey
3 tablespoons spicy brown mustard
1/2 teaspoon chili powder
1/2 teaspoon garlic powder
2 teaspoons arrowroot starch
Kitchen Tools:
small saucepan
whisk
blender (optional)
measuring spoons and cups A
Step 1: Gather Ingredients and Saute Onions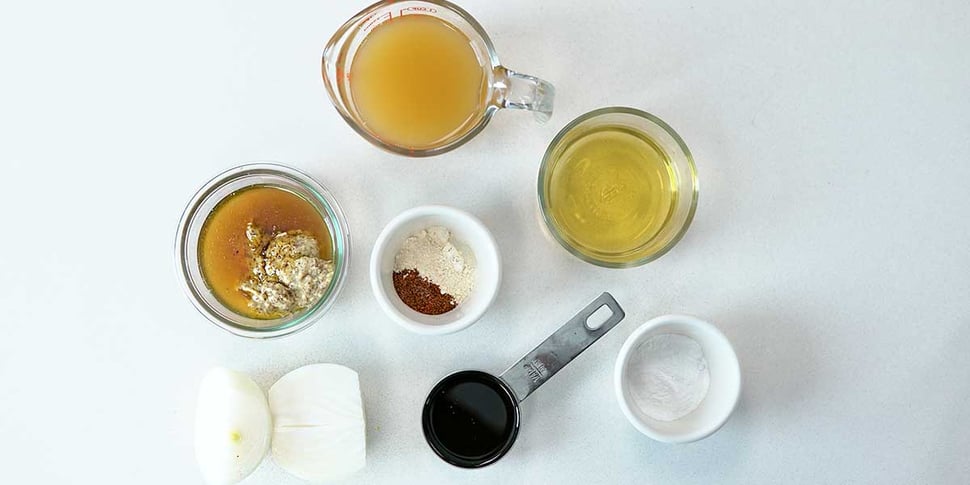 Gather and measure all of your ingredients for your Carolina bbq sauce.
If you don't have arrowroot starch you can substitute 1 tablespoon of cornstarch or blend in 2-3 dried apricots (although this will make the sauce slightly sweeter)
Heat a small saucepan over medium-high heat and add in the avocado oil and diced onions. Sauce the onions for 5-6 minutes until they are slightly browned and aromatic.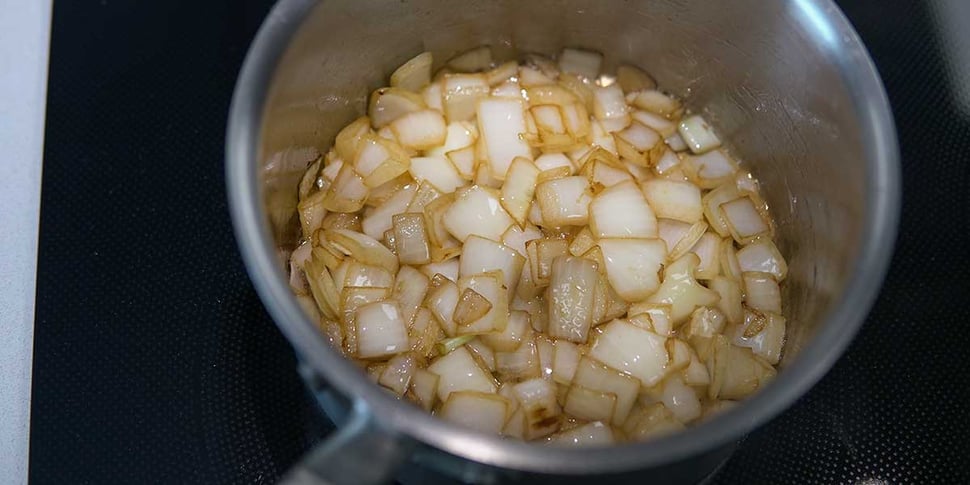 Step 2: Add the rest of the Ingredients and Simmer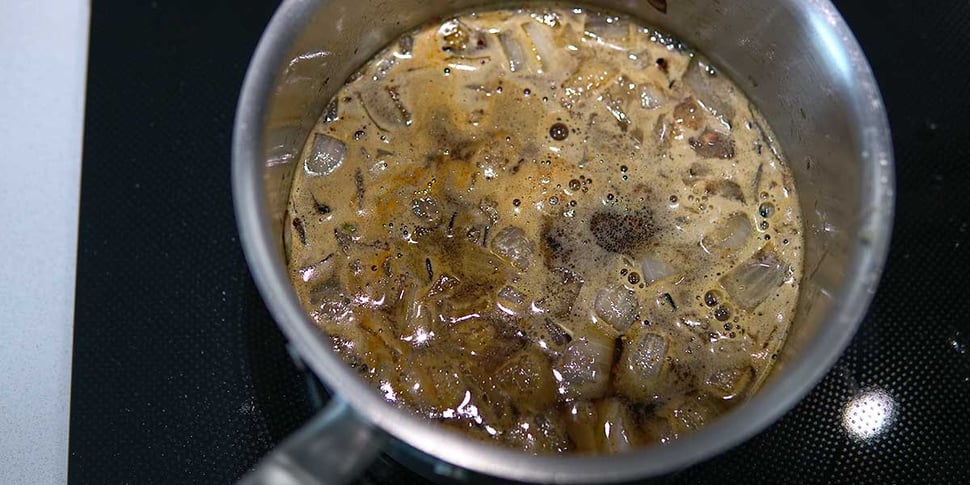 Add the rest of the ingredients besides the arrowroot and simmer on medium-high for 10 minutes.
Step 3: Remove From Heat and Blend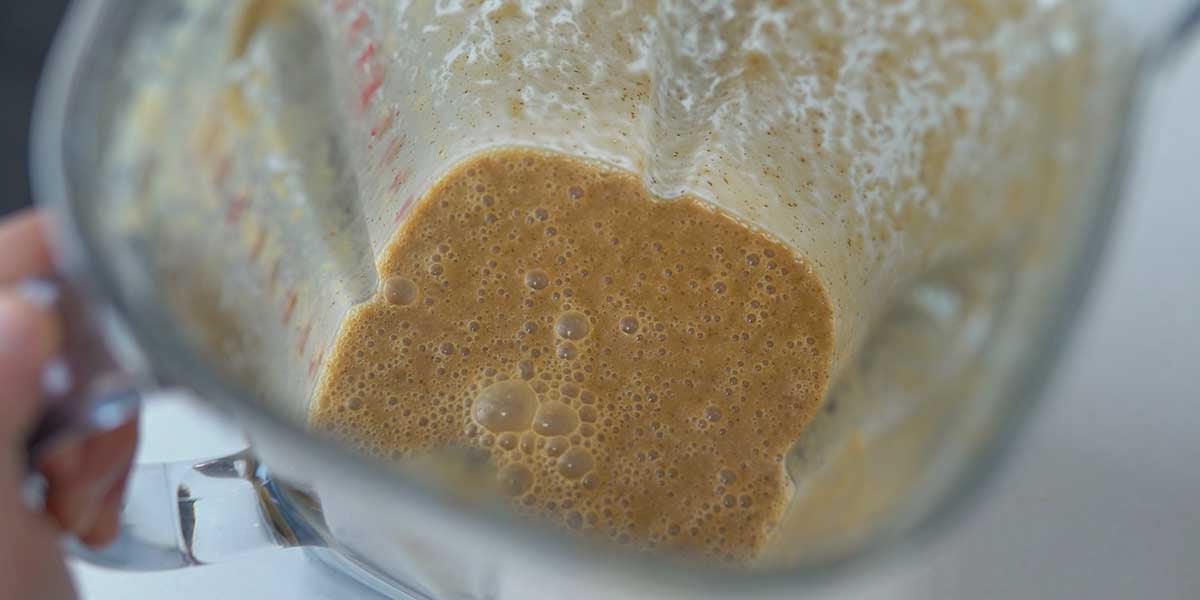 Remove your sauce from the heat and carefully transfer the mixture to a blender, add in your arrowroot starch, secure the lid of the blender and blend until smooth.
Transfer your sauce to a meal prep container and let it cool down in the fridge. This sauce will keep for up to 2 weeks in the fridge.
What Foods to Pair with Carolina BBQ Sauce
You may be surprised at how many things a Carolina BBQ sauce can pair with other than traditional smoked BBQ! This spicy and tart sauce goes well with a variety of proteins and meal prep recipes.
Try it out on any of our Trifecta a la carte proteins or pair it with one of our meal plans!
It's also a great addition to some of the following recipes:
---
You've got the sauce, let us prep your meals
Start building your own budget-friendly meal prep using Trifecta pre-cooked meal prep ingredients. Just pick and choose your favorite proteins, grains, and veggies, season, and eat!