Dig into this delicious gluten-free fried chicken prepared with a coconut cashew crust perfect for anyone following a keto diet or looking for a healthier fried chicken option! This coconut cashew keto fried chicken recipe is sure to be one of your new favorite keto meal prep recipes.
Can You Eat Fried Chicken On keto?
Yes, you can enjoy fried chicken when following a keto or low-carb diet, all you have to do is swap out the all-purpose or whole wheat flour commonly used in classic fried chicken with a low-carbohydrate alternative.
Swapping the flour for ingredients such as parmesan, toasted and crushed nuts, seeds, and nut-based flours like almond flour is a great way to prepare a gluten-free and flavorful fried chicken.
Enjoy this recipe even if you aren't following a low-carb or keto diet style!
When it comes to preparing fried chicken, keto or non-keto, there are a few tips and tricks to help you enhance the flavor and reduce excess calories associated with typical deep-frying methods by utilizing less oil.
Here are three alternatives to deep frying that result in using less oil during the cooking process:
Air-Frying: Preheat your air-fryer to 350 degrees Fahrenheit. Once you have breaded your chicken, place the pieces into the air-fryer basket and spray them lightly with oil. If you are preparing a large batch, do not overcrowd the basket, instead, fry your chicken in batches. Air fry your chicken for 15 minutes, then flip them over, spray them with oil one more time and cook for another 12-15 minutes until the meat reaches 165 degrees internal temperature.
Baking: You may not get as crispy of a crust, but baking is a great and healthier alternative to deep frying. Preheat your oven to 375 degrees and place your breaded chicken on a sheet tray with a rack (this allows for more airflow). Bake for 25-35 minutes until golden brown and the chicken is 165 degrees internal temperature.
Shallow-Frying (aka pan-frying): The closest you'll get to deep frying without actually submerging the fried chicken in oil. To shallow fry add a small amount of oil to a deep-sided pan (enough to cover around 1" up the sides), then 'fry' the chicken for 6-8 minutes per side, just enough to brown and crisp up the breading, then transfer them to a sheet tray lined with a rack and finish cooking them in a 350 degree oven until chicken reaches an internal temperature of 165F degrees.
Though this keto recipe calls for Trifecta's A La Carte chicken breast, you can also make this recipe by cooking the protein from scratch. Granted, you will save tons of time if you have the Trifecta chicken!
If you are cooking the chicken from scratch, make sure you season it with salt and pepper before coating it. You can also marinate the chicken in coconut milk to increase the moisture content, or use chicken thighs for a slightly higher fat content (compared to the chicken breast).
Finding Balance Following a Low-Carb Diet
You don't have to count your calories or macros to be healthy, but understanding how to do so can assist you in proper food portioning and finding a balance in your diet. This makes it easier to include recipes like this delicious coconut cashew fried chicken without having to second guess your nutrition. It can also help you develop a deeper relationship with food, and also a more mindful and intuitive way of eating food.

No food is truly forbidden on a keto or low carb meal plan - as long as you are balancing your food intake and aware of your keto macro goals. However, certain high carbohydrate foods can make achieving this a real challenge, including some fruits and vegetables.

Use this simple calculator to learn how many grams of net carbs you should be eating every day!

How to Prepare Coconut Cashew Keto Fried Chicken

Prep time: 10 minutes
Cook time: 10 minutes
Servings: 4

Ingredients:
16oz Trifecta chicken

or 4 raw chicken breasts

3/4 cup cashews

1/2 cup coconut flakes

2 large eggs + 4 tbsp water

1/2 teaspoons paprika

1/2 teaspoons salt

1/2 teaspoons garlic powder

2 tablespoons dry parsley

1/2 cup coconut oil

1/2 cup avocado oil
Kitchen Needs:
Cutting board and chef's knife
Large saute pan
Mixing bowls
Food processor
Air Fryer (optional)
Thermometer (for chicken and oil)
Step One: Prepare the Cashew Coconut Coating
Preheat the oven to 375F if you planned baking your chicken.
Add the cashews into a food processor and pulse until coarse dust is formed. Add the coconut flakes, garlic, salt, paprika, and parsley. Pulse once again to combine.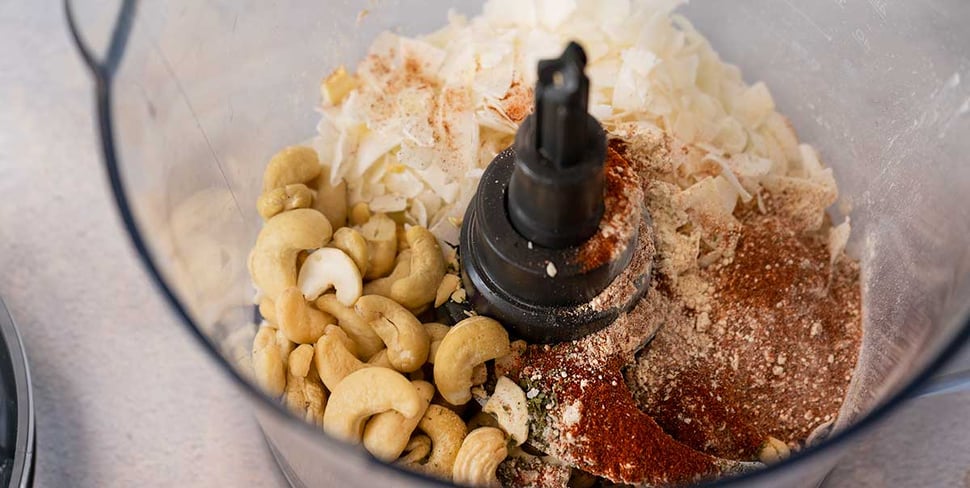 Transfer your crust mixture to a medium bowl or a shallow baking dish and then prepare to set up your breading station.

Step Two: Make Egg, Coconut Milk, and Water Mix
In a separate bowl mix the egg, coconut milk, and water mixture. Mix together by whipping with a fork or with a hand blender until fully incorporated. Add a pinch of salt and black pepper.
Get your breading station set up with the following:
Shallow container or bowl with whipped egg mixture
Shallow container or bowl with gluten-free coconut cashew crust mix
Tray with a baking rack
Gloves or tongs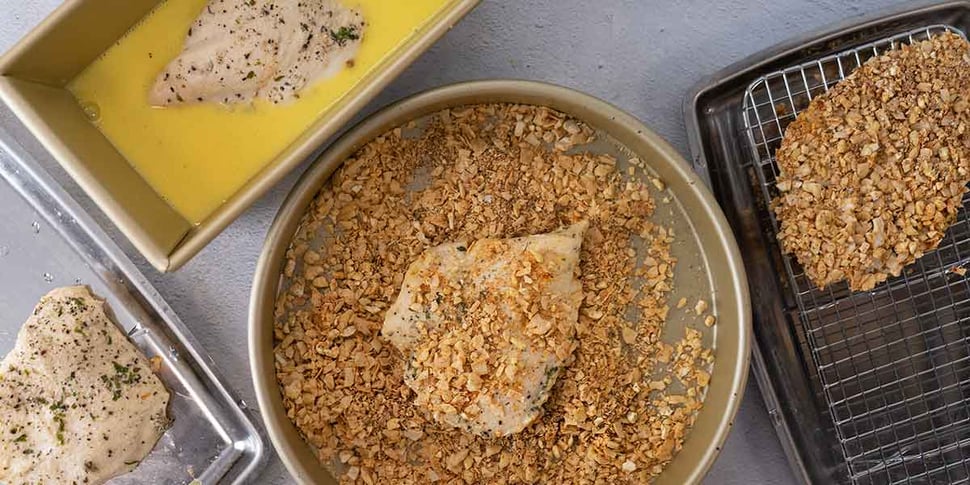 Step Three: Bread Chicken
We are using a two-step system to coat our Trifecta chicken. The easiest way to bread fried chicken without making a huge mess is to assign a specific hand to be "wet" and the other to be "dry". Meaning you'll only use your left hand to submerge the chicken into the wet ingredients (the eggs), and your right to coat the chicken in dry ingredients (the coating mix).
First coat the chicken by soaking it in the egg-coconut milk mixture. Remove it from the egg mixture with your left hand and gently shake off any excess egg, then gently place it into the coconut cashew crust.
Note: if you are preparing this using raw chicken, set up one more dish containing almond flour or cornstarch, and coat the chicken FIRST in this before moving onto the following steps.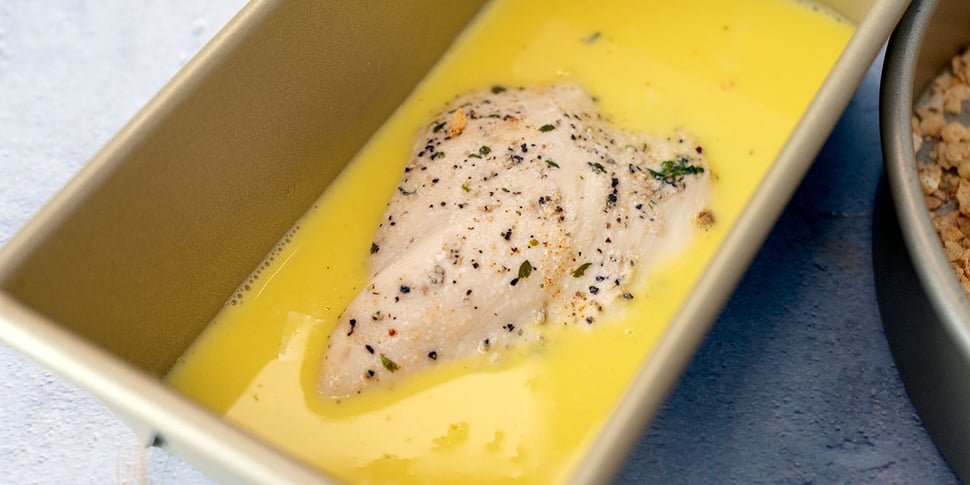 Now using your right hand, firmly pat the coconut-cashew crust onto the chicken breast to help it stick.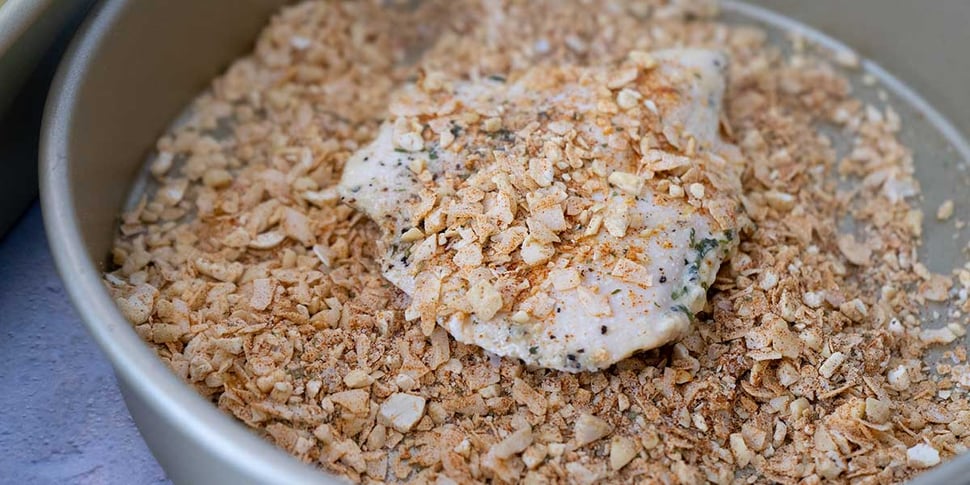 Then remove the crusted chicken from the pan with your right hand as well and transfer it to a baking sheet lined with a rack. Continue this process until all the chicken is breaded.

Step Four: Cook Chicken & Enjoy
Since we are using Trifecta chicken, we decided to quickly shallow-fry the breast in a skillet.
Feel free to use any of the other cooking methods we listed above including air-frying or baking, note the cooking times indicated below only if you are using Trifecta meal prep:
Baking: preheat the oven to 400 degrees and bake for 8-10 minutes.
Air-Frying: Preheat air-fryer to 375 degrees and air-fry for 5-8 minutes.
If you are preparing this recipe with raw chicken, follow the recommended cooking times and steps listed at the beginning of the recipe and cook your chicken till it reaches 165 degrees internal temperature.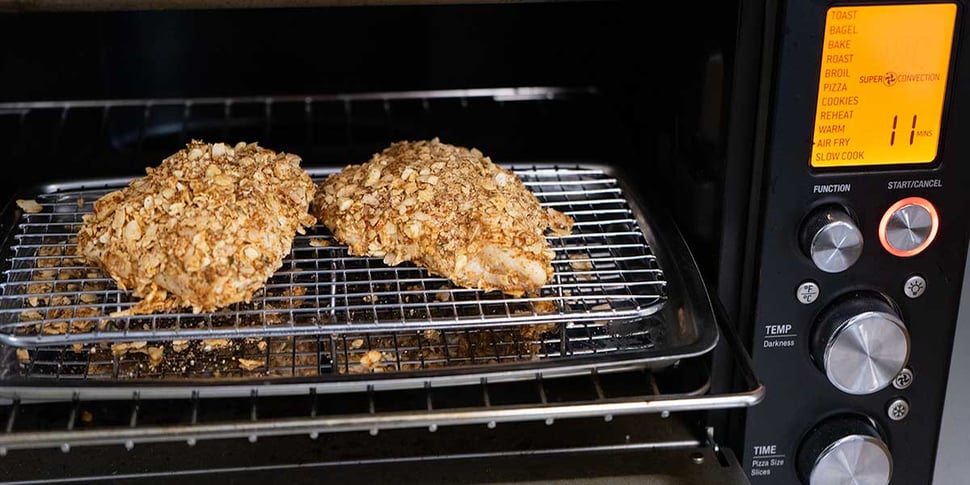 To shallow fry your trifecta chicken, pre-heat a large saute pan over medium-high heat and add the coconut and avocado oil.
There should be enough oil to completely cover the bottom of the pan, coming up to 1/2" or less on the sides of the pan. Allow your oil to heat for 2-3 minutes, you'll begin to see small ripples in the oil which is a good indicator it is ready.
If you are unsure, place a small piece of breading or coconut flake into the oil, if it starts sizzling, you are good to go!
Carefully add the breaded chicken to the skillet using tongs by placing the chicken away from you to avoid hot oil from splashing and burning you. Cook until browned on each side and warmed through (about 3-4 minutes per side).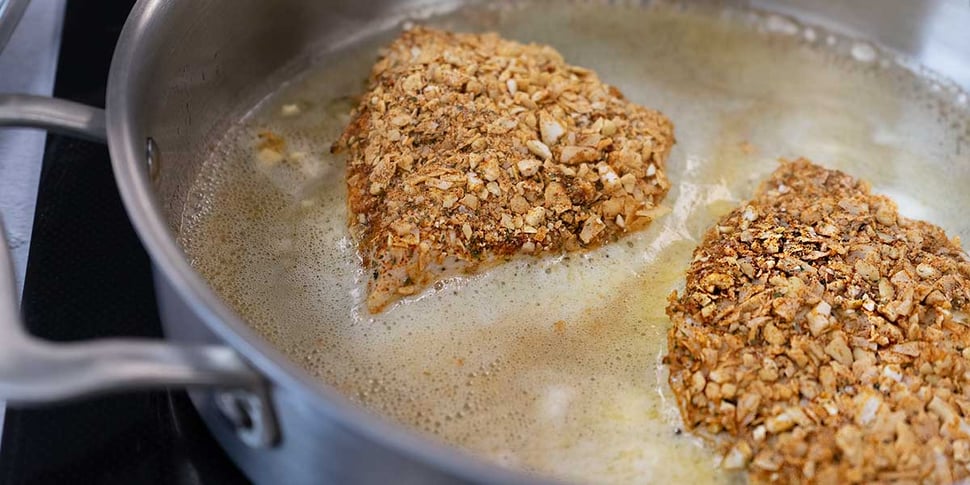 Be sure not to over-crowd the pan, as this could lead to steaming the chicken and prevent you from getting a crispy crust. Plan on cooking your chicken in batches and be sure to adjust the temperature of the oil by lowering it if it looks like it is getting to hot.
If you are cooking your chicken in batches, you may have to add more oil into the pan during the cooking process if you see your pan becoming too dry. In this case, make sure you retest the oil's temperature; by adding cold oil, the temperature in the oil will be reduced and therefore the cooking won't be effective. Retest the oil as mentioned above after a minutes of heating.
Storage and Serving
For the best results of enjoying a crunchy fried chicken serve this recipe immediately over a low-carb salad or with a serving of keto-friendly vegetables.
If you are looking at meal prepping this recipe, the pre-fried chicken will keep for up to 3 days in the fridge; the coating may get soggy if stored for a longer period of time.
Store in an airtight container and reheat in an oven or air fryer for best results.
What to Serve with this Keto Fried Chicken With
---
Too Busy? We Got You!
Want to get more out of your weekly meal prep efforts? Stick to your calorie goals and budget with our A la Carte Ingredients. Pre-cooked and ready to heat, these ingredients are organic, sustainably sourced, and minimally seasoned to maximize your meal prep.