Find a simple, paleo-friendly meatloaf recipe, with an even easier tasty home-made ketchup that can be made ahead of time and used in your meal prep. It only takes 15 minutes to prep, and you get an incredible macronutrient value from a 5 ounce portion.
Typical meatloaves use grains or bread crumbs as binding factors. Without a binding factor, ground beef tends to fall apart. This recipe was developed using a combination of paleo-friendly binders: ground flaxseed meal and almond flour.
This combination is the best of both worlds. The flaxseed adds some heart-healthy fats, fiber, and of course that binding factor, while the almond flour gives the meatloaf a great texture, flavor, and body. The use of coconut aminos also makes this recipe gluten-free and adds a level of umami notes.
If you are allergic to nuts, feel free to replace the almond flour with only ground flaxseed meal. I recommend using the gold flaxseed as the flavor tends to be a little cleaner.
The easiest way to stick to a paleo diet. Download this free, RD-written meal prep guide complete with meal planning tools, approved food lists, and tips for eating paleo.
The shallots pair perfectly with the flavor of the beef. However, if you don't have any around, feel free to use yellow onions instead.
We've included a super simple home-made paleo ketchup recipe you can make any day of the week and use it above and beyond this paleo recipe (think paleo sandwiches!). With just a few ingredients you can control the freshness and quality of your ketchup. The ground mustard and fresh ginger combination will naturally enhance the flavor of the beef.
The macros for this paleo recipe are:
280 kcals; 14g Fat; 11g Carbs; 25g Protein
The cooking time will vary. I suggest using a thermometer to avoid overcooking the meatloaf. The desired cooking temperature for ground meat is 165F. This will take about 45 minutes to cook in a convection oven. However, I suggest you pull your meatloaf from the oven once it reaches an internal temperature of 160F as the carry-over cooking will take the loaf to the desired temperature of 165F and you will avoid drying out the final product.
Carry-over cooking, in plain terms, is the leftover energy in the food that continues the cooking process after it has been removed from the heat source.
Last but not least, the use of fresh herbs contrasts with the home-made ketchup and the flavors of the grass-fed beef, while also adding a pinch of necessary bitterness and of course, color.
Let's get to it.
How to Make a Paleo Meatloaf
This recipe takes about 20 minutes to prepare, and 45 minutes to cook in a convection oven. It yields about just over 7 - 5 ounce portions.
Ingredients
2# 90/10 ground beef
¼ cup almond flour
¼ cup ground flaxseed meal
3 shallots small diced
3 garlic cloves, minced
1 Tbsp. avocado oil
2 tsp. honey
1 Tbsp. red pepper flakes
1 Tbsp. coconut aminos
1 tsp. Kosher salt
½ tsp. Black pepper
½ cup parsley, fresh, minced, garnish
2 tbsp. chives, thinly minced, garnish
Spray oil
Homemade Paleo Ketchup:
¼ cup Tomato paste
2 Tbsp. apple cider vinegar
1 tsp. ground mustard
½ tsp. garlic powder
¼ tsp. cayenne pepper
1 Tbsp. fresh ginger, grated
Kitchen Needs:
3 Mixing bowls
Small saute pan
Loaf Pan
Spatula
Knife and cutting board
Oven
Step 1: Cut Your Shallots & Garlic, and Cook
Preheat the oven to 375F.
Mince the shallots and garlic and combine them in a small bowl. In a pan, heat 1 Tbsp of avocado oil and saute over medium heat until garlic and shallots are translucent, for about 3-5 minutes, stirring occasionally. Season with a pinch of salt and pepper. Transfer to a bowl and cool down as you prepare the rest of the ingredients.
Step 2: Mix all Ingredients, Add to Loaf Pan, Bake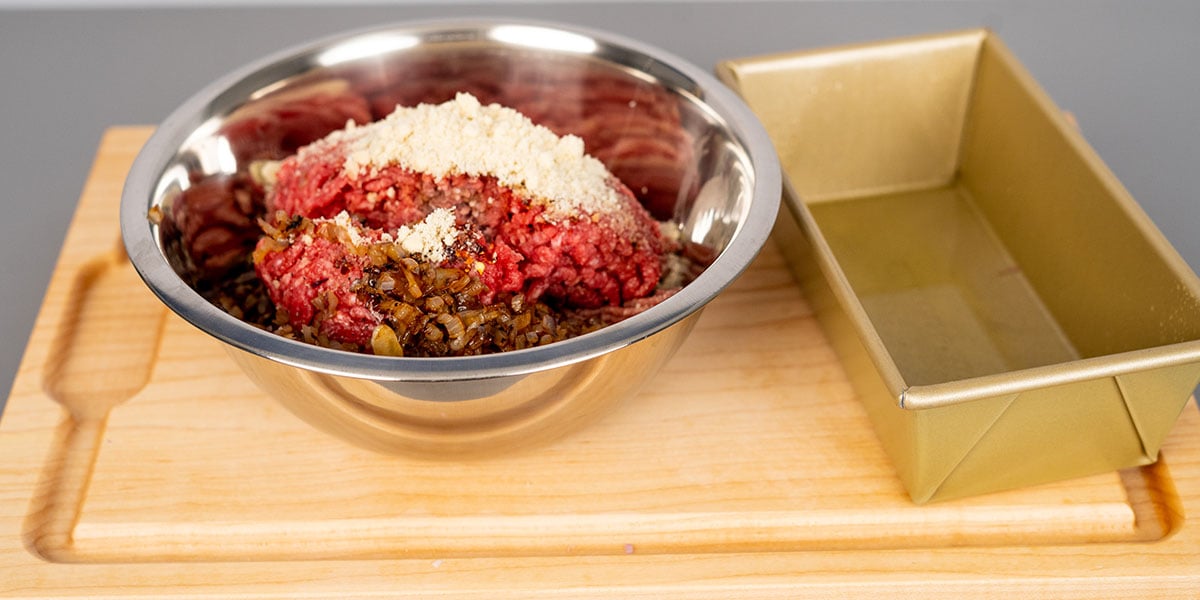 In a separate medium bowl, combine the ground beef, almond flour, ground flaxseed, honey, red pepper flakes, 1 tablespoon of coconut amino, kosher salt, black pepper, and the cooled shallot-garlic mix. Mix with your hands to fully combine all ingredients, but avoid overworking your ground beef.
Once ingredients are fully incorporated, spray your baking pan with spray oil liberally. Transfer the beef mixture to the pan and press down until fully flat. Transfer pan to oven and bake for 1 hour at preset temperature.
Step 3: Prep your Paleo Homemade Ketchup & Garnishes
In a separate bowl, combine remaining 1 tablespoon of coconut amino, tomato paste, apple cider vinegar, ground mustard, garlic powder, cayenne pepper, and fresh ginger. Mix to incorporate with a spatula, taste for seasoning and adjust as needed. Keep on side as needed.
Meanwhile, as the meatloaf cooks, wash your parsley and chives, and cut them thinly, with a sharp knife. Combine together in a separate small bowl.
Step 4: Cool Cooked Meatloaf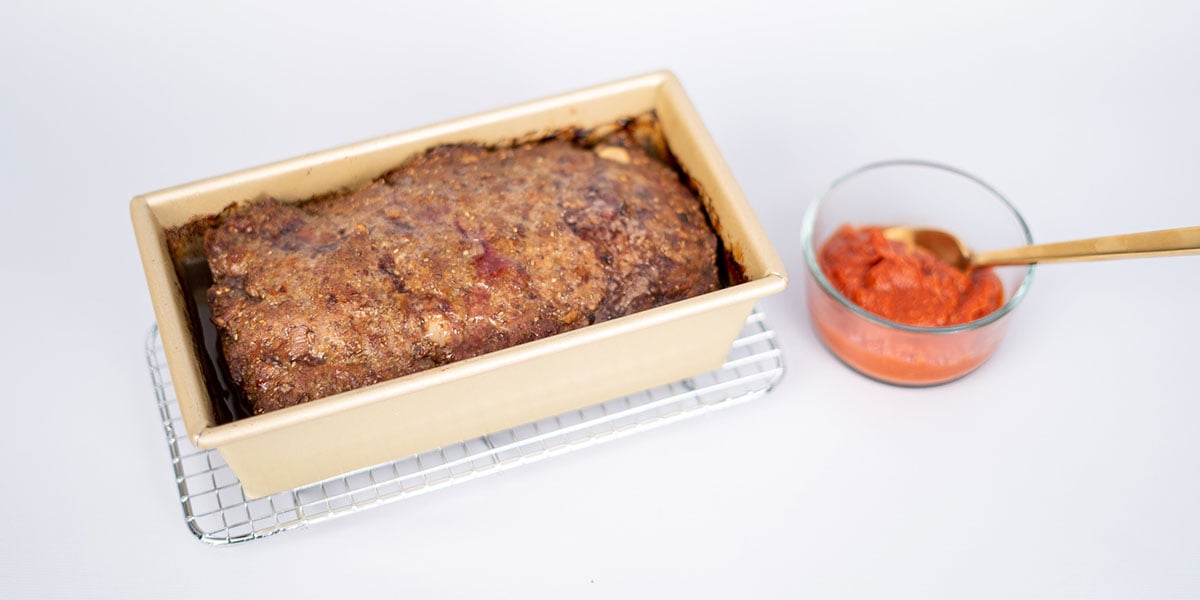 Once meatloaf has reached 160F, or until 45 minutes have passed (whichever occurs first), remove the loaf pan from the oven and immediately spread the home-made ketchup on top of the meatloaf. Broil for 3-5 minutes. Remove from the oven, and sprinkle with fresh minced parsley and chives.
Let the meatloaf rest for 10 minutes before cutting. Using a sharp serrated knife, slice the loaf about 1" thick.
If meal prepping, portion to 5 oz portions sizes for exact macros below, cool, and then store in the fridge, or serve immediately.
Serve This With & Meal Prep Tips
You can make this recipe from scratch, and serve it immediately to your guests or family, or you can prepare it for your meal prep.
If desired, serve this meatloaf with your favorite paleo vegetables.
The suggested serving size is 5 ounces, as that is how we analyzed the serving size. Feel free to double or half that recipe as needed.
Make sure you completely cool down the meatloaf before storing it covered. Cooling hot food covered, increases the potential chance of creating an environment for bacterial growth and potential foodborne illness.
For more inspiration on different paleo foods, check out this list.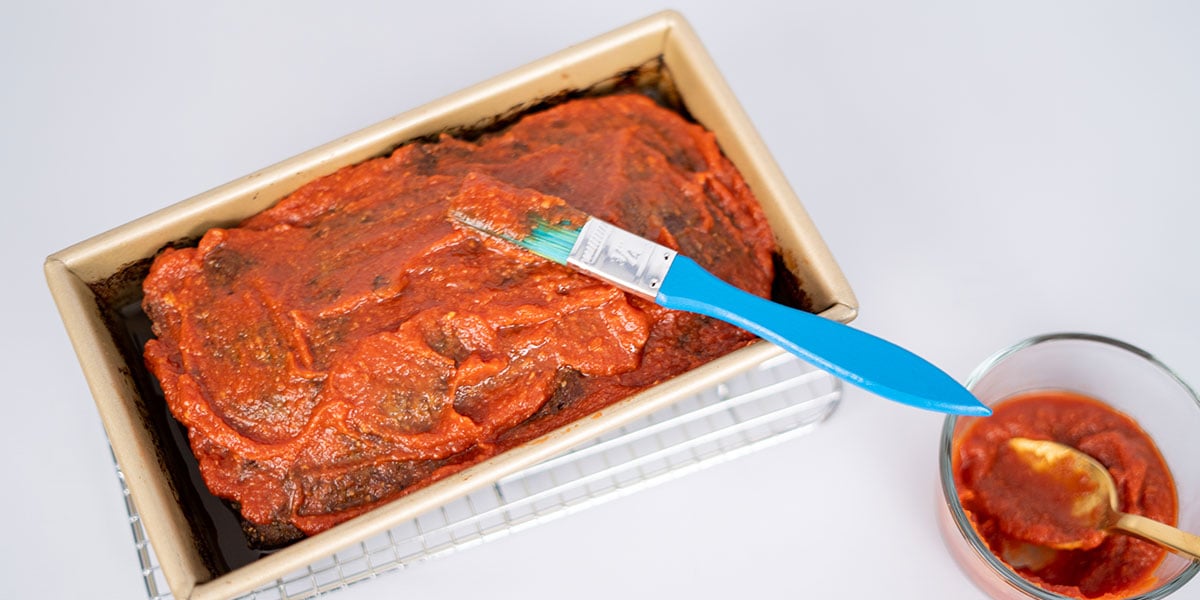 ---
Get started on paleo now. Download your free meal prep toolkit, complete with a meal planning tools, paleo food lists, and tips for eating paleo.