Adding some flair to your Trifecta Salmon is as simple as throwing together a few popular flavor combinations. You'll love the sweet balsamic flavor paired with melted mozzarella cheese in this Italian caprese salmon recipe, a spin on the classic Italian caprese salad.
How often do you get stuck in a culinary slump, cooking the same thing over and over? When is the last time you ventured outside of your go-to meal prep recipes?
A tip to preventing meal-prep monotony is to look at mimicking flavor profiles of popular dishes from various cultures. When you order from your favorite restaurants, think about the ingredients in each dish and challenge yourself to recreate the flavors in healthy recipes at home, or reach out for recommendations.
Variety is key to preventing meal prep burn-out.
Here are three culturally inspired salmon combinations:
Italian Salmon Caprese: Spinach, Tomato, Parmesan, Bread Crumb, Balsamic, Basil
Thai Curry Salmon: Cashews, Lime Juice, Bean Sprouts, Thai Sauce
Greek Salmon: Sun Dried Tomatoes, Feta, Olives, Arugula, or dandelion greens
I'll walk you through how to prepare this fun and delicious Italian Caprese salmon recipe, consisting of broiled salmon topped with tangy balsamic vinegar, blistered tomatoes, and wilted spinach.

A Quick Note about Balsamic Vinegar
Prices for a bottle of balsamic vinegar can range from $6 to $200 dollars, or more depending on the quality and source.
For cooking, balsamic vinegar of modena IGP is preferred: it's affordable, tart, and creates a beautiful glaze when reduced.
For drizzling or finishing dishes like this salmon caprese recipe, splurge on a bottle of traditional balsamic D.O.P ("Denominazione di Origine Protetta"). Aceto Balsamico Tradizionale should be dark with a syrup-like consistency; the D.O.P. stamp guarantees ingredient quality, and place of production and origin.
Be sure to check the ingredient list; inexpensive balsamic vinegar often adds thickening agents, caramel, or other colorants to mimic the top-tier traditional balsamic vinegar D.O.P.

How to Prepare Unbelievable Italian Caprese Salmon Recipe
What you'll need:
4 servings (16 ounces) Trifecta Salmon
1-2 cups spinach
1 cup cherry tomatoes, quartered
¼ cup parmesan cheese, shredded or dairy-free alternative
2-3 tablespoons shredded mozzarella cheese
2 tablespoons lemon juice
¼ cup bread crumbs or panko
1 teaspoon garlic powder
1 teaspoon mustard powder
¼ cup balsamic vinegar
½ cup fresh basil, minced
Equipment
Medium Saute Pan
Pair of tongs
Knife and Cutting Board
Sheet pan lined with reusable liner or foil
Step 1: Saute Tomatoes and Spinach with Balsamic Vinegar
Preheat your oven to 350 degrees Fahrenheit (175C). Place your Trifecta Salmon fillets on a sheet pan. In a separate bowl, combine the bread crumbs, parmesan, garlic powder, mustard powder, and minced basil.
Heat a saute pan over medium-high heat, add 1 teaspoon of oil, and swirl, warming the oil for 30-45 seconds.
Saute the grape tomatoes for 1-2 minutes until blistered, add the spinach and ½ of the balsamic vinegar to steam the spinach until slightly wilted, about 1 minute. Remove from heat and place on top of the salmon, spritzing with a squeeze of lemon juice.
Sprinkle the breadcrumb mix over the spinach and tomatoes, then top with mozzarella.
Step 2: Broil Your Salmon and Serve
Place salmon into the preheated oven and change settings to broil. Broil on high for 3-4 minutes until the cheese has melted and the salmon is heated through.
Remove from the oven, drizzle with fancy traditional balsamic vinegar if you're feeling it, and serve with roasted vegetables and grains, or as part of a salad.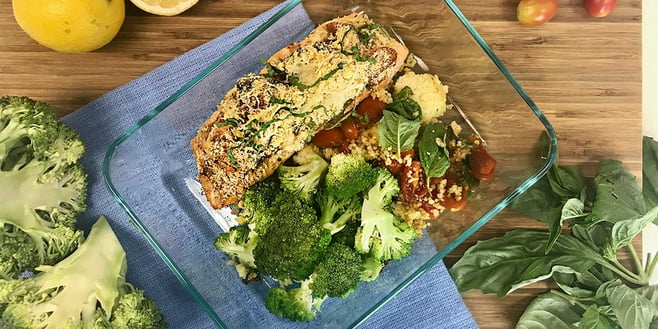 ---
Want to get more out of your weekly meal prep efforts?
Stick to your calorie goals and maximize results with this free meal prep toolkit for weight loss. An RD-written guide complete with a macro meal planner, food lists, and expert advice to help you lose weight quickly.