Full of rich dark chocolate, these gooey chocolate protein brownies are a perfect healthy dessert alternative. Not only will you save at least 100 calories from these brownies versus a traditional brownie, but you will also get a solid amount of protein from these as well! Enjoy by themselves or serve with some of our favorite sides.
What are the Benefits of Using Black Beans in Brownies?
Beans and other legumes are some of the most nutritious plant based proteins you can choose. Plus, they are a source of vitamins, minerals, fiber, protein, and many beneficial phytonutrients.
They are a good source of (10% or more):
Iron
Potassium
Manganese
Magnesium
Thiamine
And an excellent source of (20% or more):
Traditionally brownie recipes are loaded with processed sugar and butter, making them a calorie dense and sugar heavy option for a sweet treat. This isn't always the best option if you're looking to control your blood sugar, cut calories, or are simply looking to enhance the quality of your food.
Luckily with a few easy swaps we can transform the sugar-heavy classic brownies into a sweet treat worthy of a second serving and packed with ingredients that nourish our body.
Do Black Bean Brownies Actually Taste Good?
Yes, black bean brownies can be a healthier alternative to normal brownie recipes and still have the gooey texture you love, it all depends on the recipe you choose to use; most of the time you won't even be able to taste the beans!
Don't be put off by the thought of black beans in a dessert; using beans in a dessert isn't actually a wild concept when you consider that Japanese cuisine uses a sweet bean curd prepared from adzuki beans for many of their traditional desserts.
You can easily prepare a healthy brownie recipe by swapping out excess butter, sweeteners, and nutrient-lacking flours for black beans. Layer in nutrient-dense ingredients like chocolate-flavored protein powder, peanut butter, and coconut oil to achieve a rich flavor and decadent texture.
This is a gluten-free brownie recipe as we have substituted all-purpose flour for protein powder; if you don't have protein powder feel free to use whatever flour you have available.
The earthy flavor of black beans can be easily concealed with the addition of high-quality Cocoa powder and spices such as cinnamon, nutmeg, ginger, and allspice.
How to Prepare Healthy Black Bean Brownies
Prep Time: 10 minutes
Cook Time: 30 minutes
Servings: 12
Ingredients:
1 can black beans, drained
2 eggs
6 dried figs or dates (pitted)
1/4 teaspoon baking soda
1/2 teaspoon baking powder
1 teaspoon vanilla extract
1 tablespoon honey
1 tablespoon coconut oil, melted
1/2 teaspoon salt
1/2 cup chocolate protein powder
1/4 cup cocoa powder
1/4 cup cacao nibs or chocolate chips
2 tablespoons milk of choice
1 teaspoon cinnamon
Kitchen Tools:
Food processor
Spatula
Brownie Pan
Measuring cups and spoons
Cooking Spray
Step 1: Measure Ingredients and Prepare Brownie Pan

Preheat your oven to 350 degrees Fahrenheit.
Measure all of the ingredients for your brownies, be sure to strain all of the liquid from the black beans.
We've used figs in this recipe, but you can also use dates or substitute an extra tablespoon of honey for sweetness!
For your brownie pan: coat a pan with nonstick cooking spray; we opted to make bite-sized brownies by using a muffin pan! You can also use an 8-inch x 8-inch square baking pan or any size pan you'd like.
Feel free to get creative, adding in spices like cinnamon, cardamom, clove, allspice, etc. is a great way to enhance the flavor of these brownies.
Step 2: Prepare Batter

Place all of your ingredients besides the chocolate chips into a food processor and blend until smooth.
Remove the batter and stir in the chocolate chips then pour batter into a cake pan or divide evenly into a muffin pan.

Step 3: Bake then Cool and Enjoy!
Bake your black bean brownies for 18-20 minutes then remove them from the oven and allow them to cool for 10 minutes in the pan before removing them to continue to cool on a rack.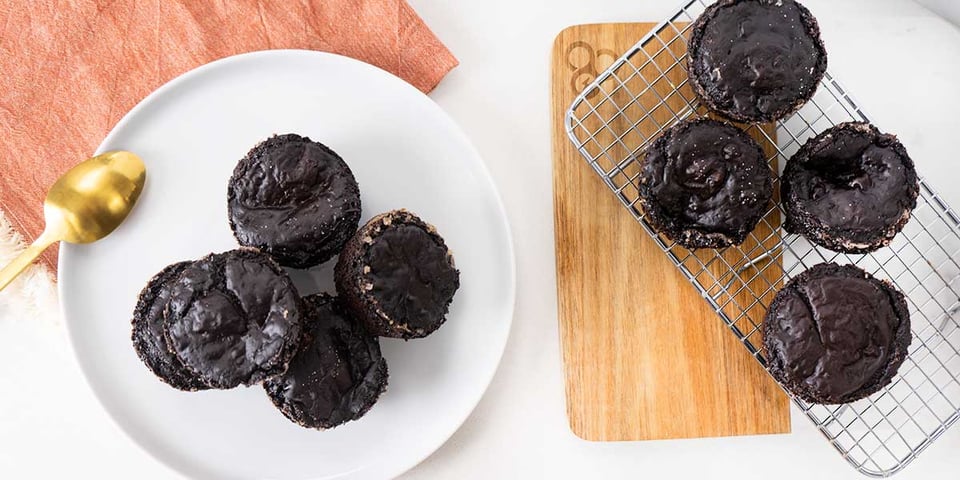 These brownies will stay fresh for up to 5 days and are best stored in the fridge in an air-tight container! Reheat them in the microwave for 10-15 seconds before eating for that fresh out of the oven warm chocolatey gooey goodness!
Meal Prep Resources
If you've just started or plan on starting to meal prep be sure to utilize all of the amazing resources below!
---
Our consciously crafted meals are prepared with organic ingredients and are RD-approved. We offer a variety of meal plans from plant-based to low-carb options.
Just pick the meal plan with the foods you enjoy most and let us do all the hard work of prepping, portioning, and cooking it for you. All you need to do is kick your feet up and savor every bite.