Spicy and sweet, this simple sheet pan sauce recipe will be your new go-to meal prep sauce to get you out of eating the same thing every week. Learn the secret to preparing naturally sweetened sauces with fruit by making this tangy roasted mango habanero sauce recipe.
What is mango habanero sauce made of?
Preparing a mango habanero sauce is relatively simple, the basic ingredients include fresh mangos, habanero, some kind of vinegar or lime juice, garlic, and a pinch of seasonings.
Because it is such a simple sauce to prepare, anyone can create their own twist on this sauce by adding or removing certain ingredients, or changing up how you prepare your sauce.
We've added our own twist by completely removing the addition of added sugar and processed sugar by relying on the sweetness from the mangos and some dried fruit.
This roasted mango habanero sauce recipe is:
Tangy and vibrant
Naturally sweetened
Fits into any meal plan

How to use fruits to prepare naturally sweetened sauces and dressings.
Excess added sugars can sneak into a simple sauce recipe and spike not only your blood glucose levels but also the number of calories in a sauce. This is why you should always check your serving size on store-bought sauces when looking at a nutrition label. Often times they will show a serving size of 1 tablespoon with over 15g of sugar and 100+ calories, but we all know we want to use more sauce than that!
This recipe prepares around 2 cups of sauce, and 1 tablespoon (1 serving) contains: 11 calories, less than 1 gram of fat, 1.5 grams of natural sugar, and 2 grams of carbohydrates.
Preparing sauces with fruits, fresh or dried, can help you create low-sugar and low-calorie sauces packed with other beneficial vitamins and minerals.
For example, mangos are a good source of fiber and antioxidants, in fact, 1 cup of fresh, ripe mango contains around 3 grams of fiber along with 60mg of Vitamin C and a substantial amount of Vitamin A (1).
We cannot synthesize vitamin C so we need to consume it in our diet from foods like fresh tropical fruits, red peppers, broccoli, and berries. Vitamin C is essential for wound healing, and immune function, and improves the absorption of non-heme iron found in plant-based foods.
When you are making a sauce that calls for lots of brown sugar, cane sugar, or any other added sugar product, take a moment to think about if fruit could replace some of that sweetness. For example, using raisins or pineapple to sweeten a teriyaki sauce or adding blackberries into a sweetened balsamic glaze.
Sugar is often added to sauces to help thicken them as well, but luckily there are other ways to thicken a sauce. Some dried fruits such as apricots and raisins can be blended into sauces to help thicken them. We can also use other powdered starches such as arrowroot or xanthan gum.
How to Prepare Your Roasted Mango Habanero Sauce
Prep Time: 5 minutes
Cook Time: 20 minutes
Servings: 2 cups
Ingredients:
1/2 yellow onion, chopped (about 1/2 cup)
2 cloves garlic
1 1/2 cups fresh, ripe mango, cubed
1/2 cup tomato, fresh, cubed
3 tablespoons ginger, fresh
1 habanero, fresh, de-seeded
2 tablespoons rice wine vinegar
1/2 teaspoon nutmeg
2 tablespoons olive oil
2 dried apricots
3 tablespoons lime juice
2 tablespoons orange juice
1 teaspoon turmeric (optional)
Kitchen Tools:
Small sheet tray
Knife and cutting board
Blender
Spatula
Measuring cups and spoons
Step 1: Preheat oven and prep ingredients
Preheat your oven to broil on high while you gather your ingredients for your mango habanero sauce.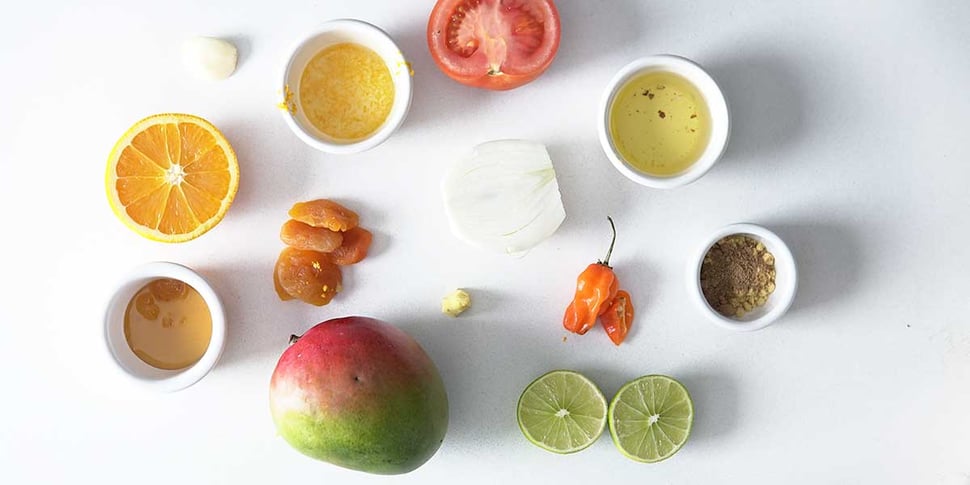 Cut up your mango, juice and zest your citrus, then de-seed the habanero peppers.
When handling habanero peppers be sure to wear gloves! These spicy chili peppers can range between 100,000 to 350,000 SHUs (Scoville Heat Units), so you will want to be careful and avoid touching your face/eyes or any other sensitive part of your body after handling them.
If you don't have gloves, wash your hands thoroughly with water and soap, along with washing the cutting board and knife you were using before moving on to the next steps.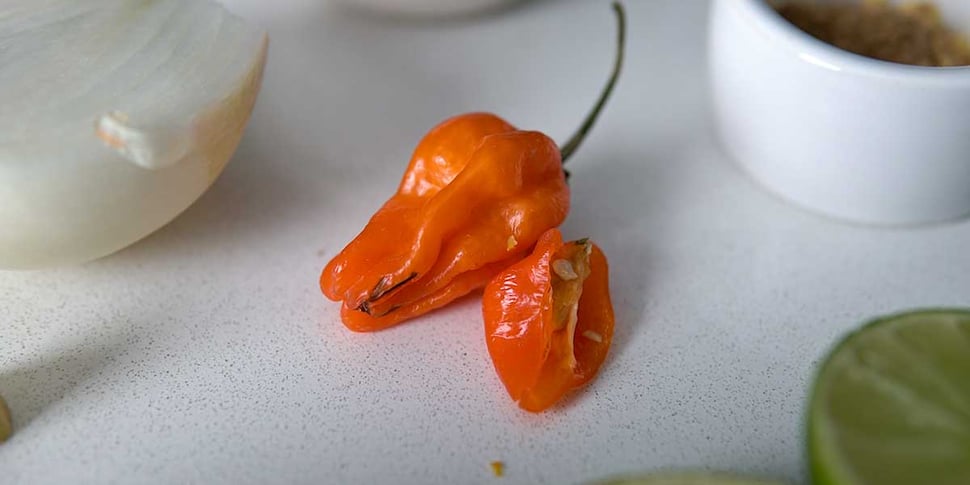 Step 2: Roast fresh ingredients with oil and 1/2 of the spices
Place the tomatoes, mangos, onion, garlic, habaneros, and 1/2 of the spices onto a sheet tray and toss them with the oil.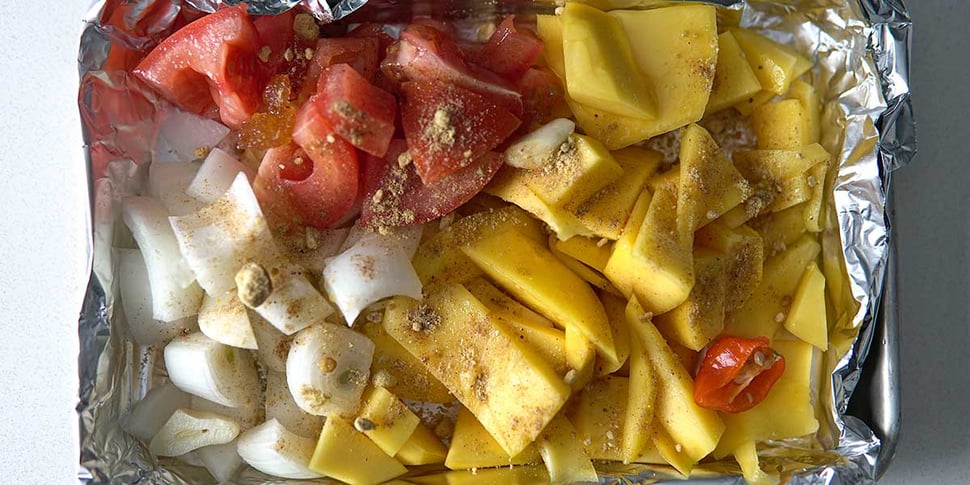 Broil this on high for 10-15 minutes until slightly blackened and roasted.
Don't be afraid to get a little char on the mangos and ingredients—this will add a little extra flavor in the long run. You can also opt to grill the fresh ingredients for 5-10 minutes and then move on to step 3.
Step 3: Remove ingredients from oven then blend
Take your roasted ingredients and add them to the base of a blender or food processor along with the ginger, vinegar, citrus juice and zest, apricots, and the rest of the spices.
Blend for 1-2 minutes until smooth, although you can also leave this a bit chunkier if you'd like.
Remove from the blender and use immediately for a warm sauce or store in the fridge for later use as a chilled salsa.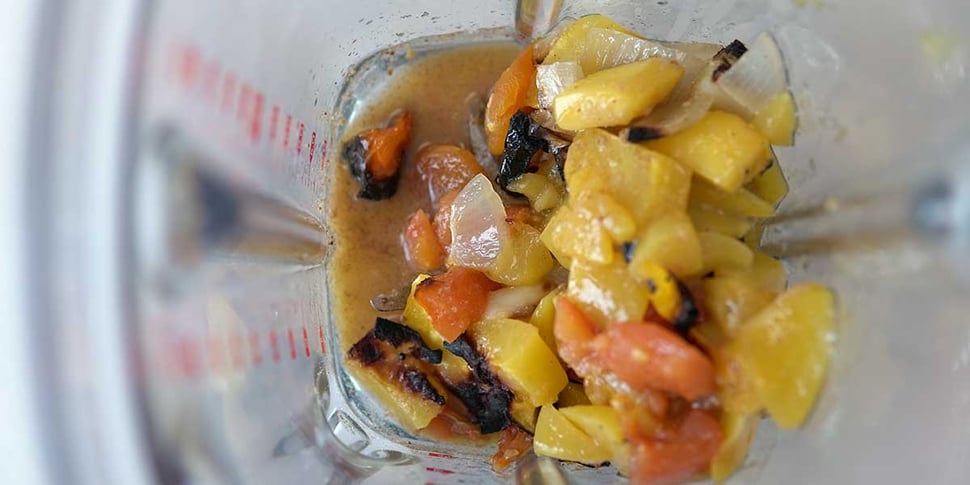 Storage and Serving
This sauce will last up to 8 days in the fridge in an air-tight container and pairs perfectly with all of our meal prep proteins and other a la carte items.
Serve it with chicken wings, grilled meats, seafood, and veggies, or pair it with:
This sauce also serves up well as a roasted mango habanero salsa with tortilla chips or fresh vegetables!
Not sure what meal plan is best for you? take this quiz to find out!
Trifecta offers ready-to-eat meal plans along with a la carte options if you want to build your own pesto bowl with organic and sustainably-sourced ingredients!
---
The food you eat sets you up for success or failure, not just in your physical performance, but in your mental and spiritual health as well.
Ready to clean up your diet? Check out our perfectly portioned and ready-to-eat organic meal plans.