This easy flat iron steak fajita bowl recipe is sure to spice up your meal prep all while saving you a lot of time in the kitchen! Find out how make the recipe in the guide below.
Building the Perfect Bowl
Preparing any kind of Mexican-inspired bowl is a great way to switch up your meal prep and include a variety of vegetables, proteins, and carbs.
You can easily transform a few simple ingredients with the addition of a southwestern spice blend and your favorite salsa.
This bowl is built off a basic formula by including options from each category:
Protein: steak, chicken, shrimp, salmon, or vegan protein alternatives
Vegetables: red bell peppers, onions,
Carbs: brown rice, white rice, quinoa, roasted squash, or sweet potato
Toppings: fresh lettuce, cabbage slaw, guacamole or avocado, jalapeno, salsa, sour cream, you name it!
Basing your meal prep around building healthy bowls is a simple way to start meal prepping ingredients in bulk and then portioning out meals for the week.
When you cook bulk amounts of protein, a variety of vegetables, and simple carbohydrates you can utilize a variety of sauces and toppings to change a Southwestern-inspired bowl to a Mongolian beef stir-fry or Mediterranean bowl.
This is also a great recipe if you're feeding a lot of people or want to set up an easy DIY burrito bowl station for a group of friends! Simple prepare each ingredient like you would for meal prep but then let your guests build their own bowl.
How to Prepare Your Steak Fajita Bowl Recipe
Prep Time: 8 Minutes
Cook Time: 10 minutes
Servings: 2

Ingredients:
8 ounce of Trifecta Flat Iron Steak
1 teaspoon oil
1/2 cup of corn (optional)
1/2 yellow onion, small diced
1 bell peppers, diced
1 cups of Trifecta Brown Rice
1 cup green leaf lettuce (optional)
1 jalapeno (optional)
Red pepper flakes
Toppings:
Fresh cilantro
Avocado (optional)
Salsa (optional)
Sour cream (optional)
Kitchen Tools:
Knife and Cutting Board
Saute Pan
Meal Prep Containers
Step 1: Mise en Place Ingredients
Gather your protein, vegetables, spices, toppings, and any other ingredients you want to include in your bowl. Slice your protein into small chunks, and cut all of your vegetables.
For your protein, you can season and marinate your meat with spices such as paprika, chili powder, lime juice, etc. to add extra flavor without adding extra calories.
Step 2: Heat Your Rice & Saute Vegetables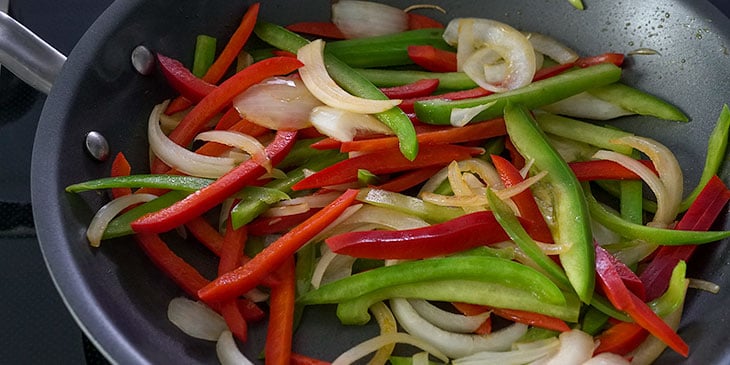 Heat a saute pan over medium heat, add the oil then add the onion and peppers.
Saute for 3 minutes until they start to brown, add a squeeze of lime juice or apple cider vinegar. Add the corn or any other veggies you are using at this time as well.
In a microwave-safe bowl heat your Trifecta brown rice. For a little extra flavor toss in 2-3 tablespoons fresh cilantro and lime juice!
Need a low-carb option? Use Cauliflower Rice instead!
Step 3: Add the Steak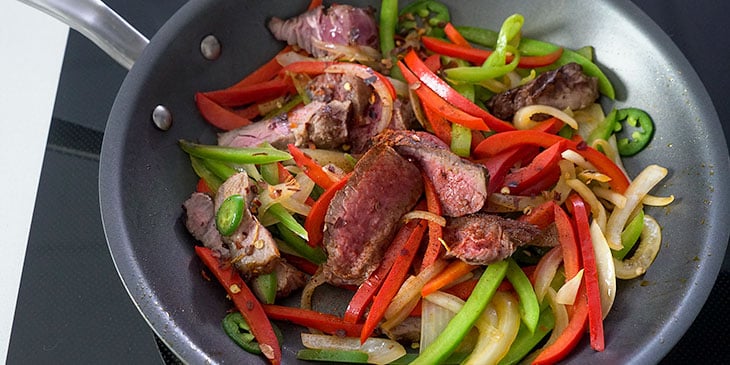 Once your vegetables are slightly browned, add in your sliced Trifecta protein and saute for 3 more minutes until warmed through.
Add in 1-2 tablespoons of your favorite salsa or some Mexican seasoning for more flavor.
Step 4: Portion Your Meal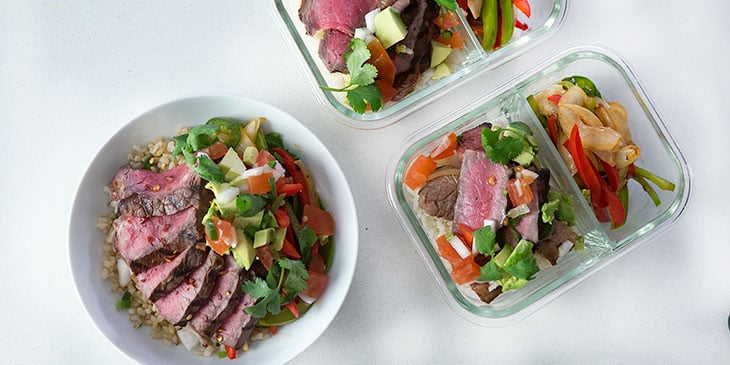 Remove your steak and vegetables from the heat and then portion into your meal prep containers or bowl to enjoy!
Ready to Get Cooking?
Stick to your calorie goals and budget with our Meal Prep Ingredients. Pre-cooked and ready to heat, these ingredients are organic, sustainably sourced, and minimally seasoned to maximize your meal prep.