A tasty alternative to oatmeal, this quinoa breakfast bowl can double as a dessert! Loaded with healthy grains and topped with berries, almonds, and cinnamon, you can't go wrong with adding this bowl to your weekly meal prep.
About This Recipe
Quinoa is a complete protein and one of the higher protein grains (and also, a complete source of amino acids) out there compared to oats.
Quinoa makes a delicious replacement if you are burnt out on eating oatmeal for breakfast or want to try something new! We opted for a spiced apple pie quinoa breakfast bowl but you can experiment with a variety of flavors:
Savory Pesto and Butternut Squash Quinoa Breakfast Bowl
Cheesy Tofu and Turmeric Quinoa Breakfast Bowl
Chai Spiced Quinoa Breakfast Bowl
Dutch Chocolate Quinoa Breakfast Bowl
Peaches and Cream Quinoa Breakfast Bowl
The best part of this breakfast bowl recipe is it fits in most meal plans. No matter if you are vegan, vegetarian, plant-based, flexitarian, or just trying to eat cleaner, you'll love this simple recipe.
A 4-ounce scoop of quinoa provides:
136 calories
2 grams of fat
24 grams of carbs
5 grams of protein
This recipe is also great if you are trying to gain weight or muscle, as appropriately fueling with carbohydrates and protein is an important part of any muscle gain meal plan.
How to Prepare Spiced Apple Quinoa Breakfast Bowl Recipe
Prep Time: 5 minutes
Cook Time: 5 minutes
Servings: 3 each

Ingredients:
1.5 cups Trifecta Quinoa (or cooked quinoa)
1/2 cup Trifecta Sweet Potato (optional)
1/3 cup of unsweetened applesauce
1 small apple, small diced
2/3 cup of milk or dairy alternative
1 teaspoon vanilla extract
1 teaspoon maple syrup
1 teaspoon of apple pie spice
For Garnish:
1/4 cup fresh fruit
1 teaspoon toasted almonds or pecans
Kitchen Tools:
Knife and Cutting Board
Small sauce pot or saute pan and spatula
Step 1: Mise en Place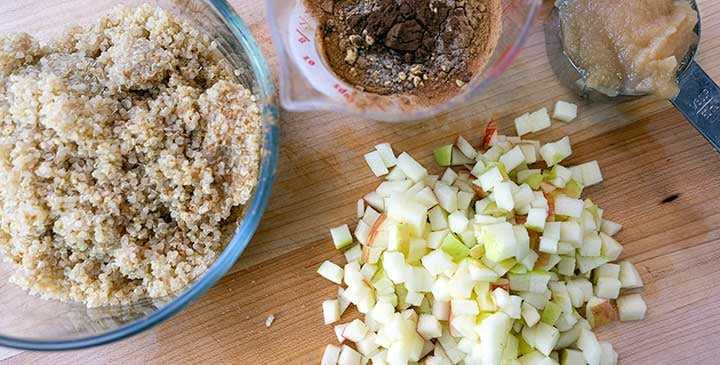 Mise en place is an quintessential culinary term that translates to "put in place," meaning gather all of your ingredients before starting the cooking process. This is a great skill to save time on your weekly meal prep and get more organized in your kitchen.
Gather all of the ingredients you are using for your quinoa breakfast bowl recipe and slice an additional ingredients needed.
Step 2: Heat All Ingredients Together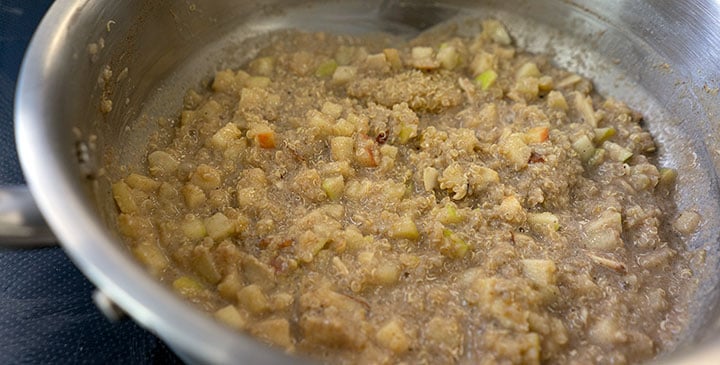 Heat a small saucepan over medium heat and combine all of the ingredients besides the garnishes and heat for 3-4 minutes until warmed through.
Step 3: Portion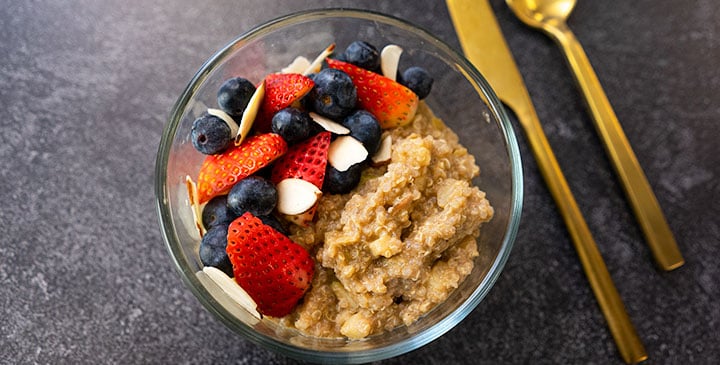 Remove your quinoa breakfast porridge from the heat and portion into meal prep containers.
If you're preparing this as a part of your weekly meal prep, be sure to allow the breakfast bowl to cool completely uncovered in your fridge before topping it with any garnishes.
---
Too Busy? We Got You!
Ready to take your meal prep up a notch? Learn how to count your macros to reach your goals and use our Trifecta Meal Prep ingredients to conquer your meal prep without spending hours in the kitchen! Take your wellness to the next level with Trifecta.