Clean eating refers to the consumption of minimally processed foods, ethically raised, and rich in nutrients. This collection of clean eating recipes provides you with a wide variety of healthy ideas to support your healthy lifestyle while keeping your day to day meals varied and fun.
How To Create a Healthy Clean Eating Menu
'Clean eating', or a clean eating diet, is a phrase/concept you have probably seen increasingly being used over the last few years. This has been coined as an expression that refers to a wholesome way of eating focused on organic foods; meaning, a lifestyle based on eating natural foods like whole-grains, fruits and veggies, lean proteins, and heart healthy fats like avocados, nuts and seeds, and plant based oils.
Clean eating refers to the consumption of minimally processed foods, ethically raised, and rich in nutrients.
Since 'clean' is an arbitrary term, it does not mean foods that do not meet the criteria described above are 'dirty' or harmful to eat. Limiting certain foods that may not provide sound nutrition, and substituting these with nutrient dense foods for the bulk of your eating habits is what this lifestyle promotes.
It is possible to be too restrictive when it comes to your food choices and there's no strong research showing that the occasional processed food is going to make or break your health.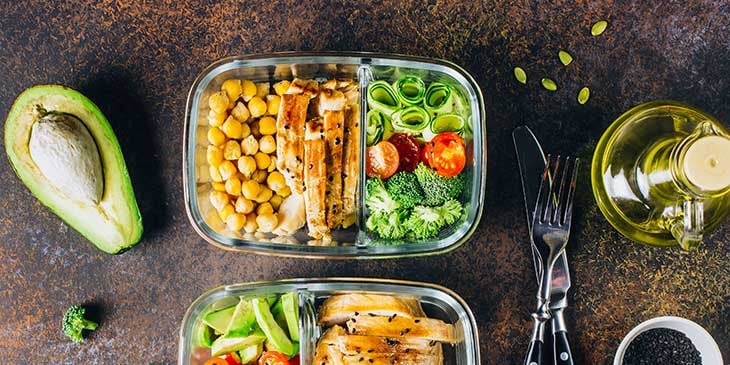 With this in mind, when planning a clean menu, think of the following:
1. Healthy or 'clean' food doesn't mean bland and boring food
Adding healthy sauces and seasonings to your meal prep and recipes will help you add a variety factor, and also a very unique identity factor to every meal.
Don't skip the salt and pepper; these two are essential to brighten the natural flavor of food. If you have a variety and combination of spices you like to use, stick to it. If it works for you, then implement it without shame.
2. Think protein, carbs, and fats for every meal
In the sports performance world (sports nutrition), dietitians have coined a well balanced plate, as a performance plate. By 'well balanced plate', I mean a dish that has all the major macronutrients present.
Granted, this will vary according to the person's size, weight, and health goals. But thinking that in each meal you have a protein, a starchy carb and vegetables, along with a fat source, will help you stay satiated and hit all your nutrient goals.
3. Always include a variety of vegetables on your meals
Increasing your vegetable consumption is a secured way to help your body get the nutrient it needs to perform optimally throughout the day.
Identifying specific vegetables that you like, roasting them with salt and pepper, and rotating them through your meals will support your clean eating habits.
4. Pick a variety of items to rotate through your week.
This will avoid diet boredom and will help you change your lifestyle for good. Below we've included a wide array of recipes for you to choose from and help you avoid meal prep burn out.
5. Stick to the 80/20 rule
Meaning, eat clean 80% of the time and allow yourself a break 20% of the time.
To bring that example to life, think that in any given week you may eat 21 meals. Out of those 21 meals, 16 fall on that clean 80%, giving you the ability to not be so strict on the remaining 5 meals.
Clean Eating Resources to Check Out
Eat Your Way Clean: 20 Easy Recipes
Find below exactly what you were looking for, and exactly what we promised: a collection of recipes to guide you and inspire your weekly breakfast, lunch, and dinner meals. We have also included some singular side recipes for you to consider.
If you are meal prepping, you can pick 2-3 from each category below, prepare in bulk, and store in your fridge to have an easy and healthy week planned ahead of you.
As a plus, find one plant-based idea on each meal period to add to your rotation.
Preparation is the key to success, and staying on top of your nutrition is no different!
If you like this collection of recipes, check out our Nutrition and Fitness Community for more similar content.
Let's dig in.
Clean Eating Breakfast Recipes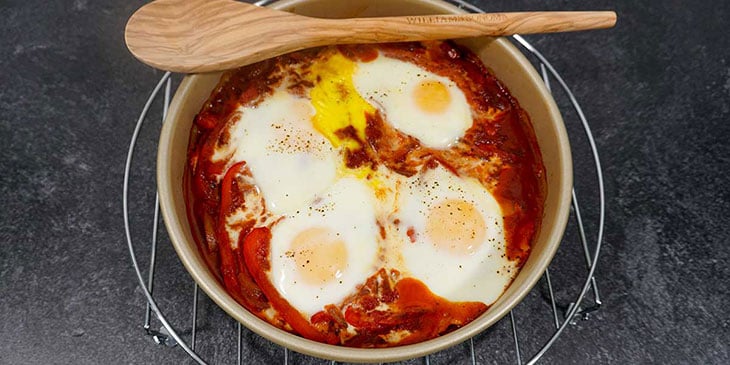 Shakshuka is an Israeli dish that can be enjoyed for breakfast, lunch or dinner. This dish however, from personal experience, is a delicious and very well rounded breakfast meal.
This recipe is perfect if you are cooking for a family of 4, or simply want to knock a few breakfasts ahead of time! Pair it with some whole-grain toast and you've got yourself a complete meal!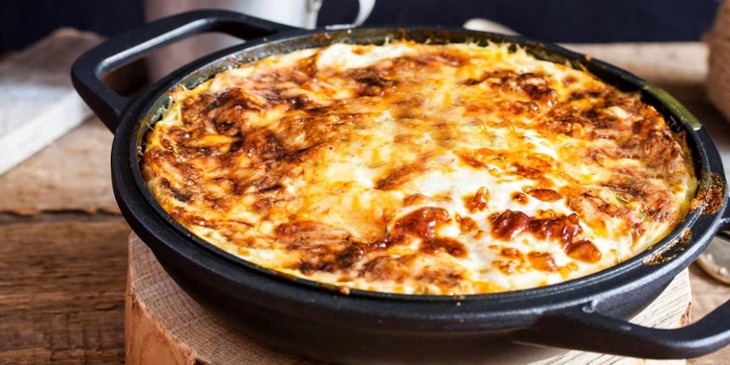 Casseroles provide an amazing well rounded breakfast in a very compressed way. Like some of our other clean eating recipes, this recipe is perfect to spice up your meal prep for your week.
One recipe can yield a few days worth of breakfast and snacks!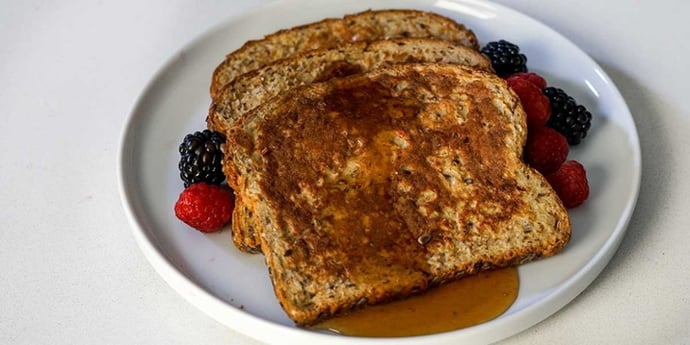 Find the perfect combination of a high-protein take on the classic French toast, while keeping the essence of the original dish, makes this recipe one to keep on constant rotation.
Enjoy it with a side of scrambled eggs.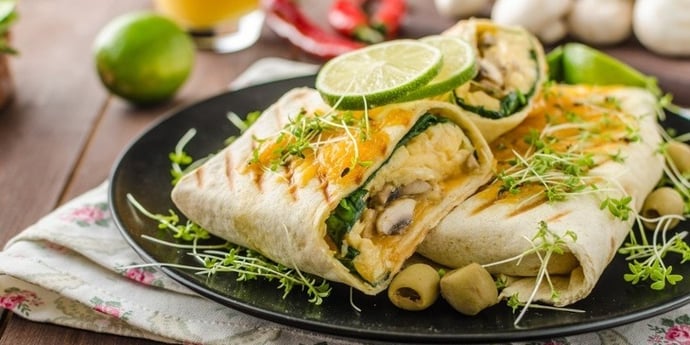 A burrito is the perfect meal made for on-the-go. Specially for breakfast. You can meal prep a few of these and simply reheat them for a minute and eat them as you go. These perfect vessels will never fail you in your clean eating journey.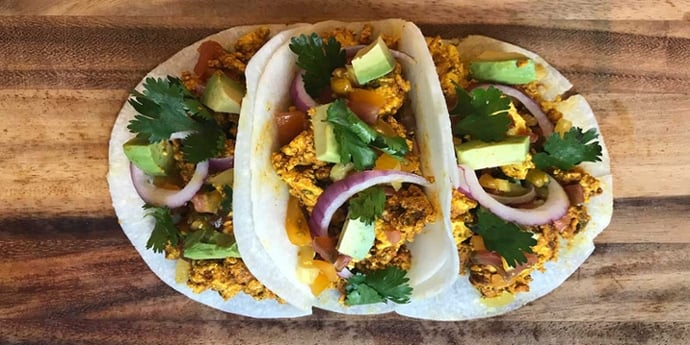 Trifecta's Executive Sous chef, chef Skyler, created these incredible vegan breakfast tacos made with a delicious tofu filling, seasoned with a unique combination of warm spices.
The low-carb aspect? Jicama tortillas!
Clean Eating Lunch Recipes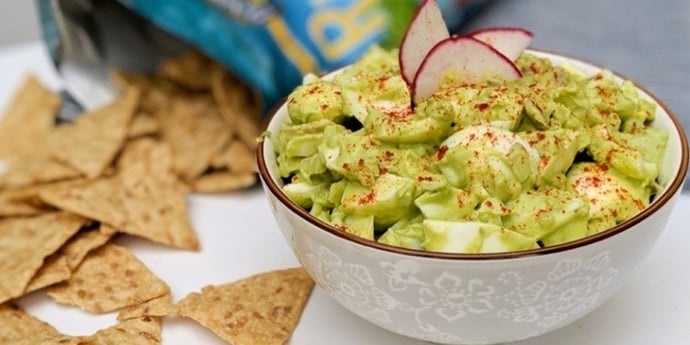 This super high protein avocado egg salad is both delicious and a simple recipe that is easy to make and can be used as the salad itself, or as a great filling for a sandwich.
Pair this with chips and some roasted vegetables for a complete meal!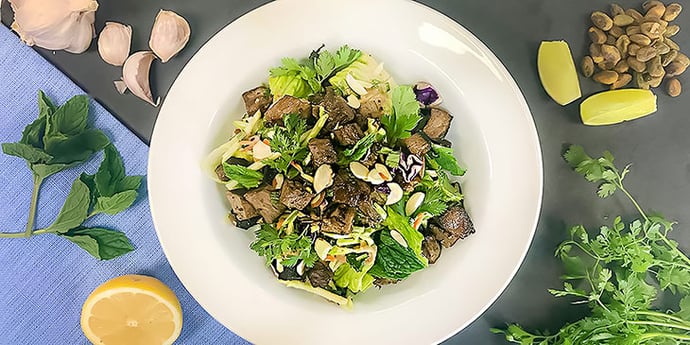 This Thai salad is to die for as it has a delicious marriage of flavor and texture prepared in less than 10 minutes. This simple salad is prepared with a Thai-inspired peanut dressing, and sesame marinated steak tossed with crunchy cruciferous vegetables and cooling mint leaves.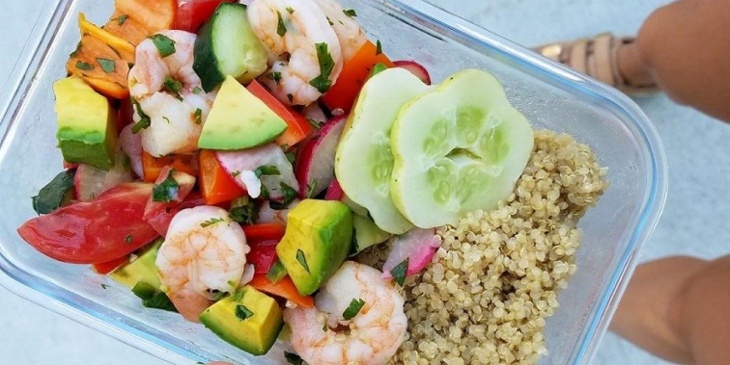 Ceviche is a delicious lunch option as it provides a refreshing high-protein meal that can be combined with either banana chips, whole-grain chips, or a grain like quinoa. It's easy to make and even easier to meal prep and carry around.
Enjoy it with a cold crisp mineral water!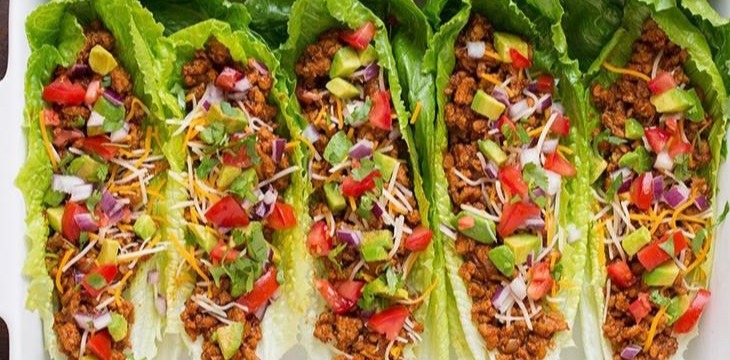 Think of this recipe as a refreshing taco (it's also keto!). This recipe takes Mexican cuisine and we give it a twist for a quick clean dinner recipe.
Use your favorite protein, or make it vegan by using tofu or tempeh!
This juicy California burger is topped with a tangy kiwi pomegranate salsa, garlicky guacamole, and crispy sprouts. Aside from looking incredibly beautiful, make a complete meal out of this by adding a side of vegetables or sweet potato fries!
Clean Eating Dinner Recipes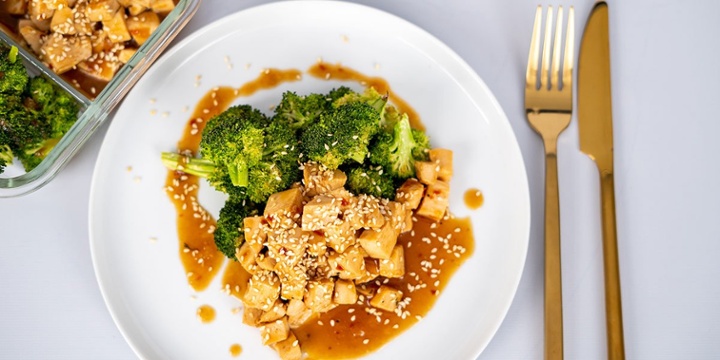 This is a classic dish and a super simple recipe you can crank out in no time. The sauce is made from scratch, and you'll be left feeling healthy and satisfied after eating it!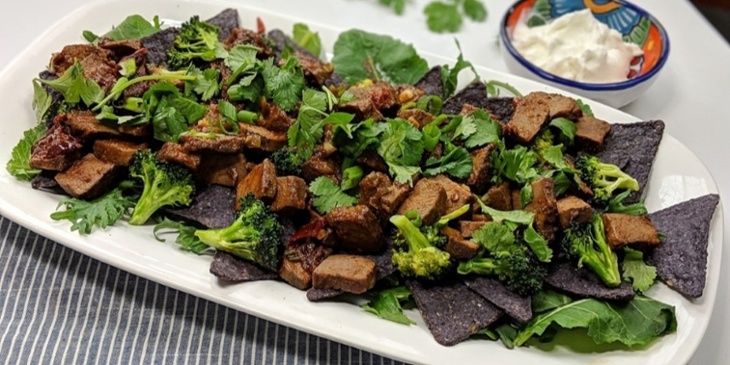 I made these nachos one night out of both hunger and necessity. I grabbed everything I had available and this beautiful creation come about. Add a side of vegetables and some cheese if you so desire to have a super fun dinner.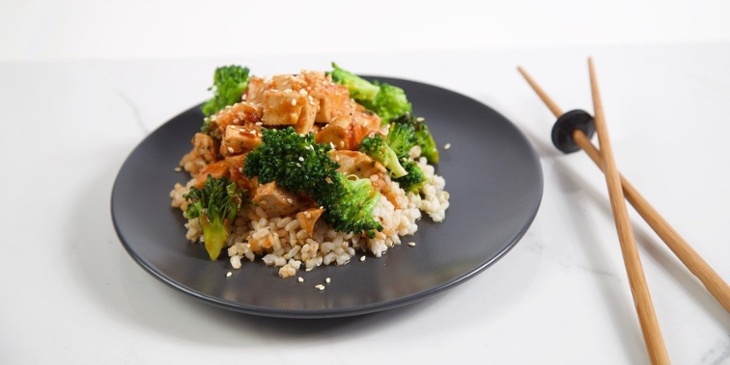 This combination of honey and sriracha, along with a hint of sesame offers a balance of Asian-inspired flavors, served along with puffy brown rice and some roasted broccoli. A simple recipe for any night of the week, made to satisfy any spice-heads.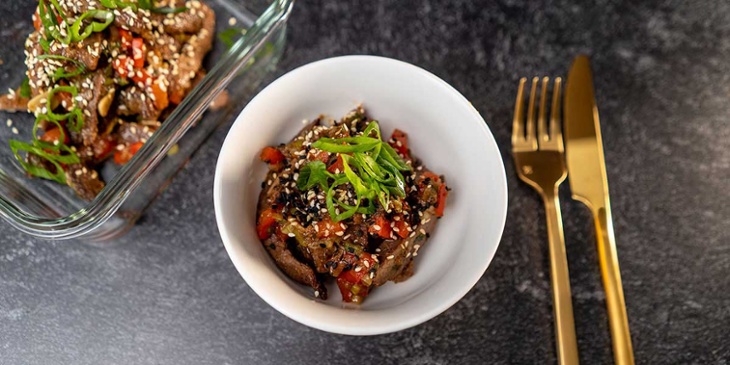 This 30-minute recipe is a guilty pleasure of mine. The basics of this dish is to build flavor in various steps - the sauce is built on a base of aromatics, followed by a slew of sauces that add further flavor.
Add any favorite carbohydrate and extra vegetables if necessary!

This vegan dinner option is a fun and complete meal that is highly enjoyable after a full day of activities. The secret here? The sauce!
Clean Eating Sides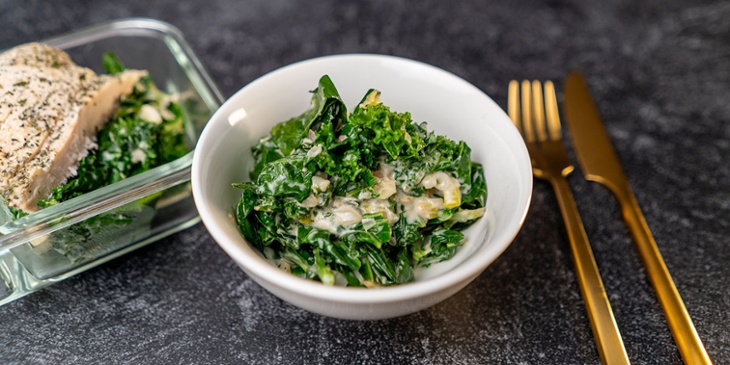 The aromatics combined with the coconut milk and the hearty greens make this dish a perfect staple to have in your fridge. The hearty greens hold very well in the fridge and while being reheated. Add a splash of green with this recipe to your dishes.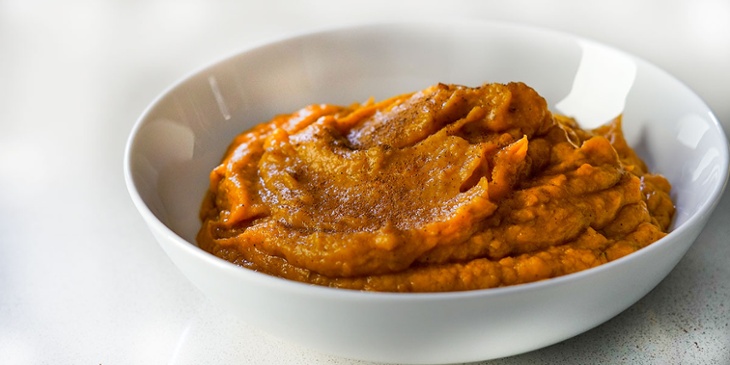 Chef Skyler does an excellent job at making the sweet potato the star of this recipe by combining it with delicious warm spices and coconut milk. Believe it or not, we have used this recipe to feed professional athletes. It's an incredibly heart warming dish!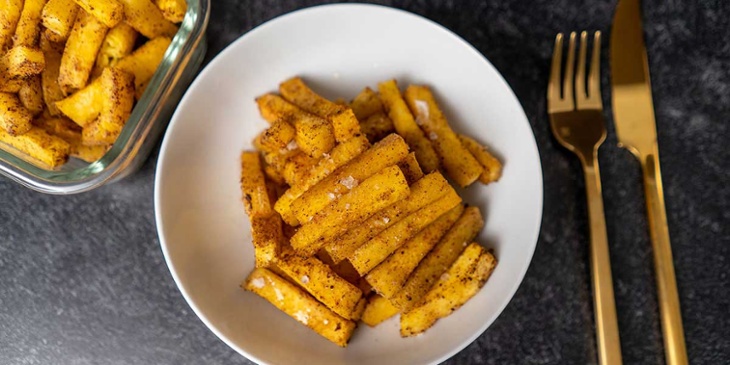 The warm spices of this recipe make this side of butternut squash on to have on constant rotation. Buy two large butternuts and make this fall-inspired recipe to have it in your weekly rotation!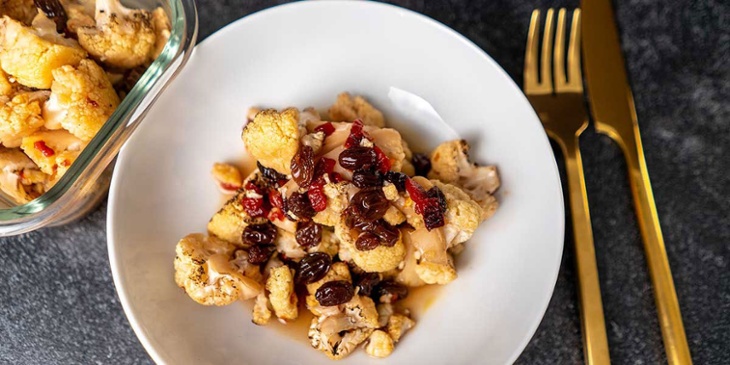 Agrodolce means sweet and sour. This Italian-inspired recipe adds a beautiful sweet, sour, and savory punch to your cauliflower. Use this sauce to coat any kind of winter squash!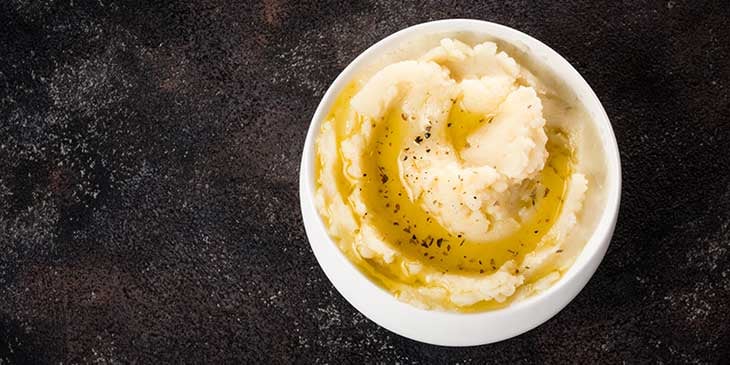 I used to cook this recipe for the Cornell Wrestlers during their 2014-2015 season all the time. They loved it and constantly said how they could not notice the difference. Using half cauliflower and half potatoes increases the nutritional value and provides a deeper flavor.
Too Much Work? We Got You!
Want to take the hard work out of eating healthy? Hit the easy button on clean eating meal prep with nutritious, minimally processed meals cooked and delivered to your door. Our team of experts will plan, prep, and ship a tasty menu each week.