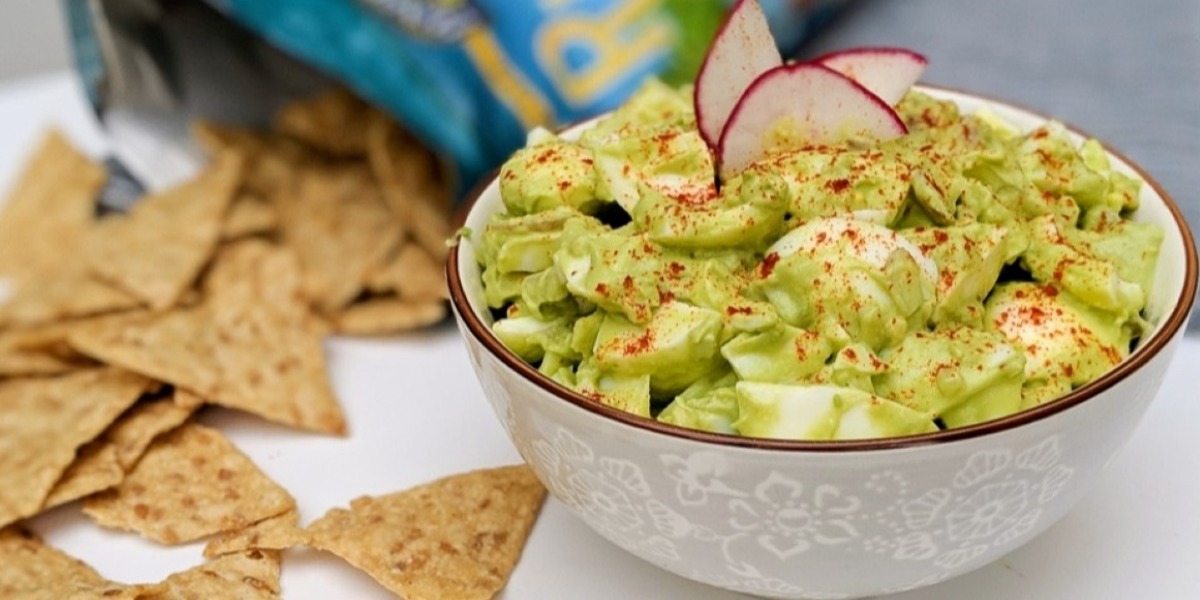 Whether you're just not a fan of mayo or looking for a healthy egg salad to add to your meal prep, we've got you. It's like guacamole and egg salad had a baby, and it's delicious. This recipe is also crazy easy to make and fits into just about any diet since it's gluten-free, paleo, vegetarian, low carb, low fat, and high protein. Can also be made keto by keeping in the egg yolks!
How to Make this Recipe
For this recipe, you're going to need the following:
Avocado

Shallot

Dijon mustard

Lemon

Plain yogurt (can use non-dairy)

Salt and Pepper
You'll want to start with cooking the eggs since this will take a majority of the prep time (see below for tips on cooking the perfect hard-boiled egg). Dice shallot whilst eggs are cooking and set aside for mixing later.
Once your eggs have cooled, removed shells and yolks. Chop egg whites into small bite-size pieces and set aside - You can chop the eggs into whatever size you prefer, but smaller pieces typically tend to blend better with the other ingredients and provide better overall consistency.
In a separate bowl, mash the avocado and mix well with shallot, mustard, and yogurt with a squeeze of lemon juice, until evenly blended - a few chunks are okay. Then mix with eggs and season with salt and pepper to taste.
I used Greek yogurt for a small protein boost, but you can use dairy-free yogurt to keep it paleo or omit entirely (it may be slightly less creamy).
You can also add in additional flavor with a sprinkle of smoked paprika and garlic powder!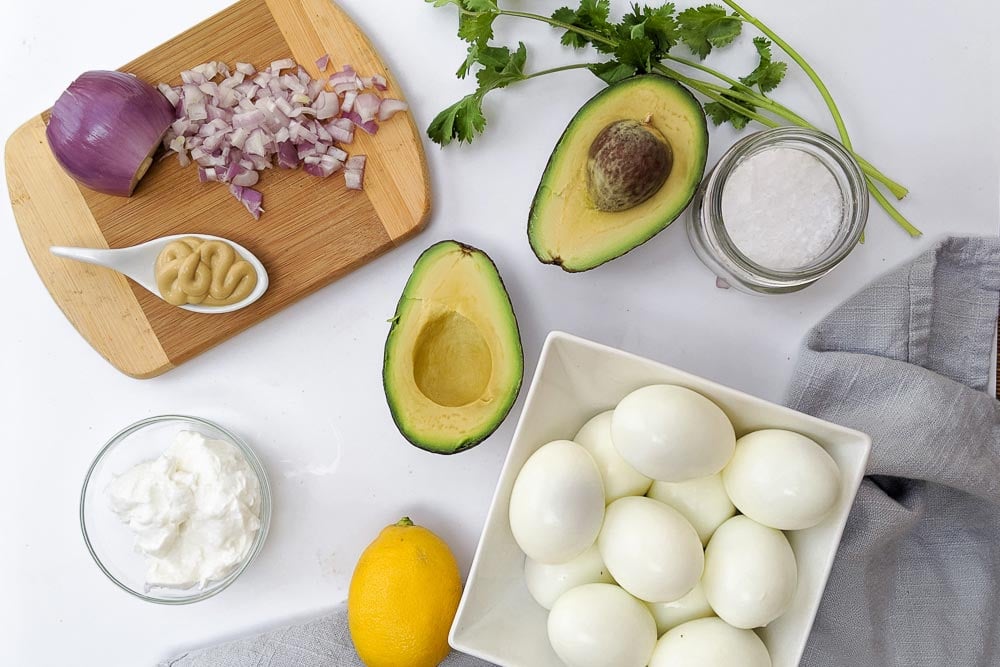 How to Hard Boil Eggs
If you've ever tried to hard boil an egg, you know that timing and temperature are everything. The last thing you want is an undercooked egg or a green yolk. So here, are some quick tips to perfect your egg game.
You can cook the eggs one of three ways: in the oven, in the microwave, or in a pot of boiling water.
Place eggs in a bowl of ice water immediately after cooking. This will stop the cooking process and help keep the yolks from turning green.
To cook in the oven:
Preheat

oven to 350 degrees Fahrenheit.
Place individuals eggs in a muffin tin to keep them from rolling around.
Bake for 30 minutes.

Immediately place cooked eggs

in a large bowl filled with ice water to cool.
To cook in the microwave:
Place eggs in microwave safe bowl and cover with water.

Add 4 tablespoons of salt

.
Microwave on high for 6 to 8 minutes.

Immediately place cooked eggs

in a large bowl filled with ice water to cool.
To hard boil in water:
Place eggs in large saucepan and cover with

1 inch of cold

water.

Bring water to a boil.

Remove from heat and cover for 12 minutes to let the eggs cook.

Drain and place cooked eggs

in a large bowl filled with ice water to cool.
Want to make this in less than 5 minutes? Cut out all the egg prep time, with Trifecta a la carte hard-boiled eggs.
Serve this With

This recipe works great on its own, as a dip, on a salad, or in a sandwich. And it can be eaten as a main dish or a snack. I typically meal prep this as a favorite high protein snack during the afternoon with some whole grain chips or crackers.
Healthy pairings:
Sliced radish or carrot sticks

Whole grain tortilla chips or rice chips

Whole grain bread or roll