This dish proves that eating healthy doesn't have to be difficult. And that you don't have to spend all day meal prepping either. All you need is fresh greens tossed with healthy fats and served with sustainably-caught salmon - with a tangy dressing that brings it all together. Enjoy this light and vibrant dish for a quick dinner or meal prep for lunch throughout the week. Works great on any keto, paleo, or clean diet.
How to Make This Recipe
For this recipe, you're going to need the following:
Turkey bacon

Butter lettuce

Avocado

Cherry tomatoes

Shallot

Lemon

Dijon mustard

Olive Oil

Salt and Pepper
Start with the dressing. The dressing is truly the shining star in this dish and requires only minimal prep.
Mince shallot
Zest and juice lemon
In a small bowl whisk lemon juice, lemon zest, shallot, and Dijon mustard until blended. Slowly add in olive oil, continuing to whisk until well blended. Season with a generous pinch of salt and a dash of pepper to taste.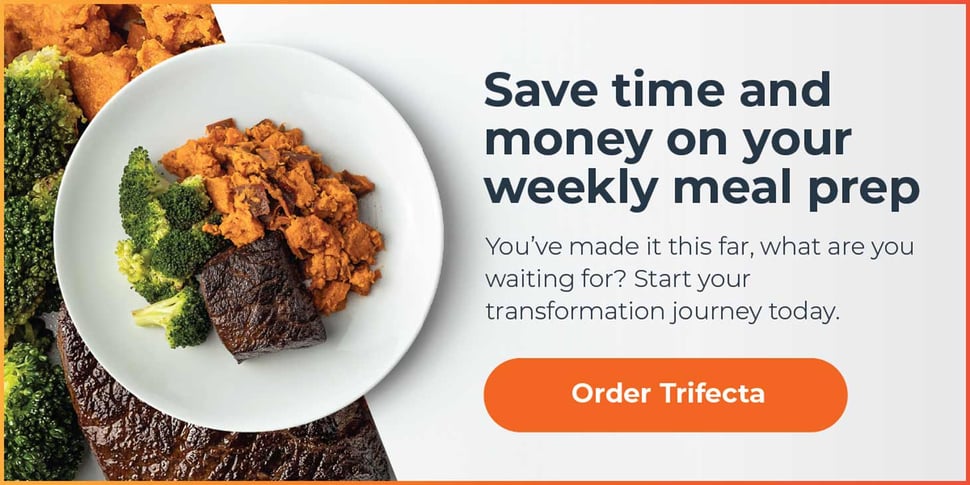 Tip: If the dressing is too tangy for your taste, add a small amount of honey or sugar (about 1/2 to 1 teaspoon) to balance out the acidity.
Set the dressing aside or portion it out into small to-go containers for meal prep.
Next, prep your salad ingredients:
Wash and chop

lettuce and tomatoes
Peel and cube avocado
Cook bacon in a skillet or oven to desired crispness (let cool before chopping into bite-sized pieces)
End with cooking the salmon. Add a small amount of oil to a hot pan and sear the Trifecta salmon for a couple of minutes on each side - just enough to brown it. Don't worry about cooking it through, since it is already cooked and ready to eat. Cooking it too long will dry it out and cause it to break apart.
Toss salad with dressing and top with hot salmon. Finish with salt for extra flavor.
If using it for meal prep, wait to cook the salmon until serving (or enjoy cold). And keep dressing separate until you're ready to eat!
Each portion has 30 grams of protein, over 5 grams of fiber, and only 7 grams of net carbs.
Tip: If you're looking for more carbs in this dish, add some roasted sweet potato cubes to your salad!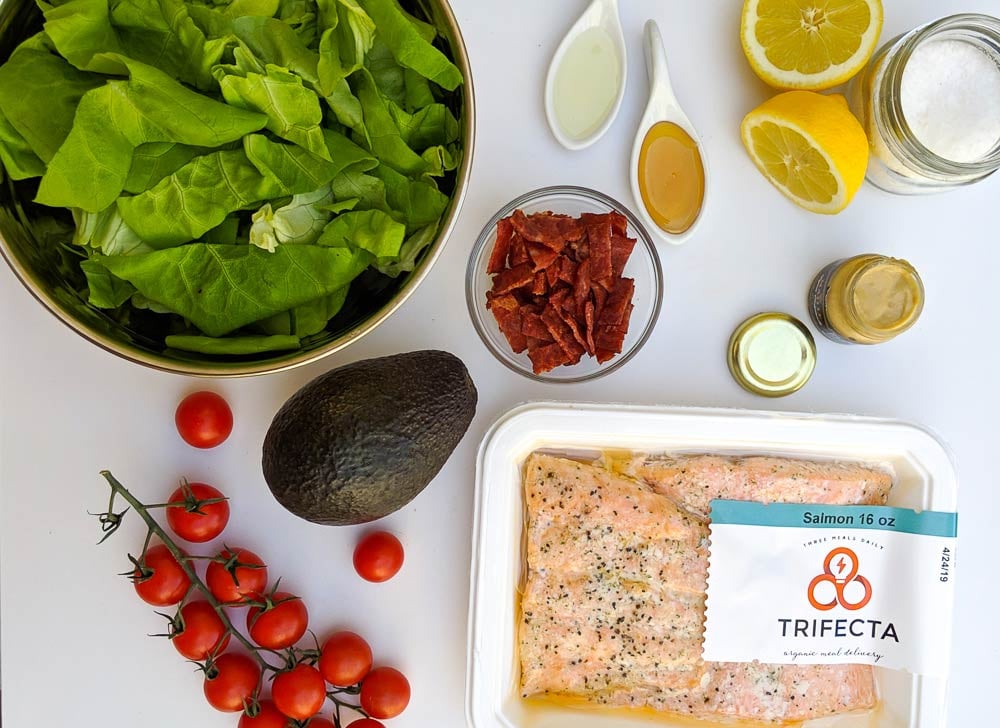 Want to make this in less than 10 minutes? Cut out all the salmon and rice prep time, with Trifecta a la carte proteins.
Pssst... this recipe also works amazing with our Trifecta chicken or steak!
Serve this With

Because this meal is somewhat light fare, you can easily pair it with other healthy foods and not blow up your daily calories. Or enjoy as is with a calorie-free drink.
Healthy pairings:
Add roasted sweet potatoes for more carbs or serve with some baked sweet potato fries.

Low carb desserts like this pumpkin chia pudding