For those days you really want something sweet but would prefer not to spend an hour in the kitchen making cookies, this is the perfect recipe! This vegan chocolate chip mug cake recipe includes everything you've come to know and love about chocolate chip cookies, minus all the processed foods and added sugars.

How to Make a Healthy Mug Cake
If you haven't made a microwave mug cake yet, you've been missing out!
This incredibly easy and versatile dessert will satisfy your sweet tooth and boost your nutrition if prepared with quality ingredients. Microwave mug cakes are not as good as real cake, but they take less than a fifth of the time to prepare and 'bake'.
You can make a moist and flavorful mug cake in less than 5 minutes without having an oven or making a mess in the kitchen.
Mug cakes typically contain the following ingredients:
Flour (all-purpose flour, whole-wheat flour, self-rising, oat flour, almond flour, coconut flour, etc.)
Baking powder or baking soda
Sugar or sweetener (honey, maple, agave, etc.)
Oil (coconut oil, canola oil, olive oil)
Egg or egg alternative
Dairy or Dairy alternative
Other flavorings or mix-ins (cocoa powder, vanilla extract, sprinkles, chocolate chips, nuts, etc.)
You probably have most of these in your kitchen right now, which is why this recipe makes a great sweet treat or dessert.
This vegan chocolate chip mug cake uses most of the normal ingredients for preparing a microwave mug cake, except we substitute all-purpose flour for protein powder instead!

6 Tips for Making the Best Mug Cake
Once you make one mug cake recipe, you can feel comfortable experimenting with other flavor combinations and adding in different ingredients!
No matter what recipe you are following or if you've begun crafting your own mug cake creations here are a few basic tips to follow:
Use various containers: You'll end up with different results depending on what container you choose to microwave your mug cake in. A classic coffee cup is a great go-to, but you can also use ramekins, paper cups, or anything that is microwave safe. Be careful using larger containers, as sometimes the edges will get too dry while the center remains uncooked.
Try self-rising flour: Most mug cakes use small amounts of baking powder or baking soda to help the cake rise. Skip these and use self-rising flour instead for a consistent and fluffy mug cake.
Don't overfill your mug or container: Don't fill your mug cake container more than halfway, they rise a lot more than regular cakes when you microwave them!
Always cook for less time than more: There is nothing worse than a dry, crumbly mug cake that leaves you craving a glass of water to help wash it down. You can always microwave the cake for a few more seconds, but there's no going back once you deplete it of all its moisture from overcooking.
Try mix-ins and different flavors: this recipe has a classic chocolate chip cookie flavor, but you can use a variety of ingredients to prepare a customized mug cake. Try using cocoa powder, sprinkles, M&Ms, and more to flavor your mug cake.
Eat immediately: microwave mug cakes are best eaten fresh while they are still warm.

How to Prepare Your Chocolate Chip Mug Cake
Prep Time: 2 minutes
Cook Time: 2 minutes
Servings: 1
Ingredients
1/2 tablespoon coconut oil, melted
1/2 teaspoon vanilla extract
1 tablespoon honey
1/4 cup protein powder
1 tablespoon almond flour or coconut flour
1 tablespoon arrowroot starch
2 tablespoons almond milk
1/4 teaspoon baking powder
2 tablespoons chocolate chips
Kitchen Tools
Measuring cups and spoons
Small mug or container to microwave
Spatula
Step 1: Measure your ingredients
Measure all of your ingredients and gather any additional add-ins you would like to include in your mug cake recipe.
It's best to use vanilla-flavored protein powder for a more flavorful mug cake.
You can use whatever protein powder you'd like but be aware that the protein powder manufacturing process is not closely regulated.
We suggest using a whey protein powder or plant-based protein powder made by a company that undergoes third-party testing for safety and quality control.
Pro tip: look for a third-party tested seal of approval on your protein powder to help ensure the quality and safety of ingredients!

Step 2: Mix ingredients and Microwave
Mix ingredients together in a small bowl using a whisk or spatula until a smooth batter forms.
Coat your microwave-safe container with a small amount of coconut oil or cooking spray before transferring the batter to the container. Add any additional toppings or mix-ins.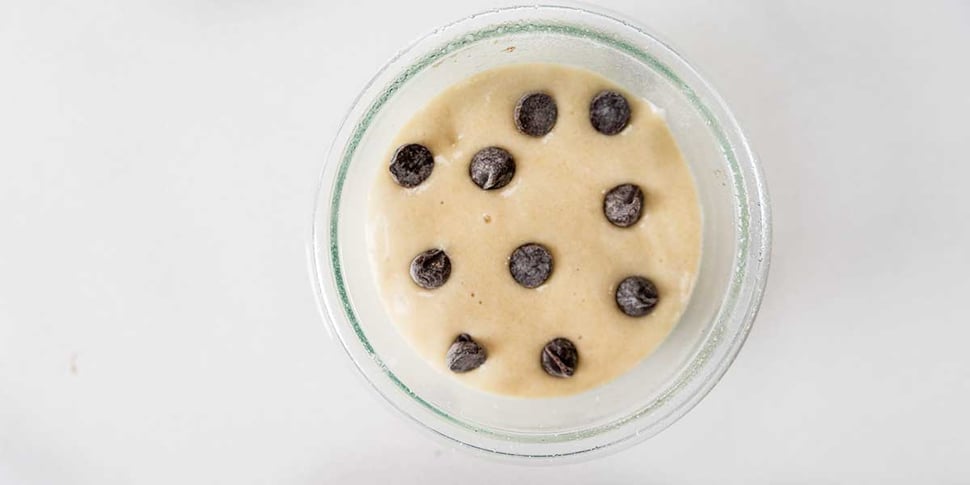 Bake in the microwave for 1 minute and 15 seconds until done! Then enjoy!

Vegan Meal Prep Resources
Following a vegan diet has its challenges, so we've put together plenty of resources to support you in your wellness journey:
---
This recipe makes for the perfect snack or dessert when paired with our vegan meal plan!