Let's be real, we all deserve some sweet snacks and often forget about accounting for a snack or dessert during our weekly meal prep.
Until now... You'll never forget again after making this cookie dough protein bar recipe. This vegan-friendly and clean eating recipe packs 13 grams of protein per bar and can be whipped up in less than 10 minutes. Better yet, make a double batch and freeze half for later!

How to Plan Healthy Snacks for Meal Prep
When first starting to meal prep, we often get caught up in thinking about our main meals for the day and forget about the snacks and sweet in-between.
It's reasonable to spend more time planning out your breakfasts, lunch, and dinner but having nutritious snacks for a mid-morning or mid-afternoon energy boost is a healthy part of a balanced diet!
Everyone is going to have a different meal plan, meal timing, and health goals, and adding in nutrient dense snacks is an easy way to help you hit your macros and sustain energy throughout your day.
These homemade cookie dough protein bars are a great way to increase your protein intake and satisfy your sweet tooth.
With a few simple ingredients, you can mimic the taste and texture of raw cookie dough without having to worry about eating raw eggs.
As well, this recipe is naturally sweetened with dates and a little touch of maple syrup, making it is gluten-free and vegan!
If you're not sure how much you should be eating per day, calculate your nutrition needs below.
How to Make Cookie Dough Protein Bars
Prep Time: 10 minutes
Cook Time: 0
Servings: 16 bars

Ingredients
For the base of the bar:
3/4 cup Almond Flour (Bob's Red Mill recommended)

9 oz protein powder (Use a plant-based option to make these vegan)
1/4 cup oats
8 dates, pitted

Dash of salt

1/4 cup smooth nut butter

1/4 cup maple syrup
1/4 cup almond milk
Dash of vanilla extract
For the topping:
1/2 cup of semi sweet chocolate chips
1/4 cup almond milk
1 teaspoon coconut oil
Kitchen Tools
Sheet pan, preferably a 1/4 sheet pan (pictured below)
Food Processor
2 Medium stainless bowls
Sauce pan
Spatula or wooden spoon
Refrigerator
Cutting board
Serrated knife
Step 1 : Make Your Cookie Dough Base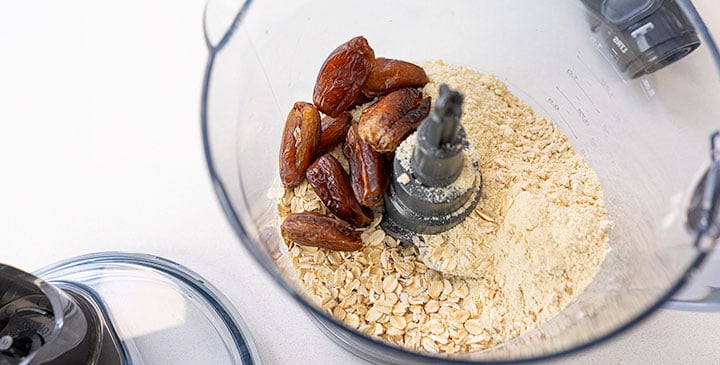 In the base of a food processor combine the oats, protein powder, almond flour and dates, blend 1-2 minutes until combined thoroughly.
The add all of the other ingredients, and pulse until the dough forms.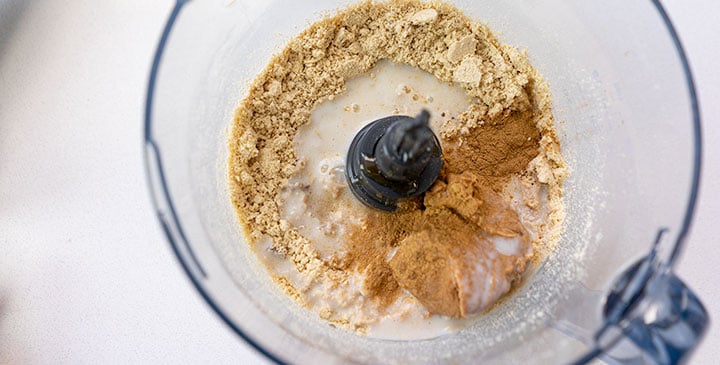 Line a sheet tray with parchment paper and spray oil with oil to create a non-stick surface. Transfer the almond butter-protein 'dough' to the bottom of the sheet pan. Spread out evenly to make an even layer bar. If desired, add an extra 1/2 cup of chocolate chips to the dough mix. However, this would increase the carb count.
You can also fold in ingredients like dried fruit or crush toasted nuts.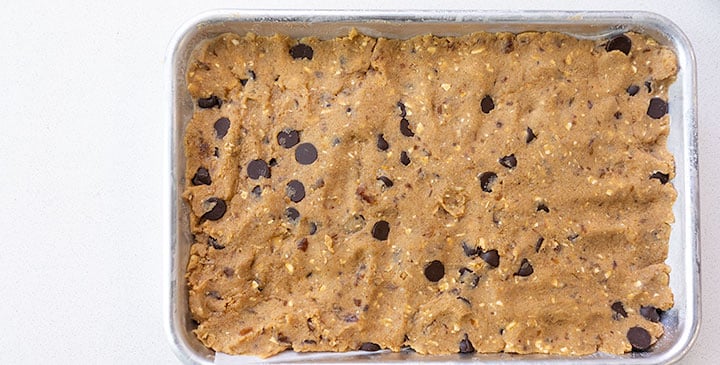 Step 2: Temper the Chocolate Topping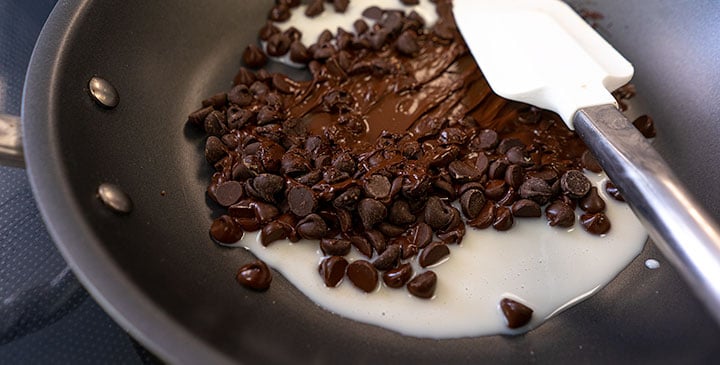 In a small non-stick sauce pan heat the chocolate chips with 2 tablespoons of almond milk or milk of choice, and the coconut oil.
Remove from heat and spread evenly on top of the cookie dough base.
Step 3: Make the 'Mother' Protein Bar & Refrigerate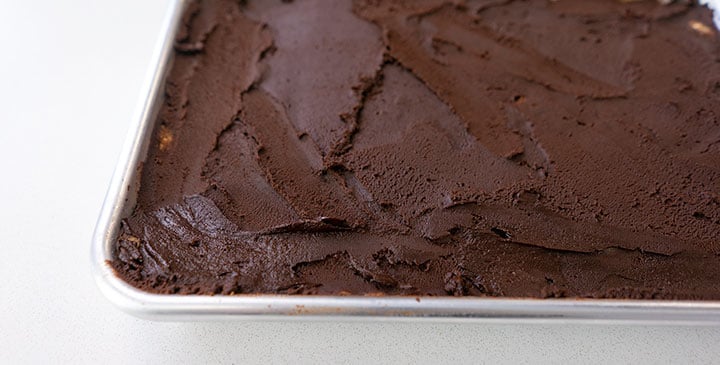 Refrigerate the protein bar in the refrigerator for 10 minutes, or until the chocolate has set completely.
Step 4: Remove 'Mother' Bar from Pan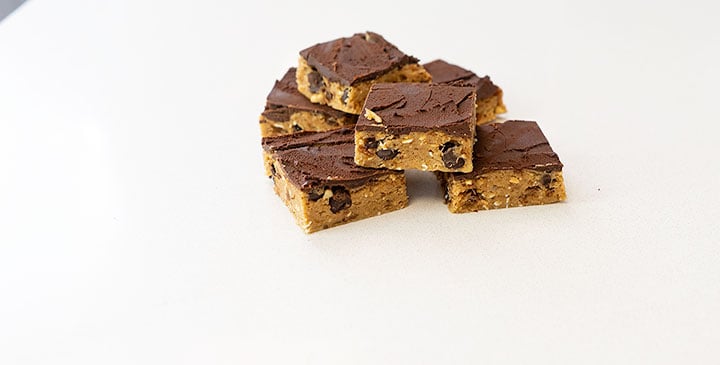 To remove protein bar from the pan, carefully separate the protein bar from the mold by cutting around the edges of the pan, making sure all sides are completely detached.
In one swift movement, turn the mold upside down, carefully knocking the pan against the cutting board. This should help the protein bar fall from the pan into the board. If it doesn't, push the bottom of the pan, gently knocking the pan again. Ideally, the bar should come out in one piece.
Cut into 16 even squares and enjoy.
Storing No-Bake Protein Bars
Store your bars in the fridge for a easy grab and go snack or freeze them for later.
---
Too Busy? We Got You!
Made this recipe but need the rest of your meal prep done, we have got you covered!
Use our Trifecta Meal Plans to conquer your meal prep without spending hours in the kitchen! Take your wellness to the next level with Trifecta.