The weekends are a time to recover from a long week of hard training and busy schedules. But how often are your weekends going a little "too" overboard? Staying on track is as simple as having some balanced and healthy recipes in your back pocket to prepare a killer brunch spread at home. We have put together some of our favorite go-to brunch recipes that are quick to prepare and full of feel-good food.
Going out Friday night and turning that into a Saturday brunch filled with bloody mary's and mimosas? Yeah, we know it's tempting. Sometimes those social events just call your name after a tough week of hard work and discipline. Just the brunch part of the equation can easily end up costing you about 1,000 calories WITHOUT the alcohol.
So skip the lines at the local boozy brunch spot and host a brunch at your place for a change! This way you can keep your calories in check by knowing what you are consuming while still having a great time with family and friends!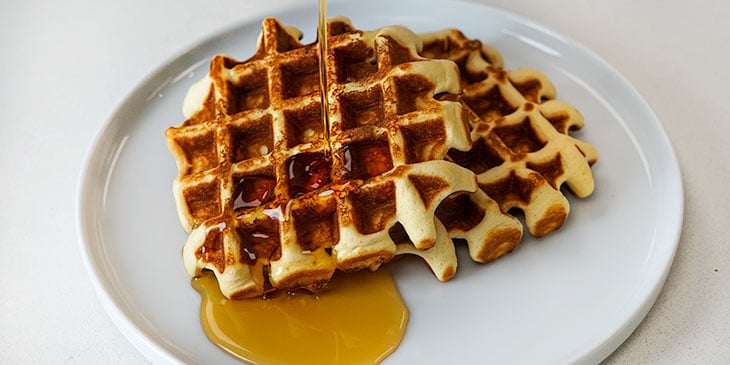 Needless to say, there are pancake people and then there are waffle people. It's hard to deny that both have their own appeal, pancakes can be fluffy, airy and uniquely stackable while waffles tend to have a crisper edge, thicker appearance and stuff-able quality.
This simple high protein waffle recipe is prepared with 7 ingredients and is a great recipe because it can be prepared in less than 15 minutes from start to finish. It can also be made into a vegan friendly version as well!
This recipe will help you crush your macros as each waffle packs 18 grams of protein. Pair it with some fresh fruit and scrambled eggs for a bomb brunch meal.
Nutrition per waffle: 180 calories; 5g Fat; 18g Carbs; 18g Protein.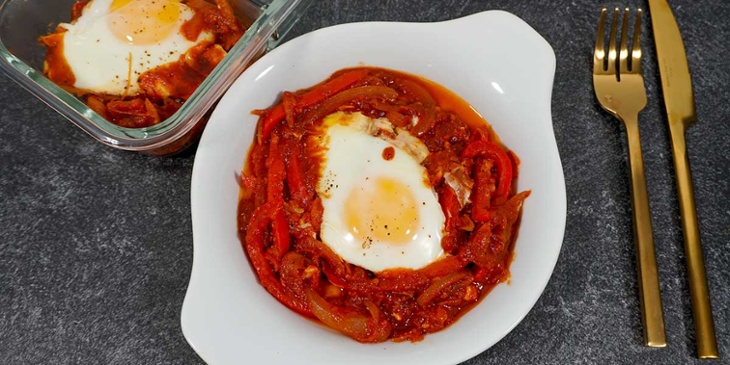 Shakshuka means 'all mixed together', and it pays tribute to the North African immigrants who introduced this dish to Israel.
There is a lot of debate around the origins of this savory roasted pepper and egg dish, but no matter the backstory you'll love this middle eastern style 'huevos rancheros' (and yes, there are many different versions of it throughout the world!).
Nutrition per serving: 140 calories; 9g Protein; 9g Carbs, 8g Fat.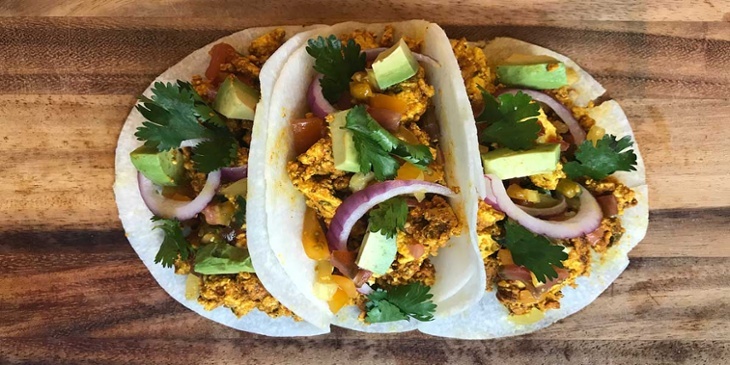 The beauty of a taco is its endless variety of flavor combinations and, this recipe utilizes a low-carb shell allowing for more versatility and variety in your filling without worrying about ingesting a high-carb brunch.
Although this breakfast taco recipe is prepared with a vegan tofu scramble filling, you can easily substitute it with some scrambled eggs.
Top these with a tasty pineapple papaya salsa or prepare a breakfast burrito instead.
Use this recipe as a foundation for future meal prep ideas and create your own signature taco recipe.
Nutrition per 2 tofu scramble tacos: 210 Calories; 9g Fat; 16g Carbs; 17g Protein.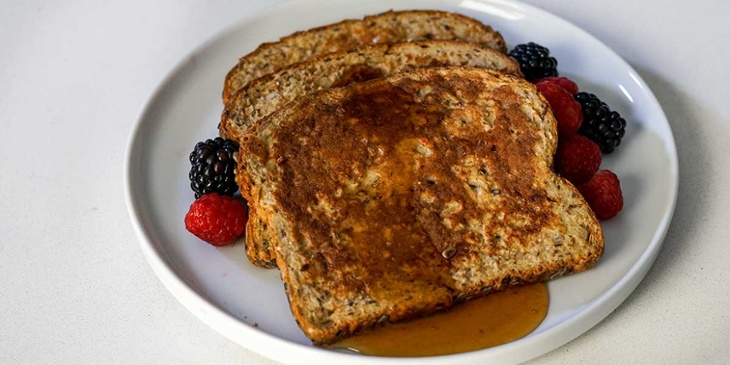 This high-protein french toast recipe is deceivingly flavorful and packed with 32 grams of protein per serving.
This recipe includes some healthy swaps and tips to prepare a healthier version of french toast that is sure to be the star of the show if part of your killer brunch spread.
Have some fun with the batter and incorporate a variety of spices such as: pumpkin spice, cinnamon, nutmeg, allspice, cardamom, and ginger.
Most french toast includes eggs and milk, so we created a vegan-friendly high-protein french toast recipe as well!
Nutrition per 2 slices: 370 Calories; 17g Fat; 49g Carbs; 32g Protein.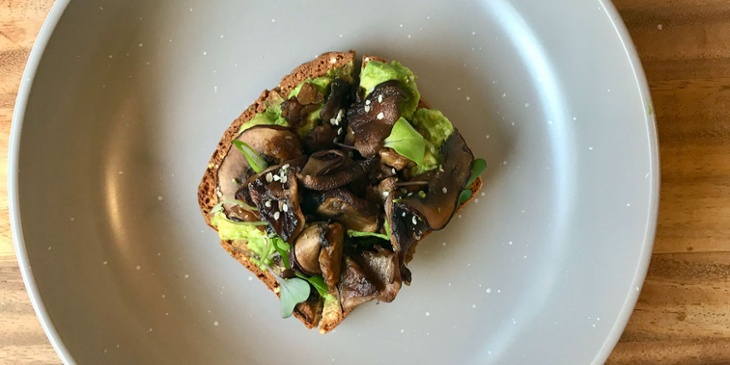 There are 3 key components to building the perfect avocado toast: the avocado, the toast, and the fixings.
We give you the down-low on building the perfect avocado toast in this vegan inspired version of a classic healthy brunch option.
There really are endless ways to prepare avocado toast, get creative with your toppings. Here are some of our favorites to add some flair to your avocado and bread:
Bump up the protein by topping your toast with an egg! Hardboiled, softboiled, poached, or even scrambled eggs are a great addition to any avocado toast.
Nutrition Per 1 Slice of Mushroom Avocado Toast: 220 Calories; 9g Fat; 29.5g Carbs; 10.5g Protein.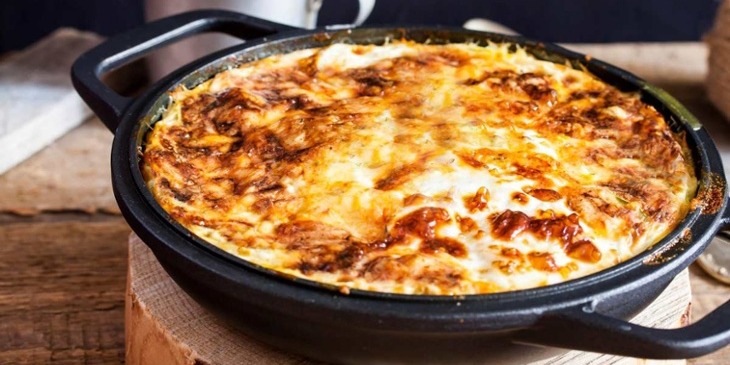 Part giant egg bite, part frittata, breakfast casseroles provide an amazing well-rounded dish that can be packed with pretty much anything.
They are a great brunch option to spruce up any leftover ingredients from the week and bonus points if you have a beautiful baking dish to present it in.
This slightly smokey, turkey sausage and sweet potato breakfast casserole recipe is a hearty brunch favorite or try out a paleo breakfast sausage casserole.
Swap out some plant-based beyond meat in any of the recipes above for a vegetarian friendly version packed with protein.
Nutrition Per Serving of Turkey Breakfast Casserole: 220 Calories; 16g Fat; 21g Carbs; 23g Protein.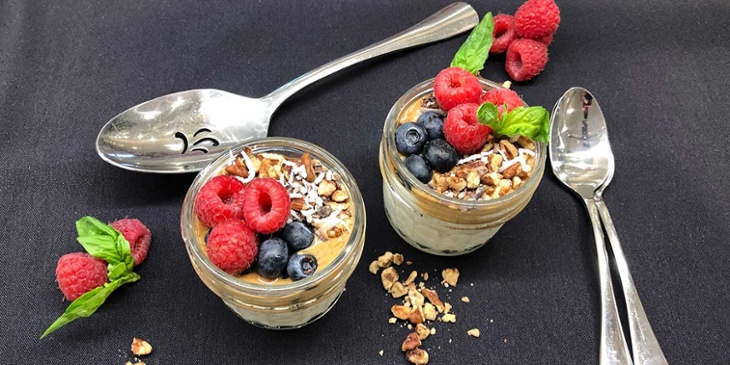 Packed with protein yogurt parfaits are the perfect way to include a sweet treat in any brunch spread! They also make great meal prep as they can be prepared ahead of time for an easy high protein breakfast option or enjoyed as a dessert perfect for overnight muscle recovery.
Make a parfait for any lifestyle:
Nutrition per serving of High Protein Greek Yogurt Parfait: Calories 383; Fat 12g; Carbs 36g; Protein 32g.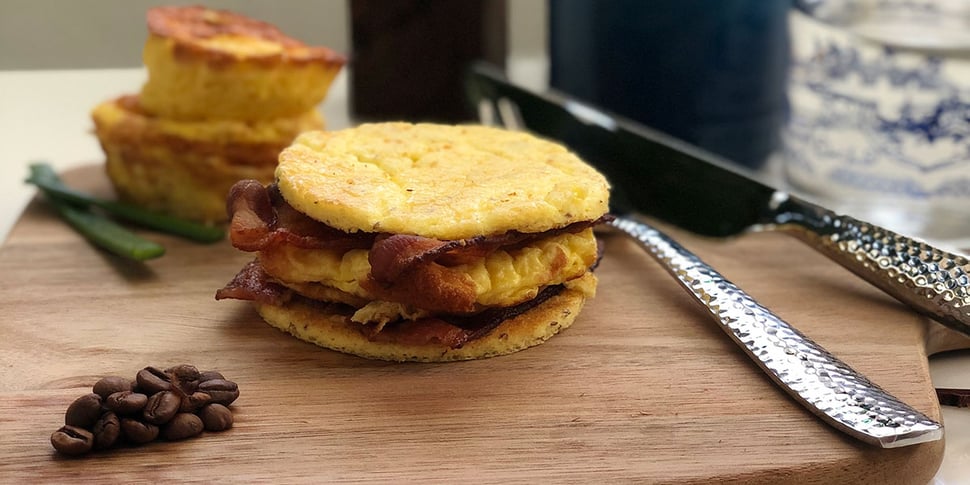 This recipe utilizes fluffy egg white cloud 'bread' for the buns, reducing the total amount of carbs drastically! Use this blueprint to make a keto sandwich, but feel free to adjust it to your personal liking and to what you find in your fridge.
If you have an item you can substitute for another, go for it. If you'd like to add mixed greens, be my guest. If you want to take away the bacon, sure thing, swap it for sausage or roasted veggies for a plant-based breakfast sammie.
There are endless possibilities when it comes to constructing the perfect breakfast sandwich. And since this is brunch you can step outside the realm of classic 'breakfast foods' and try out some other tasty sandwich options:
Nutrition Per Grilled Pesto Chicken Sandwich: Calories 304; Fat 10.5g; Carbs 24.5g; Protein 28g.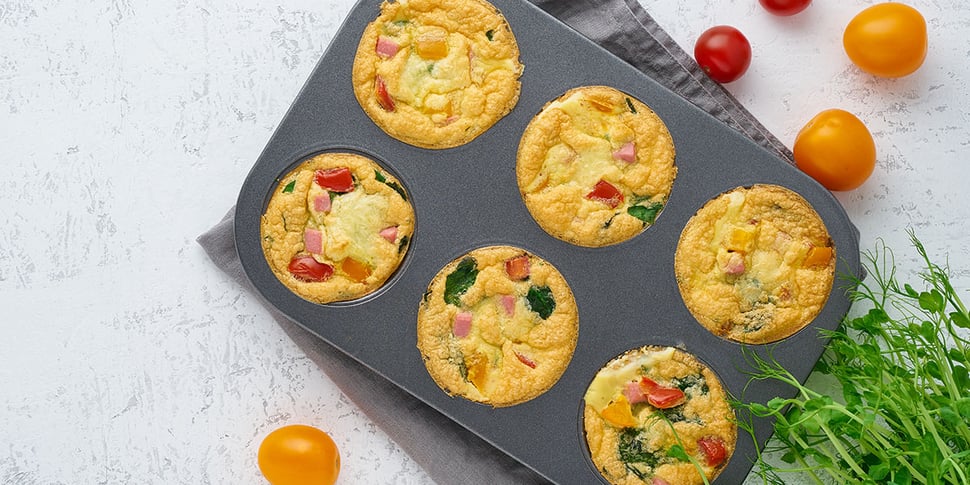 Looking for a lean, veggie packed egg white recipe that tastes as rich as its full-fat variety? Look no further! Put down the rubbery, dried out egg white frittatas from the past and latch on to this rich, creamy breakfast that packs a ton of protein and nutrition to keep you going.
Frittatas are a classic Italian egg-based dish similar to a crustless quiche, and typically include a variety of other ingredients such as meat, vegetables, and cheese. If you're preparing brunch in a pinch, these are a great go-to recipe as you can always toss in a variety of left-overs you may have laying around the kitchen.
Frittatas do well when paired with a flavorful sauce too! Top it with a farmers market salad full of fresh greens and green goddess dressing, or drizzle some delicious herb pesto to finish it off.
Here are some of our favorite frittata flavor combos sure to impress at an brunch:
Nutrition per serving of Egg White Frittata: Calories 140; Fat 3g; Carbs 5g; Protein 23g.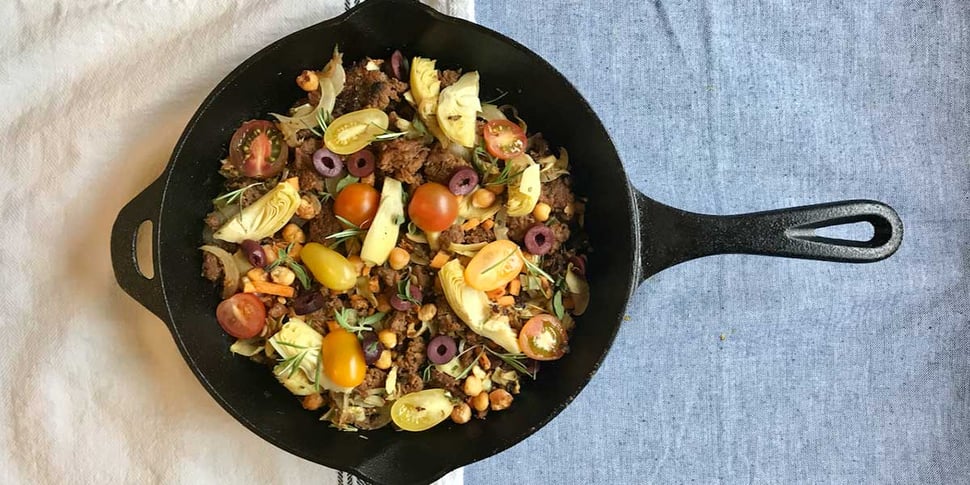 Utilizing a cast-iron pan to prepare this breakfast skillet helps crisp the small diced sweet potatoes and chickpeas while browning the Beyond Meat® and artichokes. Although we used a plant-based meat alternative, you can substitute out any meat you'd like and top it off with poached eggs or scrambled eggs on the side.
Try it with:
Nutrition per serving of beyond meat breakfast skillet: Calories 360; Fat 18g; Carbs 28g; Protein 22g.
---
Too Busy? We Got You!
Save time with your brunch meal prep by utilizing Trifecta a La Carte Ingredients!
Just pick and choose your favorite proteins, grains, and veggies, using Trifecta pre-cooked meal prep ingredients. Add a variety of vegetables, protein, and flavor to your meal prep using quality ingredients and conquer your health goals.