Sandwiches don't have to be boring or unhealthy - they are, after all, the original meal prep lunch option! And perhaps the perfect solution if you don't have any cooking skills. Keep it simple and macro-friendly with this loaded vegan veggie sandwich that you'll never get bored of. The hearty whole-grain bread and creamy hummus bring 20 grams of protein, and the piled-high roasted veggies provide flavor and tons of nutrition - one sandwich has more than 100% of your daily value for vitamins A and C!
Put this recipe to good use with this free meal prep toolkit for vegan diets. This RD-written guide is complete with custom vegan macros, food lists, and menu planning templates to keep your diet on track and help you achieve your health and fitness goals!
How to Make This Recipe
In case you've been living under a rock, or perhaps you've just never made a sandwich until now, either way, don't sweat we've got you covered! Here's how to make this bad boy extra amazing.
For this recipe, you're going to need the following:
Whole grain bread

Hummus

Roasted red peppers

Shredded carrots
Wait! Don't just slap it all together. The best sandwiches are made with love and intention. Be sure to toast that bread and get it ready for toppings.

Tip: Swap out bread for any whole grain wrap or flatbread. Or be extra fancy and make it an open-faced sandwich.
Now that you've got some suitable bread to work with, lather on that hummus nice and tick - put it on both sides, this is the glue that holds it all together. Feel free to get crazy with the hummus too and try different flavors like roasted red pepper, garlic cumin, spicy sriracha, etc.
Then proceed to cram as many veggies as you can fit onto one slice of bread; just kidding, you don't want to overdo it, as it won't hold together well. Instead, use your fine-tuned Tetris-like skills and purposefully layer the red pepper, mushroom, and zucchini. Then finish with a small handful of shredded carrots for crunch.
Okay, now go ahead and eat it... after you've Instagram-ed your hard work of course. Don't forget to tag @trifectasystem!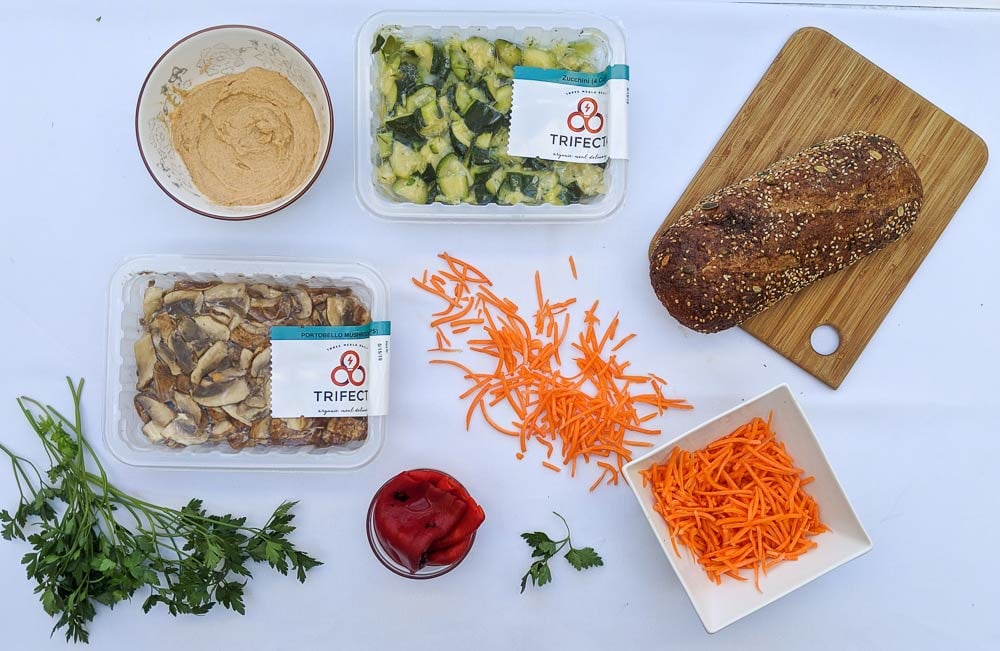 Use this dish and my other high-protein vegan recipes, in your weekly vegan meal prep!
Serve this With

Nothing but a cold and refreshing calorie-free drink because this sandwich is perfect. Or perhaps with one of the following healthy pairings: