This high-protein vegan french toast recipe packs 22 grams of protein per serving and is sure to start your day off right. This sweet vegan breakfast is prepared with high-protein bread and an aquafaba-based vegan batter, then topped with sugar-free syrup to create a staple breakfast winner!

About this recipe
This recipe is a vegan-version of our classic high-protein french toast recipe. They are very similar in the fact that each recipe includes the two key parts to preparing the perfect french toast: the bread and the custard-like batter. The difference? Read below to find out!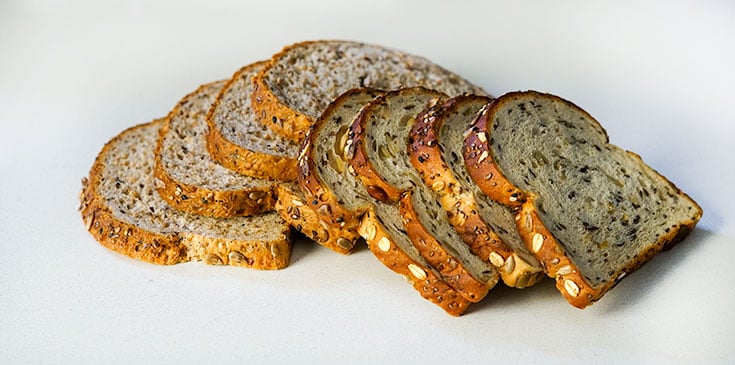 The kind of bread you use will make or break a french toast recipe. Instead of brioche or challah sliced bread, make a swap and use protein-bread slices instead. Whatever kind of protein bread you choose, look for ones that are cut into thick slices and contain a minimum of 9 grams of protein per serving, ensuring you'll get at least 18 grams of protein alone from just the bread.
Protein breads can be prepared with a variety of grains and seeds such as quinoa, oats, rye, and flax.
The second part of most french toast recipes is preparing the batter; to prepare this healthy vegan french toast recipe we skip the dairy and sugar and transformed this into a healthier breakfast option by using a dairy free-milk, maple syrup, and unique ingredient called aquafaba.
Aqua...what?
Aquafaba is the leftover liquid from straining a can of chickpeas or white-navy beans; it makes an amazing binder and when whipped with a whisk forms a foam that resembles whipped egg whites.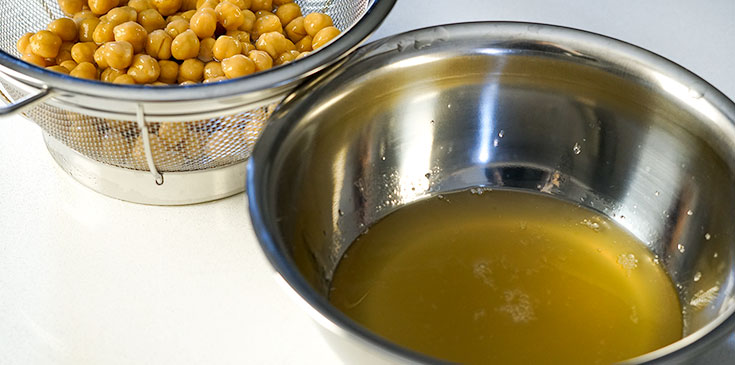 Whipping the aquafaba traps air, and using this as a base for our french toast batter it provides more structure and prevents us from getting soggy toast. This trick ensures that this vegan breakfast recipe is superior to any regular french toast recipe.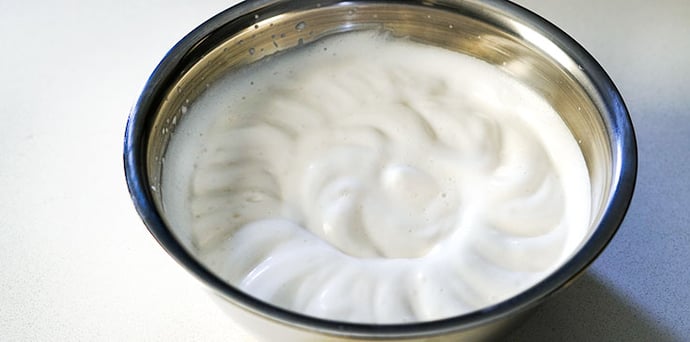 Set aside some of your whipped aquafaba to mix with a touch of sweetener for a tasty whipped cream topping.

How to Prepare Your High-Protein Vegan French Toast Recipe
Prep time: 7 minutes
Cook time: 15 minutes
Servings: 3 (2 slices of toast per serving)
Ingredients
6 Slices high protein bread like P28 protein bread
1 Cup aquafaba, drained from 1 can of chickpeas
½ Cup dairy-free milk (coconut milk, soy milk, or almond milk)
1 Tablespoon vanilla extract
2 Tablespoons maple syrup
4 Tablespoons almond butter powder or peanut butter powder
1 Teaspoon Ginger
1 Teaspoon Cinnamon
Kitchen Tools
Step 1: Prepare Your Batter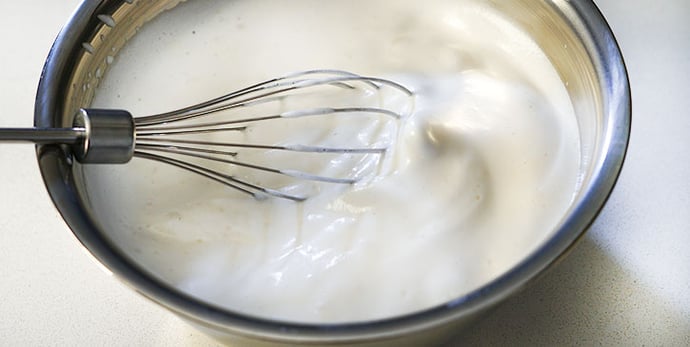 In a medium-sized bowl, whip your aquafaba and maple syrup into a medium-stiff foam; this may take 4-5 minutes or longer if you are whipping by hand. We recommend using an electric mixer to speed things up, we used our Breville All-In-One mixer.
Gently fold in the spices, almond butter powder, vanilla extract, and dairy-free milk to make the batter.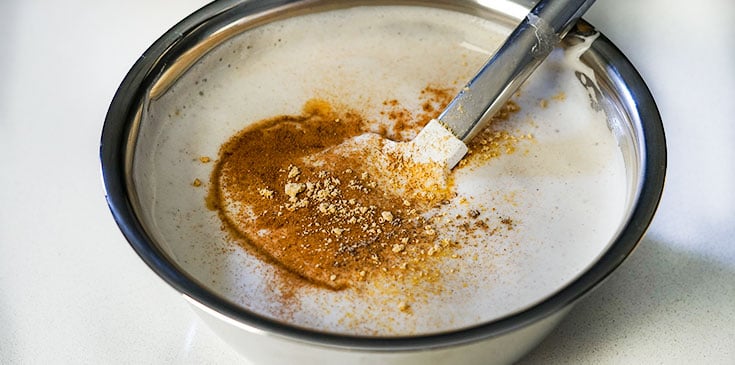 This recipe includes almond butter powder in the batter as this helps the batter coat the bread more evenly and also adds extra protein and flavor. We also opted for some simple spices but feel free to get creative with different spices in the batter and your french toast toppings!
Some of our favorite ideas for various spices to include in the batter:
Pumpkin Spice (pumpkin spice french toast, yes please)
Cinnamon (pair with sautéed apples for cinnamon & apple french toast)
Nutmeg
Allspice
Cardamom (try out a chai spiced french toast)
Ginger
Step 2: Set up Your French Toast Station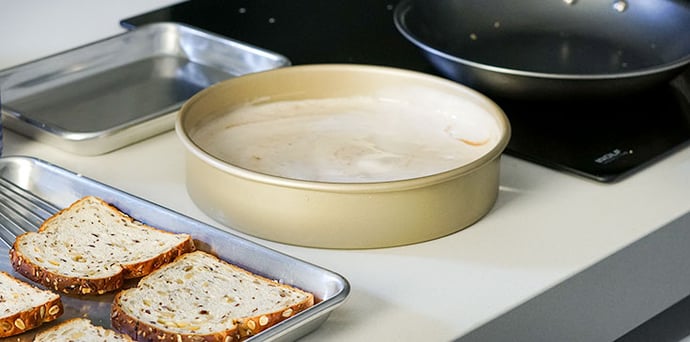 To make this recipe quick and easy, set yourself up with a baking sheet, a shallow dish of batter, and a non-stick skillet. Additionally, you will need a spatula and some non-stick spray.
Step 3: Dip and Cook
Heat the skillet over medium heat, while it is heating, dip the bread into the batter on both sides and soak for at least 1 minute, ensuring it is heavily saturated with the batter.
For an extra crunch sprinkle the bread with granola or crushed seed mixture before cooking in the skillet.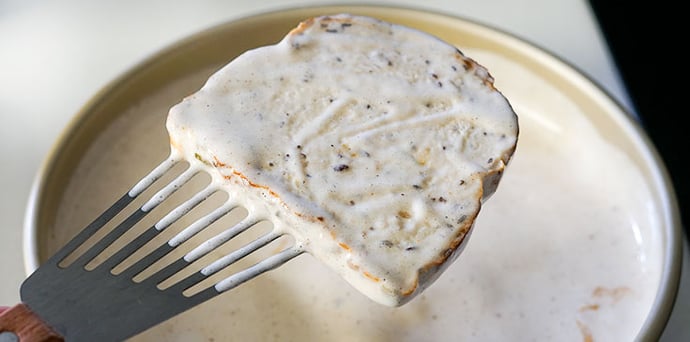 Spray your non-stick pan with cooking spray and place in the toast, you should hear a gentle sizzle sound; maintain a medium heat throughout the cooking time to ensure your french toast doesn't burn.
Flip the toast when one side is lightly browned and crispy, about 2-3 minutes per side. Then remove from the skillet once each side is golden brown. Keep in mind the whipped aquafaba may loosen when the french toast is being cooked; this is normal.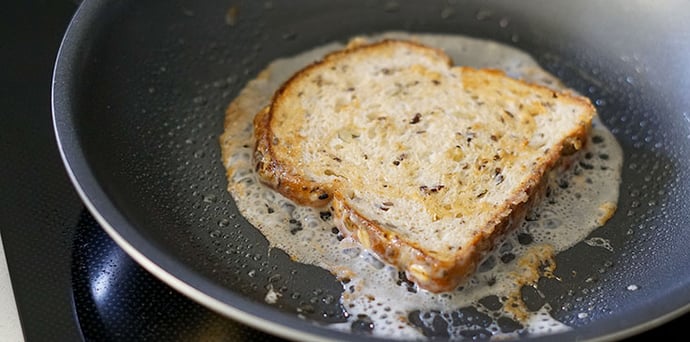 Remove the toast from heat when both sides are ready. Top with sugar-free syrup and cinnamon! Enjoy 2 slices of high-protein french toast per serving.
Serving, Storing, and Reheating
Make this french toast as a part of your weekly meal prep and pair it with:
Store for up to 5 days in the fridge and reheat using a microwave oven. Serve with fresh fruit or granola.
---
Want to load up on more amazing plant-based recipes like this? Become a vegan meal prep pro with this free meal prep toolkit. A step-by-step guide that includes meal planning templates, plant-based whole food lists, and RD advice for a healthy vegan lifestyle.