Enjoy this quick and creamy tahini ginger miso dressing perfect for topping bowls, salads, roasted vegetables, and other Asian-inspired dishes. This dressing is the perfect balance of tangy, sweet, and umami flavors.
What is Miso Dressing Made Of?
A traditional miso dressing is prepared with miso paste, rice vinegar, sesame, oil, and some kind of sweetener like honey. This classic combination produces a sweet, umami-rich sauce which can be surprising since miso on its own tends to taste salty and tangy!
Miso paste is made from fermenting soybeans with salt and koji, a natural mold cultivated from rice, barley, or soybeans. This fermented paste has an obscure origin story, it's considered a Japanese staple, but most historians will say it originated in ancient China and was brought to Japan around the 6th or 7th century.
No matter the birthplace of miso, it has been prized for thousands of years and is now prepared from a variety of ingredients other than soy including rice, barley, and even chickpeas!

Are There Health Benefits to Eating More Miso?
Nutritionally, miso is known for being a complete protein, meaning it contains all of the essential amino acids for human health and is a source of probiotic compounds. Eating a balanced, whole-food diet, that includes daily intake of probiotic foods such as miso and other fermented foods may promote a diverse gut microbiome, support immune function, and promote overall health (1).
Unfortunately, many of the other health benefit claims around miso paste are not scientifically backed. Although the paste may contain vitamins and minerals such as B vitamins, manganese, copper, and vitamin K, it's typically consumed in such small amounts you're likely getting fewer nutrients than you expect.
According to USDA and FDA nutrition label guidelines, miso is not a good source of any vitamin and mineral, besides sodium (2).
A simple way to use miso is to prepare a miso soup, but you can also use this paste as a base for a flavorful salad dressing or in marinades, gravy, vegetable dishes, and even other soup dishes as well.
When shopping for it in the grocery store, you may run across different types from white miso (Shiro miso) to red miso (aka miso) as there are many varieties of miso ranging in texture, flavor, and color. The darker colored miso tends to have a more robust, salty, funky, umami flavor than the lighter colors.

How to Prepare Your Creamy Ginger Miso Sauce Recipe
Prep Time: 5 minutes
Cook Time: 0 minutes
Servings: 1 cup
Ingredients:
1 teaspoon miso paste
3 tablespoons rice wine vinegar
4 tablespoons tahini
1 tablespoon coconut aminos
1 tablespoon ginger, fresh
2 cloves garlic
1 teaspoon sesame seeds
2 teaspoons maple syrup
2 tablespoons water
Kitchen Tools:
Measuring cups and spoons
Whisk
Microplane (grater)
Step 1: Gather and Measure Ingredients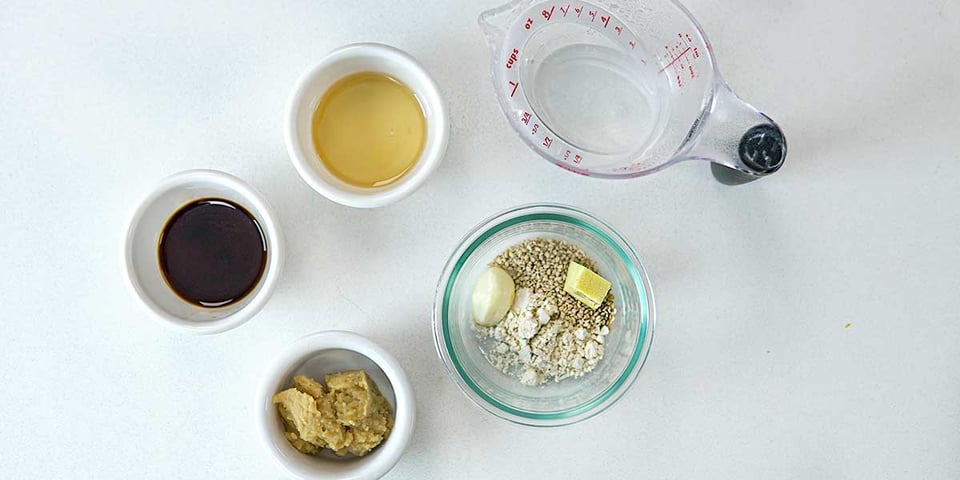 Gather and measure all of your ingredients for your creamy ginger miso dressing recipe.
If you don't have fresh ginger and garlic you can substitute 1 teaspoon of dried ground ginger and 1 teaspoon of dried and ground garlic, this will change the flavor slightly but that's ok! You'll still enjoy a sweet and umami-flavored dressing.
The same can be said for the coconut aminos, which we utilized to keep this ginger miso dressing gluten-free but you can substitute soy sauce if you aren't excluding gluten from your diet.
Step 2: Blend in a Blender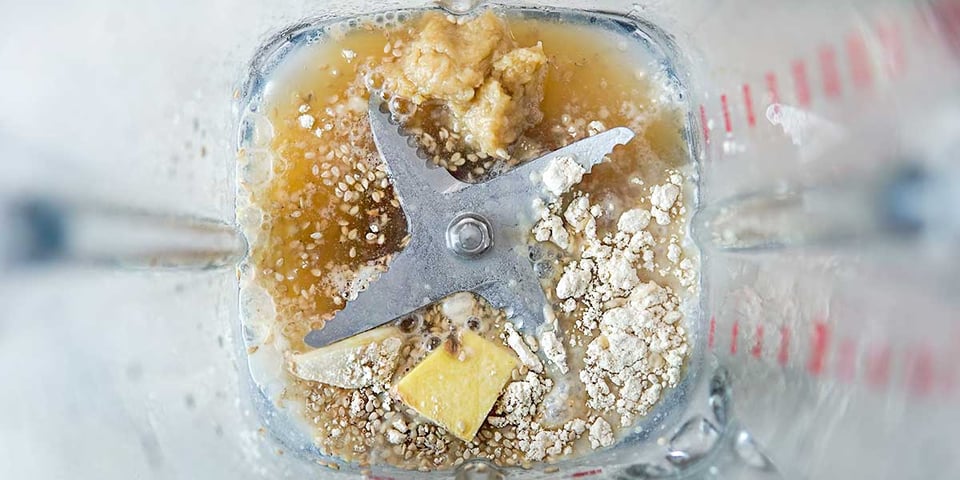 Blend all of your ingredients together in a blender until smooth, then transfer your creamy tahini ginger miso dressing to an air-tight container.
Storage and Serving
This miso dressing recipe will last up to 12 days in the fridge in an airtight container and pairs perfectly with all of our meal prep proteins and other a la carte items.
You can also drizzle it on top of a kale salad with salmon, build your own miso buddha bowl, or use it as a dressing on roasted carrots!
If you love this recipe, try out some of our other meal prep sauce recipes!
---
You've got the sauce, we'll supply your meals.
Start building your own budget-friendly meal prep using Trifecta pre-cooked meal prep ingredients. Just pick and choose your favorite proteins, grains, and veggies, season, and eat!