Enjoy this naturally sweetened teriyaki sauce prepared with pineapple and optional adaptogens from powdered reishi mushrooms! There's no added sugar, gluten, or hidden ingredients in this delicious tangy and sweet sauce. Perfect for stir-fry or to use as a glaze.
What is Teriyaki Sauce?
Authentic teriyaki sauce is a mixture of soy sauce, mirin (a sweet cooking sake), and sugar that is cooked down to make a sweet, tangy, and thick sauce.
Various other ingredients can be added to the sauce to enhance the flavor such as brown sugar, ginger, garlic, and if you like it spicy, red pepper flakes. In this recipe, we've reduced the amount of added sugar by utilizing naturally sweet ingredients such as pineapple and orange juice.
We've also included reishi mushroom powder, although if you don't have it on hand, feel free to omit it! The reishi mushroom power supplies extra fiber, amino acids, and polysaccharide phytonutrients that have potential anti-inflammatory and immunity-boosting effects (1).
Is Teriyaki Sauce Gluten-Free?
The base of most teriyaki sauce recipes will be soy sauce, mirin, and some kind of sweetener; but if you are gluten-free then you'll want to swap the soy sauce for a gluten-free-based seasoning such as tamari or coconut-aminos if you are soy-free as well.
Soy-sauce is a salty Chinese condiment made from fermented soy-beans and wheat, so it contains gluten.
Tamari is a gluten-free soy sauce alternative that is a by-product of miso-paste production hailing from Japanese cuisine. It typically has fewer ingredients than soy sauce, can be used interchangeably, and tends to have more of an umami, rich, and savory taste when cooked into foods or used in sauces.
How to Thicken Your Teriyaki Sauce
The typical way to thicken your homemade teriyaki sauce is by creating a cornstarch slurry or using a substantial amount of added sugar that thickens the sauce as it cooks down.
Although those are ok options, reducing the amount of sugar and starch in your sauce will benefit the overall nutrition and allow you to use more sauce without worrying about excess sugar or carbs. This means you won't have to think about calorie counting or macro counting and find peace with knowing your sauce is generally healthy!
This recipe is thickened by blending in fresh fruit and then cooking down the sauce, letting it naturally thicken by reducing it in volume.
Perfect Meal Prep Recipes to Pair with Teriyaki Sauce
Teriyaki sauce is one of the best sauces to have on hand when you want to prepare a tasty meal in a pinch. It can literally go on just about anything and will easily take your meal prep to the next level.
We used Trifecta meal prep ingredients to prepare these mouth-watering recipes to save time, but feel free to substitute in roasted chicken from the grocery store, any other grains or grain substitutes such as cauliflower or broccoli rice, and fresh veggies from the farmers market to make a healthy teriyaki bowl or any of the recipes below:
How to Prepare Your Gluten-Free Reishi Teriyaki Sauce
Prep Time: 5 minutes
Cook Time: 15 minutes
Servings: 2 cups
Ingredients:
1 cup fresh pineapple
1/2 cup tamari
2 teaspoons sesame oil
1/4 cup mirin
3 cloves fresh garlic
2 tablespoons ginger
1/2 cup coconut aminos
1 teaspoon orange zest
2 teaspoons reishi mushroom powder
Kitchen Tools:
blender
knife and cutting board
small saucepan
Step 1: Measure out and blend ingredients.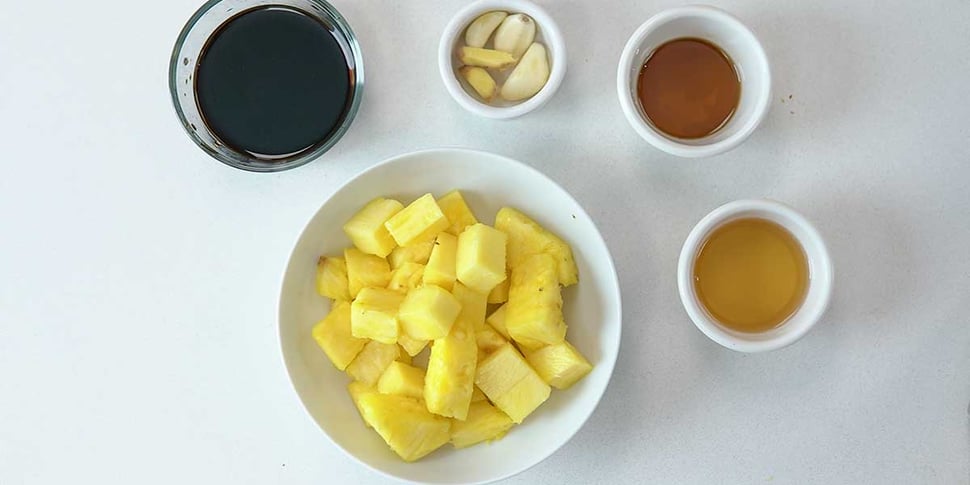 Gather and measure out all of the ingredients for your teriyaki sauce. Feel free to omit the reishi mushroom powder if you don't have it readily available, or you can substitute any functional mushroom powder blend you'd like!
Add all of the ingredients besides the coconut aminos to the blender and blend until smooth.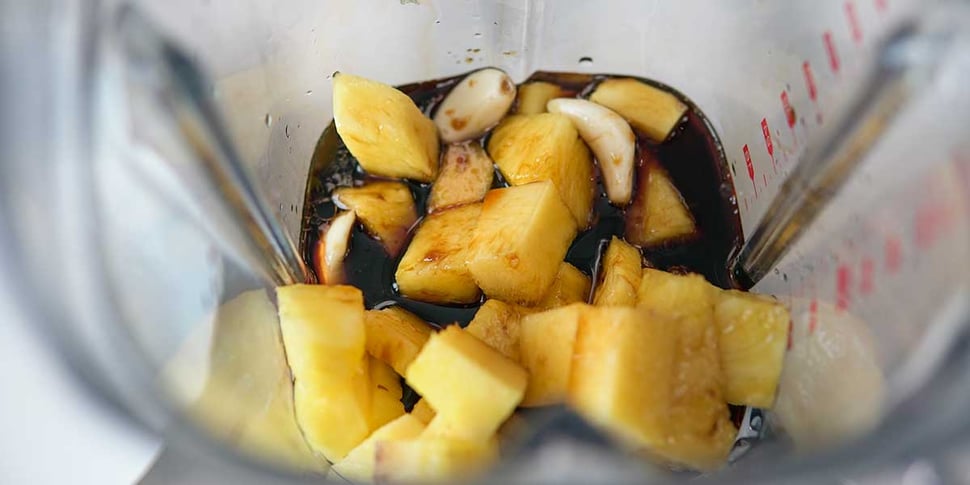 Step 2: Simmer until thickened.
Remove from the blender and place into a small saucepan. Add the coconut aminos then simmer for 10-15 minutes until slightly thickened.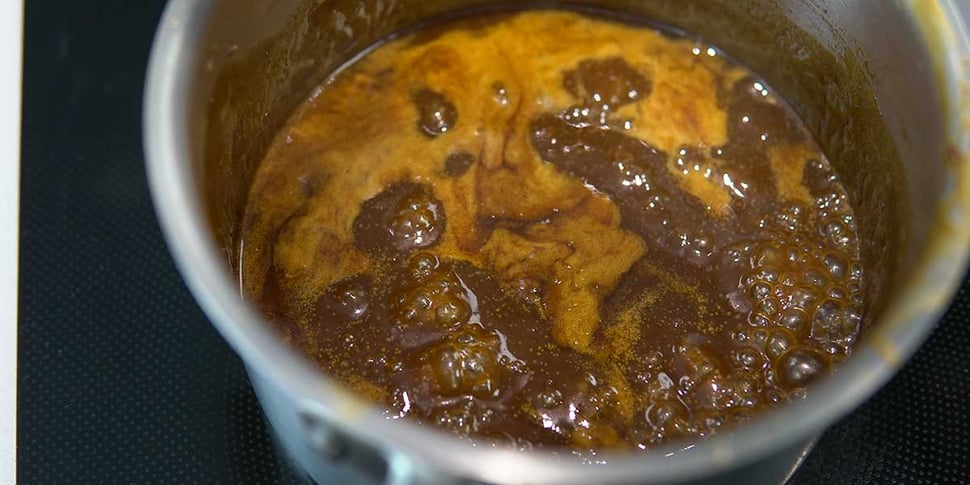 Step 3: Remove and let cool.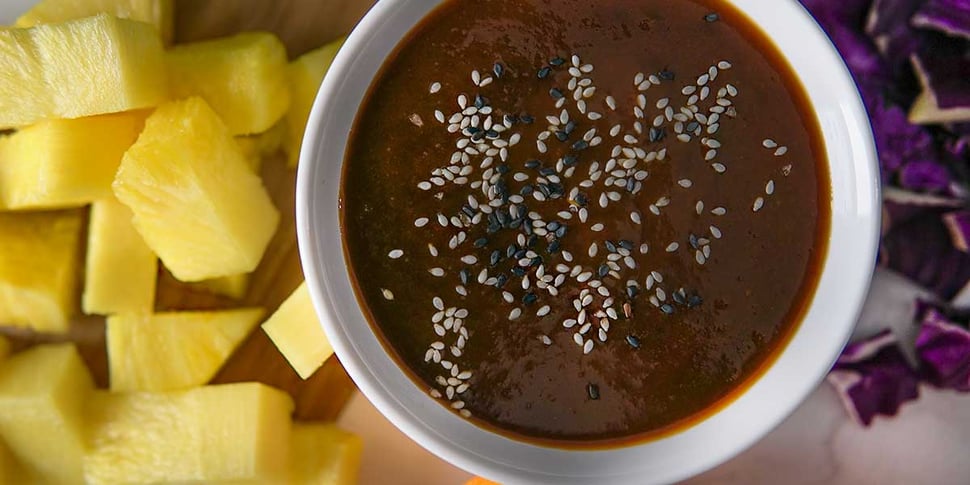 Remove your teriyaki sauce from the heat, allowing it to cool before storing it in an air-tight container.
Store for up to 12 days in the fridge.
1 recipe prepares about 1.5 cups of sauce and 1 tablespoon serving contains only 12 calories!
---
You've got the sauce, we'll supply your meals.
Start building your own budget-friendly meal prep using Trifecta pre-cooked meal prep ingredients. Just pick and choose your favorite proteins, grains, and veggies, season, and eat!