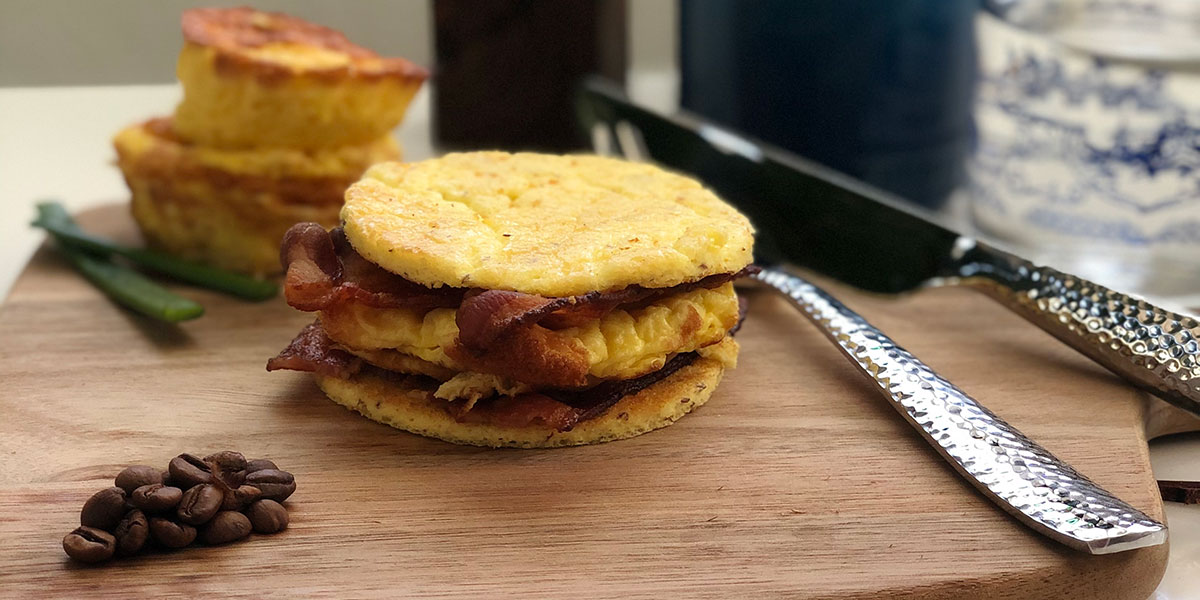 Living in 2020 means you can have a sandwich while on keto! We're living through a very exciting time in the history and technology of food. This recipe is a combination of different existing recipes from our blog. Once you have one done, creating multiple keto breakfast sandwiches will be incredibly easy!
How to Make a Simple Keto Breakfast Sandwich
Candidly, this sandwich can be made either for breakfast, lunch, or a quick high-calorie snack. Check out our keto meal prep breakfast collection for inspiration to support your keto meal prep needs.
The process for this recipe is super simple when it comes to the execution. Use this blueprint to make a keto sandwich, but feel free to adjust it to your personal liking and to what you find in your fridge. If you have an item you can substitute for another, go for it. If you'd like to add mixed greens, be my guest. If you want to take away the bacon, sure thing. Add butter or ghee. Let your creative chef juices flow.
Click on the links for each recipe to cook and make the components of this recipe. Once you have all of them, putting this sandwich together won't take long and every keto friend will ask you how you are eating 'bread' and remaining in ketosis. Bragging rights are yours.
Get 470 calories per sandwich, with 37g of fat, 8g of net carbs (11g carbs - 3g fiber), and 31g of protein. Yes, please!
Ingredients:
4 baked bacon strips (if desired, use turkey bacon - see recipe)
4 teaspoon coconut oil
1 avocado, sliced lengthwise into quarters
Salt and pepper to taste
Kitchen Needs:
Countertop small oven or regular oven
Nonstick saute pan
Knife
Cutting board
Step One: Gather and Warm Up Ingredients + Slice the Avocado
Preheat the oven to 375F.
Gather all your previously cooked and prepared ingredients. See the recipes for the baked egg bites, how to meal prep bacon, and these fluffy keto 'cloud' breads.
Slice your avocado by cutting the fruit down the middle vertically. Remove the pit carefully with the butt end of your knife and discard the pit. Cut into quarters by halving each avocado half into another halve. Slice the avocados lengthwise still with the skin on from the left side to the right side of the avocado, cutting from the top to the bottom vertically multiple times . This should form thin long pieces of avocado. Scoop with a spoon into a small plate, sprinkle with a dash of lemon juice to decrease oxidation, and cover with a damp paper cloth towel until needed. Repeat with all 4 quarters.
In a foil-lined baking sheet, set 8 keto 'cloud' breads and 4 cooked bacon strips. Set a timer for 3 minutes and reheat items in preheated oven. Add 2-3 extra minutes if necessary and remove breads if they are getting too toasty. Keep warm.
Step Two: Sear Egg Bites and Build Sandwich
Meanwhile, heat 4 teaspoons of coconut oil in a nonstick pan over medium-low heat. Once the oil is beginning to smoke and slightly shimmering, add all 4 egg bites and sear for 1 minute on each side. Adjust heat as needed to avoid burning the sides. The goal is to develop a beautiful golden brown sear while reheating the egg bite from the outside to the inside.
By this time your bacon and breads should be warm. Remove from oven if you haven't done so already.
Time to build your sandwich.
In your working station, line up the bottom 4 keto breads in a line. Add 1/4 seasoned avocado on top of each keto bread, and place 1 egg bite on top of each avocado-bread. Break or cut each bacon in half and top the two-halves of bacon on top of each keto egg bite. Top the sandwich with the other cloud bread and serve immediately.
Meal Prep Hacking
If you are making these ahead of time to make your breakfast meal prep a no-brainer, then my suggestion is to build the sandwiches without the avocados and without warming everything up. You can simply build the sandwiches and store them for your meal prep. Add the avocado in the morning or night prior to consuming them. Also feel free to warm each sandwich in a countertop oven while you are getting ready.
Storing and Serving
Store these sandwiches in a deep Tupperware or airtight container. If you want to simply prepare them each morning, store all the ingredients separated and build the sandwich whenever you are ready to eat. Reheat as indicated above. Store for no more than one week.
Meal Prep like a Pro
Want to get more out of your weekly meal prep efforts? Stick to your calorie goals and maximize results with this free meal prep toolkit for weight loss. An RD-written guide complete with macro meal planner, food lists, and expert advice to help you lose weight quickly.