If you have decided to follow the paleo diet for its potential health benefits but you don't know where to start, you have come to the right place.
Here's an exciting 14-day paleo diet meal plan developed by culinary nutrition-trained chef, with full recipes included, along with shopping lists, nutrition analysis, and useful tips to help you get started on the paleo diet!
This meal plan will work for you if you want an easy 14-day paleo guide that doesn't require tons of excessive work on your end. We have done the planning, nutrition analysis, and structuring so that the only thing you need to do is cook and enjoy the food and eat at home.
If this still sounds like too much work, worry not, we also offer a paleo meal plan you can order and get delivered to your home every week. I encourage you to keep reading this meal plan, as there are great resources below to help you get sound knowledge on this lifestyle.
Is Paleo Right For You?
Because paleo naturally emphasizes eating grass-fed protein, moderate carb balance, a mix of healthy fat (like nuts and seeds), and decreases the general number of processed foods, this style of eating is typically best for less active individuals looking to lose weight.
Going paleo has also been linked to reduced heart disease and improved heart health markers like reduced cholesterol and improved blood pressure, along with favorable impacts on blood sugar control (1,2,3,4). However, this research is very limited and far from conclusive.
Generally speaking, paleo resembles a lifestyle that is very similar to a generally healthy diet - with some added food restrictions.
The nutrition benefits of paleo may support a healthy lifestyle and weight loss.
How to Get Started on the Paleo Diet
Our team at Trifecta, from dietitians to chefs, has gathered several resources to support you in getting started on a paleo diet and compiled them all here. Aside from this, we have gathered a collection of paleo-friendly recipes to take the guessing out of the work. Think of it as your main library of paleo knowledge to help you understand and follow a paleo lifestyle properly.
Finding the Best Paleo-Approved Foods
The paleo diet is based on what presumably hunt-gatherers ate in the Paleolithic era.
Due to the nature of eliminating certain foods that don't meet the paleo criteria, it is important to understand what foods can be had and what foods ought to be eliminated with this lifestyle. See the video below for a quick and comprehensive look into this topic.
Reaching Your Nutrition and Fitness Goals with Paleo
If you are looking at losing weight, have in mind it is not the kind of foods that will promote weight loss, but rather a calorie deficiency that will get you there. Though paleo diets don't have a specific macronutrient balance requirement, if you as an individual want to lose weight, calorie control will be essential.
If you don't know your personal calorie goals try this free calorie calculator to get your total daily energy expenditure (TDEE) in a few minutes. This will help you understand the amount of energy you need daily to lose weight on a paleo diet:
Once you know your daily calorie (energy) goals, you can use the 14-day paleo meal plan below to help you reach your fitness goals.
Paleo Resources to Check Out
How to Use This Meal Plan
Armed with all the knowledge you now have, let's dive deep into how to use this meal plan.
This 2-week (or 14 days) paleo meal plan is built with two meals for each meal period. Meaning week 1 has two different breakfasts, two different lunches, and two different dinners, and week 2 follows the same format but with different recipes.
Why?
To avoid excessive and unnecessary meal prep time in the kitchen, provide as much variety as possible, and to help you avoid meal prep burnout. All very important details to kickstart your paleo health journey!
Cooking, Storing, and Reheating
The best advice I can give you as a chef while cooking your meal prep is to do it all at once on a specific given day and to always think about how to be as efficient as possible during your cooking time.
A few notes on food safety:
Cool down all your food completely before storing it. Storing food hot while cooling down, creates the perfect environment for bacterial growth, increasing the risk of a foodborne illness.
Invest in sturdy meal prep containers for safety and longevity. Typically, I recommend glass containers with airtight sealable tops.
While reheating, remove the lid and do either of the following: place the lid at an angle to avoid food from exploding into the microwave, or remove the lid altogether and cover the container with a damp paper cloth towel.
There is no specific order in which to eat or follow this paleo meal plan. Mix and match as you see fit and eat each meal immediately after reheating your food.
Tips to Save Time and Money
Use the provided shopping list to plan before the day you hit the grocery store, and buy all of your ingredients at once. Then choose a day or two that works for you and meal prep in advance allotting yourself a window of 6-8 hours if you are a beginner at meal prepping.
Purchasing your food in bulk will save you both time and money as wholesale prices tend to be lower than retail supermarket prices.
All in all, remember that the investment of time you put on your given meal prep day will pay dividends throughout the week and will take away the stress of having to cook your food every single day.
Want to save more time?
Let us help!
Adjusting Recipes Based on Your Nutrition Goals
Now that you know how many calories you need each day, you may find that the calories for the recipes below may either be too low or too high.
If you need to increase your calorie intake all you need to do is multiply the portions to match your calorie needs.
For example, if you need 1800 calories per day, you'll need to increase portions by a factor of 1.28 (1800/1400 = 1.28). Just multiply all ingredients by a factor of 1.28 and your set! If you consume a 2,000-calorie diet, then simply multiply by 1.43 (2000/1400 = 1.43).
Lastly, if you require extra calories, this meal plan also has really fun and exciting paleo snack options to help you bridge any gaps in your nutrition, all while keeping your food exciting and delicious (seriously, some of the snacks are incredible).
Let's get to it.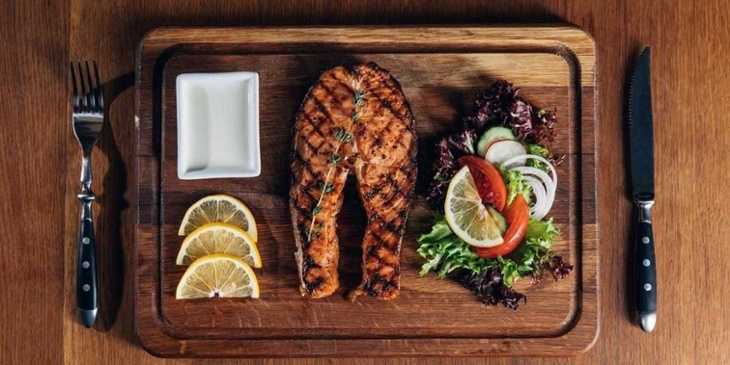 Your Ultimate Paleo Diet Meal Plan
Below are 14 recipes, plus two snack recipes, divided into two weeks.
All these paleo-approved recipes were developed for flavor, health, and lifestyle in mind (winks)!
Week 1 Paleo Meal Plan
As a reminder, each week is divided into two blocks: Monday to Wednesday and Thursday through Sunday. For the first block, make each recipe and portion each for 3 days. For the second block, meal prep those recipes but instead of 3, portion them into 4 different containers.
If there are exceptions, these will be noted in each respective section.
Week 1 - Menu
Menu: Monday - Wednesday

Breakfast

Lunch

Dinner
Menu: Thursday - Sunday

Breakfast

Lunch

Dinner
Week 1 - Meal Plan Shopping List
Here is your shopping list for week one. Feel free to combine week 1 and week 2 shopping lists to help you do one supermarket haul to save further time. If you want to keep your food fresh, then shop for each week independently.
You may have some pantry items lying around, which makes shopping that much easier and affordable. Double-check the quantities of what you may have versus what the shopping list below calls for to make sure you have enough for all recipes.
As a reminder, since the snacks are optional, the ingredients are not accounted for in either shopping list for week 1 or 2.
Produce

Pantry

Proteins

1 Spaghetti squash

1 Red bell pepper

1 Onion, yellow

10 Scallions, whole

3 shallots, whole

1 jar minced garlic

1/2 Lb. white potato

1 small tub lime juice

4 cups broccoli

4 Fresno peppers, optional

1/4 Lb Fresh ginger

1 bunch parsley, flat leaf

1 small container chives

1 small container fresh thyme

1 bottle olive oil

1 bottle avocado oil

1 small bottle Sesame oil

1 bottle Tabasco

1 bottle apple cider vinegar

1 bottle each Maple syrup and honey

1 bottle Red Boat fish sauce

1 can coconut milk

16 fl oz coconut aminos

32 fl oz chicken stock, sodium-free

1 can tomato paste

1 small packet almond flour

1 packet flaxseed, whole

Pumpkin seed (optional)

Arrowroot powder

Baking soda

Spices: kosher salt, black pepper, garlic powder dried fennel, dry mustard, dry thyme, sweet paprika, ground cumin, cayenne pepper, sesame seeds

13 eggs

4 chicken sausages

2 Lb. chicken breast

1 Lb. flank steak

2 Lb. 90/10 ground beef

1 packet bacon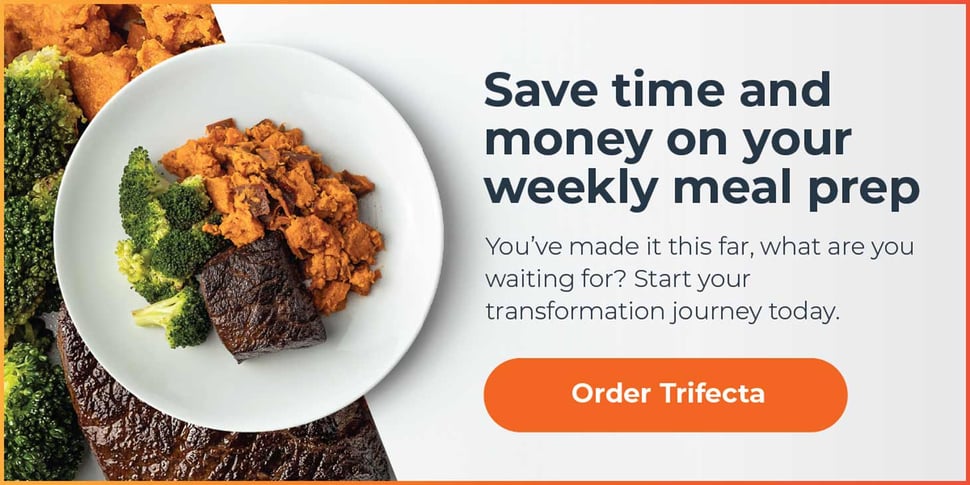 Week 1 - Paleo Breakfast Recipes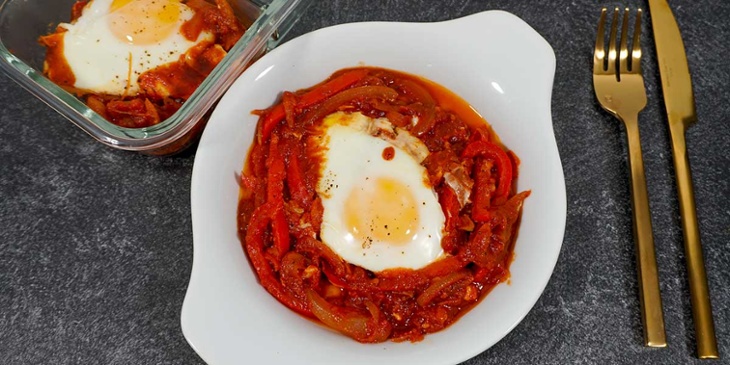 Shakshuka is a breakfast recipe based on a tomato, herb, and pepper stew-like base topped with eggs that are cooked in the same stew's pan. Though the recipe yields 4 servings, simply cook 3 eggs to satisfy this meal plan's requirements. Season your eggs with a bit of finishing salt for extra flavor!
NUTRITION: 400 calories; 19g Pro; 40g Carbs; 18g Fat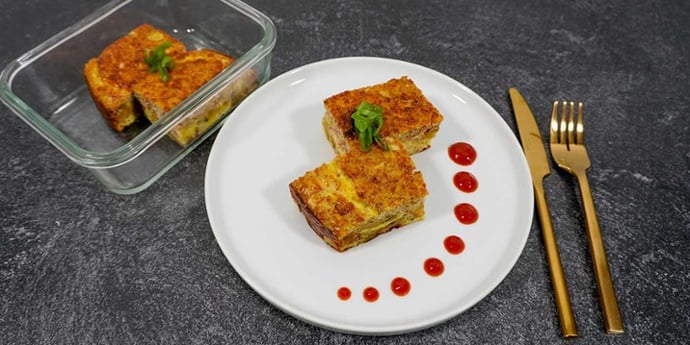 This was one of the latest most recent recipes I developed. The flavor came out spectacular and the composition of a casserole happens to be a perfect meal prep item. This recipe yields 14 servings - portion 4 for week 1 and 3 for week 2. If you need extra servings of food, this recipe will be great to bridge any gaps in that aspect..
NUTRITION: 140 calories; 9g Pro; 6g Carbs; 8g Fat
Week 1 - Paleo Lunch Recipes
Here are two healthy lunch recipes to make for this week: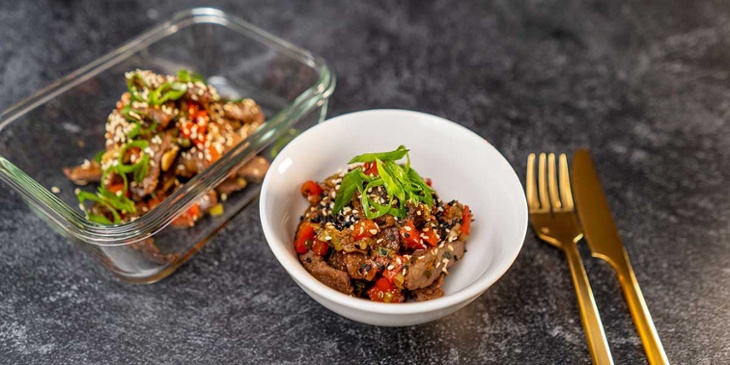 Mongolian beef has a unique sweet and savory flavor base that is scallion and ginger forward, with a slight spice. Feel free to serve it with a side of your favorite paleo vegetables or with this delicious side of butternut squash.
NUTRITION: 280 kcal; 15g Fat; 11g Carbs; 25g Protein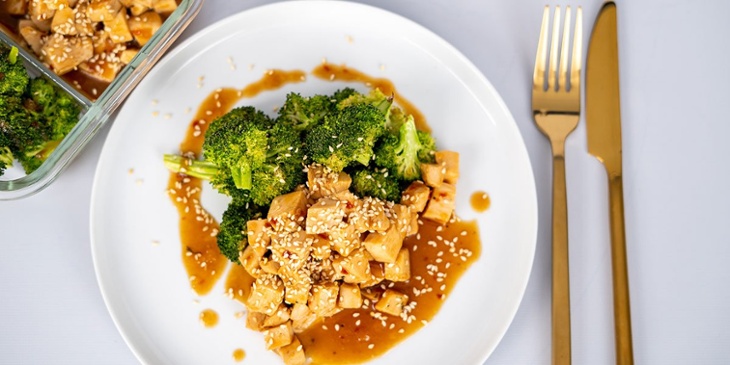 This classic dish made paleo is super simple to make and it packs a punch of flavor. Add roasted sweet potatoes if desired or leave them as is. Make this dish your own!
NUTRITION: 300 kcals; 10g Fat; 24g Carbs; 28g Protein
Week 1 - Paleo Dinner Recipes
This recipe is a combination of a stand-alone side paleo recipe I developed while creating paleo-approved vegetable dishes, combined with a simple seared or grilled chicken. The shopping list accounts for 4 servings of 4 oz (meaning 16 oz or 1 pound) of chicken breast for this dinner meal. Simply season your chicken and plate on top of this delicious spaghetti squash recipe.
NUTRITION: 110 kcal; 7g Fat; 10g Carbs; 2g Protein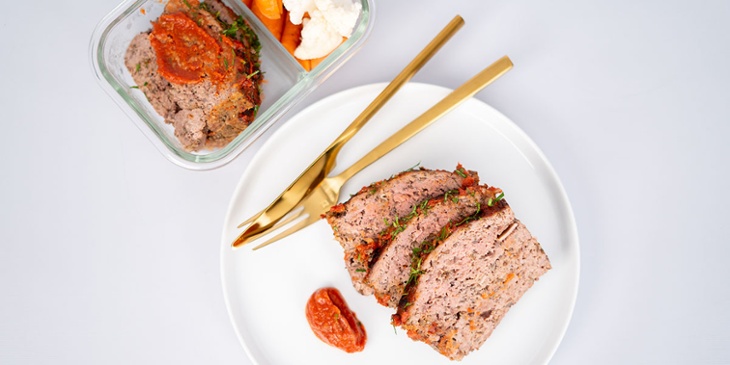 Find a gluten-free and paleo-approved meatloaf recipe that is perfect for preparing in bulk for your dinner. This dish includes a quick recipe to make your own paleo-approved ketchup as well. Serve this with 1 cup of your favorite vegetables.
Nutrition: 280 kcals; 14g Fat; 11g Carbs; 25g Protein
Optional - Paleo Snacks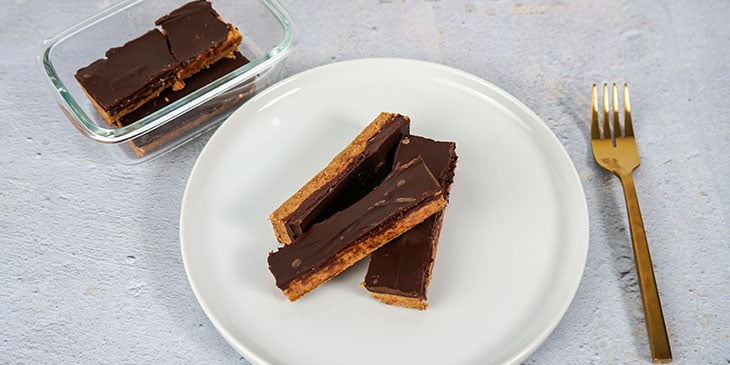 This delicious dark chocolate-covered no-bake paleo protein bar recipe is one of my favorite snack recipes I have made to date. Everyone at the Trifecta HQs loved them. One recipe yields 22 bars to satisfy your (potential) bi-weekly paleo snack needs! Remember, since this is an optional paleo snack for this meal plan, the ingredients are not accounted for in the shopping list.
NUTRITION: 320 calories; 11g Pro; 22g Carbs; 22g Fat

Week 2 Paleo Meal Plan
There are a few paleo menu items that, due to the nature of the recipe (a high yield), can be extended into week 2 for ease of meal prep. See the notes on each recipe on week 1 for further context.
Week 2 - Paleo Menu
Meal Plan Shopping List
Produce

Pantry

Proteins / Other

6 Sweet potatoes

8 Scallions

4 Shallots

1 jar minced garlic

1/2 Lb Brussel Sprouts

2 Red bell peppers

1 small bag shredded carrots

3 Thai chiles

1 Orange

1 Butter lettuce leaf pack

1 small pack fresh mint

1 bunch cilantro

1/4 Lb. Ginger, fresh

1 bottle avocado oil

1 jar coconut oil

1 bottle rice vinegar

1 bottle apple cider vinegar

1 jar apricot preserves

1 jar pesto sauce, store bought

1 tub paleo mayo

1 small bag raisins

1 bottle honey

1 bottle Red Boat fish sauce

8 fl oz coconut aminos

2 tablespoon tomato paste

Arrowroot powder

Spices: kosher salt, black bepper, dry thyme, paprika, curry powder, red pepper flakes, nutritional yeast

1 bag cashews

4 Sausage links, chicken

4 eggs

3 Lb. chicken breast or 2 Lb. chicken breast and 1 Lb. shredded chicken

1 Lb. ground turkey
Week 2 - Paleo Breakfast Recipes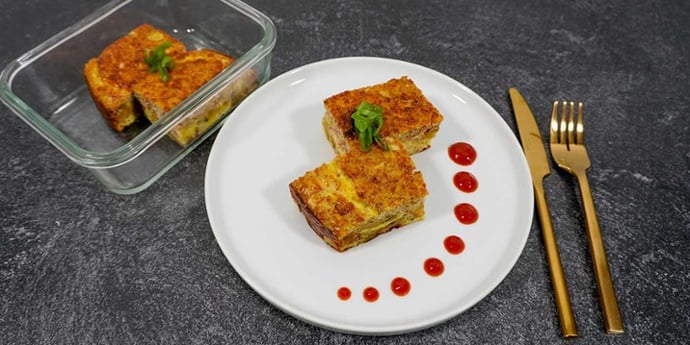 A carryover breakfast recipe from last week, make sure the quality of the casserole is still well going into week 2. To add a twist, serve this recipe with different sauces
NUTRITION: 140 calories; 9g Pro; 6g Carbs; 8g Fat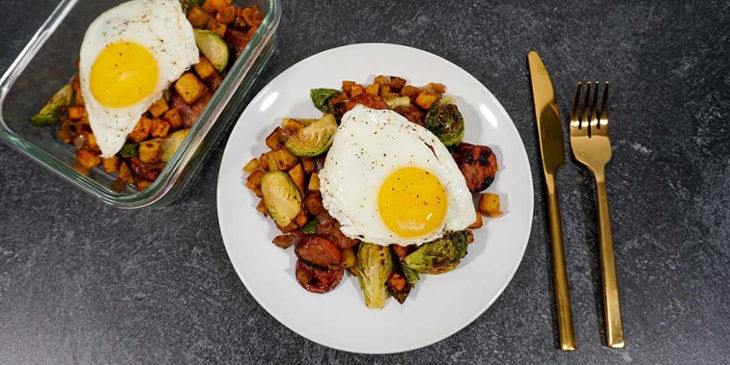 This breakfast recipe is super fun to make and a wholesome complete meal to kickstart your day. Cook the eggs however you want; I prefer a runny yolk. When reheating, reheat the egg for 10-20 seconds at the lowest power setting in the microwave, covered with a damp paper cloth towel.
NUTRITION: 400 calories; 19g Pro; 40g Carbs; 18g Fat
Week 2 - Paleo Lunch Recipes


This paleo lunch chicken salad recipe comes as a complete meal. However, if you want to slap a serving of this delicious curried salad, feel free to bake this paleo-approved gluten-free bread.
Nutrition: 140 Calories; 8g Fat, 8g Protein; 4g Carbohydrates, 13g Protein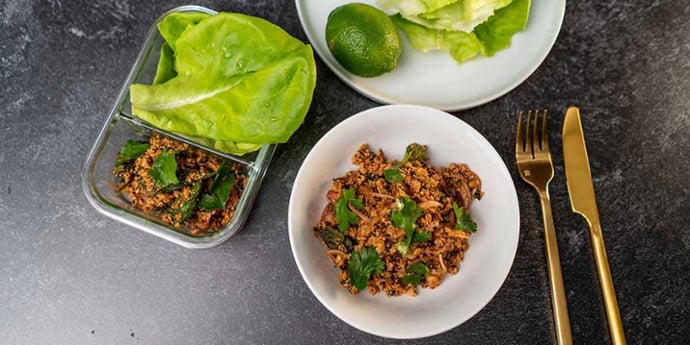 The inspiration for this paleo recipe comes from staff meals I enjoyed thoroughly while working at Providence Restaurant in LA. Feel free to substitute the turkey for ground beef or chicken. Serve it with a side of cauliflower rice if you wish!
Nutrition: 270 kcal; 12g Fat; 8g Carbs; 33g Protein
Week 2 - Paleo Dinner Recipes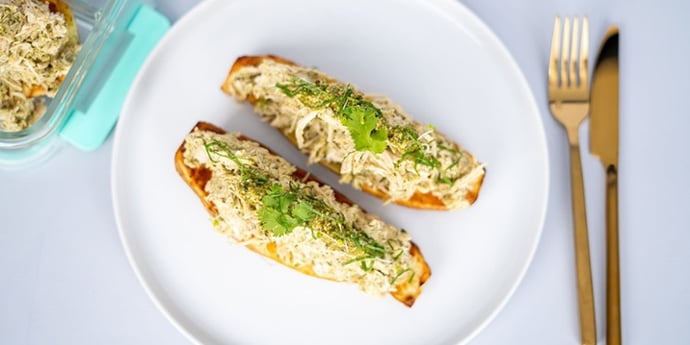 This is one of the simplest paleo chicken meal prep recipes I ever developed. The flavor is spectacular and the meal is complete in all aspects (The secret? Drench the chicken in the pesto sauce). Add a side of this delicious paleo aromatic greens for an extra oomph!
Nutrition: 380 kcals; 24g Fat; 15g Carbs; 27g Protein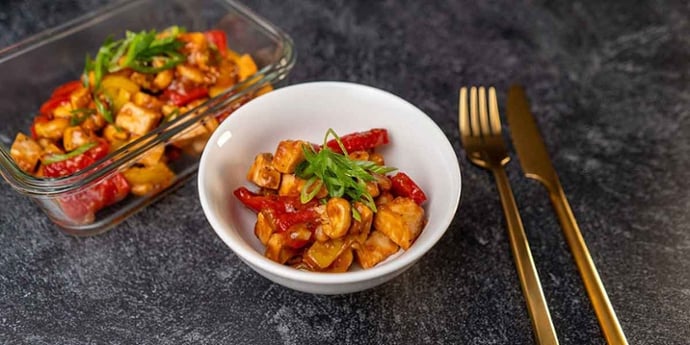 Our social media manager was with me when this recipe was developed and she could not stop raving about it (thanks, Shan!). This simple paleo chicken stir fry-like dish and highly flavorful recipe is always a winner for my meal prep.
NUTRITION: 340 kcal; 11g Fat; 21g Carbs; 38g Protein
Optional - Paleo Snacks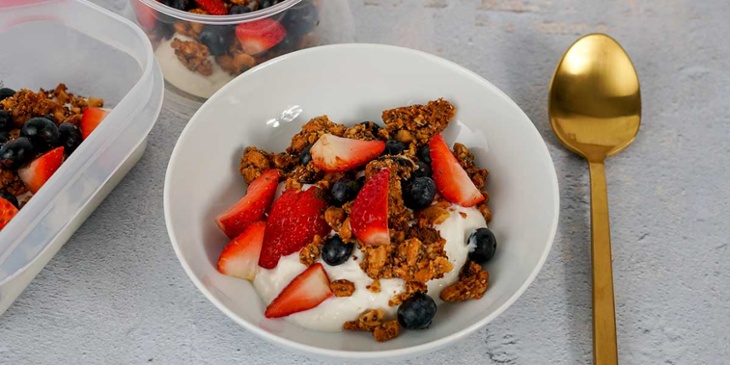 This paleo snack parfait recipe is made with coconut Greek yogurt, homemade paleo granola, and a variety of mixed berries. Parfaits are the perfect meal prep staple that takes no time to put together. Garnish this parfait with mint for color and freshness! Remember, since this is an optional paleo snack for this meal plan, the ingredients are not accounted for in the shopping list.
---
Too Much Work? We Got You!
Want to take the hard work out of eating healthy? Hit the easy button on clean eating meal prep with nutritious, minimally processed meals cooked and delivered to your door. Our team of experts will plan, prep, and ship a tasty menu each week.