Larb is a simple and highly delicious ground meat Thai dish of origin from Laos, that gets its unique flavor from the combination of chile powder, lime juice, shallots, fresh herbs, and one specific essential ingredient: fish sauce. Find a very specific step-by-step process on how to properly build flavor to make a paleo Thai turkey larb. I suggest using Trifecta's Meal Prep Turkey burgers to save time.
My story of love with Larb dates from almost three years ago to the end of 2017. During that time I was working at Providence in LA, and the chef de cuisine (shoutout to Chef T-bone), would make a highly delicious Larb for family meals every now and then. It was one of those secret and rare specialty family meal recipes that he would whip up in no time, all while keeping the authentic essence of the dish intact. It was so good, the standards were set very high from there on out.
There's a specific simple method to the madness. Heating the ground meat first, in this case, turkey, adding fish sauce and honey, and seasoning it with freshly made chili powder creates the very particular flavor backbone for this dish. Though this dish is typically served with sticky rice, feel free to substitute it with your favorite paleo carb side (if I may suggest, try making a coconut sticky cauliflower rice).
Adding then the fresh aromatics and herbs, adds both a slight sweet-bitterness flavor, and color to the dish, creating a beautiful symphony of sabores that mold insanely well together.
If you are new to paleo, this is the easiest way to stick to a paleo diet. Download this free, RD-written meal prep guide complete with meal planning tools, approved food lists, and tips for eating paleo.

The macros for this paleo recipe are:
270 kcal; 12g Fat; 8g Carbs; 33g Protein
Here's the recipe. Take your time making it as it's rather simple but requires the singular addition of ingredients to build layers of flavor on top of each other.
How to Make Paleo Thai Turkey Larb
This recipe takes about 15 minutes to prepare, and about 15 minutes to cook. It makes 4 servings.
Ingredients
1 lb. ground turkey or Trifecta's Meal Prep Turkey patties, crumbled
3-4 dry red Thai chiles, toasted, destemmed, seeded, ground, or 1 ½ Tbsp. red Thai chile powder
3 Tbsp. fish sauce
1 tsp. Honey
½ cup thinly sliced shallots (fine julienne)
⅓ cup fresh picked mint, washed
½ cup rough chopped cilantro
2 Tbsp. lime juice
4-8 butter lettuce wraps, washed, shocked in iced water
Kitchen Needs:
Mixing bowls
Sheet pans
Saute pan
Cutting board and knife
Step 1: Prepare the Ground Turkey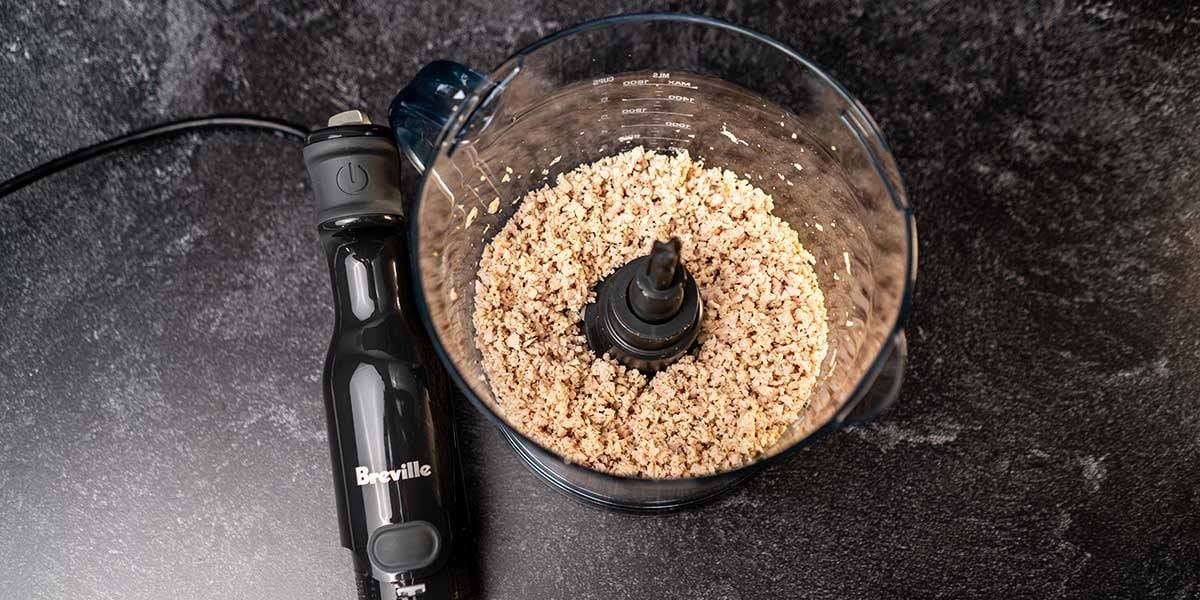 If using Trifecta's Meal Prep turkey patties, crumble them using a food processor for a fast and efficient process (we use this Breville food processor). Break the patties into smaller pieces and then add them to a food processor. Pulse until small crumbles form.

Step 2: Grind Chile Powder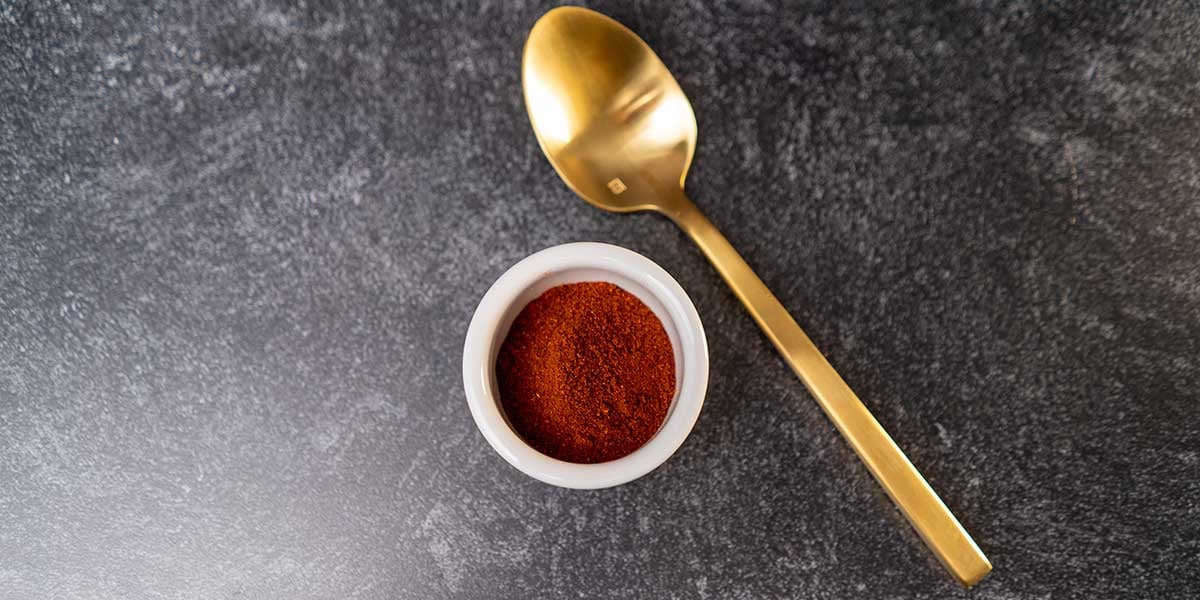 If using whole dry red Thai chiles, destem and remove as many seeds as possible and toast the peppers on a dry skillet over medium heat until fragrant and somewhat sweet. Transfer to a spice grinder, and grind until a powder is formed. Be super careful when opening the lid of the grinder, as this might cause excessive sneezing and coughing. I recommend you wear a mask as a further precaution.
Step 3: Cook/Heat Ground Turkey
Add ground turkey in a wide skillet, along with ⅓ cup water. Bring to a quick boil, reduce heat to low, and right before the water is fully evaporated, add 2 tablespoons of fish sauce, mix to fully incorporate, and then add the honey. Mix again. Remove from heat and transfer to a sheet pan. Cool in the freezer to bring down the temperature quickly.
Step 4: Prepare Other Ingredients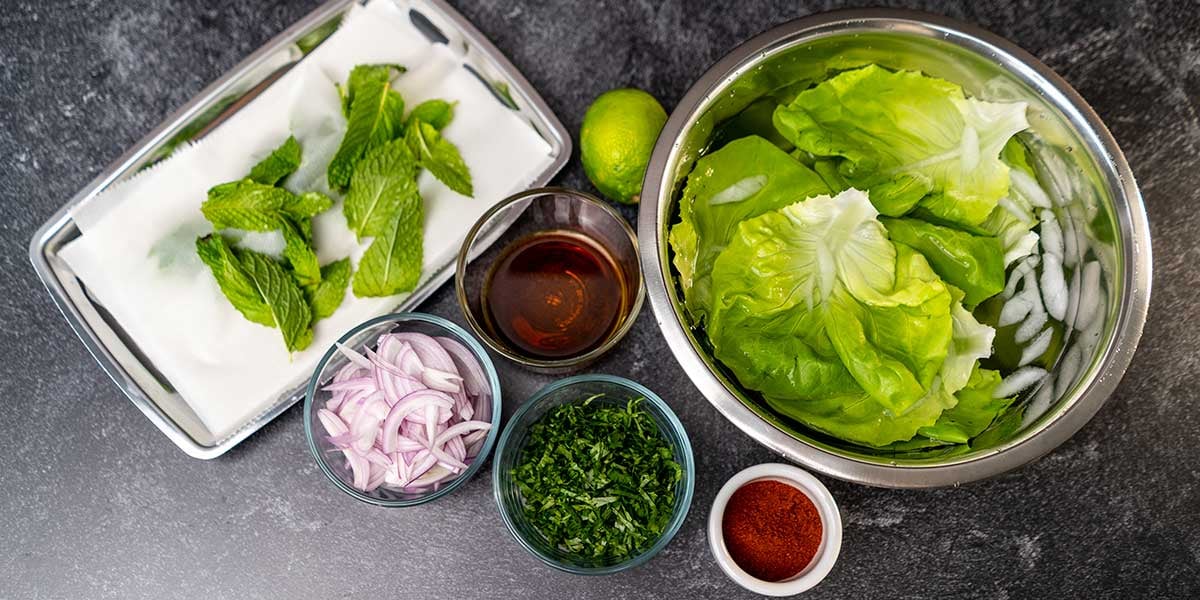 Prepare the shallots by cutting them into thin long strips, and reserving them in a bowl on the side. Wash and pick your mint, and reserve on the side. Rough chop the cilantro and also keep it in a side bowl. Pick 4-8 Boston bib lettuce leaves and wash them. Keep to the side. Use only 4 lettuce leaves if you'd like to portion one leaf per serving, or prepare 8 if you'd prefer two per serving.
Step 5: Final Assembly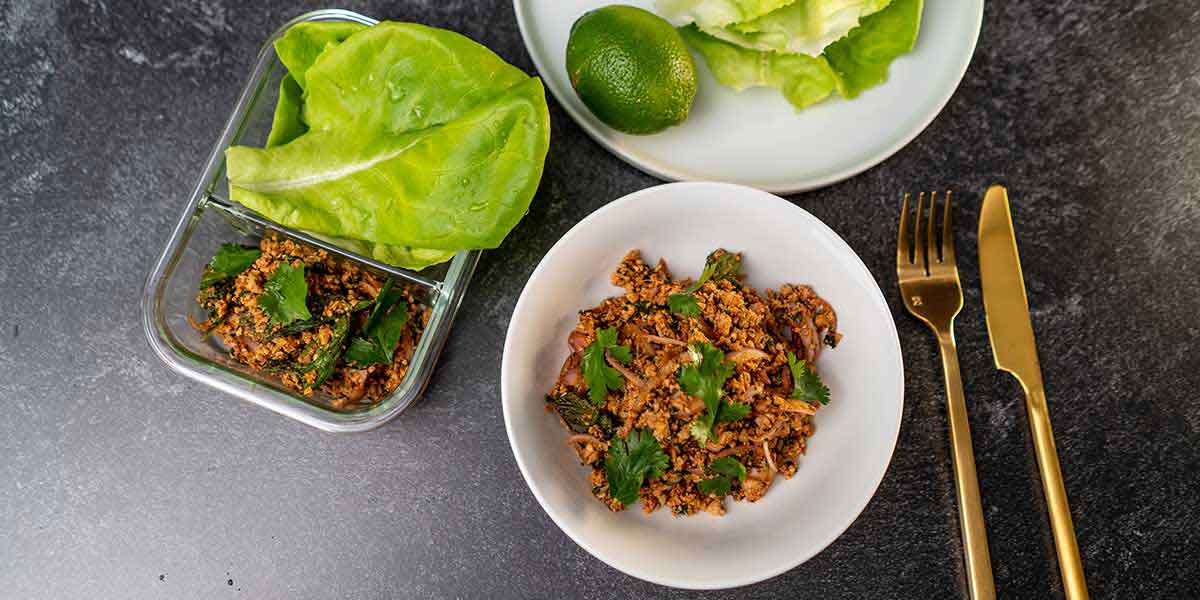 Once the ground turkey is fully cooled, transfer to a medium bowl and add the ingredients in this order, always mixing before adding the following ingredient to fully incorporate. Start by adding 1 ½ tablespoons of Thai chili powder, followed by shallots, freshly picked mint, and chopped cilantro, and finish with lime juice.

Taste for seasoning and add a pinch of salt if needed. The fish sauce is salty enough that this step may not be necessary.

Serve 4.5 ounces of the Larb on 1 or 2 nestled Boston bib lettuce wraps. Pretty much, make tacos with them!
Meal Prep Tips
This recipe is perfect for your paleo meal prep efforts. You can double the recipe if you like it, and make 8 healthy paleo meals. Add your favorite paleo-approved carbohydrates and vegetables. Let your imagination go wild!
For more inspiration on different paleo foods, check out this list.
---
Get started on paleo now. Download your free meal prep toolkit, complete with meal planning tools, paleo food lists, and tips for eating paleo.