Carbohydrates are an essential macronutrient and are needed in any kind of diet (even keto allows for a small amount). With this in mind, and with the lifestyle guidelines of paleo, find a flavorful paleo-approved carbohydrate side to satisfy your dietary needs.
Spaghetti squash gets its name from, well, its striking resemblance in texture and form to actual spaghetti pasta.
However, spaghetti squash is a vegetable with less starch content compared to pasta made from wheat. 1 cup of cooked spaghetti squash has 10g of carbs with about 2g of dietary fiber, compared to spaghetti pasta which contains 43g of carbs and 3g of dietary fiber.
This winter vegetable belongs to the Cucurbitaceae family and is a seasonal vegetable similar to pumpkin, zucchini, and gourds.
You could very simply cook this vegetable by halving it, removing the seeds, seasoning it with oil, spices like sumac, salt, and garlic powder, and roasting it in the oven for around 45 minutes (now you have two recipes in one blog post. My pleasure). But we take it further to mimic an authentic plate of delicious spaghetti (imagine a kind of lower-carb carbonara).
The bacon is just the cherry on top - it adds a savory and flavorful aspect to the dish, plus some fat for satiation.
Get started on paleo now. Download your free meal prep toolkit, complete with meal planning tools, paleo food lists, and tips for eating paleo.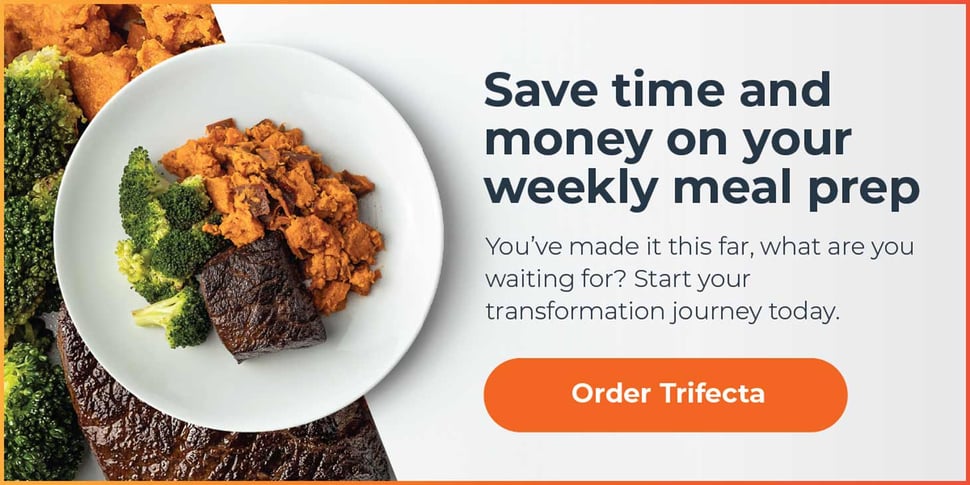 The macros for this paleo recipe are:
110 kcal; 7g Fat; 10g Carbs; 2g Protein
Let's get to it.
How to Make a Paleo Creamy Bacon & Spaghetti Squash Recipe
This recipe takes about 10 minutes to prepare, and about 45 minutes to cook. It makes 8 - 5 oz servings.
Ingredients
1 whole spaghetti squash, ends cut, halved lengthwise
1 Tbsp. olive oil
3 bacon strips, baked crispy, roughly chopped
1 tsp. avocado oil
1 Tbsp. garlic, minced
½ cup coconut milk
1 Tbsp. maple syrup
1 tsp. apple cider vinegar
Kosher salt and freshly ground pepper, to taste
Thyme, fresh, for garnish
Kitchen Needs
:
Sheet pans x2
Bowls
Saucepan
Fork
Cutting board and chef knife
Step 1: Prepare Spaghetti Squash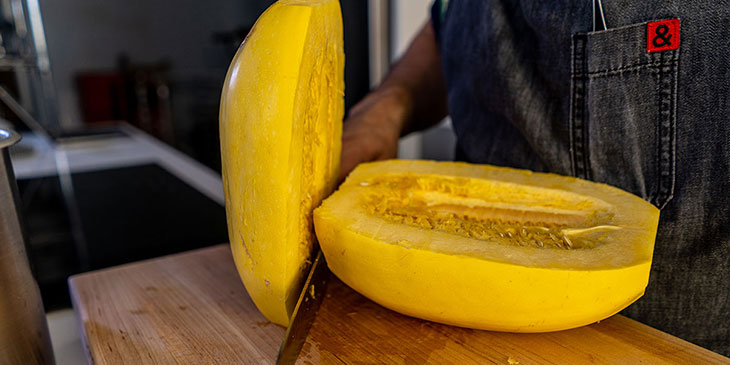 Preheat the oven to 400 F. Remove both ends of the spaghetti squash and then cut it in half lengthwise. Scoop out any seeds, and discard them. Season with salt, freshly ground pepper, and 1 tablespoon of olive oil. Massage into the spaghetti squash to season evenly.
Get two sheet trays lined with foil. In one of them, lay the two halves of the spaghetti squash face down so that the skin of the squash is facing up.
Step 2: Cook Squash and Bacon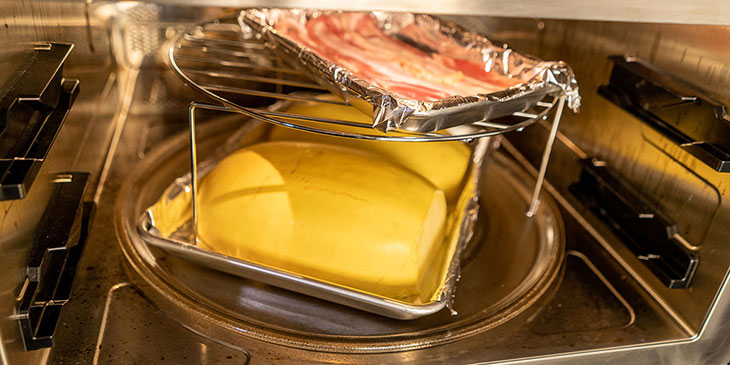 In the second sheet tray, lay the 3 bacon strips next to each other without overlapping them.
Place both sheet trays in the preheated oven. Set a 12-minute timer for the bacon and a 45-minute timer for the spaghetti squash.
After the 12 minutes have passed, remove the bacon from the oven, and let cool on paper towels. Once cool, rough chop and transfer to a small bowl. Keep aside.
Step 3: Mise en Place All Other Ingredients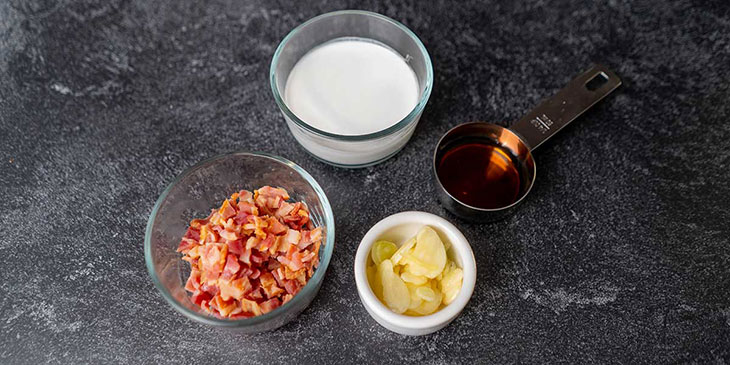 Prepare the garlic, coconut milk, maple syrup, and apple cider vinegar (pre-measure them in small individual containers or have them on the side for easy addition.
Remove the spaghetti squash from the oven and poke it with a fork. If the fork pierces through without any resistance, the squash is done cooking. Otherwise, add 10 minutes in the oven and cook until the fork pierces the squash without any resistance. Let cool on the side or for a faster process, transfer to a room temp tray and cool down in the fridge.
Step 4: Season and Build the Dish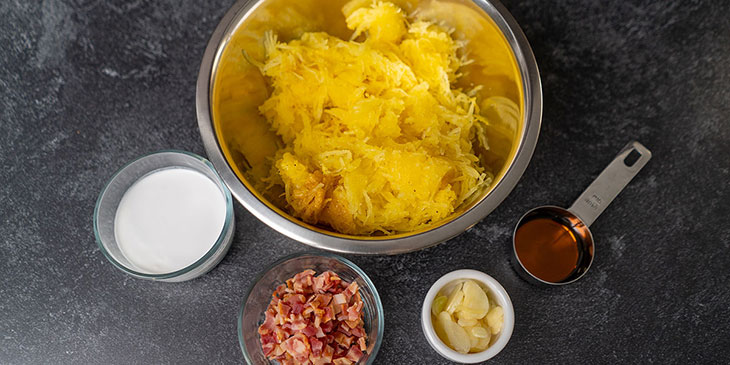 Once cold to the touch, scrape the spaghetti squash off the skin using a fork. Turn the squash upside down, so that the skin is facing down and scrape from one end to another. Transfer contents to a bowl.
Heat 1 tablespoon of avocado oil in a medium skillet, over medium heat. Add the minced garlic and cook for 2-3 minutes stirring often. This will slowly caramelize the garlic and will also infuse the oil with a garlic flavor, thus constructing an aromatic base flavor to the dish.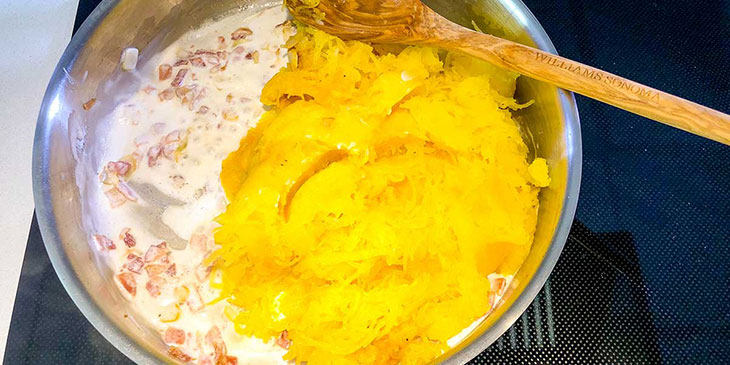 Add the bacon and cook for another minute to two. Deglaze the pan with apple cider vinegar. Mix, and add the coconut milk. Mix and add the spaghetti squash. Mix and add maple syrup. Season with kosher salt and black pepper.
Bring to a boil and slightly reduce the liquid. Remove from heat and cool down. Store in containers or serve immediately.

Meal Prep Tips
Once the 45 minutes of roasting have passed, remove the squash from the oven and poke it with a fork. There should be minimal resistance. Add 10 minutes if the squash still needs some cooking time.
Scrape the spaghetti squash with a fork and transfer to a bowl
If desired add extra bacon
For more inspiration on different paleo foods, check out this list.
---
Get started on paleo now. Download your free meal prep toolkit, complete with meal planning tools, paleo food lists, and tips for eating paleo.