Shrimp is one of the leanest protein options around; one 4-ounce serving of Trifecta shrimp provides a whopping 28 grams of protein. Not only is shrimp lean but it's also delicious and versatile. We've put together a list of 15 shrimp recipes to spice up your meal prep; these are keto, paleo, flexitarian, and whole-foods friendly recipes.
Whatever you call your diet, add some variety with these simple and nutritious recipes.
Shrimp Health Benefits
Shrimp is one of the leanest protein options around and a source of many key nutrients including:
Zinc:

9% of the daily value
Selenium:

48%

of the daily value

Vitamin B12:

21%

of the daily value

Niacin:

11%

of the daily value
Shrimp is also a notable source of Iodine, an important component of your thyroid which helps regulate metabolism (1). And even more impressive, its pink hue is due to an phytochemical called astaxanthin - an antioxidant that has been linked to healthy skin and may have anti-aging properties (2,3).
Tip: you can also get astaxanthin from salmon!
Should You Worry About Shrimp and Cholesterol?
Shrimp may have gotten a bad wrap a while back, for years dietary cholesterol was thought to increase blood cholesterol levels and lead to the elevated risk of developing cardiovascular disease but extensive research has shown no scientific evidence to support this hypothesis (4).
Current research tells us that excess intake of saturated fats, processed foods, and sugar is more likely to cause increased LDL cholesterol and increase the risk of cardiovascular disease or other chronic conditions (4).
At the end of the day a healthy diet isn't about demonizing one specific nutrient or ingredient, your health reflects the accumulation of all of the things you choose to include in your diet and lifestyle.
15 Shrimp Recipes Perfect for Meal Prep
For the recipes below we utilized Trifecta Meal Prep Shrimp, which comes ready to heat and eat. Our shrimp is sustainably sourced and boasts a slightly buttery flavor.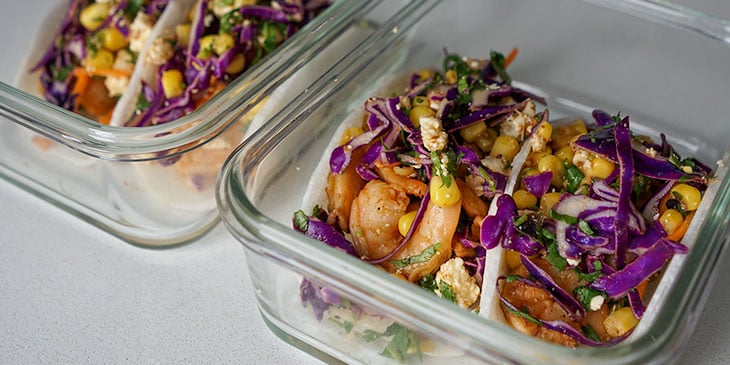 Nutrition: 300 Calories; 13g Fat; 16g Carbs; 32g Protein
Prepare this easy shrimp taco recipe made with chipotle-lime shrimp, fresh avocado, and cotija street corn style slaw. We skipped the corn tortillas and used crunchy jicama shells instead for a tasty low-carb taco alternative.
The beauty of a taco recipe is its endless variety of flavor combinations and, utilizing a low-carb shell allows for more versatility and variety in your filling without worrying about ingesting a high-carb meal.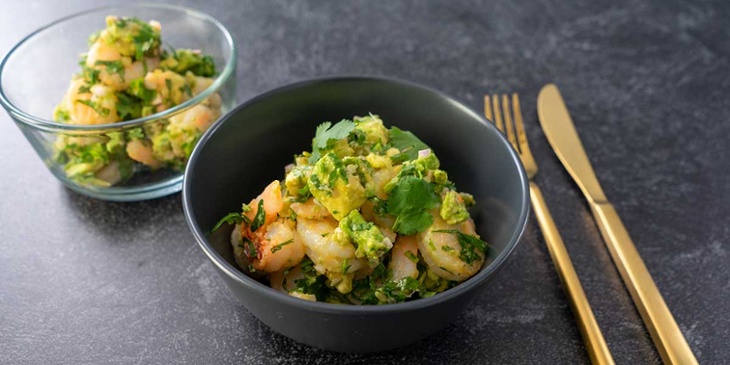 Nutrition: 300 Calories; 16g Fat; 4g Carbs; 30g Protein
Ever crave a fresh tangy salad for a quick, light lunch?
Well Chef Mario has you covered! Enjoy the cool combination of lime citrus and seafood as this super simple meal prep recipe is a perfect option in a hurry, satisfying your ketogenic lifestyle needs.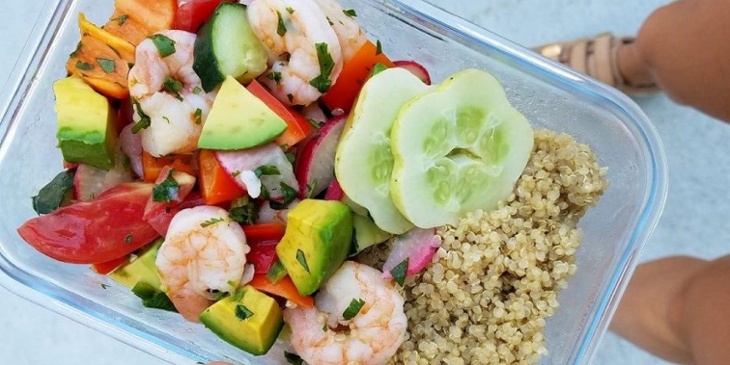 Nutrition: 182 Calories; 6g Fat; 10g Carbs; 21g Protein
This could quite possibly be the easiest meal prep recipe of all time!
This high protein, low carb twist on a traditional shrimp ceviche, using pre-cooked Trifecta shrimp, tastes bomb and will definitely help you hit your macro goals.
It is dairy free, gluten free, keto friendly, paleo friendly and fits into most high protein, low carb diet plans.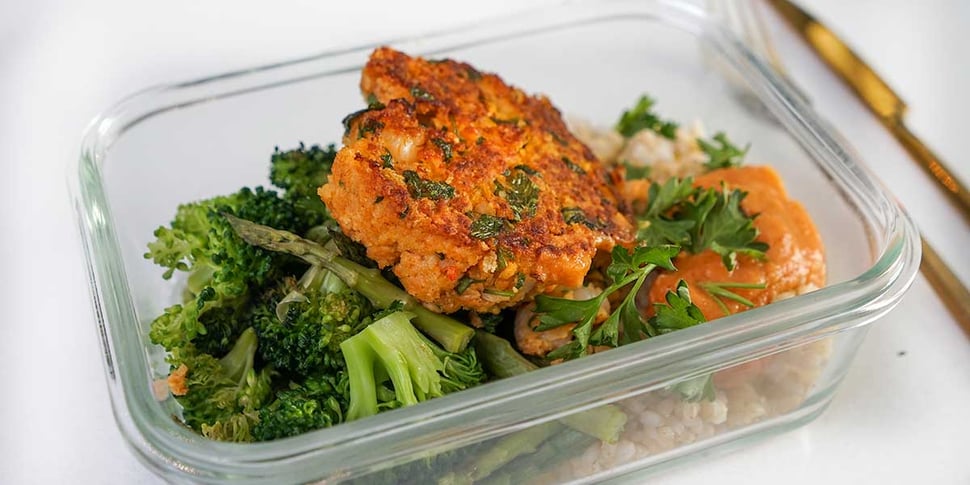 Nutrition: 380 Calores; 7 grams Fat; 48g Carbs; 35g Protein
Discover the key to preparing an amazing seafood burger in our crispy shrimp burger bowl recipe.
Dig into these crispy shrimp burgers seasoned with smoked paprika and chili powder. You'll love the versatility of this recipe prepared with Trifecta Meal Prep ingredients, enjoy these shrimp cakes burger style, on a salad, in a wrap, or as we prepared in a macro-balanced bowl.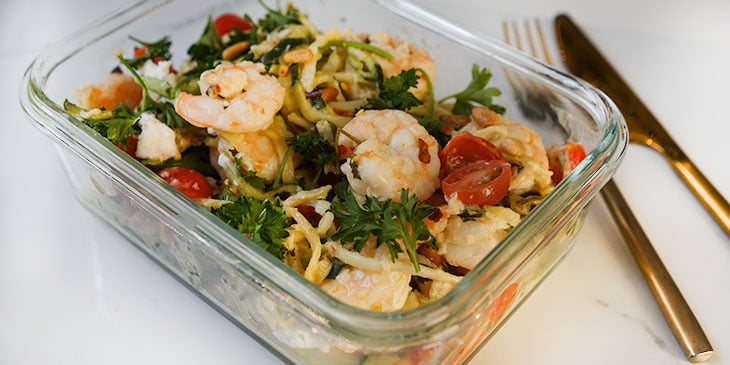 Nutrition: 360 Calories; 10g Fat; 23g Carbs; 49g Protein
Prepare this fresh and clean garlic shrimp with zucchini noodle recipe in less than 10 minutes. This is the perfect nutritious lunch or dinner to include in your meal prep plans for the week, this recipe is sure to satisfy any pasta cravings without the carb-overload!
Zucchini noodles are the spiralized form of zucchini and make the perfect low-carb substitute for regular noodles. They can be enjoyed raw in salads, stir-fried, or gently tossed with sautéed ingredients for a quick noodle dish.
Although we prepared this recipe with a quick lemon-goat cheese sauce, try out some these sauces instead to spice up your meal prep: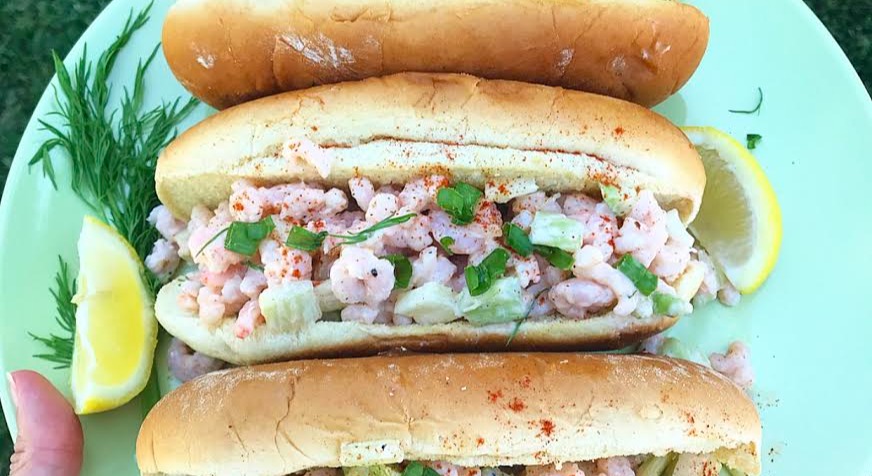 Nutrition: Calores 343; Fat 8g; Carbs 42g; Protein 36g
A slightly-sweet, buttery delight, this shrimp roll will change everything you know about sandwiches. With only a few ingredients and some fresh produce - this recipe can be made in a matter of minutes!
Feel free to skip the roll, the tangy lemon dill shrimp filling can be stuffed into a low-carb lettuce wrap, jicama shell, or tossed into a salad.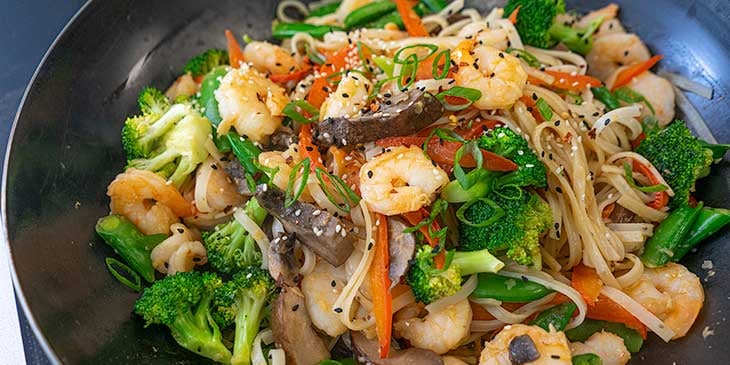 Nutrition: 370 Calories; 5.5g Fat; 46g Carbs; 34g Protein
This recipe utilizes Trifecta meal prep ingredients to cut the cooking time in half, but feel free to substitute any kind of vegetables or ingredients. That is part of the beauty of honing your stir-fry skills; you can throw together whatever you'd like!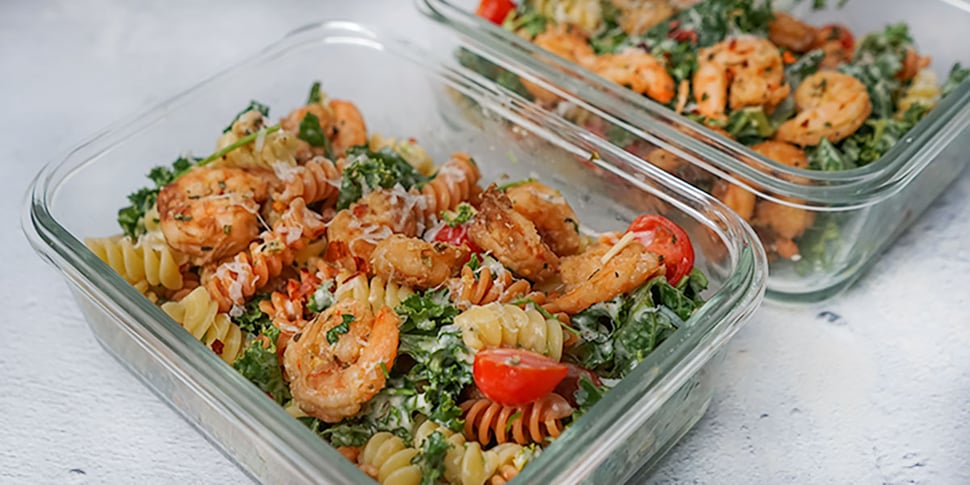 Nutrition: 430 Calories; 11g Fat; 46g Carbs; 46g Protein
This high-protein pasta salad recipe topped with Trifecta Meal Prepe shrimp is a simple and tasty dish sure to leave you feeling satisfied and fueled for your week.
You'll love our healthier spin on the classic pasta salad prepared with a greek yogurt dressing and high-protein pasta.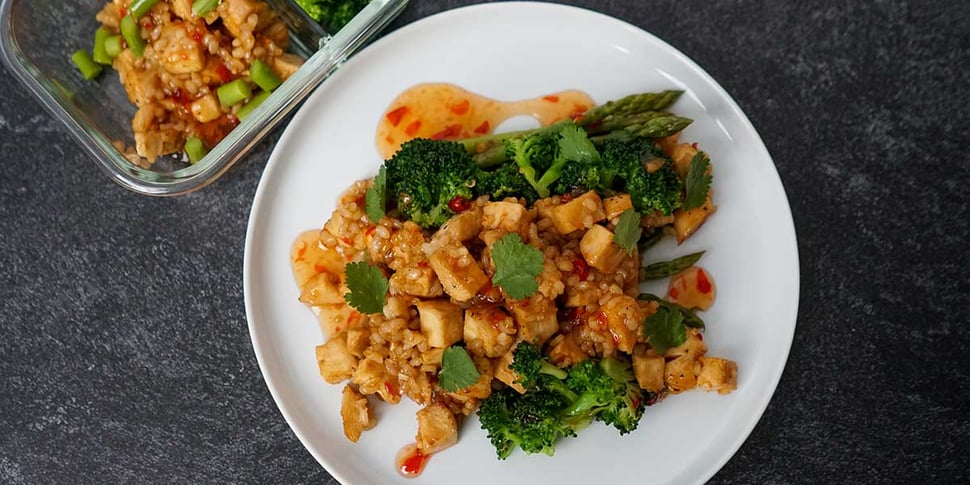 Nutrition: 332 Calories; 3g Fat; 42g Carbs; 32g Protein
Sweet and sour is one of the staple sauces Chef Mario likes to keep in his fridge. It's that infallible option that typically goes well with everything. Do you have a similar sauce you always keep around?
Follow his recipe for sweet and sour chicken, except substitute Trifecta Shrimp instead for a quick meal in under 10 minutes.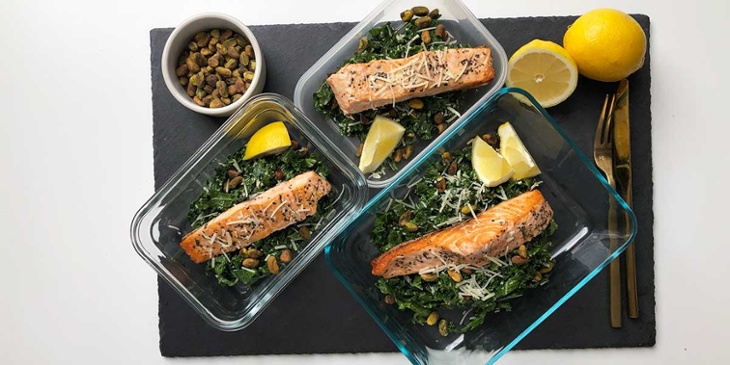 Nutrition: 352 Calories; 34g Fat; Carbs 17g; Protein 34g
Another simple and delicious recipe, swap out Trifecta Salmon with Shrimp for a quick shrimp and parmesan kale salad recipe.
Kale is a wonderful green to include in any meal prep plan as it is full of anti-inflammatory constituents. To balance your health work on incorporating more anti-inflammatory foods and anti-oxidant rich foods. These foods have super nutrients that help your health in many ways and may work to decrease inflammation in your body.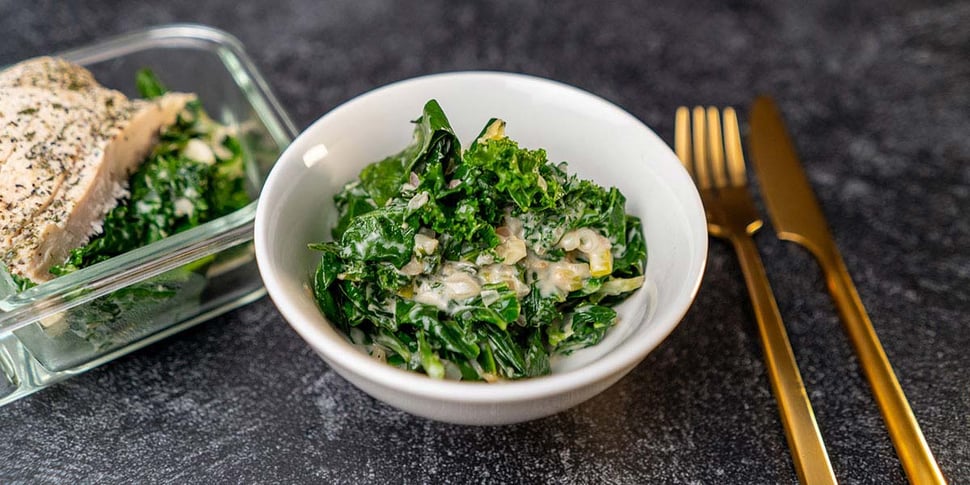 Nutrition: 278 Calories; 10g Fat; 10g Carbs; 40g Protein
This delicious paleo side dish has hearty leafy greens mixed with aromatics and a creamy coconut base, top it with 5 oz of Trifecta Shrimp and you have yourself a low-calorie coconut-ginger stir-fry with shrimp!
The combination of ginger, garlic, and coconut milk is widely used in different Southeastern Asian cultures. By building the flavors through the caramelization of various aromatics, slightly wilting the greens, and adding a slightly sweet and mouth coating ingredient like coconut cream, this side adds an extra layer of nutrition and flavor to any dish.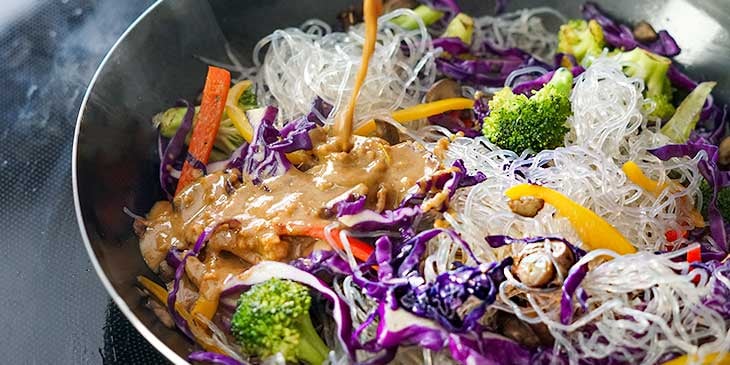 Nutrition: 280 Calories; 13g Fat; 15g Carbs; 34g Protein
Trust me when I say you'll fall in love with this kelp noodle pad Thai recipe. This healthy, plant-based pad Thai is a low-carb alternative to the classic Asian street food we all crave. Stir-fry's are quick to prepare and can easily include a variety of vegetables. Prepare this recipe with the spicy almond dressing and Trifecta Shrimp instead of tofu.
Feel free to substitute normal pad-thai noodles if you want to increase the carbs and calories, or just load up on seconds!
I highly recommend preparing your own stir-fry dressing. Store-bought pad Thai sauce ingredients often include a lot of sugar and non-vegan fish sauce. Feel free to prepare the spicy almond thai sauce in the recipe or choose from Thai Peanut Sauce or Toasted Sesame Ginger sauce!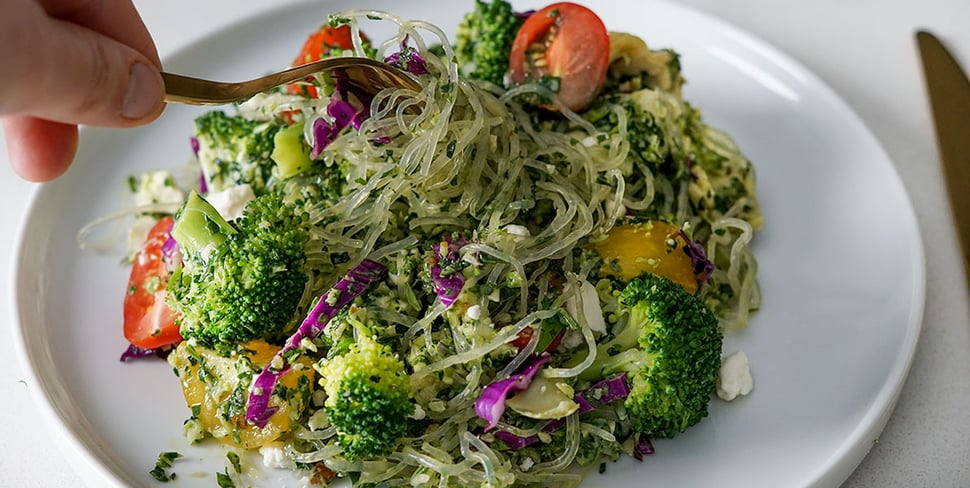 Nutrition: 408 Calories; 21g Fat; 15g Carbs; 42g Protein
This is another great recipe to toss some Trifecta Shrimp on. Add 5 ounces of shrimp to achieve the nutrition listed above.
I love using kelp noodles in stir-frys and cold noodle bowls. They can be found in the Asian isle in most grocery stores.
Kelp Noodles are made from edible seaweed called kelp, and are a gluten-free, low carbohydrate noodle option with a high amount of minerals such as iron (1). Did I mention they have an amazing crunchy texture?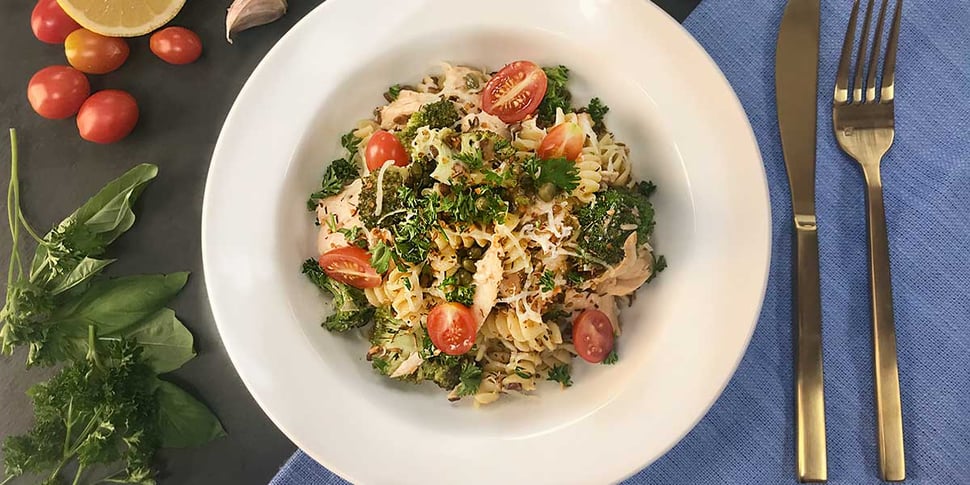 Nutrition: 390 Calories; 15g Fat; 26g Carbs; 40g Protein
The foundation of any piccata sauce is lemon, butter, and capers; this classically bright and briny flavor combination pairs well with chicken, fish, shrimp and tofu!
Classic Piccata utilizes veal or chicken, pounded thin dredged into flour and egg, then pan-fried and served with the acidic piccata sauce. We've opted out of the classic preparation and capture the flavor of piccata without the pan-frying.
Bonus: Use a high-protein pasta and pack in over 50 grams of protein per serving.

Nutrition: 490 Calories; 23g Fat; 41g Carbs; 34g Protein
One quick swap will give you a simple red curry shrimp recipe that will blow your mind! In less than 30 minutes prepare this mouth-watering Thai curry recipe overflowing with nutrient dense vegetables coated in a savory red curry coconut broth; substitute 16 oz of Trifecta Shrimp for the Tofu listed in the ingredients.
This red Thai vegetable curry recipe draws its inspiration from Thailand, where curries tend to be categorized by the color of chiles used in the recipe and packed with aromatics such as lemon grass, galangal (a tropical relative of ginger), kaffir lime leaves, and coconut milk.
---
Ready to Get Cooking?
Stick to your calorie goals and budget with our Meal Prep Ingredients. Pre-cooked and ready to heat, these ingredients are organic, sustainably sourced, and minimally seasoned to maximize your meal prep.